8 Easy Ways to Give Back to the Community During the Holidays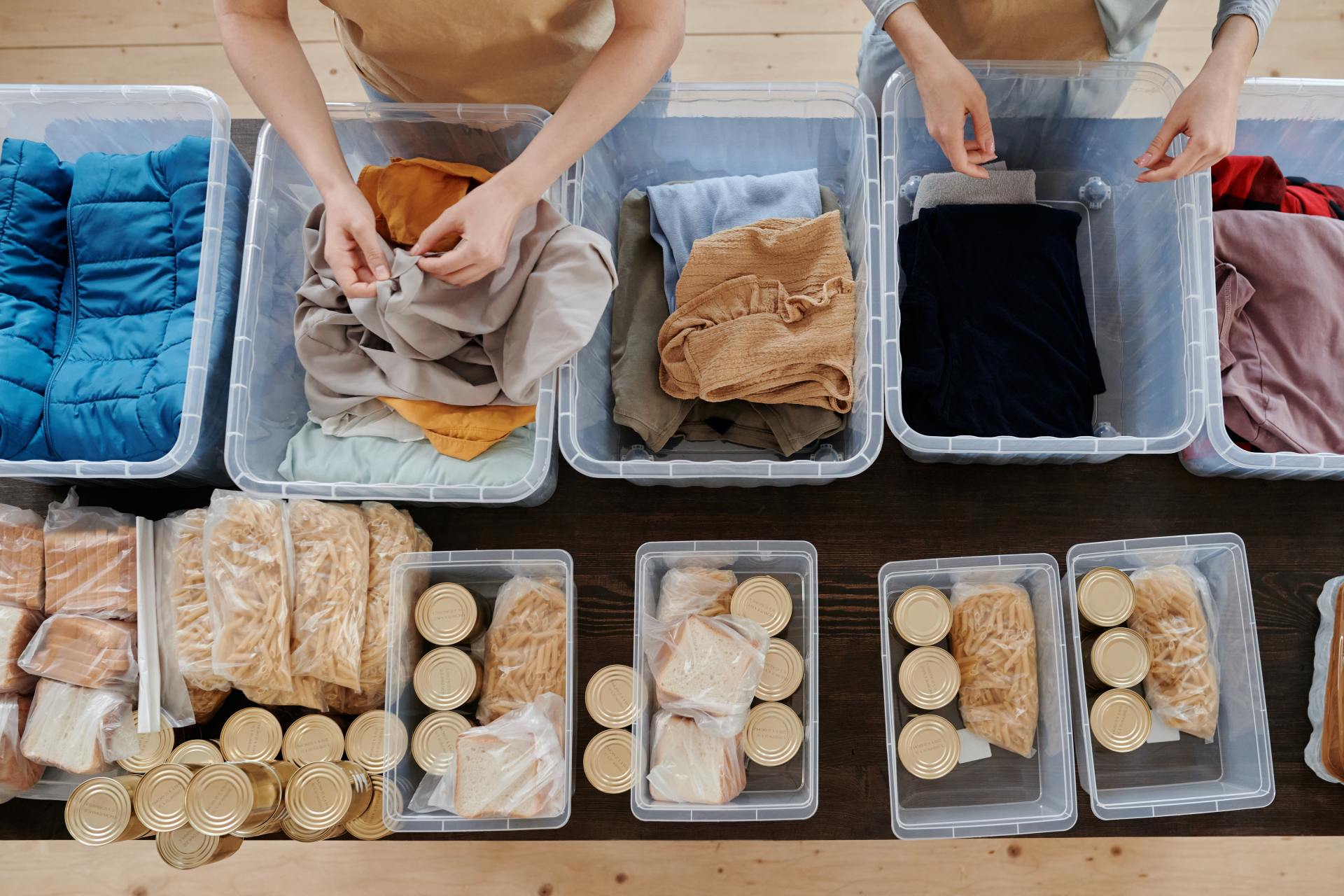 Helping others has always been a hallmark of the holiday season. From sharing a few kind words to building food baskets for families in need, people have always spent the final months of the year finding ways to give back to the community. If you're wondering how to give back this year, we have a few ideas of how you can bring hope, kindness, and holiday cheer to others.
Holiday giving ideas to try this year
From helping with education costs to supporting animal rescue efforts, there are countless ways to give back during the holidays while brightening someone's day, week, or year. If you're uncertain about how to be generous this holiday season, choose from one of the ideas below or come up with your own. You'll be on your way to helping your community in no time.
1. Run a food drive for hungry families
Many Americans are struggling to put food on the table, and financial stressors only make it more difficult to stay nourished. This year, you could provide a holiday meal to a family—or multiple families—who wouldn't be able to afford it otherwise.
Running an in-person or virtual food drive to feed hungry folks in your neighborhood is simple but impactful. If you're unable to volunteer in person at a soup kitchen this year, a virtual food drive is a great alternative. Start a fundraiser and raise money on behalf of the food bank or organization of your choice. Don't forget to read up on some fundraising tips before getting started so you're set up for success.
2. Brighten someone's day with a random act of kindness
A meaningful way to give back during the holidays this year is to perform a random act of kindness for someone in your community. The beauty of these little acts is that they can spread a lot of joy without taking too much time or money on your part. Here are some ideas:
To help the most vulnerable and marginalized communities in your city, create care packages for those experiencing homelessness and safely drop them off to a homeless shelter. The packages could include basic toiletries, socks, and underwear.
Reach out to your elderly neighbors and see if anyone needs you to pick up a few grocery items on your next trip to the store. Or, have the items shipped directly to their home through online grocery services.
Arrange for lunch or dinner to be delivered to essential workers at your local hospital. It's a simple way to thank them for all they do while keeping them nourished.
Start an online fundraiser on GoFundMe to raise money for a neighbor who needs help with bills. If you need help with GoFundMe, check out how it works and answers to common fundraising questions.
3. Send holiday cards to those who can't be with their families
Who doesn't feel a spark of excitement and joy when opening up their mailbox to find a handwritten note waiting for them? You can bring this feeling to those who can't be near their families during the holidays this year, like senior citizens who are isolated in nursing homes.
Writing holiday cards to people may be a small gesture, but it can certainly mean a lot. Fill your cards out with words of encouragement and hope, then mail them to a nursing home where they can be safely distributed to residents.
4. Donate supplies to local animal shelters
There are many ways to help animals in need, but what most organizations truly need these days are donations. Frannie Joseph, who at the time was just 10 years old, recognized this need and decided to help the animals in her local Texas community after Hurricane Harvey displaced many of them. She turned to online fundraising to fund her project and ended up raising over $21,000 over the course of a few years. Now, Frannie continues to donate the money she raises to local animal shelters. What started as a small project ended up having a huge impact on the animals in her community.
You can support your local animal shelter through a fundraiser, too. First, reach out to ask what supplies your local shelter needs, then set up a fundraiser to pay for these items. Be sure to outline the animal shelter's exact needs in your fundraiser story, because donors like to know what their contributions are being used for. Check out these pet fundraising ideas for more inspiration.
5. Support students, teachers, and parents
School budget cuts leave teachers and parents trying to make up the difference out of pocket. When supplies are limited, a school's learning environment can be negatively affected. As a parent, you want your child to have access to school supplies like musical instruments or science equipment that will help them grow. Education fundraising or fundraising for teachers is the perfect option to fill some of the gaps and help teachers.
To grow educational opportunities in your community and support learning, make one of these ideas a part of your holiday giving plan this year:
If you know someone struggling to cover homeschool costs, rally your friends together and chip in as a group to buy them new school supplies or educational books and resources.
Do you have a gently used laptop or iPad that you no longer need? Consider donating it to a local school so they can give it to a student who can't afford to buy one.
If you're passionate about higher education and are wondering how to help your community, consider starting a scholarship fund for local children. It can help encourage kids to start thinking about what they want to do after high school. The cost of college is high and financial aid is limited. Helping a student get a leg up on their educational goals and avoid student loan debt is a meaningful way to give back to your community.
Donate funds to bring a little library into your neighborhood, or even build your own! This is one of the most creative ways to donate during the holidays.
6. Create a relief fund for neighbors affected by a natural disaster
From house fires to floods, when a disaster strikes a home, it leaves a lasting impact. The road to recovery is full of expensive repairs and sometimes lost memorabilia. An easy way to help a family out after a disaster is to start a disaster relief fund to help pay for repairs. Follow our disaster relief guide for tips and resources.
Make an online donation to help communities that have been affected by a crisis
Aside from starting a relief fund, another simple way to help those impacted by a disaster is to donate to fundraisers that are raising money to support the affected communities and people in need. GoFundMe has an Act hub that houses verified fundraisers for crisis events. The Act hub is where to donate this holiday season to help people get the help they need.
7. Organize a community garden
When it comes to community gardens, there are endless benefits. Growing fruits and vegetables promote healthy living, cuts down on your community's carbon footprint, and offers time for community members to work together and strengthen bonds. You can start a fundraiser to raise the money needed to buy supplies, and work with your community to create the plans and build your garden.
Community members in New Orleans did just this when they started the Filmore Gardens Community Garden to brighten up their neighborhood. The garden inspires neighbors to eat well while also encouraging community involvement. By raising over $1,800 for the garden through crowdfunding, neighbors were able to ensure the garden flourishes.
8. Raise funds to help a community member get a service dog
The benefits that a service dog provides for someone in need are remarkable. These animals can change someone's life, making it easier to complete tasks that may have been difficult on their own. Unfortunately, service dogs can cost a lot of money, which put them out of reach for many people in need. But with service dog fundraising, you can raise the funds needed to help someone in your community get a service dog.
Fine-tune your fundraiser to increase donations
Crowdfunding is an impactful way that you can help your community this holiday season. The power of crowdfunding comes to life through the stories that the organizers tell. If you aren't sure how to raise money for an individual or a cause you care about, begin by telling their story in a way that will resonate with others. When writing your fundraiser description, anticipate potential questions donors may have and clearly provide them with relevant information. Use these storytelling tips to learn how to engage potential donors through your writing.
Don't forget that the visual aspect of all holiday fundraisers is just as important as the written aspect. Having high-quality images helps to tell your story in a more vibrant way. Adding a video that explains what you are raising money for is another great way to connect with donors.
Build awareness in your community
Social media is the perfect place to build your fundraising community. Getting people to see your cause is simple when you can reach out to thousands of people with the click of a button.
Organize fundraising events that help capture the attention of your entire community.
Ask local businesses if they want to aid your fundraiser by offering matching donations or sponsoring fundraising events.
Use the power of community to help your neighbors
Crowdfunding empowers individuals and communities to raise money for projects and causes that they are passionate about, all while making a positive impact. Are you ready to cultivate local change by crowdfunding for your community this holiday season? Check out these stories of kindness and winter fundraising ideas that will put you in the holiday giving spirit. Sign up to create a fundraiser today. Together, we can make our communities a little brighter this year.