Disaster Relief Guide: How to Get the Help You Need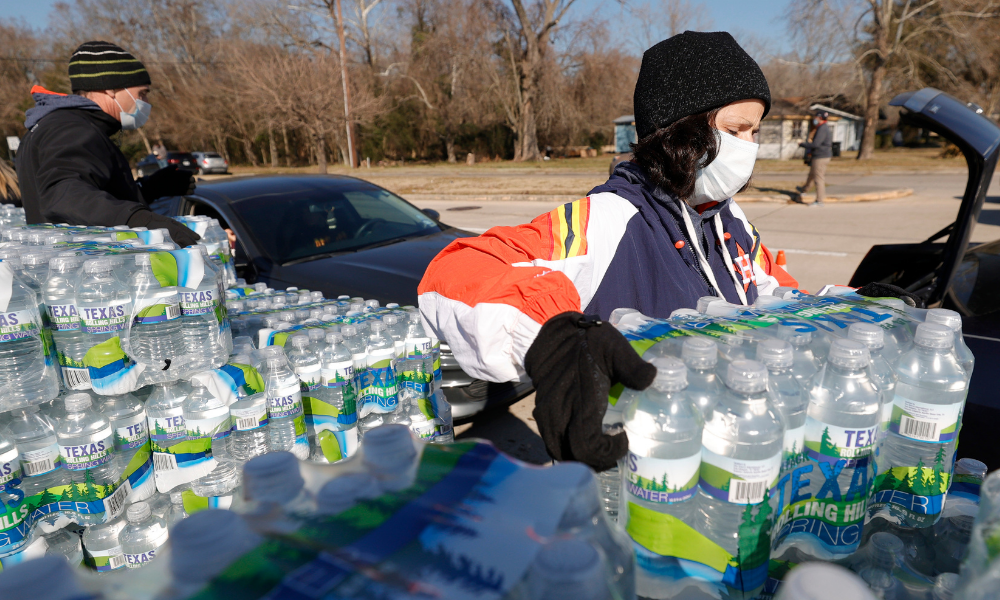 Every year, thousands of people are faced with the daunting task of putting their lives back together after a storm, flood, tornado, fire or other natural disaster. If you feel hopeless when thinking about recovering from a natural disaster, know that there are ways to find help. Through organizations, government programs, and crowdfunding platforms, you can get back on your feet.
To make sure you start rebuilding as quickly as possible, we've put together this disaster relief guide to help you find your way forward.
Start a disaster relief fundraiser
Contact a charitable organization
There are a number of natural disaster relief organizations that provide assistance before, during, and after a natural disaster. Some have an application process, while others typically provide immediate relief in the areas affected by a natural disaster. Below, we list three options:
The American Red Cross responds to over 62,000 disasters each year. For those directly impacted by a natural disaster, the American Red Cross can offer disaster relief resources such as shelter, food, and clean water.
The organization is well known for building new homes for those left homeless after a natural disaster, but it's a common misconception that they only build new housing. If your home was only partially damaged in a natural disaster, Habitat for Humanity has services that will help with clean-up, repairs, and supplies for the rebuilding efforts.
In addition to the year-round help the Salvation Army provides to veterans, the homeless, and others in need, they are also a lifeline when it comes to emergency relief during a crisis. The Salvation Army provides food, shelter, medical care, and even counseling services.
Apply to federal and state natural disaster programs
FEMA's mission is to respond and help in the natural disaster recovery process of any region. This includes medical help, food, shelter, and a number of other services the federal government provides. One thing to note is that if you apply for aid through FEMA, the application process may require extensive information about damages incurred from the natural disaster in order to be approved for aid.
If you need financial assistance after a disaster and you own or rent a home or own a business, you may be able to apply for low-interest disaster loans from the U.S. Small Business Administration to help with the recovery process. Keep in mind that you will have to pay back this loan over time.
Consider online fundraising for disaster relief
It's common for families, friends and communities to come together to help crowdfund in the wake of a natural disaster. Whether you have personally experienced a devastating disaster, or if a friend or family member is in need, online fundraising is the perfect place to start.
Start a disaster fundraiser for yourself
If you've been directly impacted by a natural disaster, you can start a fundraiser for yourself and ask for help from your network. Here are a few tips before you start:
Include pictures of the areas that were impacted and outline exactly what you'll need help with as you start to recover.

Share your fundraiser on

social media

, via email, or even through text messages with friends and family—and ask them to share with their network, too.

Read our fundraising ideas for disaster relief

for alternate ideas that can help bring in donations.
Start a disaster relief fundraiser for someone you know
If someone you know is facing the aftermath of a natural disaster, you can certainly create a fundraiser to help them out.
Ask them what they need most and provide donors with a complete list of what they can use urgently.

Include as much information as you can about their circumstances, how they were affected, and how important it is to support them. Including

powerful images

that show how your friend was impacted can be crucial in the success of your fundraiser.

Be sure to include your connection to the beneficiary of the fundraiser and how you plan to get the funds to them for full transparency.

Make sure that your beneficiary approves of having a fundraiser started on their behalf.
Start a fundraiser to help disaster relief organizations
If you're not directly affected by a natural disaster, you can still help. Start a certified charity fundraiser to help nonprofits in the US or internationally. Many online fundraising platforms allow you to select non-profit organizations as the direct recipients of the funds so you never have to handle the money—funds are sent directly to the organization that you choose. The organization can then use the funds to buy supplies or other items for victims or fund recovery efforts. Find out which fundraising site is best for you before you begin your fundraiser.
Tips for your natural disaster fundraiser
Fundraise with a team
For the biggest impact, team up with others affected by the disaster.

Form a fundraising team with people in your network to reach as many people as possible. Ask them to share your fundraiser with everyone they know.

For a step-by-step guide to team crowdfunding, see our post

How to Build a Winning Fundraising Team

.
Keep up the momentum
One of the best ways to sustain momentum for your fundraiser is by posting frequent

fundraising updates

to your page and social media. Instead of thinking of your fundraiser as a fixed plea for help that people either respond to or not, think of it as an evolving story that people will want to become part of as it unfolds.

When the time is right—possibly weeks after the initial disaster—a

fundraising event

can be an instrumental part of your community's practical and emotional recovery.
Reach out to media
Learn how to

get local media attention for your disaster fundraiser

, including tips for making your fundraiser easily shareable and adding high-quality images.

Since many people in the disaster zone may also be in need and unable to donate, media coverage can help you reach beyond your immediate community to raise awareness for your cause.

Try using one of our

fundraising email templates

specifically written for media.
Crowdfunding helped these families recover
When the Timko family lost their home in a wildfire, their friend Josh started a fundraiser to help them rebuild their lives and cover short-term expenses as they navigated the weeks and months following the tragedy. The fundraiser started with a goal of $5,000, but they exceeded this initial amount and it ended up raising over $25,000.
The Jensen family farm was wrecked by hurricane winds, forcing them to rent a second farm to house their cows while they focused on rebuilding. To cover the costs of the rental farm and rebuilding their personal farm, the Jensen's started a fundraiser that has raised over $5,000.
Rebuild your community through crowdfunding
Whether you've endured an earthquake or a house fire, know that there are people and organizations that are ready and waiting to help you recover. The great thing about starting an online fundraiser is that it's free, easy, and fast. Plus, you can start receiving donations immediately after launching, and there is no lengthy application process. While the road to natural disaster recovery can be long, launch a GoFundMe emergency fundraiser now and get started with recovery efforts for yourself, a friend, or a community you care about.

Start a disaster relief fundraiser
Related reading: