How To Run a Virtual Food Drive This Holiday Season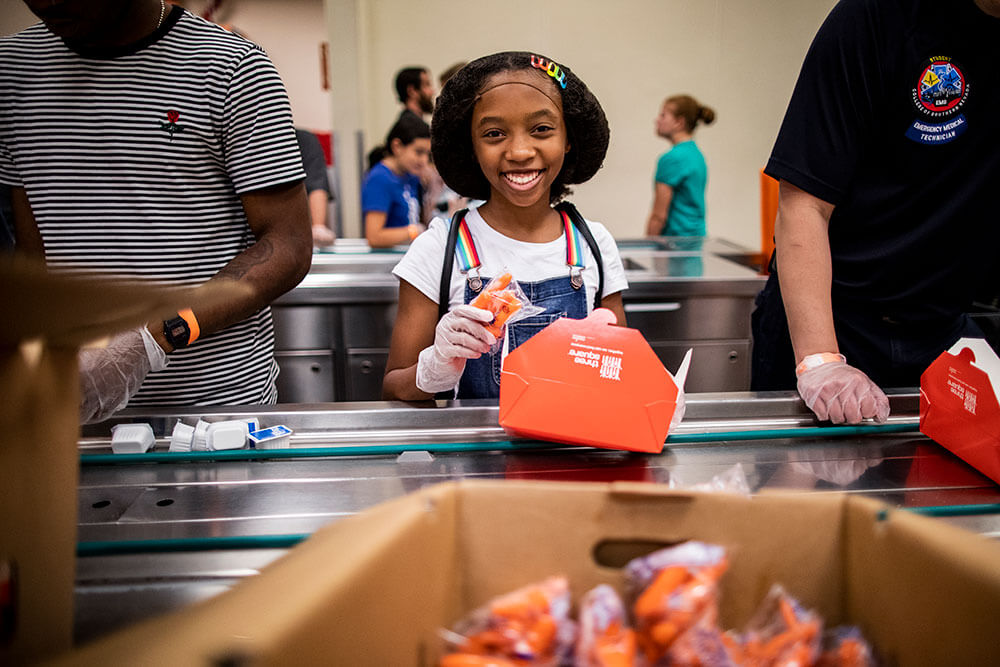 There's no doubt that the coronavirus pandemic will make the holiday season—and holiday giving—quite different this year. The way that many people typically volunteer during the holidays simply won't be possible this year because of the pandemic and social distancing guidelines. The good news is that you can still give back and make an impact this holiday season, even if it's not in person.
Volunteering at a food drive is one of the more popular ways to donate time during the holiday season and help those who are less fortunate. This year, a virtual food drive is a fantastic alternative to the traditional in-person method. Below, learn how to set up a successful virtual food drive to raise money for the food banks and nonprofits helping the hungry during this critical time.
What is a virtual food drive?
Unlike a traditional food drive, in which you collect canned and dried goods to later donate to a food bank, a virtual food drive is entirely online. A virtual food drive allows you to help food banks feed those in need without ever having to leave your house, which is especially helpful during COVID-19. Instead of collecting food items to donate, a virtual food drive allows you to collect monetary donations that you can later give to the food bank or nonprofit of your choice.
Why is helping food banks this year so important?
Prior to the coronavirus pandemic, food insecurity was already a big problem in the US. In 2018, over 37 million people struggled to get the food they needed, according to the United States Department of Agriculture. Now, in the face of massive unemployment and economic hardship due to COVID-19, the need for food assistance has become even greater. Feeding America projected a $1.4 billion shortfall in the next six months, and food banks across the country have reported an unprecedented surge in the number of people showing up for food during the recent months, according to the New York Times.
By helping food banks through a virtual food drive, you can make an impact in the following ways:
Help families that are struggling to make ends meet put food on the table.
Feed children who used to rely on school meals for nourishment but no longer have that option.
Give a family a holiday meal they otherwise wouldn't be able to afford this year because of the pandemic
Support low-income families and marginalized communities that have been hit extra hard by COVID-19.
Learn how to plan an online food drive and make a difference
Determine the need
Because it takes food banks much more time and resources to receive and sort actual food donations, the best way to help during COVID-19 or any crisis is by donating money instead of food items. Of course, your local food bank may have different needs, so it's always best to check with them directly.
Feeding America's food bank finder can help you locate the food bank closest to you. From there, you can ask them the best way to help. Virtual volunteering during COVID usually means raising money in lieu of tangible items, but some food banks are accepting canned goods and other food staples.
Set up your online fundraiser
Decide whether you'd like to organize a team fundraiser or take care of running the fundraiser on your own. Then, choose the best crowdfunding site for your needs. Be sure to read some fundraising tips when getting started to make your virtual food drive as successful as possible.
Show the impact of donations
In your fundraiser story, it's important to explain exactly why you decided to run an online food drive, and exactly how donations will be used. The best way to engage people is to tell them how their donations will help those in need.
One idea is to create an outline in your fundraiser description that easily explains the impact of certain dollar amounts. This is where it's important to speak with the food bank or nonprofit you plan on helping and find out how far $5, $10, and even $100 can go.
With that information, you can provide a clear incentive for people to make larger donations by outlining the impact. For example:
A $100 donation will feed a family of four for a week
A $500 donation will purchase half a pallet of food boxes
A $1,000 donation will purchase an entire pallet of food boxes
Get everyone on board
Use social media to rally your fundraising team, as well as your network of friends and family members. Create a catchy hashtag to help people remember your cause, and share your fundraiser on Facebook and Twitter, as well as through email and text messages. Explain why a virtual food drive is critical to helping individuals and families affected by the coronavirus, but keep your messages and social media posts relatively short so readers stay engaged.
It's no secret that people are more inclined to partake in charitable giving during the holidays, so it's also a good idea to highlight the importance of giving back in the spirit of the holidays this year. As big, end-of-year holidays approach, start to increase your calls for donations. Take a look at our holiday giving guide for ideas on other ways you can help people this holiday season.
Are you ready to help feed those in need?
There has never been a better time to start fundraising for folks in need of food, and now you have the tools and resources to get started. Make a difference in the lives of hungry people today, and start a GoFundMe to support food banks and nonprofits right now.