How to Pay for Grad School: Master's Degree Funding
Pursuing your MA, MFA, MBA, Ph.D., MD or another advanced college degree is an investment in your career and future—but massive student loans can limit your options. Students typically rely on federal and private loans for graduate school funding, but enormous monthly payments don't have to be your reality.
There are other options for paying for grad school besides repayment plans or personal loans spanning decades with sky-high interest rates. Before you come to a decision, read the below helpful tips and key resources for how to pay for graduate school.
Funding for specific grad programs
As a prospective graduate student, figuring out how to afford grad school will probably be a major consideration. Depending on a student's income, credit score and experience, and access to other resources, they may or may not decide to take out student loans.
In most academic disciplines, the top MA, MFA, and Ph.D. programs are fully funded. That means that between tuition waivers, grants, full scholarships, and teaching fellowships, students in those programs pay nothing out of pocket, and also receive modest stipends to cover living expenses during the school year. In programs that aren't fully funded, the costs students need to shoulder can vary widely. It makes sense to apply to a number of programs and consider funding—also known as institutional fellowships—as a major factor in deciding which program to attend.
In contrast, most professional degrees such as the MD and MBA, expect students to pay tuition, in the expectation that they will be able to repay loans out of future earnings. To keep potential student debt to a minimum, look to some of the following ideas for how to pay for graduate school without loans.
How to pay for grad school with scholarships and fellowships
Beyond funding from specific programs, you should also look at "portable" fellowships from federal programs or private organizations. The best known are Rhodes, Fulbright, Mellon, Ford, and NSA fellowships, but many other fellowships exist. These typically require students to submit an extensive application, and they're often highly competitive. Many portable fellowships are for students in specific fields, including teaching, nursing, sociology, or astrophysics.
Next, get more specific. When exploring how to pay for a master's degree using private funding, start by looking for scholarships and fellowships for people like you. What defines your story? Are you a single mother returning to school? A disabled veteran? A first-generation student? Get specific, and you may find a scholarship or grant that fits you perfectly.
Several websites can help you in your search for scholarships and grants. Check out GradSchools.com, GoGrad, Unigo, Fast Web, and Peterson's.
Last but not least, turn to your undergraduate university's financial aid office. They can cheer you on and give you support as you figure out how to get grad school paid for.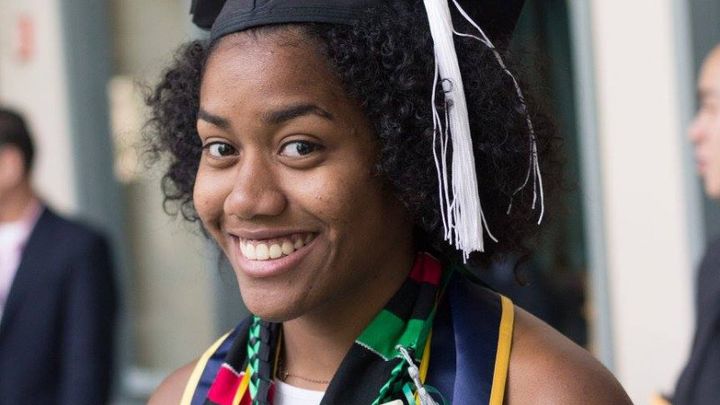 How to pay for grad school using crowdfunding
Crowdfunding for graduate school tuition and other school-related expenses has become a very popular option that doesn't involve getting an expensive loan. The benefits of tuition fundraising are twofold: this type of fundraising is available to anyone, and it allows you to save your money for later on in life and plan for your future. It also gives you an efficient and effective way to rally friends and family to support your goal.
It's quick and easy to set up an online fundraiser on GoFundMe. On GoFundMe, fundraising deadlines are up to you. This means you can easily renew your fundraiser each summer (or any time) for the following year's expenses—which is a huge advantage. The prior year's fundraiser can serve as a kind of database of your existing supporters, allowing you to easily reach out again with a new fundraiser.
Many students find that the beauty of crowdfunding isn't simply the student aid you receive, but the emotional support. Your fundraising page becomes a place where friends and family offer words of encouragement and cheer you on.
GoFundMe also offers a wide variety of resources to help you make the most of your efforts, including fundraising tips, fundraising ideas, and how to use social media to promote your fundraiser.
Employer tuition reimbursement
If you're already in the workforce and looking to return to school, your employer may help in paying for your education—it's a win-win since an advanced degree makes you more knowledgeable and skilled. Even if you're not pursuing a degree program, some employers will pay for you to take graduate-level courses at universities, extension programs, and more. Ask your HR director about how to get your master's paid for using your company's tuition reimbursement program.
How to pay for grad school by working at the university
Most academic grad programs expect a teaching commitment as part of graduate study. Teaching assistants (TAs) and research assistants (RAs) typically get a discount on their tuition, in the form of fellowships. If you're wondering how to pay for graduate school without loans this is a great option. At some universities, assistants have formed unions to secure far better terms for their work than assistants at colleges where such unions have not yet formed. If you're planning to TA/RA, do your homework and compare stipends for each program—it could be a deciding factor on which graduate program you choose to attend.
How to pay for grad school through military service
All US military academies, including the Air Force Academy, Coast Guard Academy, Merchant Marine Academy, West Point, and Annapolis, offer free education to students in exchange for military service.
Beyond these academies, you can find scholarships and grants available to students enrolling in any number of degree programs at public and private universities in exchange for service. Veterans can also qualify for aid to return to school under the Post-9-11 GI Bill.
Moving on up
While you have a few solid options for how to pay for a master's degree, crowdfunding can truly help you along your crowdfunding journey. Sign up with GoFundMe and begin fundraising today.