Top 10 Nonprofit Giving Tuesdays Ideas to Drive Donations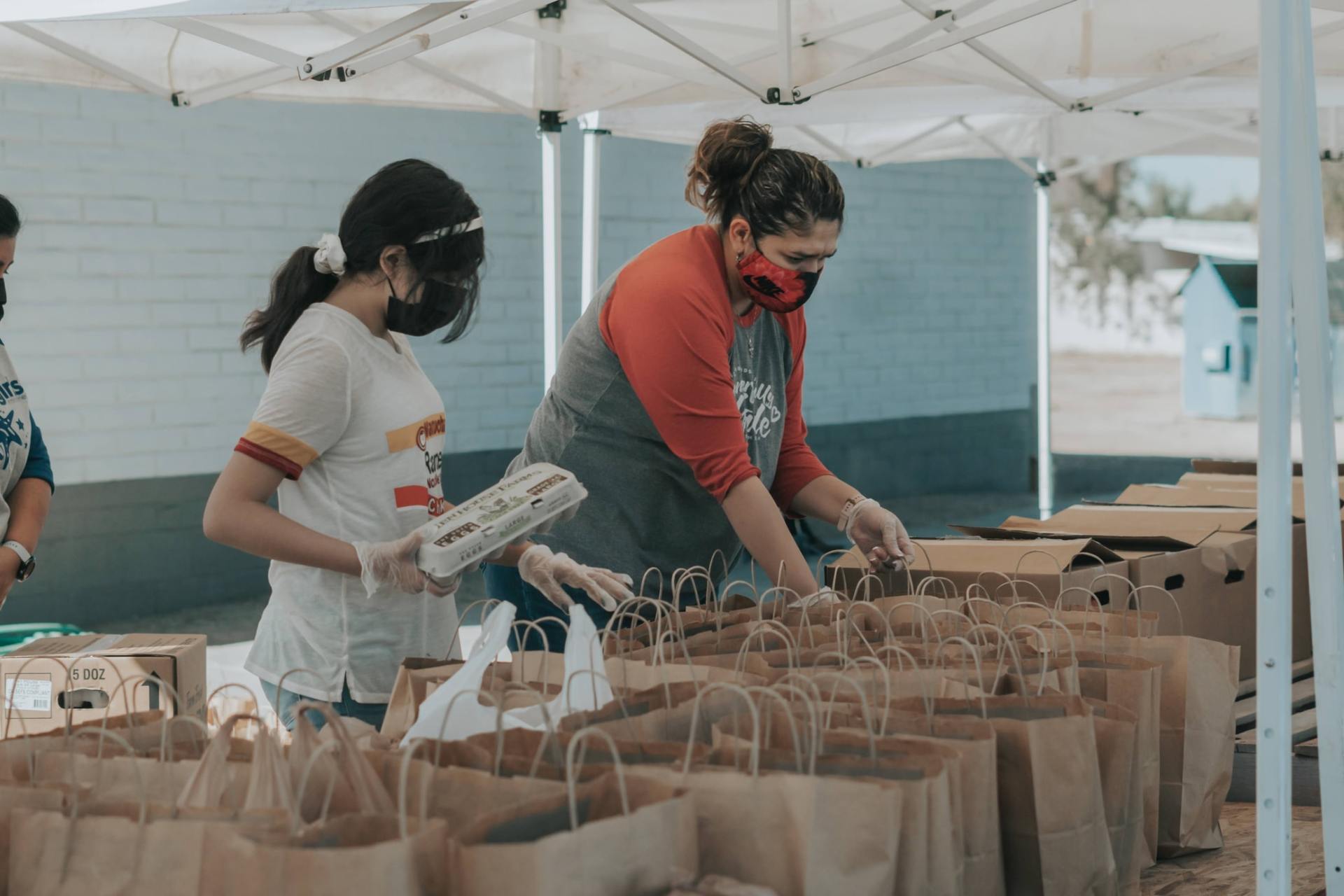 Giving Tuesday is the Tuesday after Thanksgiving dedicated to charitable giving. This is your nonprofit's opportunity to spread the word about its cause with the rest of the world. In order to stand out among the rest, you'll need to get a bit creative with your fundraising ideas and take the necessary steps to get the word out. Let's go over nonprofit Giving Tuesday ideas that will help ensure your nonprofit is prepared to get the best results this giving season.
Giving Tuesday ideas for nonprofits
Your nonprofit's needs and methods for fundraising this season will most likely vary, depending on the type of organization you are. However, there are some basic steps that every type of organization can take to receive the most support possible on Giving Tuesday. These fundraising ideas will help your nonprofit be the best charity on Giving Tuesday.
1. Start an online fundraiser
In 2021, online donations made an impact of $2.7 billion in the United States on Giving Tuesday. Online fundraising is the fastest and easiest way to get donations this giving season and all year round. Consider setting up a fundraiser for your nonprofit on GoFundMe. Check out our guide on Giving Tuesday campaign ideas to help you get started.
The following are some advantages of online charity fundraising on GoFundMe:
Online giving allows your donors to contribute to your fundraiser using any device in an easy and secure way.
The online giving process makes donating simple, safe, and enjoyable for your supporters.
By having an online fundraiser, your community can easily share it with their own network and spread the word even further for your organization on Giving Tuesday.
2. Plan ahead and start a countdown
Strategizing and planning ahead before the big day is an important step to take if you want to receive the most support this Giving Tuesday. Create a countdown, include it on your nonprofit's website, and get your community excited to donate on the big day.
Other benefits of a countdown include:
A countdown is a sure way to encourage and motivate your donors to support you on the big day.
It creates a sense of urgency that will keep your organization top-of-mind for supporters.
In addition, it gives supporters an opportunity to share your cause with others before Giving Tuesday.
3. Create a landing page
Having a specific Giving Tuesday landing page on your organization's website will boost the visibility of your nonprofit's Giving Tuesday campaign. It will also make it easy for supporters to get all of the information they need in one place. Customize the page with your nonprofit's unique colors and logo, and make it easy for visitors to donate from anywhere, anytime. Make your landing page for Giving Tuesday appealing, informative, and personal. Be sure to include a link to your online fundraiser so your supporters can easily make a donation.
An example of an effective landing page
Exceptional Care for Children has a great example of a landing page dedicated to their Giving Tuesday campaign. The landing page includes information on how donations will be used, other ways to give, a countdown to Giving Tuesday, and an explanation of what Giving Tuesday is and how to participate. They also include a donation link on the page so it's convenient for visitors to give.
4. Challenge your supporters
The 2014 ALS Ice Bucket Challenge took the world by storm and became one of the biggest and most profitable charity movements in history. The challenge wasn't just a great way to raise donations—it put the ALS Association on everyone's radar and has achieved amazing things ever since. There are many fundraising ideas like this one that your nonprofit can use to bring in support this Giving Tuesday.
Crowdfunding is another way your nonprofit can challenge supporters to fundraise on your behalf. By giving your supporters the power to create their own fundraisers for your organization, they can gain support and attention from their own network and community and raise money for your cause by spreading the word.
Use the peer-to-peer fundraising method
Peer-to-peer fundraising is when your supporters create personal fundraisers on behalf of your organization's cause. They share their fundraiser within their own network, using their own stories and connection to the cause to spread the word about your nonprofit's mission.
5. Use creative storytelling
Your nonprofit fundraiser will need to have a compelling story in order to inspire people to donate on Giving Tuesday. There are many marketing strategies other nonprofits have used that include Giving Tuesday email marketing, social media fundraising, and Giving Tuesday storytelling initiatives through images and videos—and so much more.
Showing the impact of the donations your organization receives through storytelling will help your donors understand how their money is being used and will establish trust with your nonprofit—a great opportunity for donor retention.
An example of powerful storytelling
The World Wildlife Fund tells their own story in a unique way. The organization provides a timeline of its history and an entire section on financials that is dedicated to showing how donations and funding are spent. Including something similar in your nonprofit's fundraiser is a great opportunity to show donors you care about transparency and to share your story with them.
6. Spread the word through social media
At its core, Giving Tuesday is a social media movement. Since we live in a social world, spreading the word about your nonprofit on Giving Tuesday through social media is essential. Be sure to include the hashtag #GivingTuesday with your nonprofit's fundraiser and share it on sites like Facebook, Twitter, and Instagram. Don't forget about email, too.
By sharing on social media, you can challenge donors to spread the word about Giving Tuesday on your organization's behalf. Try something like the #UNselfie movement that changed the game of Giving Tuesday in Canada. The movement asks donors to take a picture, tag it #UNselfie and #GivingTuesdayCa, and share it on their social media accounts. This is a chance for your donors to help your cause by telling their own giving story while motivating others to give, too.
7. Host an event
Hosting an event on Giving Tuesday or in the days leading up to it is a fun way to get donors excited about supporting your cause. Additionally, it draws attention to your organization. Hosting an event allows you, the nonprofit, to establish connections with your donors. Moreover, it adds a great personal touch your supporters may be looking for.
There are a number of in-person and remote charity fundraising event ideas ranging from:
Holding a happy hour or dinner party.
Organizing a photo contest.
Hosting a 5k.
Get supporters involved with volunteer opportunities
Hosting an event is also a great opportunity for your supporters to volunteer and help run the event. This not only keeps your supporters engaged, but offers them a non-financial way to give back. Providing volunteer opportunities to your supporters on Giving Tuesday encourages them to continually support your cause every year.
8. Leverage Corporate Giving
Leverage donation matching as one of your nonprofit's Giving Tuesday ideas. Corporate donation matching can be a huge opportunity in the giving season. Donation matching, also known as matching gifts, is a way for corporations to make a donation to a nonprofit by matching an employee's contribution.
Consider the following to maximize your nonprofit's gift matching process before Giving Tuesday:
Notify your supporters to check their eligibility by seeing if their employer offers a giving program.
Try connecting with businesses in your area and see if they can help with matching donations or if they can help promote your cause.
9. Send out fundraising letters
Increase awareness of your nonprofit's Giving Tuesday campaign by crafting fundraising letters to give to supporters before the big day. Try sending a mix of fundraising letters through direct mail and email to get the most reach. Include the link to your fundraiser in your letters so potential donors can find more information about your cause. Check out these fundraising letter templates that will help drive donations.
10. Thank your donors
Even when the big day is over, saying thank you to donors is still a vital part of this list of Giving Tuesday campaign ideas. The power of expressing your gratitude to supporters should never be underestimated. In the season of giving, it's especially important to show your donors how much you value their time and money spent on your cause.
Thanking donors is also a sure way to keep them coming back to donate and have them remain loyal to your cause. The possibilities are endless when it comes to deciding how you'd like to thank your supporters, but some ideas include:
Making a video from the organization and sending it to all donors.
Handing personalized thank-you notes.
Sending a thank-you email to each individual donor.
Sharing a letter or video from someone who is impacted by the work your nonprofit is doing.
Making your donors feel appreciated for their efforts is an essential part of the giving process and a thoughtful final touch at the end of Giving Tuesday.
Let your nonprofit Giving Tuesday ideas lead to impact
By using some of the Giving Tuesday fundraising ideas mentioned above, you're guaranteed to make your charity stand out on this important day. There are numerous ways your supporters can donate on Giving Tuesday. GoFundMe has all the tools you need to make this giving season a successful one for your nonprofit. With features to help you engage more donors and raise more money, your organization is guaranteed to make the biggest impact possible. Start your charity fundraiser today and see the benefits that come with online fundraising this Giving Tuesday.