"'Never leave someone behind.' That was our pledge in the military and in my time as a police officer. When you retire or move on, that doesn't go away."
In 2014, Donnie Davis got a phone call about a local campground in southern New Jersey that was up for sale. A crazy idea popped into his head. It would require a lot of money and hard work, but it had the potential to help countless neighbors and families. Donnie decided to take a leap of faith — and change the lives of his fellow veterans.
Donnie was a member of the U.S. Air Force Honor Guard from 1993 to 1997. Among their duties is to provide military funerals for fallen soldiers — an important yet grim responsibility for a day, let alone five years. Following his military service, he spent five years as a police officer in Maryland.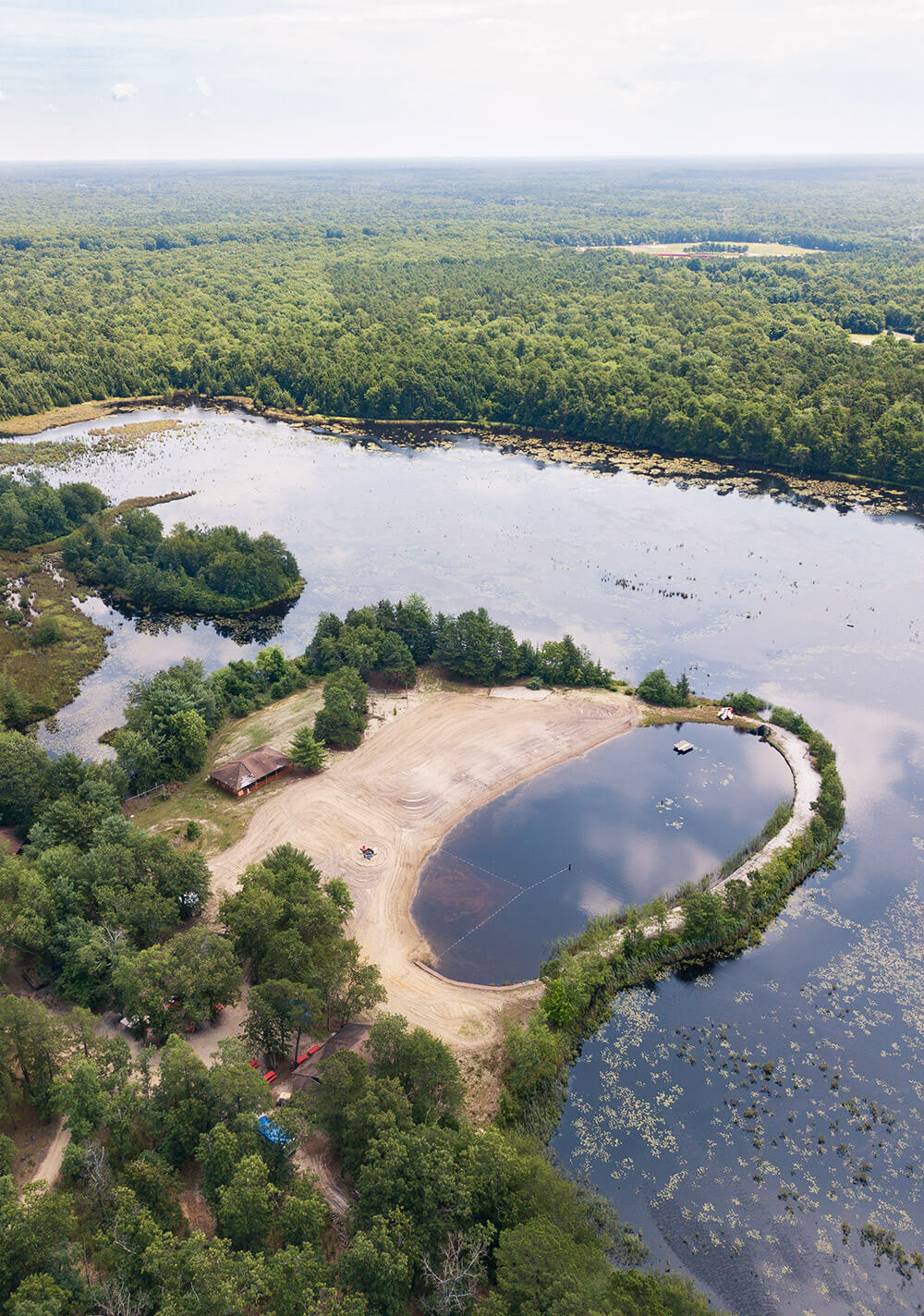 The property spans 277 acres — including a 65-acre lake.
In 2013, Donnie started a church in Franklinville, New Jersey, where he is a pastor. That's why he got the call about the campground in 2014, but that's not why he bought it.
Donnie wasn't looking to build a new worship center. "I don't believe in building an enormous church with steeples and all that. I'd rather go pay someone's mortgage."
Instead, Donnie had another idea for the property. He'd never forgotten the credo "Never leave someone behind." And yet every day, a veteran commits suicide. The U.S. Department of Veteran Affairs estimates that 11 to 20 percent of soldiers who served in Iraq or Afghanistan have PTSD in a given year. These facts aren't lost on Donnie.
After the phone call, Donnie and his best friend, a fellow vet and retired police officer, were sitting around Donnie's dining room table. In the background, the TV show Tiny House Nation was on. Suddenly, it clicked. What if they could build a community of tiny homes for homeless veterans suffering from PTSD — and provide everything for free?
That's when they launched their GoFundMe.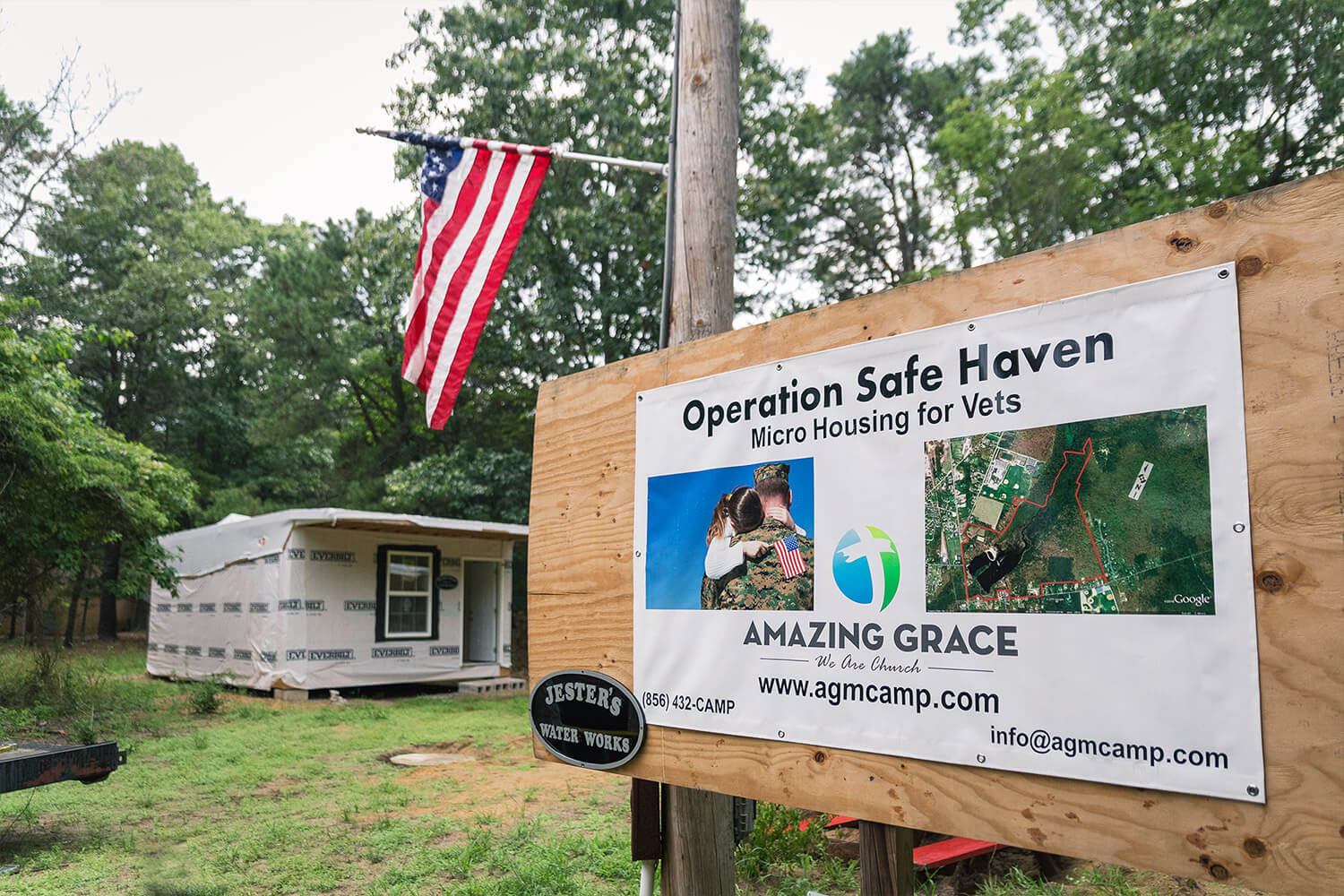 A little over a year later, Donnie has raised over $150K for the micro-housing community — now dubbed Operation Safe Haven. Thanks to the campaign, not only were they able to purchase the 277-acre campground, but they have also built four 300ft² homes—with a fifth currently underway.
Donations helped to hire a registered nurse, who recently moved onsite to live and work with residents full-time. They also purchased two horses that just completed their equine therapy certification. In addition to their work with veterans, Donnie has invited local children with special needs to work with the horses at .
While they prepare for Operation Safe Haven's first residents, the property hosts a wide variety of community events throughout the week—from kids' day camps to Sunday picnics by the lake.
"We're able to provide everything for free," says Donnie. "Without GoFundMe, we would have to charge people."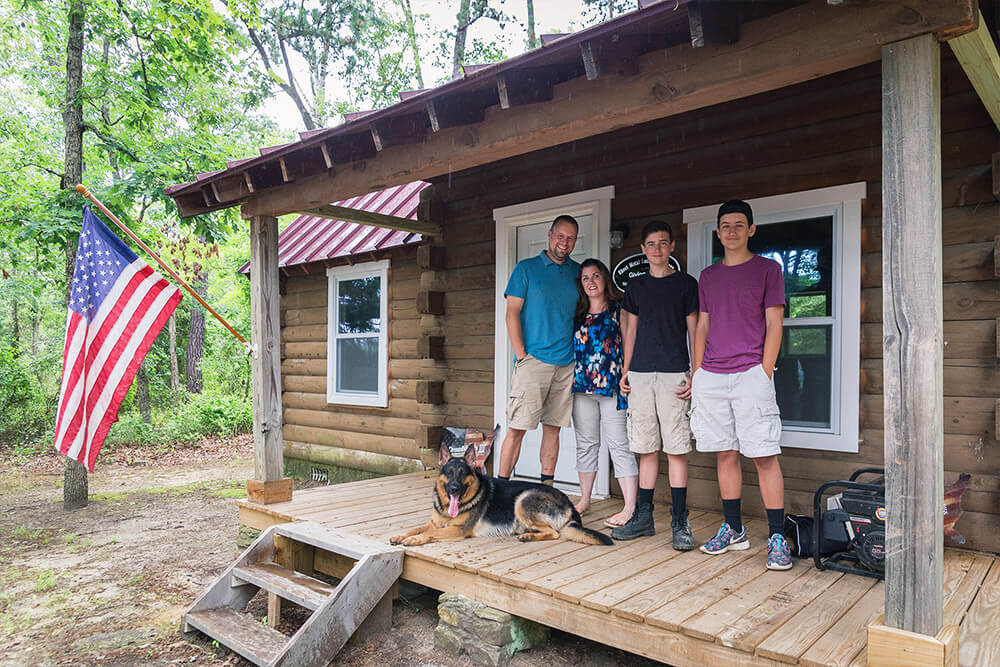 Donnie with wife Jennifer, two sons, and service dog Zeus in front of a completed micro-home.
Every week, dozens of volunteers and over 30 veterans work together to prepare the property for its first residents and provide them the perfect environment for healing. Donnie and his family have also moved on the property to focus their time and efforts on the project.
"The idea is to help homeless veterans get back on their feet and contribute to society again," says Donnie. "There's no overhead, so all donations to the campaign go straight to the project."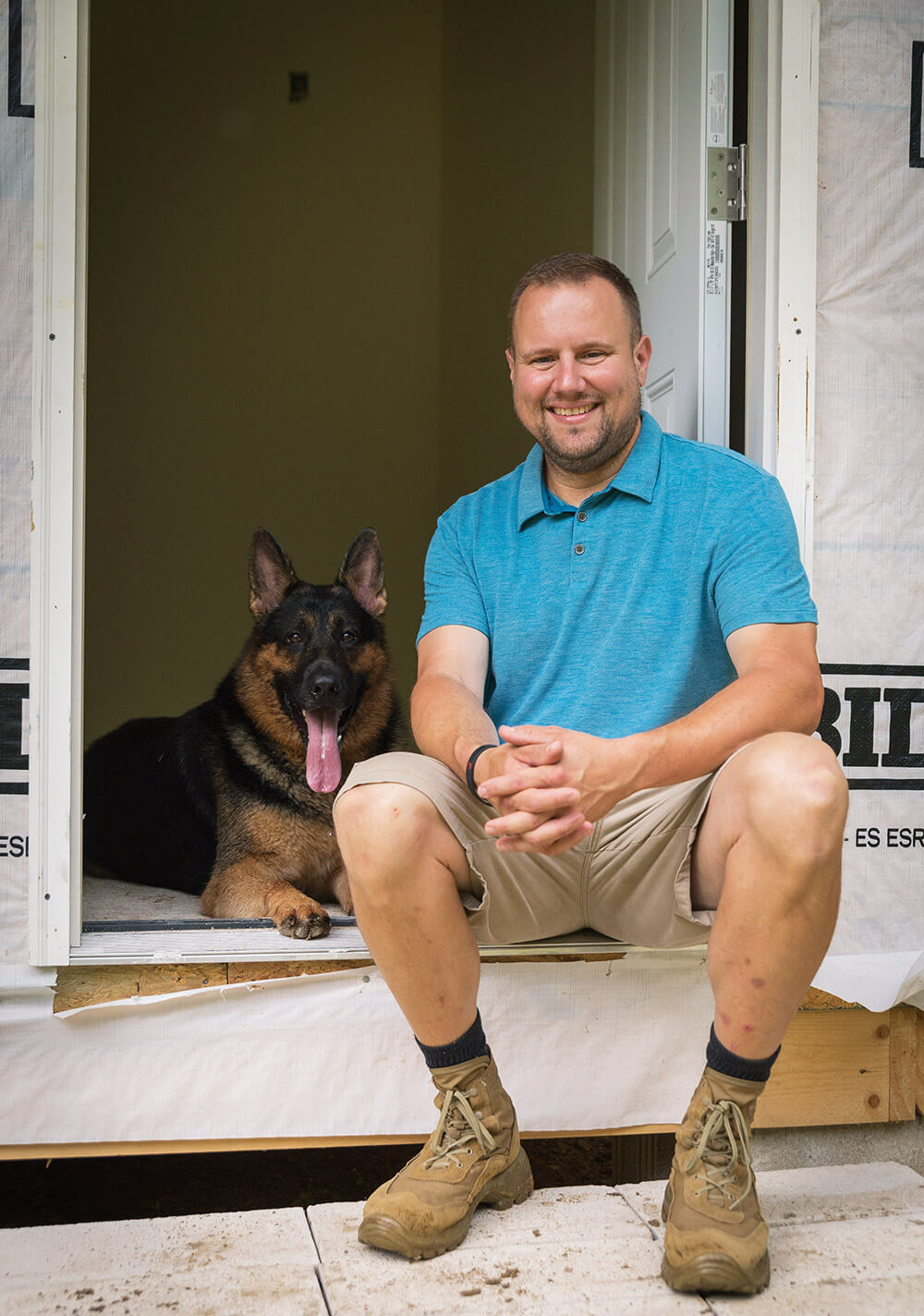 Donnie is currently in the process of vetting potential residents with the goal of moving in their first veterans this summer. In addition to onsite healthcare and counseling, every resident will receive a therapy dog and have access to beautiful nature and an understanding community.
In return, residents will help take care of the property, its animals, and its organic gardens. Harvested food will go toward their own meals as well as to families in the community.
"We have solar panels all over the property and composting toilets," says Donnie. "It's all eco-friendly and sustainable, and there's no carbon footprint."
Through this year-long process of planning, building, and organizing, Donnie experienced his own transformation.
"Helping others has been my own therapy. My PTSD came from serving in the police department. Up until a year ago, I couldn't even say what I struggled with out loud. I never realized how much I needed this, too."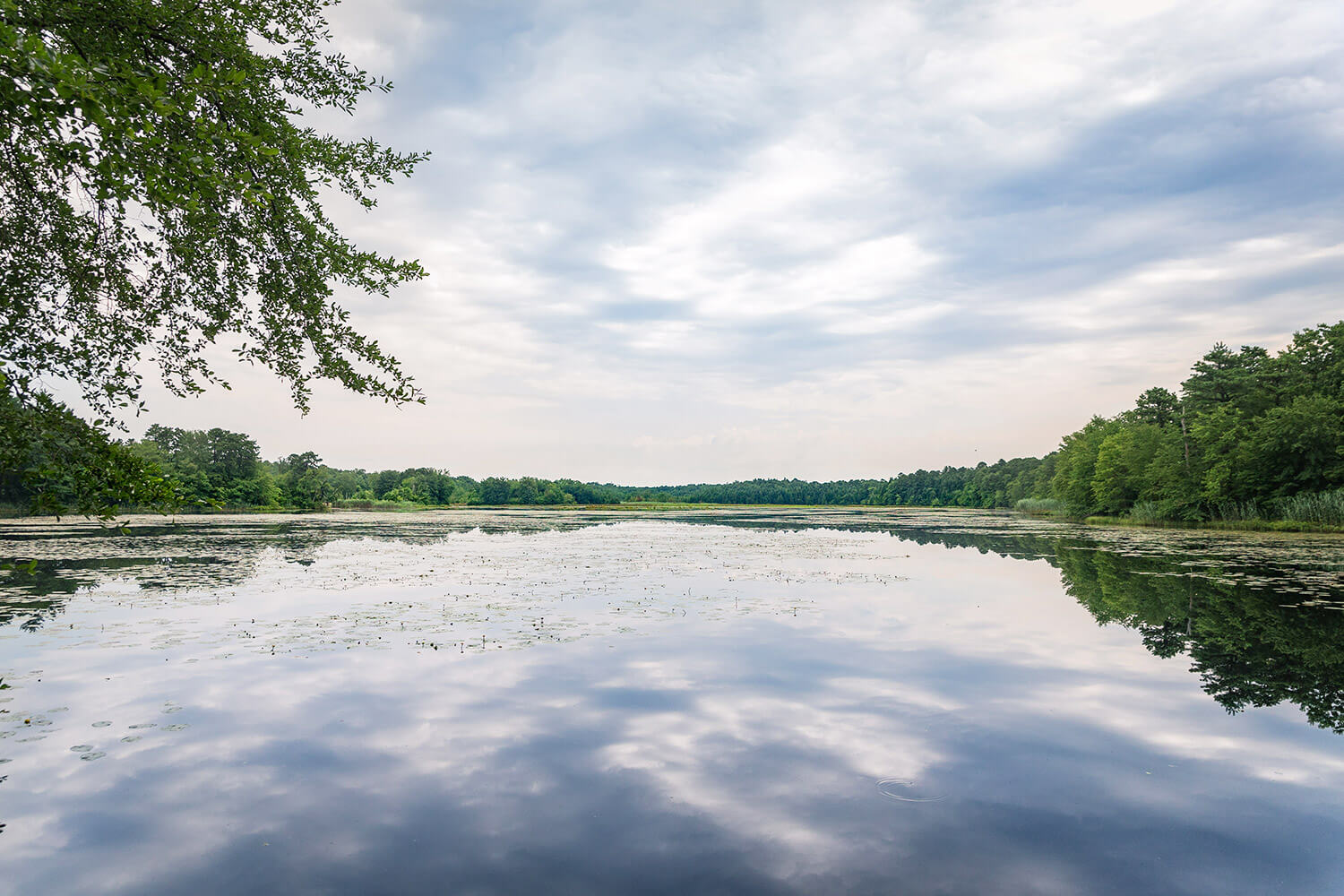 The site's 65-acre lake and numerous trails provide a peaceful environment for future residents.
Recently, we asked Donnie what the most surprising moment part of this journey has been: "The community. It's easy to fall into the trap of he-said, she-said and pick sides in our country right now. It's easy to stereotype and profile. But what's neat is that we unintentionally found common ground.
"People from all across the country have come together to support this. The calls and donations we get are unbelievable. After seeing our campaign, several companies even donated services and goods. Every morning is Christmas morning."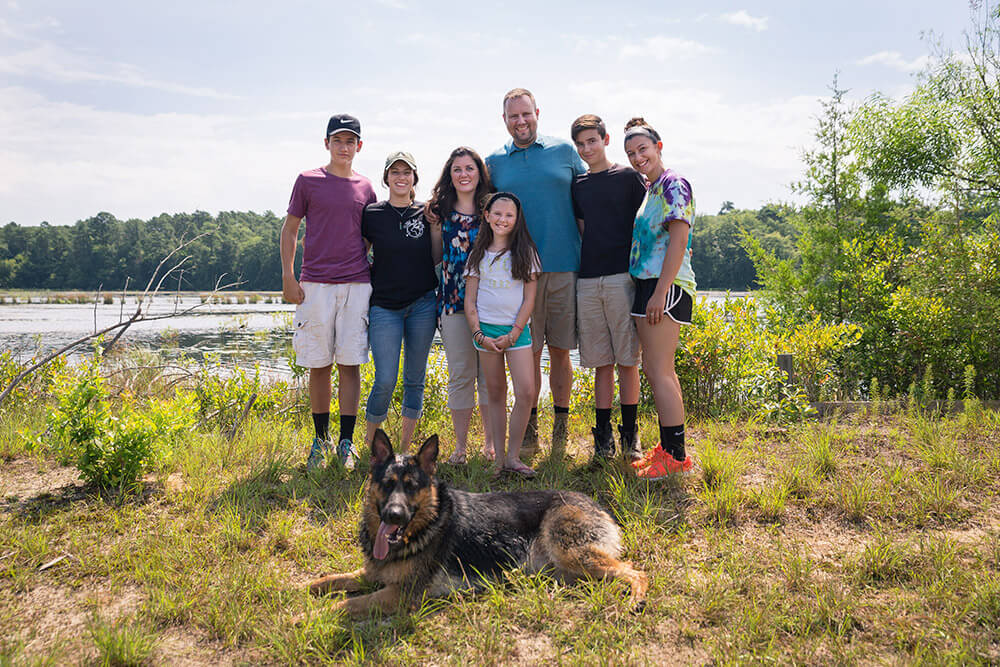 Donnie and the full Davis family.
Donnie also has some advice for people who start a campaign: "Have a passion for what you're doing. There are days that donations come in, and there are days that they don't. But if you have that passion and really believe in what you're doing, nothing can stop you.
"My goal is for other people to duplicate what we're doing here and have the same type of faith. If you believe in something, make the change. What's the worst that can happen — you pick up and go home? You've got to pay it forward. You've got to try."