In January of 2018, a month before the Marvel film Black Panther graced theaters across the world, Frederick Joseph of New York City decided to help kids in his community see the iconic movie on the big screen. What started out as a small act of kindness turned into the #BlackPantherChallenge, a global movement to give kids who might not otherwise get a chance to see the film the opportunity to do so. Then, just a couple years later, Frederick found another way to help his community—this time, with rent relief during the COVID-19 pandemic. Frederick's story is a testament to the power of generosity and proof that a little bit of kindness can go a long way.
---
In January 2017, Frederick Joseph of New York City was scrolling through his Twitter feed when he happened upon a news story that would later change his life's course. The story featured 15-year-old GoFundMe Kid Hero Taylor Richardson, an aspiring astronaut and advocate for girls in STEM fields. According to the article, Taylor raised nearly $20,000 to send more than 1,000 girls to see the award-winning films Hidden Figures and A Wrinkle in Time, both of which feature Black female leads. Her project sparked a national movement, inspiring the creation of 70 similar fundraisers in 28 states—all of which collectively raised over $120,000.
Frederick was inspired by Taylor and her initiative. As a professional working in the nonprofit and cause spaces, he loved the idea of using movies as a means for education and empowerment, particularly those that included diverse representation (with women and Black people playing lead roles). What's more, he admired Taylor's drive and her ability to build a movement from the ground up. Frederick wondered if he could do something similar to give back in his community, but he didn't yet know how.
Fast-forward one year later to January 2018, and Fredrick, an avid comic book fan, was enthusiastically awaiting the release of Marvel's latest film, Black Panther. Frederick was especially excited to see it not only because it was Marvel's first superhero movie with a Black writer, director, lead, and predominantly Black cast, but also because it explored real-world issues. In the words of Clarkisha Kent of The Root, the film "imagined a world where Black people continually triumphed over the influences of capitalism, Western imperialism, and white supremacy."
Even before the movie was released, Frederick knew that Black Panther would be an iconic milestone for Black representation in the media, and he wanted as many children as possible to experience the historical film in theaters. In particular, he wanted to help kids in NYC who otherwise wouldn't be able to see the movie have an opportunity to do so. So, taking a page out of Taylor's book, Frederick teamed up with the Boys & Girls Club of Harlem and started a GoFundMe to send kids in its youth program to a Black Panther screening.
Within a matter of days, Frederick crushed his initial fundraising goal of $10,000. He was blown away by how quickly people in his NYC community had mobilized to support his mission. In a heartfelt message to his GoFundMe donors, Frederick expressed the significance of their support.
"People like you around the country decided our children should be chasing their dreams and boldly pursuing who they want to be instead of believing those telling them who they should be… All children deserve to believe they can save the world, go on wild adventures, or accomplish the impossible."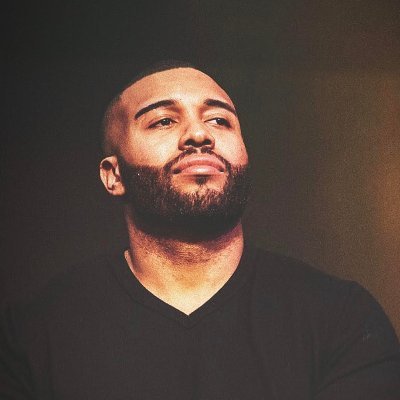 Over the next few days, donations to Frederick's GoFundMe continued to pour in. And eventually, it got Frederick thinking: why stop at Harlem?
Eager to help other kids who might not have the opportunity to see Black Panther in theaters, Frederick put out a call to his community of supporters, inviting them to participate in the #BlackPantherChallenge.
"This [fundraiser] turned into a much bigger campaign that I had originally planned, and now I want to help spread this [movement] across the country. Today I am announcing the #BlackPantherChallenge. I am challenging you to start a GoFundMe to buy tickets for kids in your city to see Black Panther. If you're a teacher, buy tickets for your entire classroom. If you're a coach, take your team. If you're a community leader, do some organizing and get the kids and parents in your community to the theater."
Within no time, Frederick's community answered his call. Thousands of people from all 50 states and 50 different countries donated to a GoFundMe, started fundraisers of their own, or shared the #BlackPantherChallenge online. When all was said and done, over 600 GoFundMes were created, which collectively raised nearly $1 million, helping more than 75,000 children worldwide see Black Panther in theaters for free.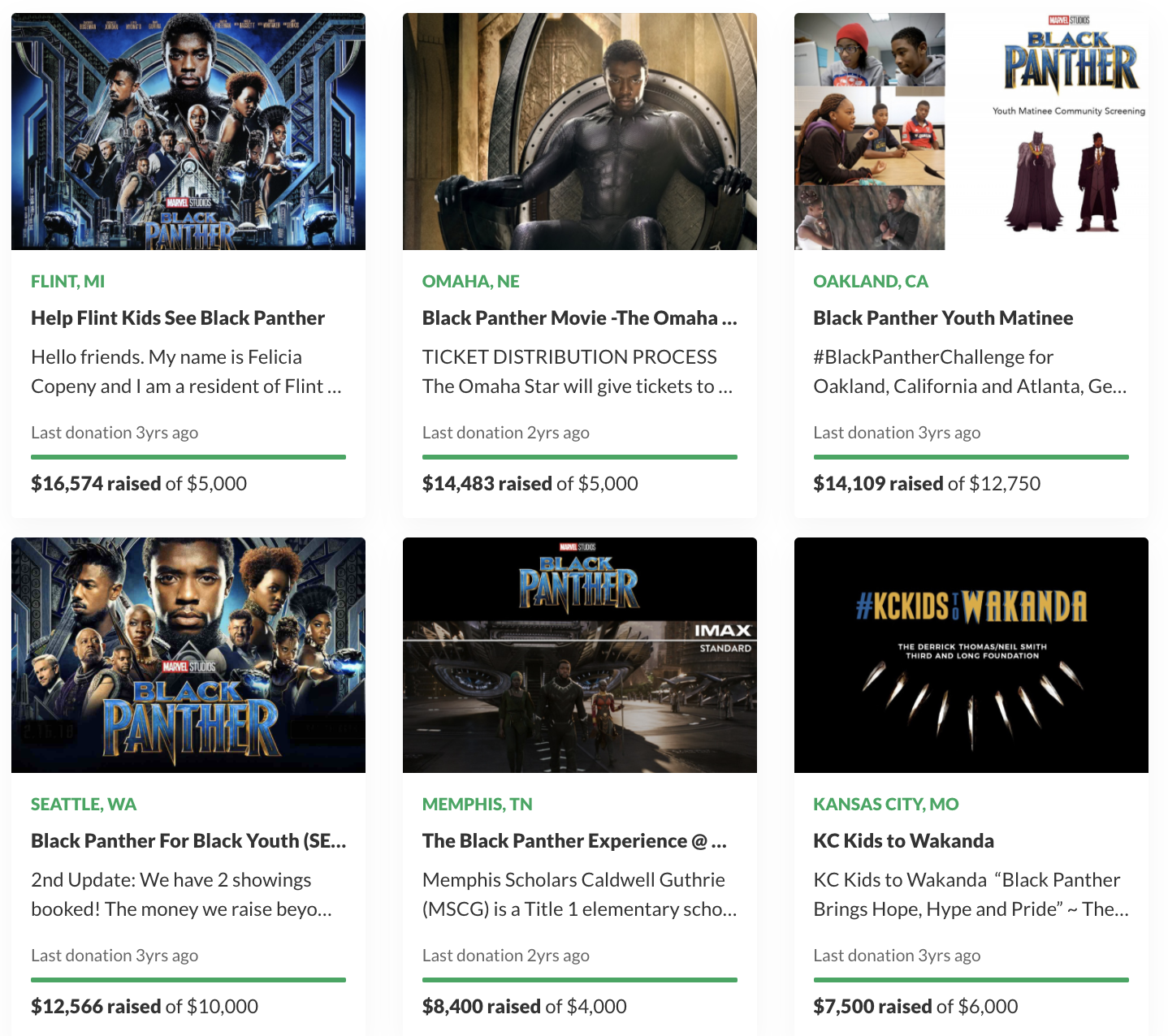 By May, the #BlackPantherChallenge had all but petered out. But for Frederick, this was just beginning.
Inspired by his grandmother, a writer of children's stories who never had access to the resources needed to amplify her work, Frederick founded the nonprofit marketing agency We Have Stories, an organization that supports projects that help create equity and impact the world. Additionally, it provides free services to storytellers and content creators from underrepresented and marginalized communities. In an update to his GoFundMe supporters, Frederick explained why it's so critical for such an agency to exist:
"While the #BlackPantherChallenge was a beautiful opportunity, it was a moment that came and went, and we are left asking 'how do we continue supporting representation?' We Have Stories aims to answer that question."
Since founding the nonprofit, Frederick has helped hundreds of brands and creators grow, build partnerships, and make a difference in the world.
But that's not all that Frederick has been up to since the #BlackPantherChallenge came to a close.
In March 2020, the COVID-19 pandemic touched down in the US and hit NYC especially hard. In the wake of the city's lockdown, thousands of people lost their jobs and suddenly didn't have the means to make rent or pay their bills. Feeling for the people in his community, Frederick saw these dire circumstances as another opportunity to pay it forward.
On March 26, Frederick once again turned to GoFundMe to provide financial relief for people in need. In his fundraiser's description, Frederick told those who needed financial help to Tweet at him (@fredtjoseph) on a thread with their CashApp or Zelle usernames, and he would then send funds their way. Additionally, he called upon others to join him by donating to his fundraiser.
"COVID-19 has created one of the most difficult moments in world history, a moment we will surely look back on. When we do, I want future generations to know we came together as people. To feel proud that we supported one another."
Sure enough, Frederick's community came together. People from around the country donated to his rent relief campaign through GoFundMe and other fundraising outlets, which ultimately generated an unbelievable $2 million and helped over 5,000 families who were struggling to make ends meet.
When his rent relief fundraiser finally came to a close in July 2020, Frederick reflected on his fundraising journey:
"Those who are familiar with me know that over the last few years I've done my best to try and fundraise to help people or provide opportunities during various moments. But the challenge of helping those in need during Covid-19 has been the most frightening and eye-opening. From the start of the campaign, I had to read nearly 3,000 asks for help daily. From people who needed food, people who needed to keep the lights on, people who needed a hand. It broke my heart because I was never going to be able to support everyone. For that, I'm sorry."
Frederick continued, "I grew up as a person who was also vulnerable and in need. Watching my family struggle to navigate systems that were designed to keep us in poverty—to keep us struggling. It's unfair and inhumane. I see and love you all. I'm proud of what we accomplished. There are 5,000 families who know people care about them, and that's thanks to all of you."
Today, Frederick continues to try to make a positive impact in the world and help others every chance he gets. He's an activist and author of the bestselling book The Black Friend: On Being a Better White Person.
To learn more about Frederick and his fight for change, listen to his interview on GoFundMe's podcast True Stories of Good People.
To meet more kind New Yorkers who are making a difference, click here.