"I want people to know that I care and that other people care about them."
One cold and rainy day in 2016, Ryder's parents drove him and his brother, Brody, to the Vancouver Aquarium. While looking out the car window, Ryder noticed a man living on the street without rain gear or even shoes. Instead of turning away, Ryder decided to do something about it — and started a movement.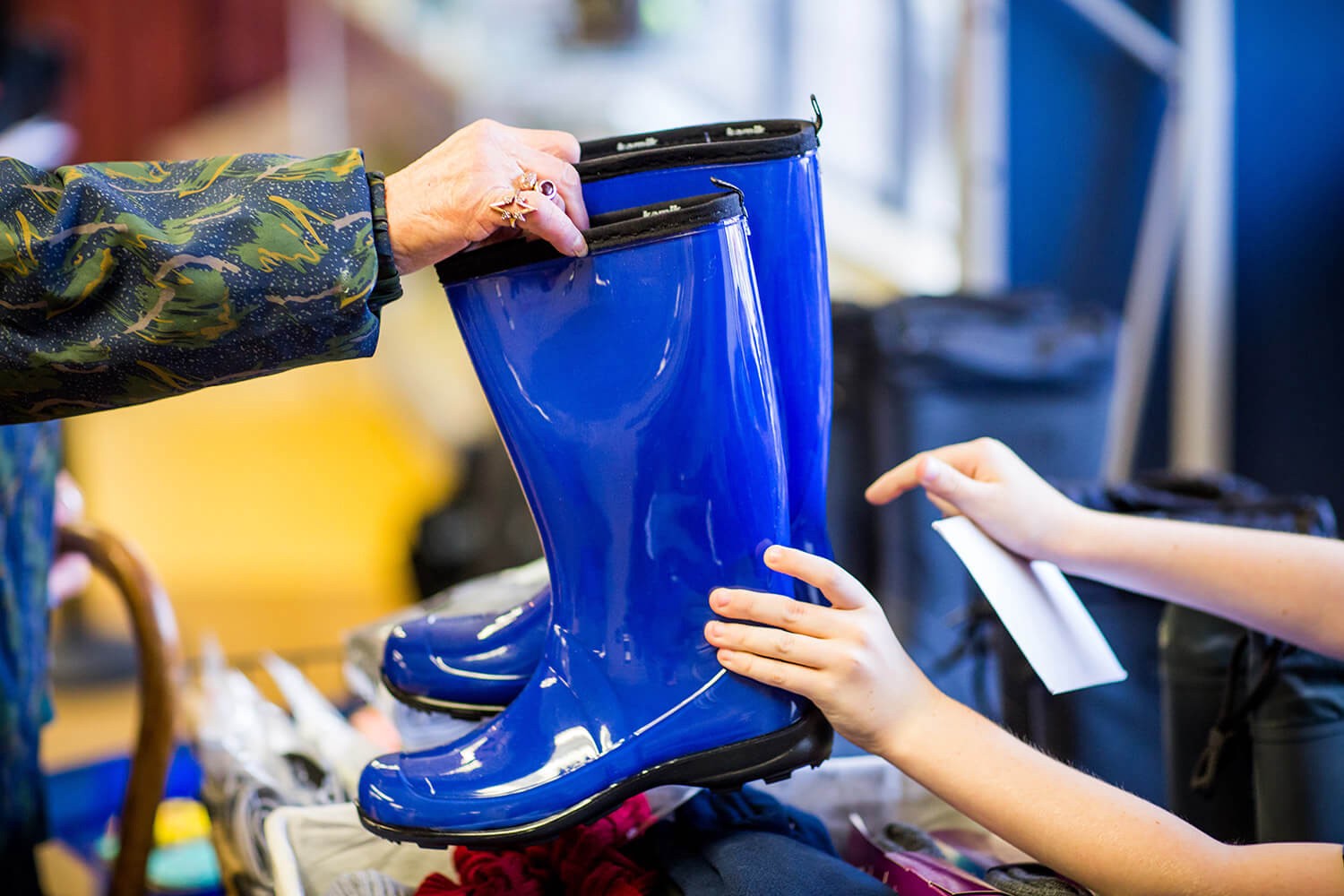 That rainy day in downtown Vancouver, six-year-old Ryder, his three-year-old brother Brody, and his parents were driving to the aquarium. With the windshield wipers swishing away on full blast, Ryder took in his surroundings as they passed through the Eastside.
Downtown Eastside Vancouver is one of the oldest areas in the city — and one of the poorest neighbourhoods in Canada. As a result, there are many people living there who are homeless.
Ryder's parents never shy away from this strip. They've always believed in exposing Ryder and Brody to all sides of life. It stirs up thoughtful conversations about homelessness and the factors that may lead people to live on the streets.
Ryder couldn't help but notice how many people on the street didn't have any rain gear, and one man in particular caught his eye. He wasn't wearing shoes. Ryder didn't think it was fair that he was warm and dry inside his family car while there were people living outside who were wet, cold, and without proper protection.
Ryder's instinct was to give the man his boots, but Brody—worried about his brother's own comfort—said, 'No, those are Ryder's rainboots.'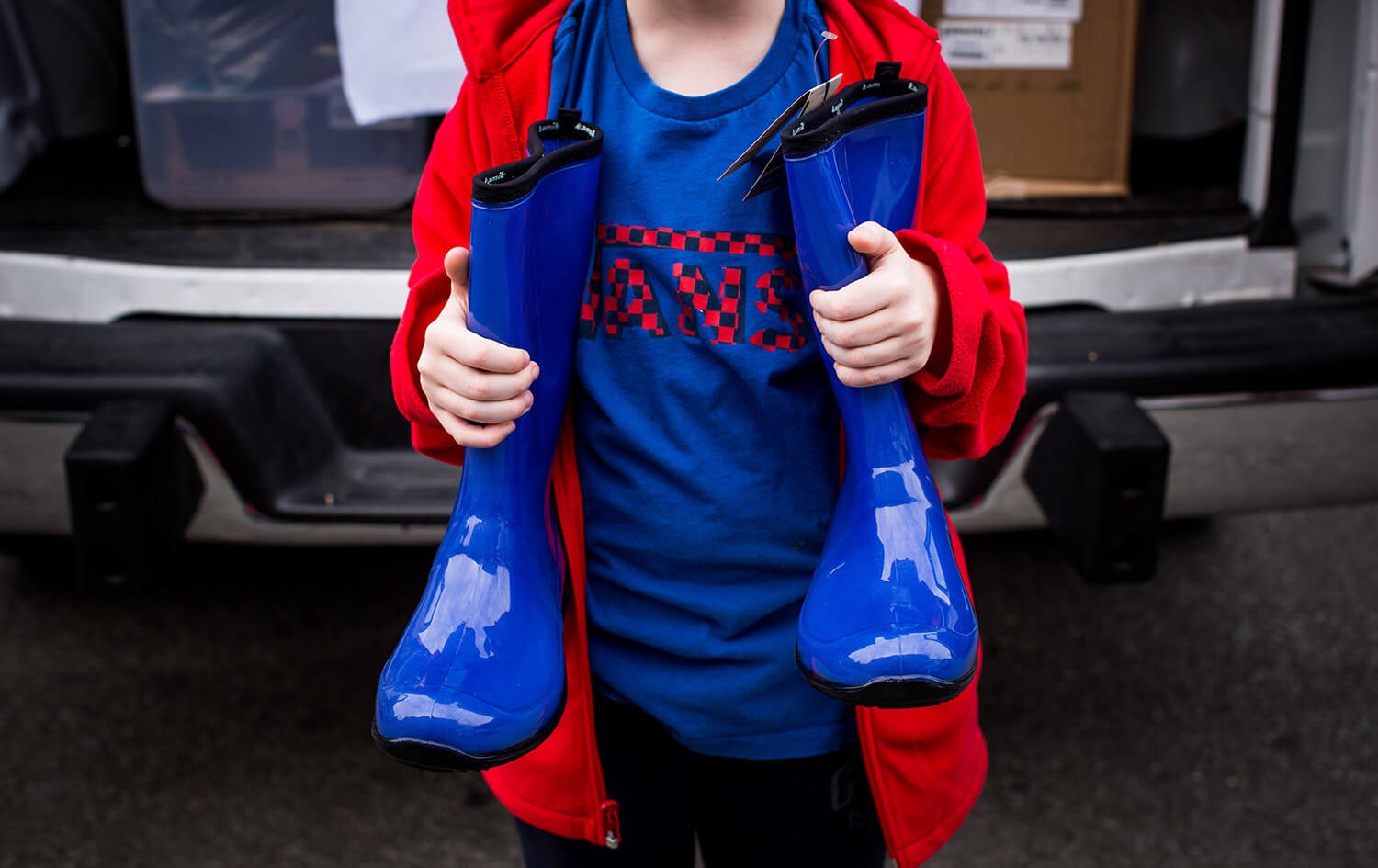 Ryder couldn't stop thinking about the man without shoes. He decided he wanted to do something to help. Later that evening, the Moores had a family meeting to talk though Ryder's idea. They all agreed they should take action.
That night, Ryder and his family started a GoFundMe for Ryder's Rainboots—with the goal to give boots, ponchos, and socks to people in need.
"We didn't know if the fundraiser would be a success. We thought there was a chance we'd have to buy the boots ourselves. But everyone got really excited about it," says Sarah.
Donations and support poured in from their British Columbia community. Ryder's classmates even chipped in by donating their money earned from chores.
"Whenever Ryder thinks or talks about how much support he's getting, you see his face light up with a silent pride and gratitude that he can't quite put into words," says Sarah. "It's lovely to see this in him."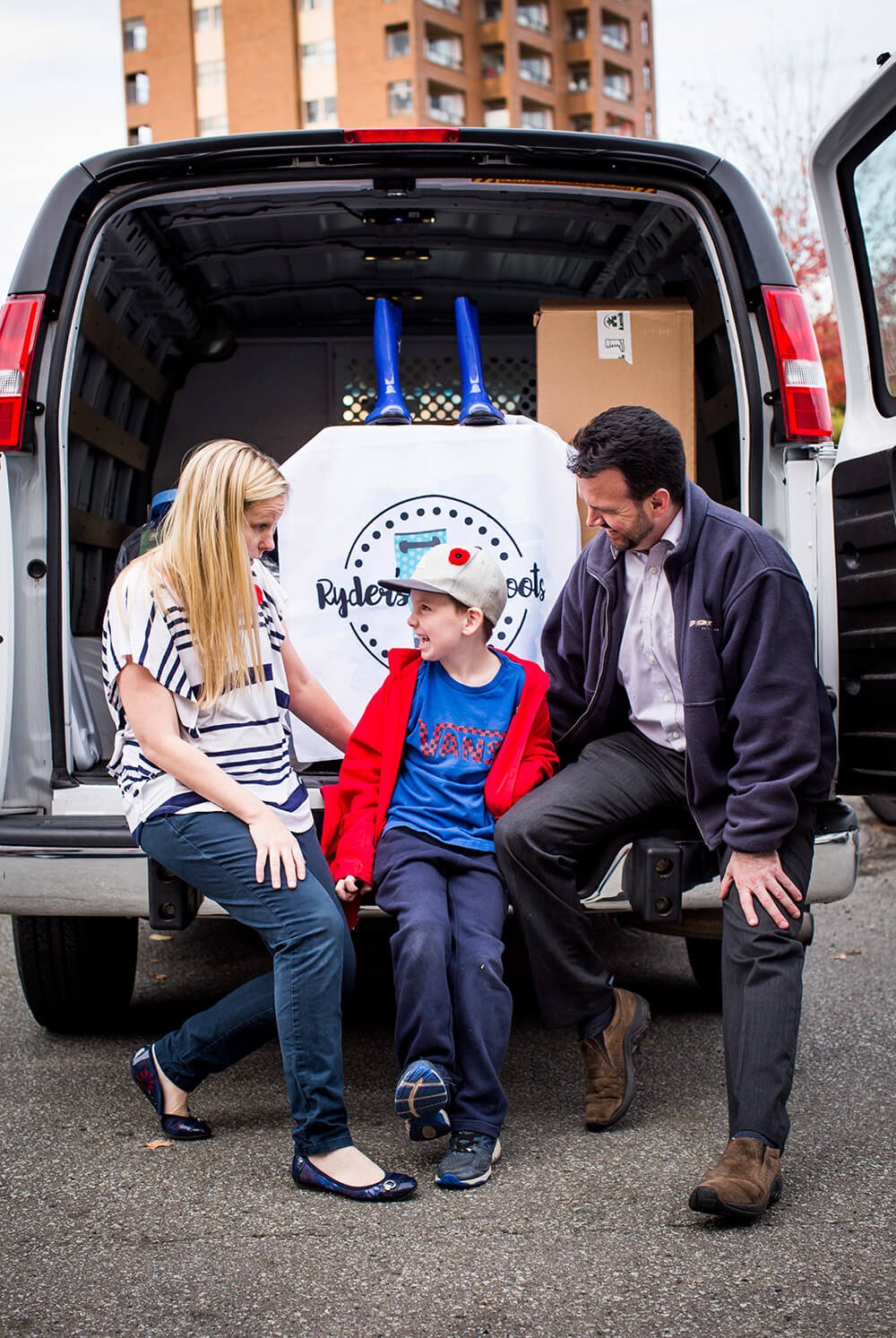 In his first year, Ryder raised more than $2,500—enough to buy 14 pairs of women's boots, 24 pairs of men's boots, 30 pairs of children's boots, 38 men's and women's rain ponchos, 80 pairs of socks, 70 pairs of gloves, and 30 children's Muddy Buddy rain suits.
Now in his second year of Ryder's Rainboots fundraising, Ryder has already raised $3,000 — enough to buy 100 pairs of rainboots. He even partnered with a Canadian boot company to buy gear at a discounted price and hand-pick the boots himself. Not one to overlook details, Ryder included a handwritten note with each pair of boots that read, "Hope these boots keep your feet dry. From Ryder's Rainboots xoxo."
He met his goal this year again and was able to see the impact of his mission first hand. Ryder handed out the rain gear on November 8 at Salvation Army Ridge Meadows Shelter, where he was met with a line of grateful people.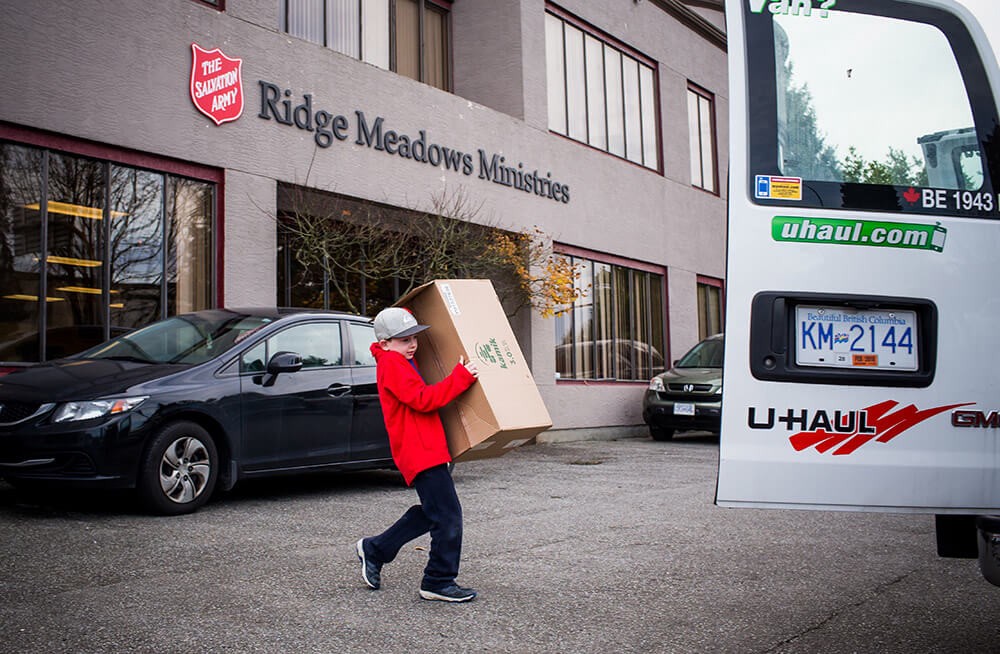 "Handing out boots was awesome," said Ryder. "I got to meet lots of nice people who were excited about my project. They said they like my cards the best. I was able to learn about why people are at the shelter, and it made me think, 'That could happen to anyone.'"
If this year's GoFundMe continues to receive donations, Ryder plans to donate more rain gear for kids living in poverty in his community. He says it's important that families have proper rain gear as well and wants kids to be able to "jump in the puddles."
Ryder's goal is to bring back Ryder's Rainboots next year—and every year: "It feels really good. I like helping people."
His mother, Sarah, is onboard, too. "It's been amazing to watch Ryder develop into a thoughtful and compassionate young man and find his passion through a relatively small idea," says Sarah.
"We've realized that this campaign isn't just about giving to others. It's also making Ryder into a more confident and passionate child who sees how much he can do in this world."
Ryder was inspired to take action in his community after witnessing a need. His advice for other kids? "Just do it! A small idea is all you need to get started."