"I almost feel selfish for doing what I do because these kids just humble you and are so happy to be alive. It puts your life in perspective every single day."
This is the story of Jamie and Cindy, two friends in different states who welcomed seven foster children with disabilities into their hearts, their homes, and their families.
When Jamie Jenkins was 21, one moment changed her life forever. She had been working for about a week at a treatment facility for medically fragile kids at a children's hospital in Denver.
When Jamie walked into the center on Monday morning, her boss asked her how her weekend had gone. Jamie started in on a litany of complaints: "So my car broke down, and this went wrong, and then—"
"Well," her boss interrupted, "little Sara died over the weekend."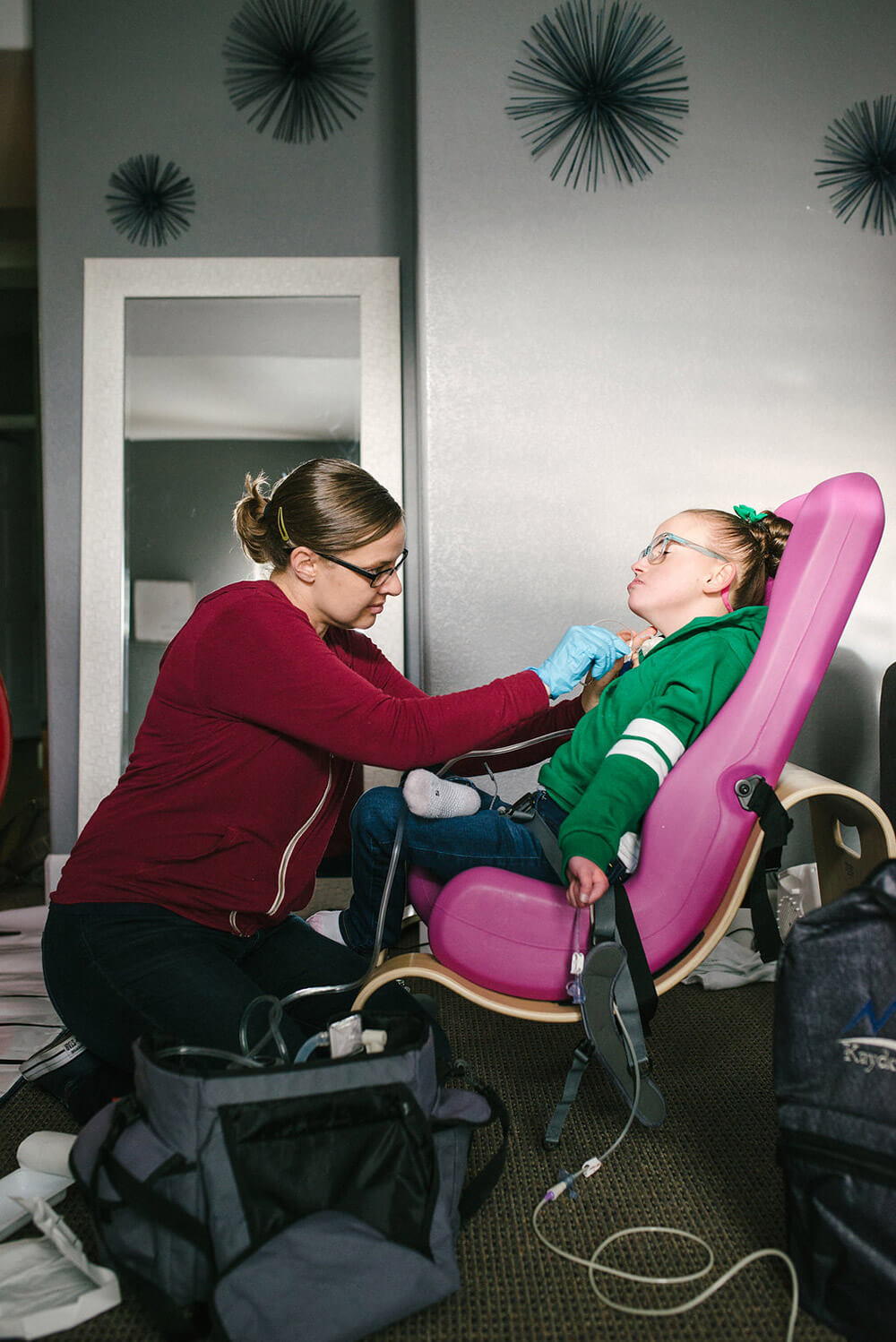 hat moment shifted Jamie's perspective for good: "I realized my problems that I thought were so important at the time couldn't even compare to those parents who had lost their little girl.
"I kept her picture on my car's dashboard for the next seven years to remind me."
When Jamie became pregnant with her daughter Adacia, she enrolled in nursing school so that she could have a job that paid the bills but still gave her time with her little girl.
After graduation, Jamie worked in at-home health care, helping medically fragile little ones in their own homes.
Jamie ended up caring for many of these kids for years at a time, developing deep bonds with them and their families. And over time, she realized that there was room in her heart for more little ones of her own.
So when Adacia was 8, Jamie decided to foster. And then, to adopt.
First was little Kayden—brought home at 5 weeks old, born 9 weeks premature and addicted to heroin. Two weeks later, Jamie got a call for three-month-old Rylee, who had been shaken by a parent and at the time wasn't expected to survive. A year later, Angel, a little girl with brain injuries, entered their lives as well.

8-year-old Kayden, aspiring gold medalist.
And finally, there was Ashaun, who had been a walking, talking 2-year-old before a relative shook and threw him—rendering him blind, mute, and unable to walk. He wasn't expected to live, but with the love of Jamie and her partner Anthony, Ashaun is still beating the odds four years later.
"I almost feel selfish for doing what I do because these kids just humble you and are so happy to be alive. It puts your life in perspective every single day," says Jamie. "I wanted that for my daughter, too. Adacia says that her little brother and sisters are her best friends."

Ashaun cuddles with his big sister, Adacia. Kayden and Anthony tuck in Rylee.
The kids were a blessing, but they also came with a laundry list of new and specialized needs. Jamie and Anthony felt fortunate that they could cover many of these expenses with their combined incomes, but when it came to big needs like making their home accessible, they were at a loss. Then, a few kind strangers stepped in.
Through a series of home-search misadventures, Jamie and Anthony stumbled upon a woman who was selling her home. When she heard about their family, the woman lowered the price to match their budget. Then, a contractor offered to do the ground-floor renovations at cost. And friends even donated to 
a GoFundMe
 to help with their expenses.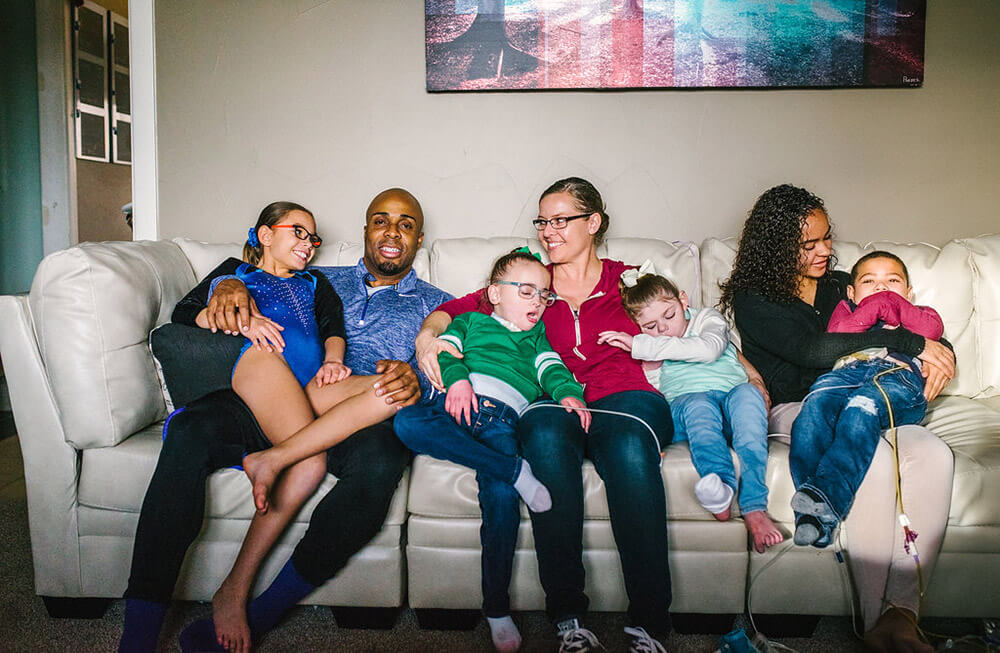 Jamie was floored by the kindness and generosity shown to her family. But she also realized that many adoptive parents like her don't have the same financial means or support—so she decided to pay it forward.
Ten years ago, Cindy Padgett had two teenage children and was working as an in-home child development specialist in the Los Angeles Area. While working with these kids, Cindy realized there was room in her heart for more little ones of her own. So she started to foster.
Over the years, Cindy has provided a loving home to 19 kids—three of whom she has adopted.

"Dr. Jackson" examines his little brother, Danny. Jonah concentrates on his newest creation.
Her older two, Jackson and Jonah, are now 8 and 4, respectively. They both have Down syndrome and are on the autism spectrum, but they are so much more than their diagnoses.
Cindy describes them as smart, loving, and inquisitive cuddle-bugs. Jackson loves to read, swim, and pretend he's the family doctor. Jonah loves to sing, zip down slides, and give everyone big hugs (his family nickname is Squishy).
And then there's three-year-old Danny.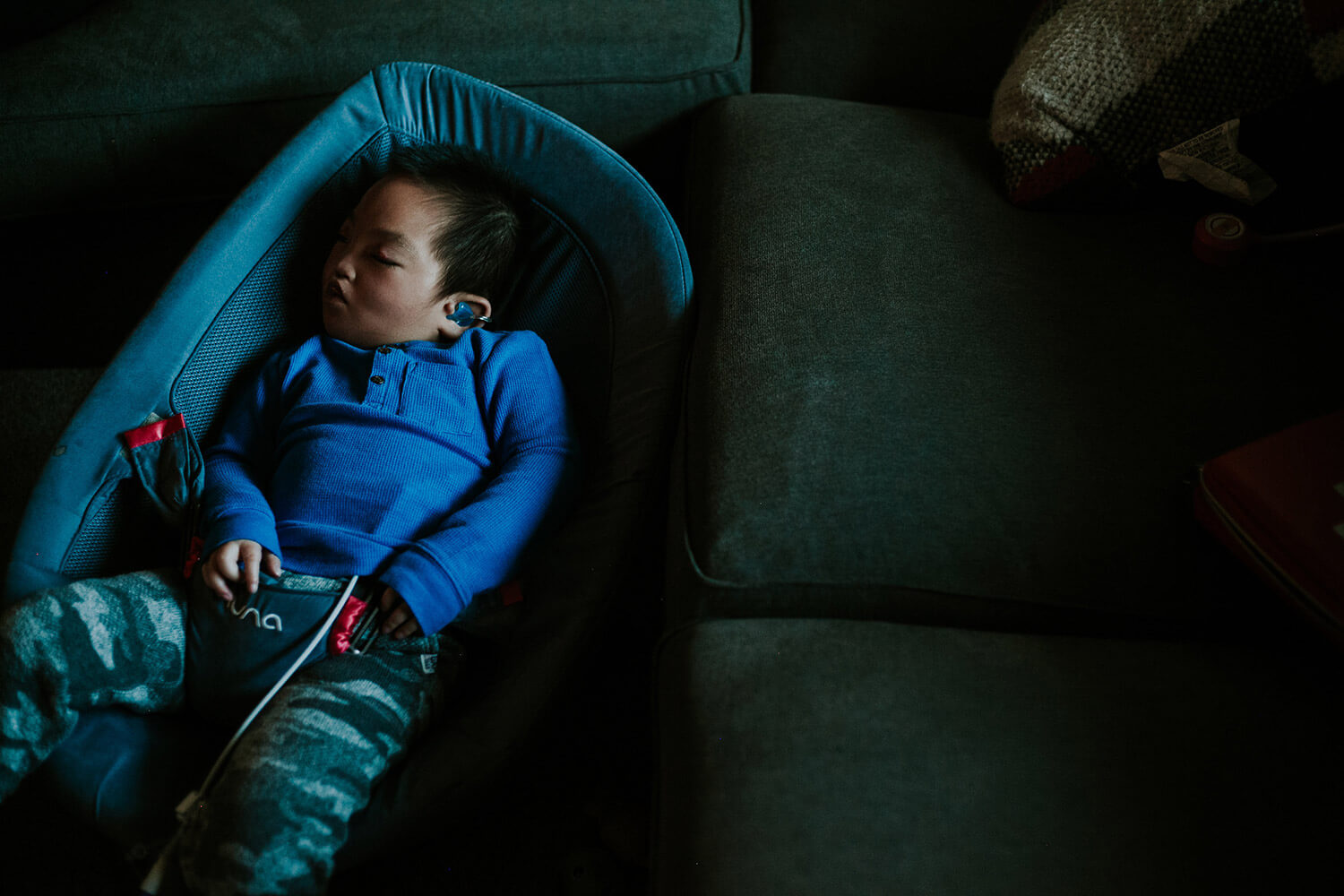 Unlike his older brothers, Danny is medically fragile. He has Wolf Hirschhorn syndrome, which means that he is missing part of his 4th chromosome. As a result, Danny has cortical blindness, seizures, low muscle tone, hypoglycemia, trouble regulating his body temperature, stage-2 kidney disease, and requires an abdominal feeding tube.
You might think that with all of these challenges, little Danny would be miserable. But you'd be wrong.
"Danny is the sweetest and happiest little boy. He loves music and bright lights, tickles, playing his drums or piano, shaking his maracas, being outside, watching the leaves sway in the wind, looking out the car window when I drive, riding on the school bus, and he is an amazing cuddler," says Cindy.

Cindy has given Danny, Jackson, and Jonah the loving home they needed. But because of her limited income as a single parent, she hasn't been able to provide Danny the specialized equipment and accessibility that would improve his life dramatically.

As Danny grows older and heavier, it has become more difficult for Cindy to carry him from her car, around the house, and up and down the stairs — none of which are wheelchair accessible.
Donations to 
the GoFundMe
 will go toward Danny's practical needs—like a backup generator for his array of medical equipment. Currently, whenever the power goes out, Cindy has to rush Danny to the hospital.
Other wish list items for Danny include an adaptive swing, a multi-position stander, a proper bed, a used wheelchair van, and ultimately, a home in which Danny could grow and thrive.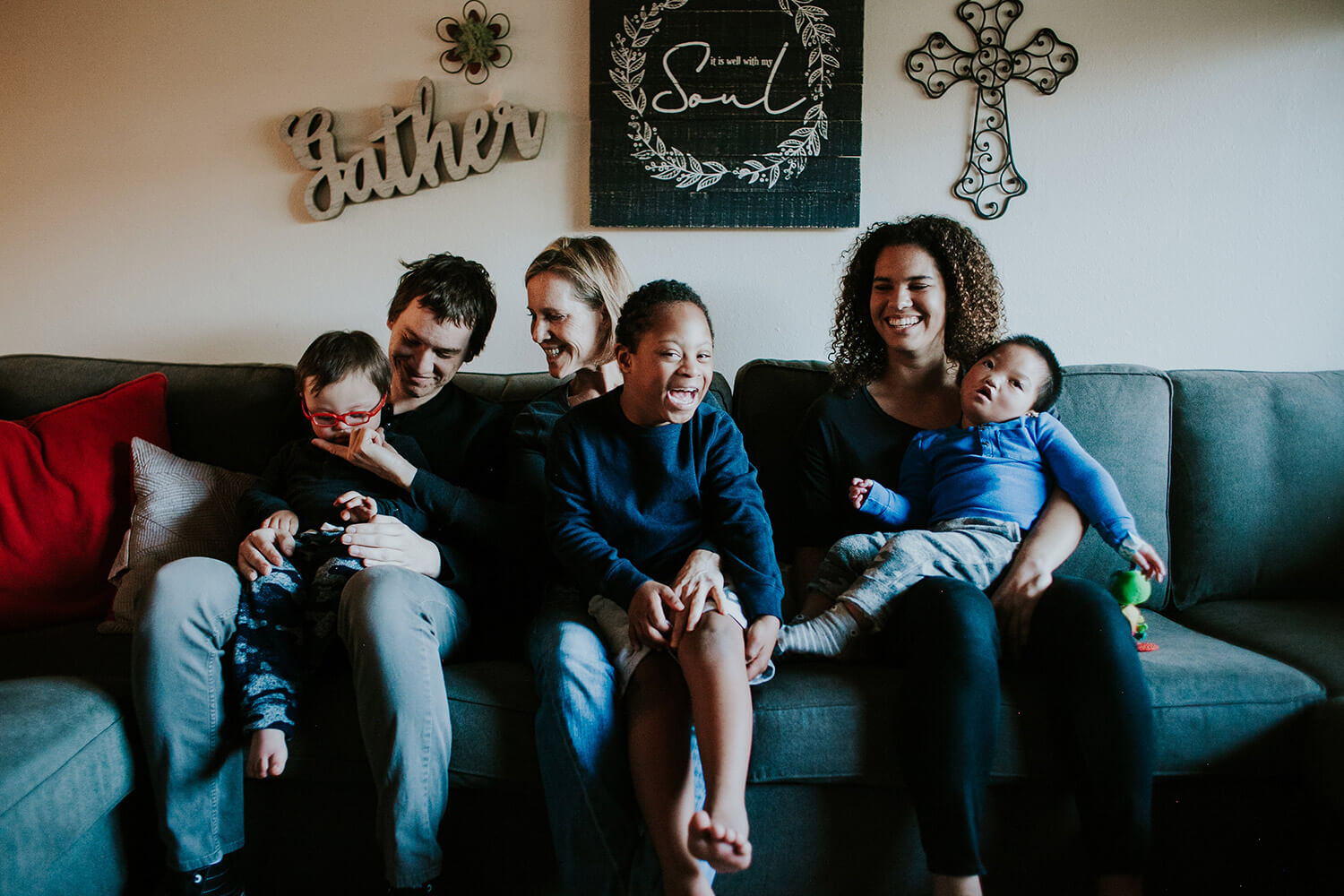 Cindy's grown children, Alex and Maryah, help her care for their little siblings.
Whether or not they reach their goals, Jamie and Cindy hope that their stories inspire others to open up their hearts to foster or adopt.
"The best way I know how to describe adoption is that it's like that feeling you get when you've delivered your baby, the nurse hands him to you, your heart melts, and you instantly fall in love," says Cindy.
"I still wake up every morning and feel so blessed and so grateful and so thankful that this is my life… this is my family."