As a young woman with Down syndrome, Brittany Schiavone has always defied stereotypes by showing others what she's capable of accomplishing. Her passion for living life to the fullest sparked an idea to help parents who are expecting babies with Down syndrome. Since 2016, Brittany's Baskets of Hope has celebrated over 1000 babies—and through her own compassion and persistence, Brittany is showing the world that people with Down syndrome can truly do anything they set their minds to.
---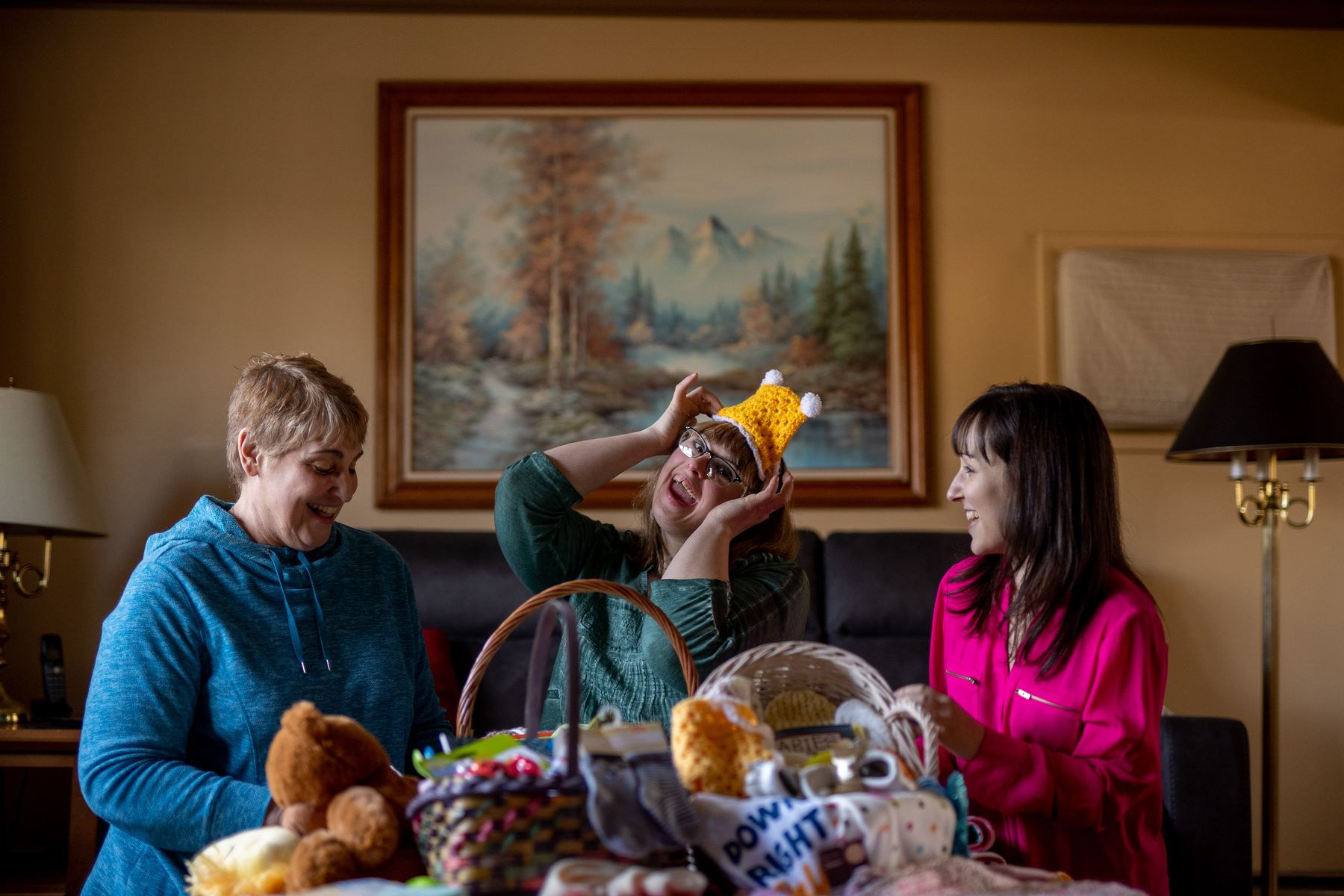 Brittany first had the idea to help others while she was on her lunch break one day at her former retail job. She and her boss were watching a YouTube video about parents who had just given birth to babies with Down syndrome. The families in the video talked about the importance of emotional support during this stressful time in their lives, as well as the value of additional support to help them manage the health complications that often accompany Down syndrome, like congenital heart disease.
Brittany went home and told her parents she was inspired to help others, and together they thought of the idea to give care packages to new parents who are expecting a child with Down syndrome. They wanted their baskets to provide parents with resources on raising a child with Down syndrome, as well as a pamphlet detailing Brittany's journey. She hoped her story could give parents a chance to see that their child's life could be like hers: filled with determination, success, and fun.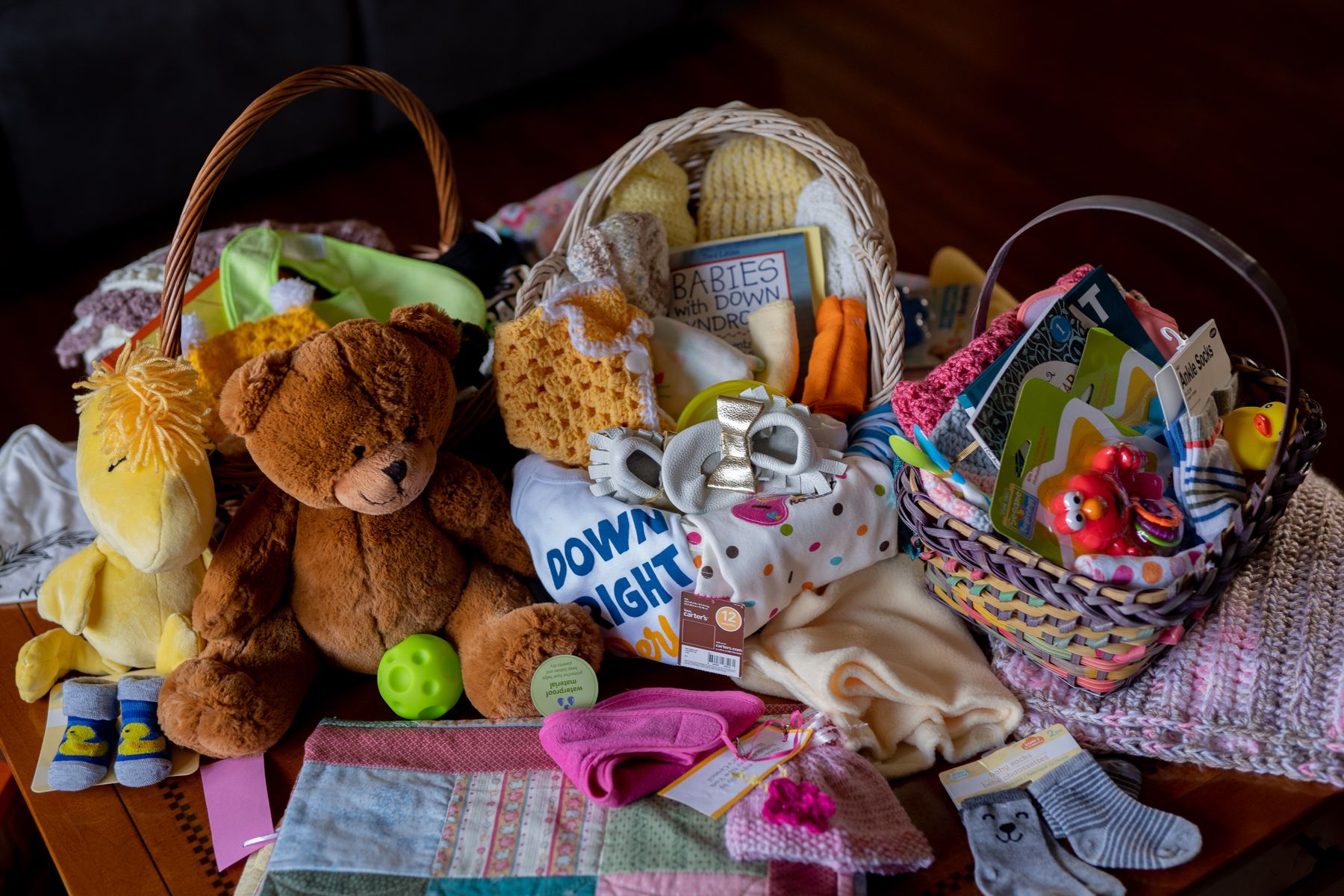 Brittany and her parents named their project Brittany's Baskets of Hope, and before long, they were able to gain 501(c)(3) status. Soon after, they brought on their first staff member, Ashley Asti, who joined the organization as secretary and social media director. Now, she's one of Brittany's closest friends.
"I always tease that I knew we were going to be friends from that first hug," says Ashley.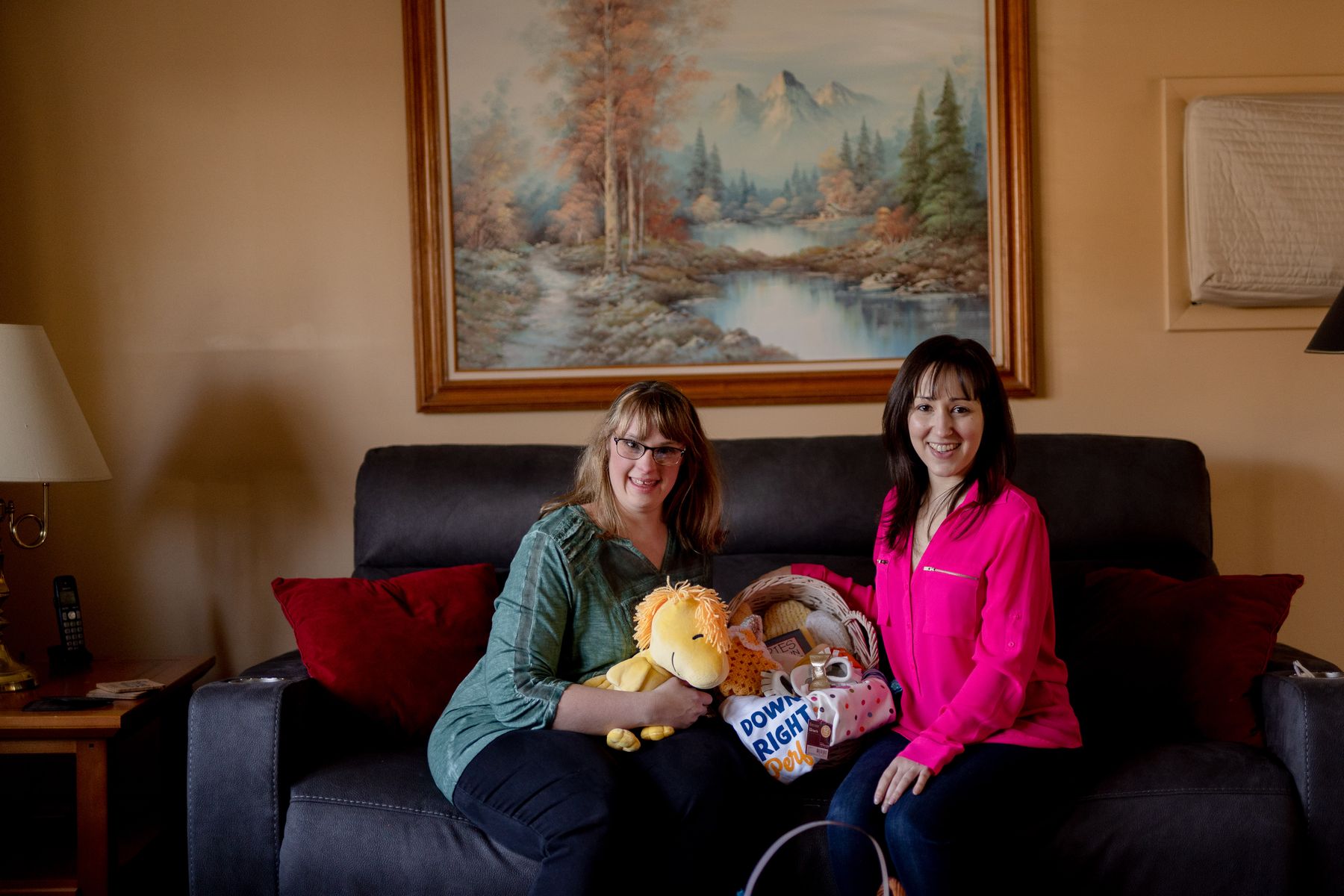 They delivered their very first basket to a family in October of 2016, and the word spread quickly from there. They began regularly receiving requests for baskets from families across the country, and they soon developed a system for fulfilling them.
Brittany, her family, and Ashley get together in the Schiavone's home to read aloud each and every story submitted by families—a ritual Brittany says gives her much joy and happiness. Then, they form an assembly line to create custom, hand-packed baskets for each family.
"We want to let them know that no matter who they are, or how they're born, their life deserves to be celebrated," says Ashley.
In addition to a pamphlet with Brittany's story, and resources for raising children with Down syndrome, each basket contains empowering children's books, gifts for the baby, and a onesie with the organization's logo, which reads, "Down Right Perfect." Hand-knit gifts for the babies were a later addition to the baskets.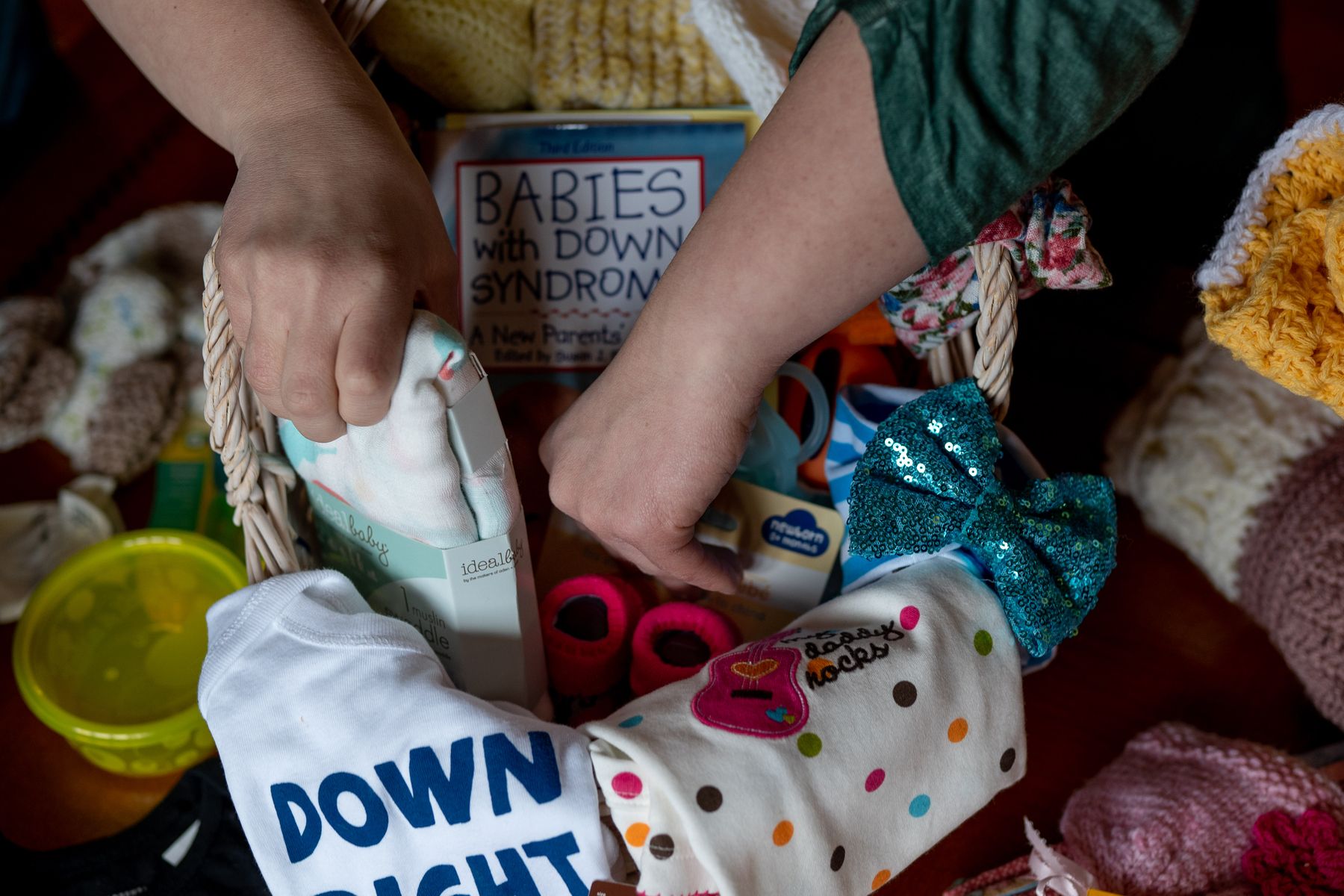 "We have a bunch of people donating knitted and crochet blankets," says Brittany. "And they do booties and hats, too."
Since their very first basket four years ago, Brittany's Baskets of Hope has welcomed babies with Down syndrome into families over 1000 times in all 50 states—plus Puerto Rico. They make it a point to fulfill every request they receive, which can become expensive, since each basket costs about $50. To offset costs, the Schiavone family and Ashley created a GoFundMe.
To spread awareness for their cause, Ashley shares stories from different families on the organization's social media accounts.
"The social media accounts have been a place of so much love and support," she says. "Even if people aren't local to each other, they often connect virtually and share pictures of their children."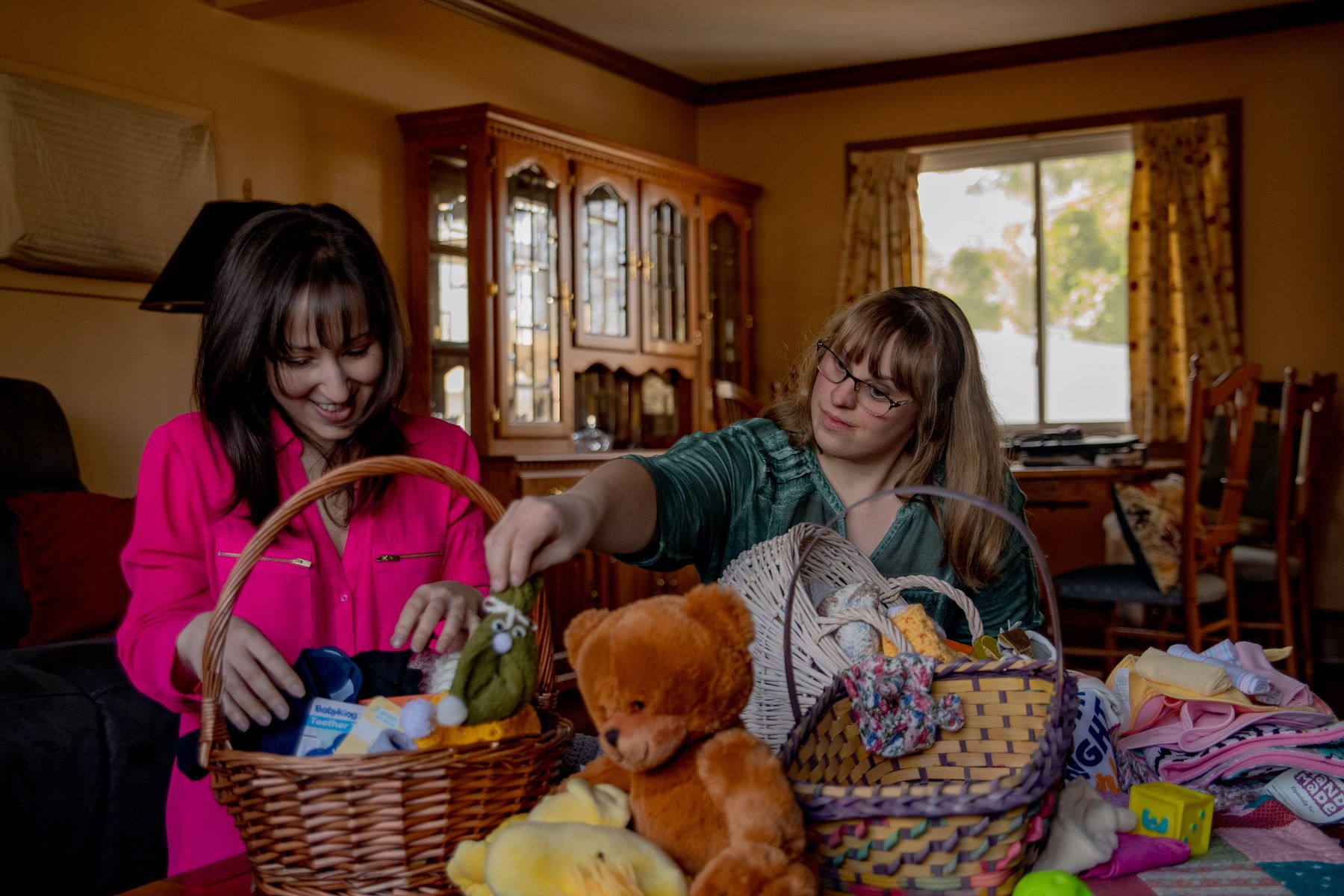 Ashley also posts photos featuring Brittany doing everyday things and enjoying her life. She says those posts are sometimes the most empowering, as they show parents who have babies with Down syndrome that their own children can grow up and lead fulfilling lives.
As soon as it's safe and the timing feels right, Brittany's Baskets of Hope plans on holding its very first fundraising gala to boost awareness for its cause and celebrate some of the families they've worked with.
While COVID-19 has made the future a bit uncertain, one thing is for sure: As long as there's a need, Brittany will continue spreading hope and sending baskets to families everywhere.
"I want to keep it going and get my word out," says Brittany. "I want to tell them that babies with Down syndrome can do anything—really, really, really, really can do anything."