When a chance encounter on the internet brought together Anne, an African American female professional fiddle player, and Amanda, the only African American female violin maker on record in the United States, the serendipity wasn't lost on them. They immediately knew that with the help of their community, they could make history—and inspire others to live out their dreams.
---
Anne Harris has made a career traveling the world as a fiddle player. She's performed with artists like Otis Taylor and Jefferson Starship, made an appearance on NPR's Tiny Desk, and released six albums—all while playing the same violin her parents bought her when she was ten years old.
"My parents bought me the fiddle that I still play today. It's a 1961 Roth violin," Anne says. "I came to a point a couple of years ago where I decided I needed a new violin to expand my sound."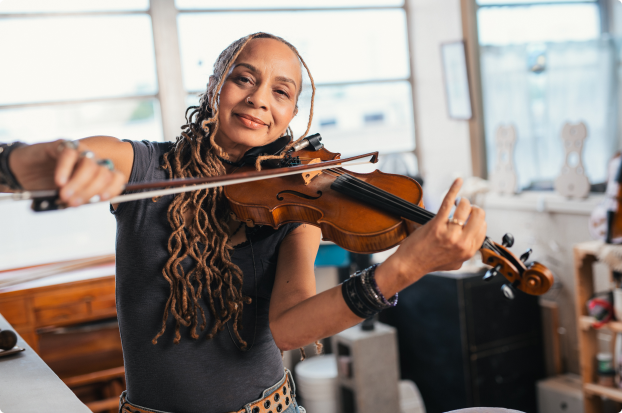 As a believer that the right things find their way to us, Anne leaned into the idea that the violin meant for her would make its way to her. Soon enough, Anne stumbled across the Instagram account of a violin maker and instantly knew she had found the perfect person for the job.
Anne's Instagram algorithm brought her to Amanda Ewing's profile, the first and only female African American violin maker on record in the United States. As a Black fiddle player, Anne was excited to see someone who looked like herself crafting the instrument she played.
"As soon as I saw Amanda, I immediately knew that she had to make my next instrument," Anne shares.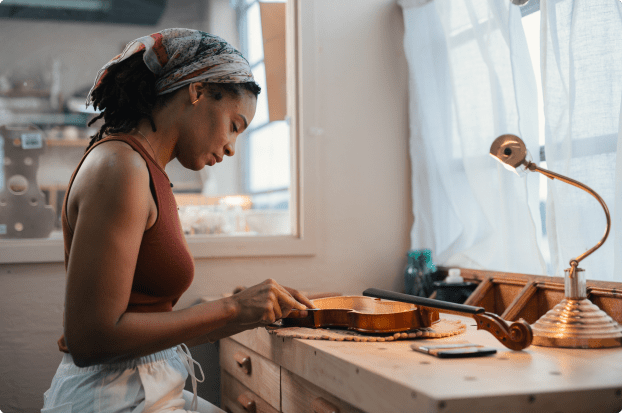 Amanda is a luthier—a professional maker of wood stringed instruments. Specifically, she is a maker of violins, cellos, and basses. She found her way to the craft when she was laid off from her job of 16 years.
"I'm a recovering corporate worker in pursuit of my most extraordinary life," Amanda shares. "After I was laid off, I started saying yes to all the things I love, and that brought me back to playing the violin."
With the help of a local Nashville violin program, Amanda was introduced to her luthier teacher, who she apprenticed under for over four years. While working in the shop one day, Amanda and her teacher talked about how few Black violin makers there are. To date, there are still no other known Black female violin makers. This inspired Amanda to not only finish her apprenticeship, but to influence the future of lutherie by becoming a face in the industry that other young Black and brown girls could relate to.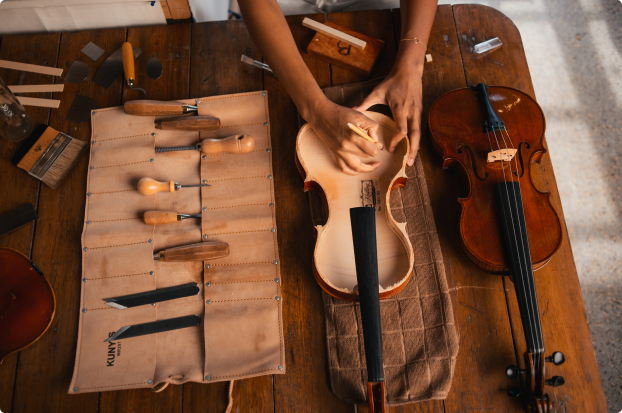 "The reason we don't have any makers that look like me is because there's no representation," Amanda shares. "Over time, this journey of making violins became more meaningful and less about me. At the beginning, it was my joy. But I would also like for it to be someone else's joy someday."
With four years of apprenticeship under her belt, Amanda is now a trained luthier, crafting violins of her very own. Anne and Amanda both felt that finding each other was destined. As a Black female fiddle player and the only known Black female luthier in the US, they knew they simply had to create a violin together.
"The joy that I had in seeing somebody that could be my sister embracing this art form—the fact that a Black woman could make me an instrument," Anne says, "there was just this sense of ancestral intervention. I felt our ancestors rejoicing as they cheered us on in this historical union."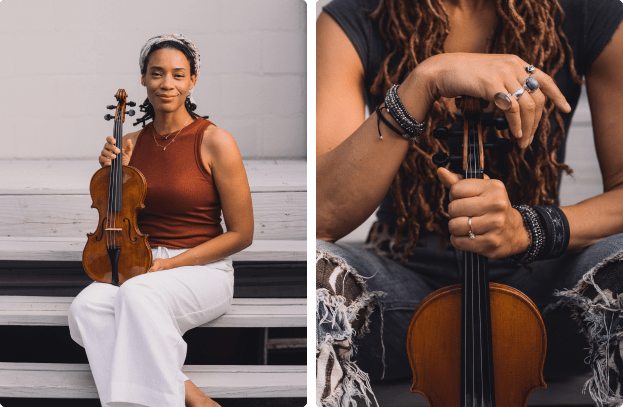 Crafting a violin takes an average of 250 hours and can cost thousands of dollars—money Anne didn't have lying around. She turned to GoFundMe to ask her loyal fanbase to help her cover the costs of commissioning Amanda to create her next violin.
"I wanted a community to be a part of this instrument," Anne shares. "GoFundMe was a natural decision."
With the help of the GoFundMe community, Anne reached her fundraising goal in just two months. She plans to use any additional donations to fund the recording of an album with her new violin.
"I'm absolutely floored by how people rallied around it so quickly," Anne shares. "On every level, there was just an outpouring of positivity, way beyond what money can measure."
With their story, Amanda and Anne hope they can inspire people everywhere to live the fullest possible version of their life.
"It's not just about us. It's the fact that we're doing something that's never been done before," Anne says. "Never in the history of this country has a violin been commissioned between two African American women."
Amanda adds, "I hope people are inspired to do what they said they couldn't do. You can be in the minority, female, look different, feel uncertain, and succeed anyway. The overarching hope is that people feel inspired to try something new, to revisit something old, to be the first, to dream, to learn, to do, to create opportunities for others, and to pursue and become the greatest version of themselves."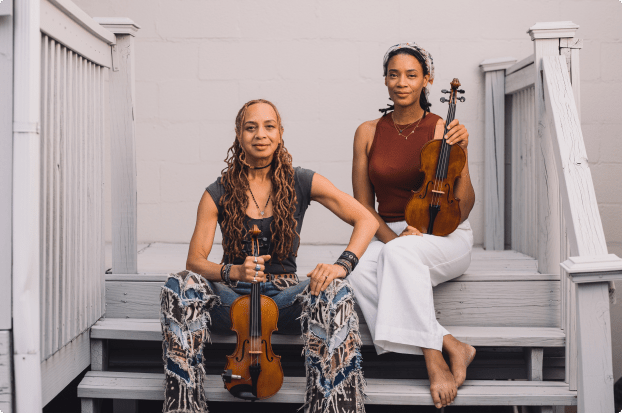 Join Anne and Amanda for a live conversation with GoFundMe in celebration of Black Music Month on June 30th. Register here.