While in a refugee camp as a child, Chef Alex Hanesakda watched his father cook meals for friends, family, and even strangers. It was in those moments when he learned how food could break down barriers and bring communities together. Now, years later, Alex has started his own restaurant that honors the refugee experience, gives back to the community—and, most importantly, brings people together.
---
As part of a Laotian family who came to America as refugees after the Vietnam War, Alex Hanesakda grew up feeling like an outsider in his own hometown. Being the only Asian family for miles, his parents built relationships through the food they prepared for their neighbors—namely, his mom's egg rolls. Before long, the Hanesakda family was beloved in their community.
"The egg rolls were the medium that broke through, even though my parents didn't speak very good English," Alex explains. "That was the gift for our neighbors to start that conversation of, 'Where are you guys from? What happened?'"
Years later, Alex had the idea to sell his mother's delicacies at local live breakdancing events that were held to benefit a nonprofit organization in his community. Inspired by the popularity of the egg rolls and the desire to create more Lao and Southeast Asian-inspired dishes, Alex started his restaurant called SapSap, which means "delicious delicious" in Lao and Thai.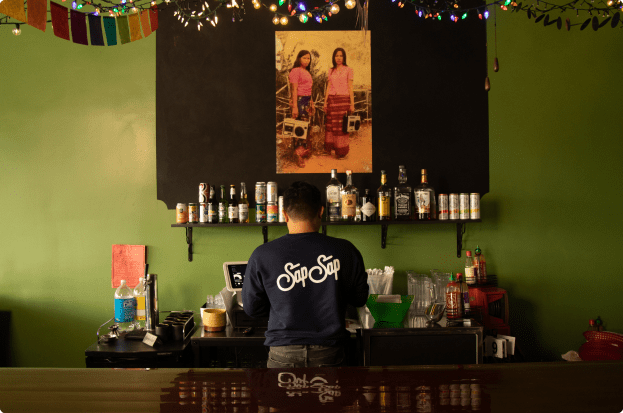 Alex says that SapSap is driven by the refugee experience.
"I think we all agree that food is one of the most powerful vehicles that break down cultural and social barriers," Alex says. "The whole idea of SapSap was to shed light on refugees everywhere."
Although Alex describes his family as the embodiment of the American Dream, growing up watching his late father struggle with post-traumatic stress disorder (PTSD) from fighting in the Vietnam War was very difficult for him. Seeing what his father went through inspired Alex to use his small, local business to help other veterans who may deal with similar trauma.
"SapSap is a vital aspect of my family's healing process. The love and dedication that shines through our food helped bring us from surviving to thriving," Alex says.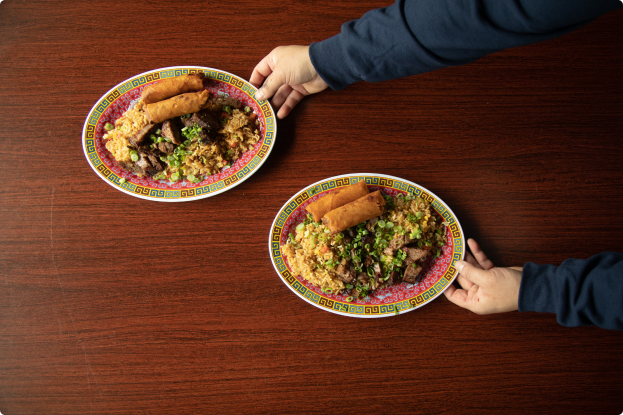 Since opening SapSap's brick-and-mortar location in 2021, the restaurant has been doing great. In an effort to pay it forward and give back to his community, Alex started a free meals initiative called PengPeng, which means "to lovingly care for" in Lao. Inspired by how his father helped family members and other refugees that came to America get on their feet, PengPeng gives away free meals to hungry people in the neighborhood and US military veterans that visit SapSap.
Alex recalls a time when a mother and her four kids came in need of a hot meal. When he turned down a $20 bill that the mother tried to give him for the food, she started crying.
"Seeing that with her kids—the impact of just food—it's a drop in the bucket for us to feed her and her kids," Alex explains. "That emotion and situation made us really want to keep this going."
After distributing over $10,000 worth of food to veterans and hungry people in his community last year, Alex decided to start a GoFundMe in order to feed even more people this year. The fundraiser is well on its way to reaching the goal of $10,000, with over $1,500 raised so far. In the future, Alex wants to do even more for his neighborhood.
"I think an act of kindness spreads like wildfire within the community," Alex shares. "I enjoy helping people out because it makes me feel good. That's how I was raised."