"It's so difficult to tell a kid, 'You're beautiful just the way you are, but you're never going to see a doll that looks like you.' I wanted to change that."
As a social worker, Amy Jandrisevits helped families of children battling life-threatening illnesses. To help kids express their hopes and fears, she often used dolls in play therapy. But as Amy worked with kids facing a wide variety of challenges-such as hair loss from chemotherapy-she realized that the dolls' perfect hair and bodies essentially told the children, "You are different. You are wrong." So Amy started a project that has helped hundreds of kids feel seen, heard, and beautiful-just the way they are.
In Amy's words, the story of A Doll Like Me:
I have always loved dolls and never really outgrew them. I went to college to get my MSW and work as a medical social worker. However, I've found that doll-making combines my love of children, my love of dolls, and my passion for helping others.
During my time as a social worker, I had the privilege of being with families at their appointments and hospitalizations. It was an amazing job-one that I appreciate more now that I am a mom as I imagine how difficult it is to have to watch your child go through something like that.
Childhood cancer pulls at the heartstrings, and rightfully so. Around Christmas every year, we'd get a lot of donations, including dolls. I remember thinking how awkward it felt to give a child without hair a doll with hair. Hair loss is a physical reminder to kids and everyone who sees them that they are undergoing treatment, and we gave them these dolls with beautiful locks. It felt wrong.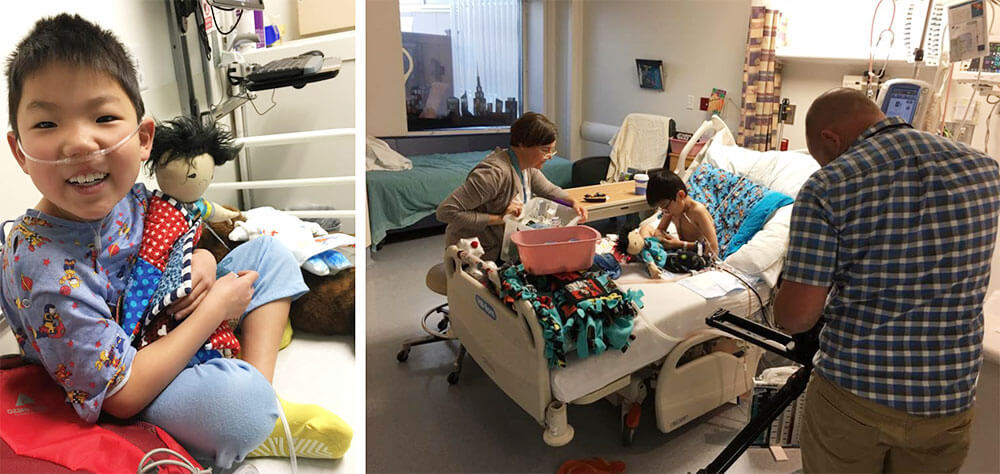 When he became depressed during a long hospital stay, this little boy talked through his doll during play therapy to express his emotions with adults.
Dolls are so therapeutic in a way that no other toy is. It's a human likeness. When a child looks into the sweet face of a doll, he should see his own. When I had an African American child in front of me with no hair and I was demonstrating with a doll with long blonde hair, it just didn't fit. Whether it's hair or body type or skin color, it did them a disservice. About four years ago, I was making non-traditional Raggedy Ann dolls. A friend of a friend asked me to make one for a little girl who was transitioning. So I made her a tomboy doll with cropped green hair and Teenage Mutant Ninja Turtles overalls. "Wouldn't it be cool," I thought, "if every child could look at a doll and think, 'Oh, that's me!'"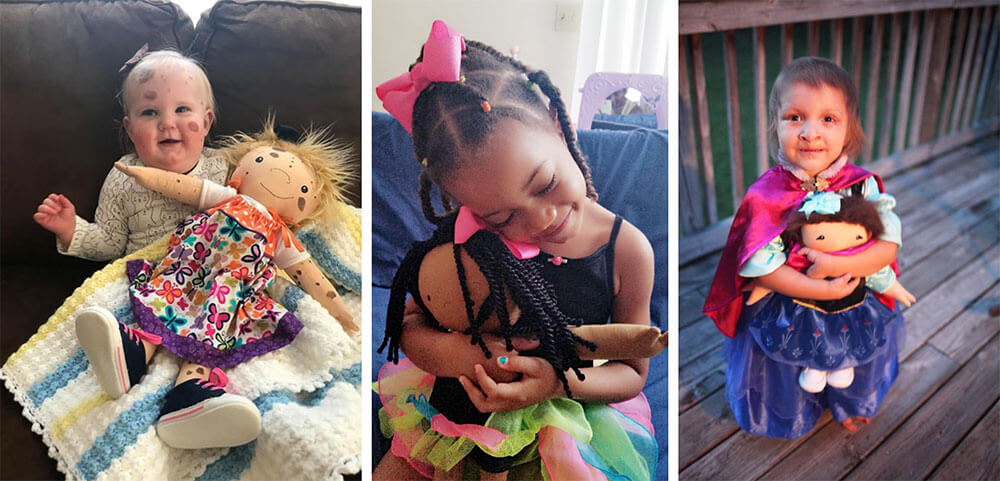 Amy has made personalized dolls for hundreds of children with physical differences.
Then, a woman reached out whose daughter had just had a leg amputated and asked if I could do a doll for the girl. I'd never even thought about limb differences in dolls, but it makes perfect sense, doesn't it? I made the girl's doll, and she connected me with two organizations run by moms who encouraged me to get
on social media
.
I called the page "A Doll Like Me." And within two months, I had 200 orders just for dolls with limb differences.
It was like lightning in a jar. It's so difficult to tell a kid, "You're beautiful just the way you are, but you're never going to see a doll that looks like you." I wanted to change that. So that's kind of how it started, and the popularity and number of requests I received were totally unexpected.
More parents reached out asking for dolls with albinism or scars or a nevus-a birthmark that covers various parts of the body. Wouldn't it be great if a kid could look into the face of a doll and see theirs rather than think, "Why doesn't this look like ME?" I think it's very empowering to see yourself represented because representation really does matter - especially in fragile, developing psyches.

Amy has made dolls for many kids with nevi, birthmarks that cover their face and body.
In the past four years, I've probably made 300 dolls. But as a mother of three kids including a toddler, it slows things down. There are a lot of people still on the waitlist for dolls, which shows us just how underrepresented many children are. And typically, parents pay for the dolls and shipping, often about $85–100 per doll. When they can't afford it, I'll find a way to cover it myself.
One Christmas shortly after I started, a guy happened to see a video of one of the little girls who received a doll. He reached out and asked to buy three dolls for kids. It was something I'd never even considered. It's a tangible way to show families that people care, and it's a physical way to make a difference in the life of a child.
Then, my brother-in-law suggested I start a GoFundMe. That way, anyone could help sponsor a doll for a family.
So far, it's raised over $5,000 from individuals, church groups, Girl Scouts, and people who believe in the power of dolls. Now, I get to tell parents, "A stranger paid for this doll, and you don't have to worry about it." It's an amazing feeling, and I can't begin to describe how touched people are when they hear it.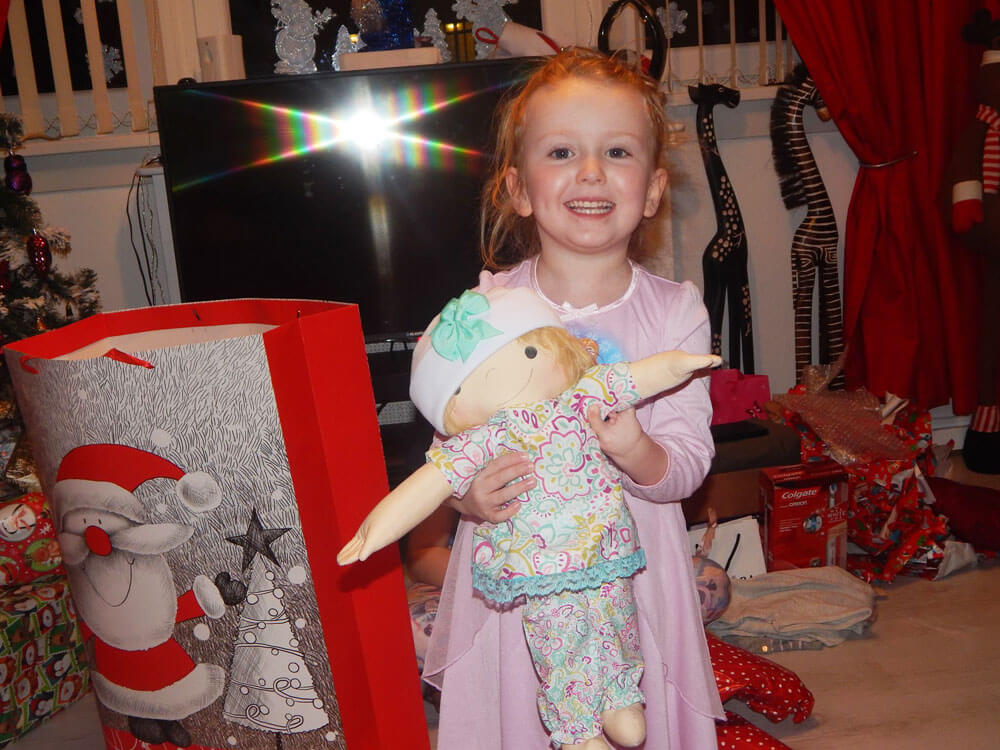 Amy started a GoFundMe so that anyone could sponsor a doll for a child like this little girl who received her doll on Christmas morning.
I've recently explored turning A Doll Like Me into a nonprofit organization, which I'm also raising money for through
the GoFundMe
. Ultimately, I don't want any parent or caregiver to have to pay for something that's so important.
If we're going to look at medical care in a holistic sense, mental health is a necessary part. All kids deserve representation and validation. Dolls aren't just integral to play therapy, but they are also tangible ways to demonstrate that "you're perfect just the way you are." My ultimate goal is to fulfill every doll order that comes in and not have the families have to pay for it.
But whatever it costs, whatever I have to do, I'm going to get a doll in their hands. This isn't a business. It's just the right thing to do.
Amy continues to raise money through her GoFundMe to sponsor dolls and help more kids see that they're beautiful just the way they are.