As a non-binary content creator, Laurenzo knows first-hand the struggles that LGBTQ+ youth face and how important it is to have a place where everyone can feel like they belong. That's why they started the Laurenzo Community, a space for LGBTQ+ people to find and connect with each other online. Laurenzo starts a new GoFundMe each month to cover the membership fee for applicants who can't afford to join the Laurenzo Community—but this Pride Month, Laurenzo is doing something even bigger.
---
Scrolling through Laurenzo's TikTok and YouTube channel, you'll find comedic skits that represent the LGBTQ+ experience. You'll see dozens of 30-second videos that capture the discomfort of being misnamed or misgendered, or the general awkwardness that can come with being an LGBTQ+ person in society. On the surface, Laurenzo creates content focused on gender and sexuality that has garnered the attention of nearly a million followers on TikTok and 300,000 on YouTube. But what they're doing is much deeper than that.
"If I can make someone laugh—especially somebody who is skeptical about LGBTQ+ issues—I found that it's a great way to invite questions, interest, and care," Laurenzo shares.
Laurenzo creates videos that give LGBTQ+ teens someone to relate to and content that helps them feel seen and heard. By sharing funny videos on TikTok, Laurenzo has built an entire community where queer and questioning people can feel like they belong.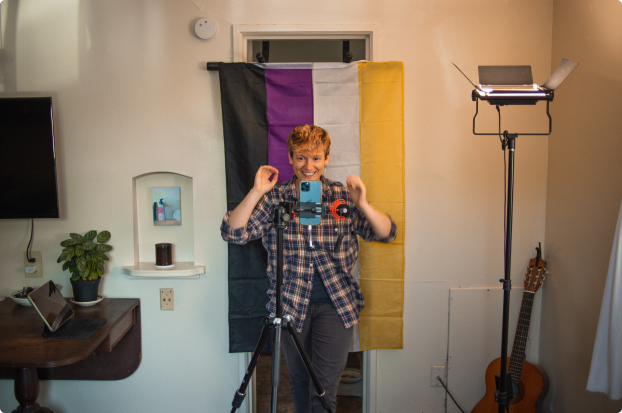 "During COVID, queer youth living in homophobic and transphobic homes were feeling isolated and fearful of their home lives, not even having school as a real escape," Laurenzo explains. "I was very passionate about offering a space where they could thrive, be accepted for who they are, and be appreciated and seen."
Inspired, Laurenzo launched the Laurenzo Community, a safe space hosted on the online communication service, Discord, where LGBTQ+ people around the world can connect. The community continues to grow, serving as a space where members can pay a small monthly fee to join different groups based on their interests—like creative arts, writing, or gaming—attend community events, or simply chat online with their friends.
For the teens who can't afford the monthly cost, Laurenzo started the Free Fellows Program, which offers teens who qualify a free membership to the Laurenzo Community. Laurenzo and their team receive between 100 and 300 applicants every month for the free membership. To cover the costs, Laurenzo starts a new GoFundMe each month. The kindness of donors allows them to sponsor about 40% of applicants.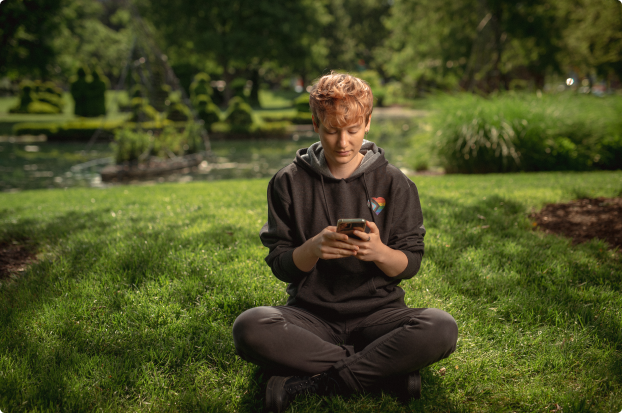 "I didn't grow up in a supportive family. I grew up in a very homophobic and transphobic household," Laurenzo says. "I don't want any other kid to have to go through that. My intention is to offer something to LGBTQ+ youth that I wasn't provided myself."
In honor of Pride Month, Laurenzo started a new GoFundMe to cover the cost of 365 LGBTQ+ youth fellowships throughout 2022. For many, the fellowship could be not only life-changing but life-saving. According to The Trevor Project, 45% of LGBTQ youth seriously considered attempting suicide in the past year, including more than half of transgender and non-binary youth.
"Mental health is a big deal to me. Especially in our community, the statistics around suicidal ideation and other serious mental health issues are very high," Laurenzo shares. "If I can help one person not want to hurt themselves or not hate themselves for one day, I feel like I've done my job."
As for the future, Laurenzo hopes to keep making the world a better place for LGBTQ+ people. They hope the Laurenzo Community can one day offer free mental health services to LGBTQ+ youth and host meetups around the world.
"When I start a GoFundMe goal every month, I'm so incredibly grateful to our global community that believes in what we're doing and wants to support us. Whenever money comes in, I always think to myself, 'Thank you. I'm so grateful.'"