I never thought that handing out a few lunches could have such a profound impact on my life, but what I experienced on the bustling streets of Boston has surely changed everything. My name is Lili, and I'm an Engagement Specialist at GoFundMe. I have the honor of working behind the screens with some of the world's most impactful fundraiser organizers. Every once in a while, I get to take to the streets to interact with inspiring people and the causes and missions they care most about. Here's a story from one such day.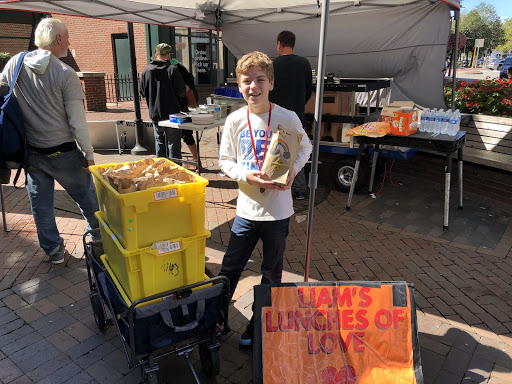 When an online game challenged Liam Hannon to give back to his community, he and his Dad Scott made 20 lunches to hand out to the people experiencing homeless in their neighborhood. When Liam saw the impact that he had on these people's lives, he was inspired to keep helping the homeless. And so Liam's Lunches of Love was born right then and there. Over 2 years and thousands of lunches later, the Hannons are still hard at work passing out lunches while pursuing official nonprofit status for their new organization.
I met Liam and Scott through a simple email interaction in April of 2018, when Liam was recognized as GoFundMe's Kid Hero of the month. From that first email, Scott and Liam's drive and compassion was infectious. Over the years, the Hannons have kept me in the loop on the work they've been able to do thanks to their GoFundMe campaign and the incredibly supportive community they've built.
This summer, I decided it was time to see Liam in action, so I headed to Boston to join them on their weekly lunch delivery to folks experiencing homelessness around the city.
I met the Hannons on a Sunday morning at their beautiful home in the heart of the city. I knew I was in the right place when a crowd started to form outside of their house, and I overheard a few of the locals chatting about what they thought Liam would be making that day.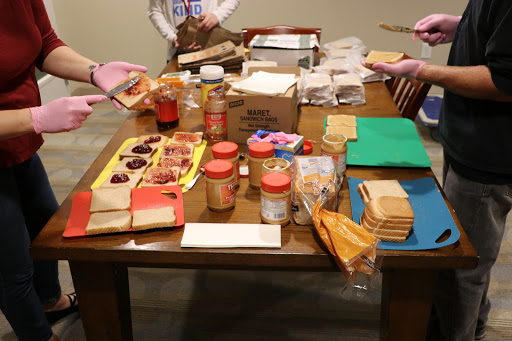 Liam's Lunches of Love is a family affair; it was special to see the entire family come together to support Liam's mission. While Liam's mom and her boyfriend made PB&J sandwiches, Liam and I packed up beautifully decorated lunch bags with water, fruit, and snacks. Before I knew it, we had 50 lunches loaded into the delivery wagon, and we were ready to hit the streets.
When Scott showed me their hot lunch setup, I realized that Liam's Lunches of Love offered so much more than just bagged lunches. Liam's pop-up cafeteria provided warm home-cooked meals – like Italian sausage and veggies, along with freshly brewed coffee and tea – to those in need.
While the locals lined up to grab their lunches, Liam greeted each one personally, checking in with them and seeing how they were doing. I got the chance to meet many of their regular visitors, most of whom said that Liam's lunches were the only hot meals they'd had in weeks.
Smiles spread across everyone's faces as we shared stories and laughs. While it was a crisp, Boston morning, there was a warmth in the air as we all came together. It didn't matter who you were, where you were from, or what you'd been through; we were all there to build up the community and become a part of something bigger than ourselves.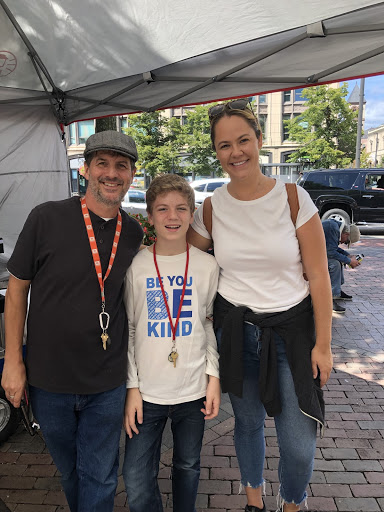 It's been nearly a month since I took my trip to Boston, but the memories of my afternoon spent passing out lunches with the Hannons have stuck with me and inspired me every day since. What started as a good deed has turned into a national effort to not only feed those less fortunate, but to spread a little extra love to those who need it most. Liam's actions embody the hope and inspiration we all need. How could you not support a mission as endearing as his?
I want to give a huge thanks to the Hannon family and to each and every person I met in Boston. Thank you for letting me share this experience with you all. I'm so grateful that you shared your stories and your hearts with me.
By, Lili Strasser, GoFundMe Engagement Specialist