In 2017, Chris Vane took a chance on a long-time dream and purchased a 30-acre property in Southwest Florida. This was no ordinary home purchase, though. Chris wanted to create a safe space for abandoned and abused farm animals to live out the rest of their lives in peace, free of cages. With the support of community members and total strangers alike, Chris has been able to love and care for over 150 different animals at his sanctuary over the years—and he has big plans to help countless more.
---
Chris has always felt a deep connection to animals and spent years pondering ways he could improve their lives. While attending a real estate seminar in 2015 about creating a million-dollar business, a light bulb went off in his mind. He realized that helping animals—not selling property—was his true passion.
"I started asking myself, 'How do I really want to spend the remainder of my life, and what is my ultimate passion?'" he says. "I couldn't get animals out of my mind, and every thought I had led to specifically rescuing farm animals and opening a sanctuary."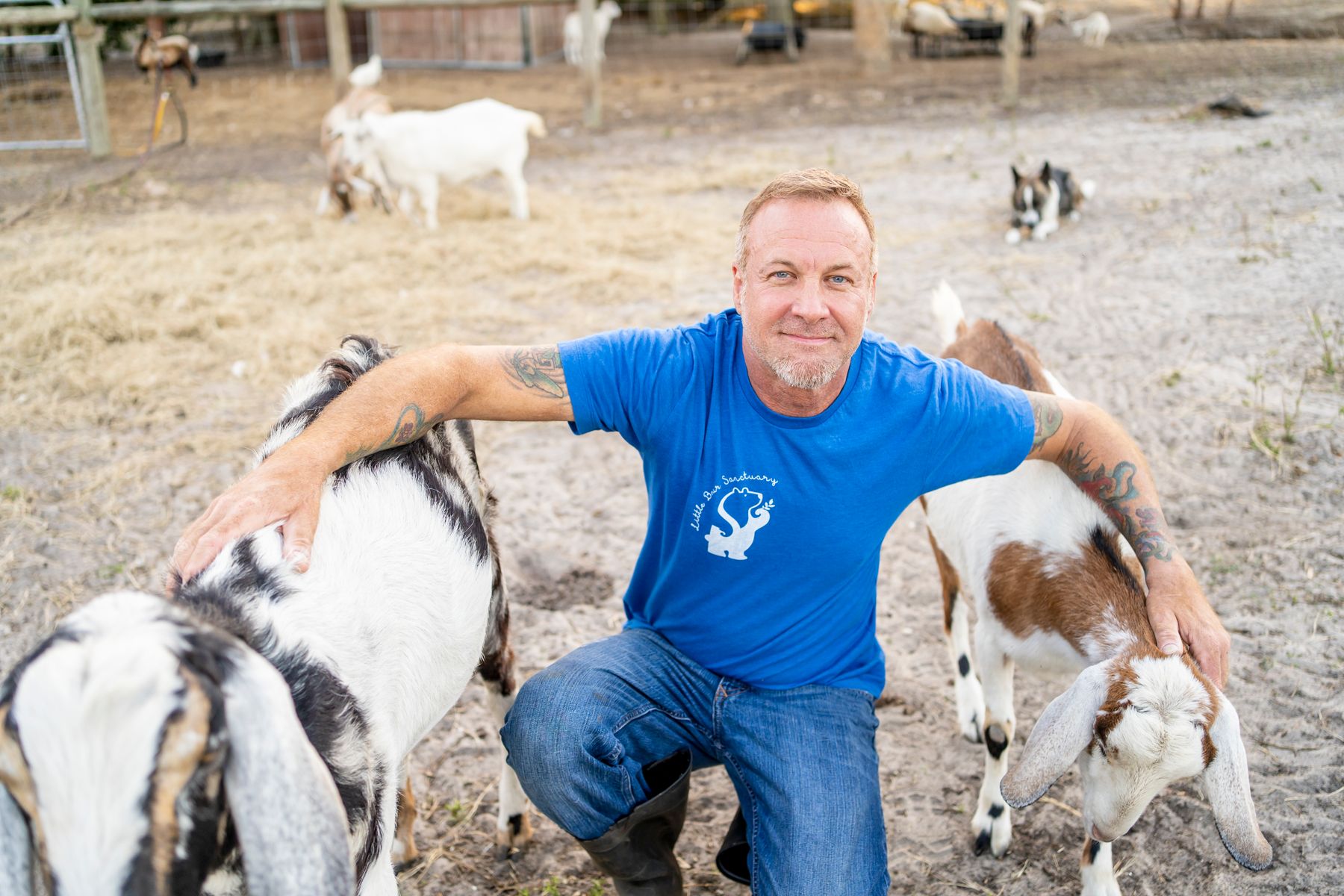 Though the decision was immediate, Chris spent months researching and planning every step involved in making his vision of building an animal sanctuary sustainable over the long term. He looked to successful sanctuaries for inspiration and learned everything he could about securing a nonprofit status. He even became a vet technician for a few years so he could give his animals the best care possible while also cutting down on veterinary bills.
Almost immediately after they began searching, Chris and his husband Randy found an ideal spot for their animal sanctuary on a sprawling, 30-acre lot in Punta Gorda, Florida. The farm features an enormous pond, plenty of trees, and lots of peace and quiet for animals to roam. Chris named the space Little Bear Sanctuary after his late mom Ursula, whose name means 'little bear' in Latin.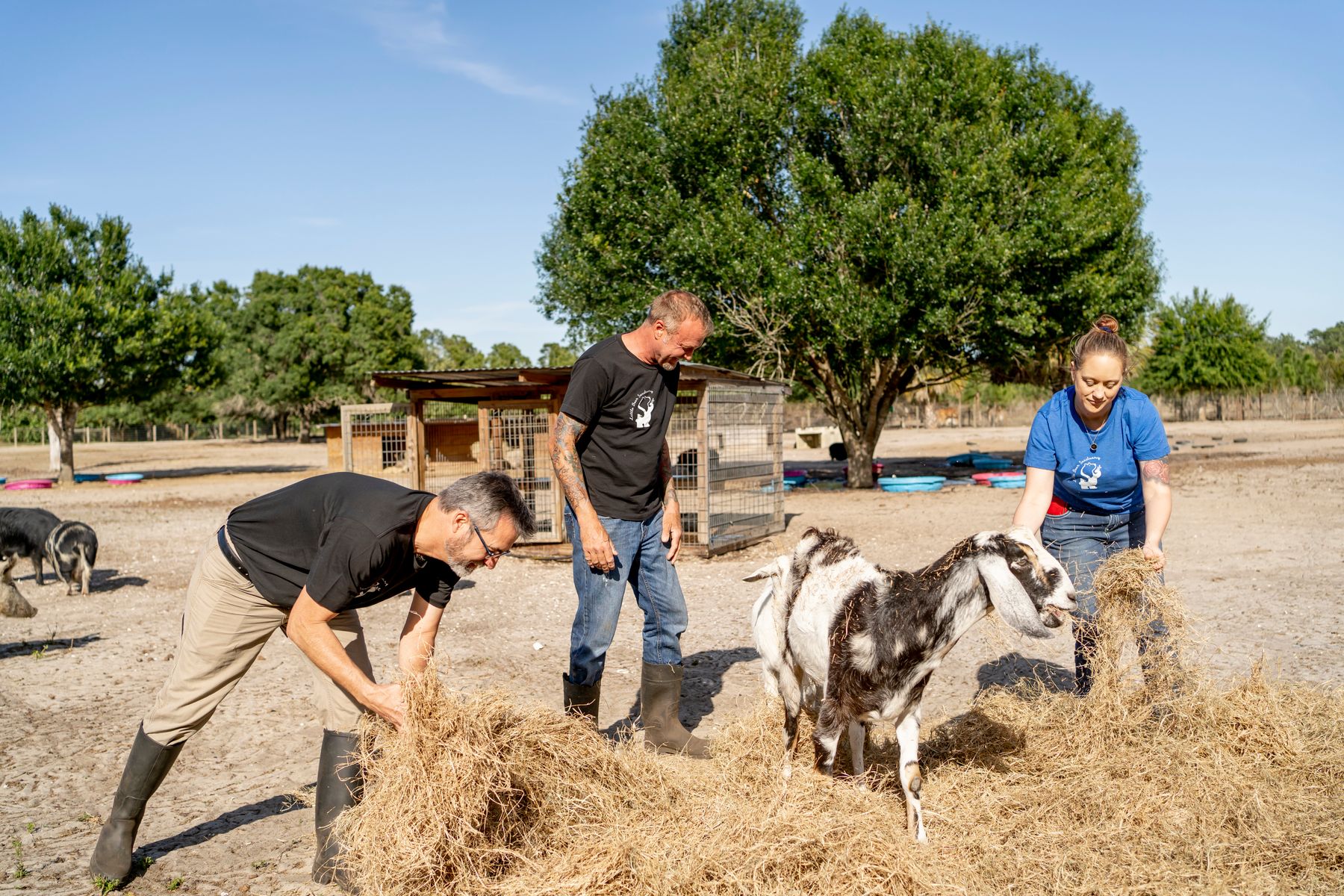 "She was a great influence in my life and taught me compassion," says Chris, who attributes his sincere love of animals to his mom.
Shortly after opening Little Bear Sanctuary, Chris had his first opportunity to rescue two pot-bellied pigs named Willie and Bits—and he's had a serious soft spot for pigs ever since the pair came into his life.
"They're really like people in that they're emotional, intelligent beings," he says. "They have their own complicated language system. They form groups and they get depressed. They love and hate, too."
Most recently, Chris and Randy rescued two piglets from a factory farm where their tails had been cut off and they were neutered without anesthesia. The piglets also had a bad case of pneumonia when Chris took them in, but now they're on the mend and loving life at the sanctuary.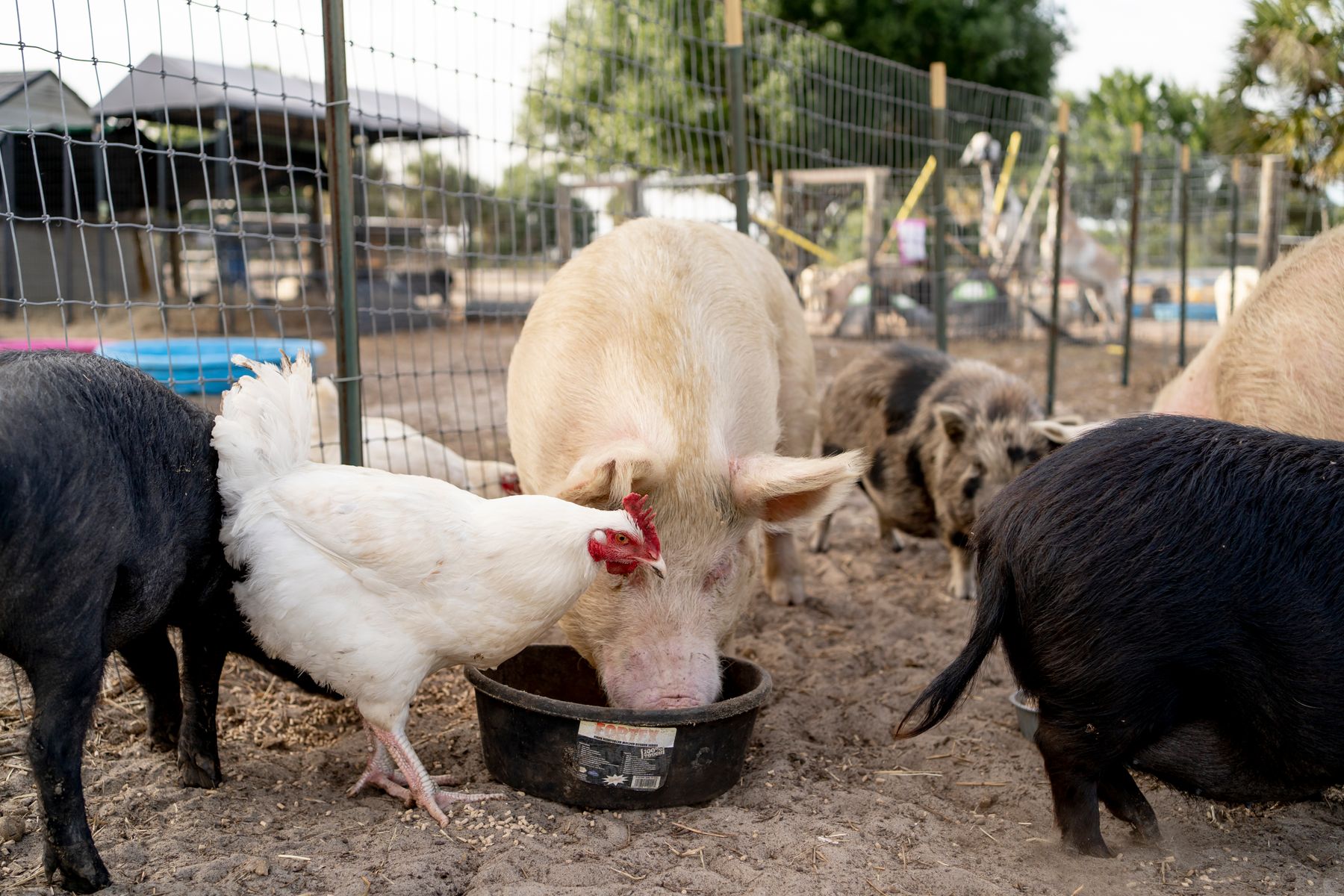 "It's such an amazing transformation when an animal comes from that situation and then spends a few weeks getting lots of love and belly rubs. That's what makes it all worthwhile," he says.
While Little Bear Sanctuary isn't home to actual bears of any kind, it does sleep 74 pigs, 29 sheep, and a healthy assortment of cows, chickens, goats, and other farm friends. There's even a 15-year-old tortoise named Keisha.
In fact, Chris ensures every animal is named—and the pigs all have names to match their distinct personalities, such as Shrek, Petunia, Felix, and Penelope.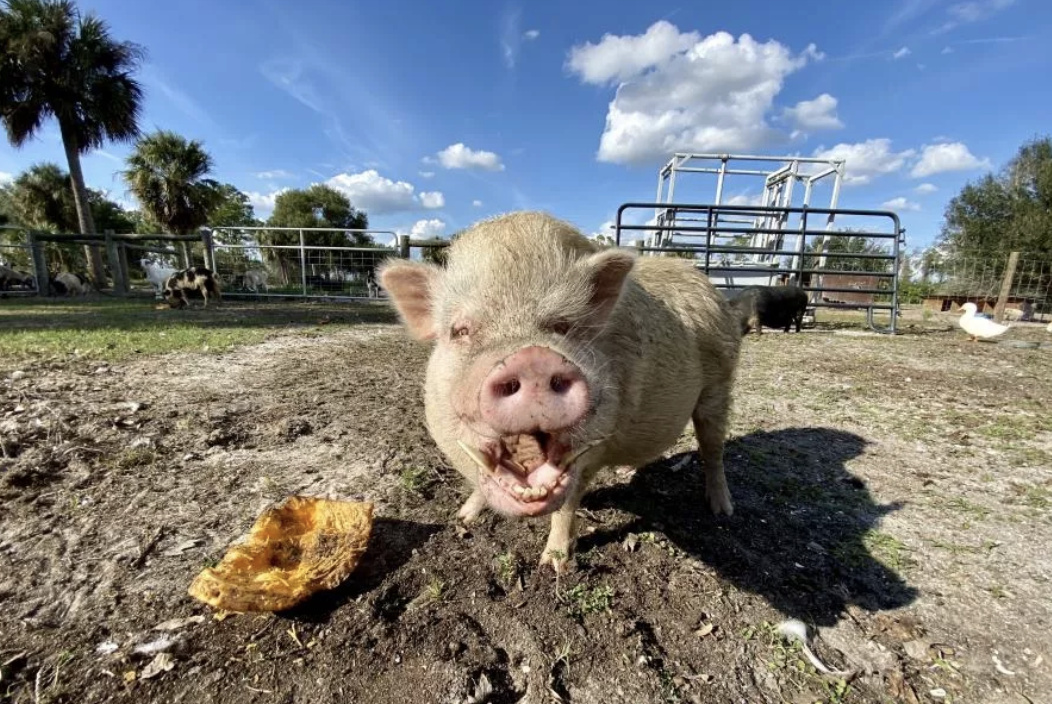 To offset the many costs of running a nonprofit animal rescue, Chris launched a GoFundMe in 2017. The funds have been invaluable in helping pay for the insurance and health costs of the animals, the 9,000 pounds of feed the farm goes through every month, and so much more.
"I'm humbled every day by the many incredible people who support us in so many different ways. We wouldn't be able to survive any other way," he says.
The challenge now for Chris and Randy is securing funding so they can expand and help more animals. Their farm is at capacity, and Chris says it's heartbreaking to turn away animals that are coming from serious abuse situations.
In an effort to meet their needs, they're now looking to develop the remaining 20 acres of uninhabited, undeveloped land on their property. To fund this expansion and raise awareness about Little Bear Sanctuary, Chris recently created a GoFundMe Charity campaign. With continued support, the sanctuary will be able to hire additional staff and give their part-time animal caregiver a full-time position—crucial help that's needed to handle the growth. Most importantly, this expansion will allow them to house more animals in need of love and care, and improve their leadership and involvement within their community.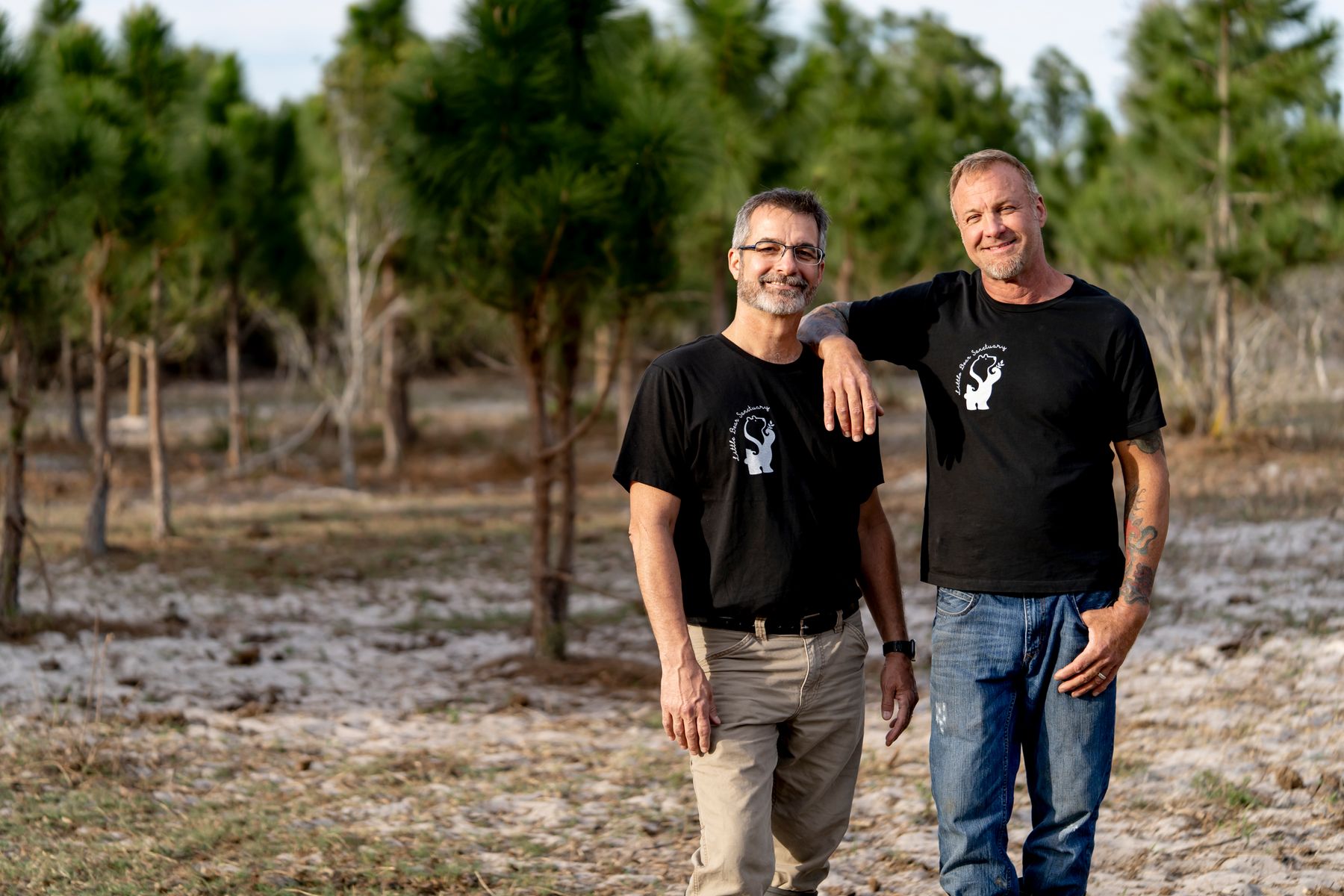 "I founded this sanctuary, but this sanctuary belongs to our donors and the supporters," says Chris. "From the $2 donations to the larger gifts, everybody has been so generous and we are so grateful for that."
Learn more about how you can support Little Bear Sanctuary.
Listen to Chris' interview on the True Stories of Good People podcast.