When the coronavirus swept through New York City this past spring, Brian Taylor had no choice but to close his dog grooming business to the public. But while in lockdown, his heart hurt for his community members and their pets. Under financial strain, many of them could no longer afford the essential grooming services that kept their dogs clean and healthy. So as soon as it was safe to do so, Brian began grooming pups at no cost while raising money for others. Since then, he's expanded his mission across state lines through a mobile grooming service and has helped hundreds of people and pets stay happy and healthy through the pandemic.
---
For this holiday season we'll be focusing on 5 GoFundMe Causes, and you'll meet some Heroes who are doing amazing work within those spaces. Today you'll meet Brian Taylor who is a part of our Animals cause. Learn more about this GoFundMe Cause here.
From banks to barks
Brian was 15 years old and living in New Jersey when he and his younger brother snuck a pit bull they had rescued into their basement. They managed to keep it a secret from their mom—who had a strict no pets policy—for about two and a half weeks. Shortly after her discovery, she made the boys find a forever home for the dog, but that experience left a lasting impression on Brian.
"I was so intrigued with how much dogs love us without even understanding who we are," he says. "So that's where my love first came from."
Fast-forward to 2008, when Brian was working at a bank in New York City. One day, a customer strolled into the bank with five dogs in tow, and Brian ended up helping the woman get financing to open a dog grooming facility. This got him thinking about his own career path. He loved dogs, and he figured that owning a grooming business would be a dream job.
After learning everything he could about grooming and caring for dogs, Brian eventually opened his very own grooming business, which he named The Harlem Doggie Day Spa. Over the span of 10 years, his business grew a loyal following, and Brian became known around the neighborhood as "The Dogfather of Harlem."
After finding so much success, he never could have imagined that all of it would come crashing down in the spring of 2020.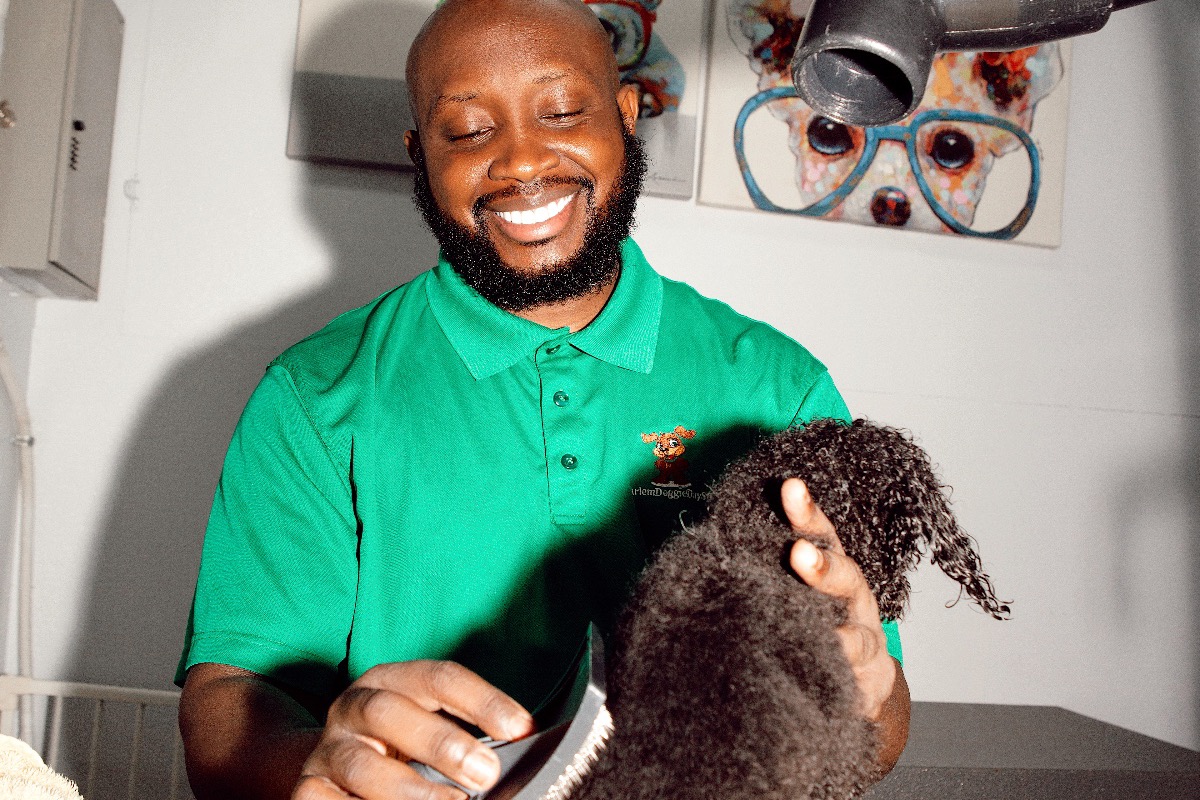 Promoting pawsitivity in the midst of a pandemic
In less than a month, the coronavirus pandemic devastated the business that Brian had poured so much love and hard work into over the course of a decade. When New York City shut down in March, business decreased by 80%, and Brian was forced to lay off every single employee. Shortly after that, Brian's long-time mentor as well as a beloved family member both passed away. It was the worst month and a half of his life.
Then, frantic messages from his clients began flooding his inbox. They were worried about their dogs, whose coats were matted messes after months without proper care. At a time when people rarely left their homes and spent long hours with their pets, Brian understood that his services were needed more than ever before.
Running his business as a single-man operation under New York City's new health order, Brian was finally able to groom pups in his community again. In helping dogs look and feel their best, Brian was able to deliver a bit of joy to pet parents during a time when joy was in short supply.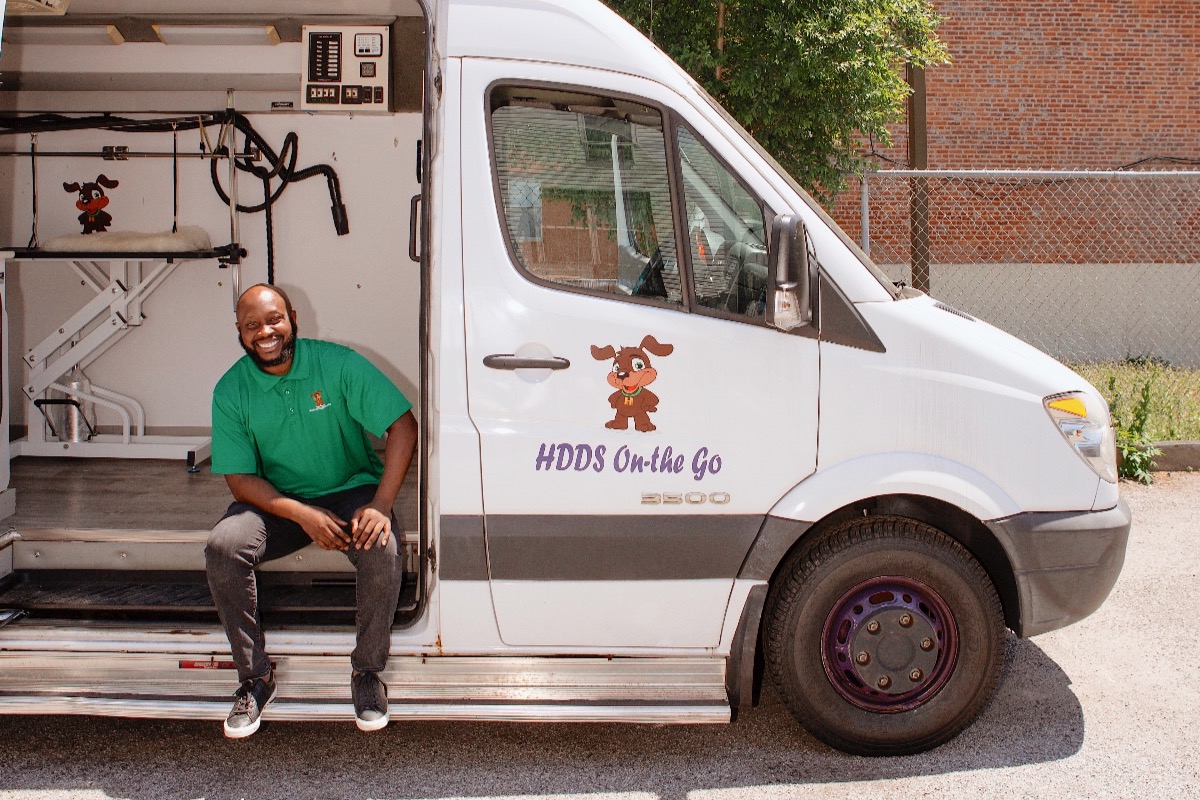 A community rallies to support doggos and their hoomans
Brian quickly realized that not everyone could afford to keep grooming their dogs, so he began giving away free services to people and pets in need. Some of his clients also started paying it forward by covering the cost of services for others in the community.
In May, he raised over $2,000 in cash to help pet parents in need. Realizing how many people wanted to contribute to his cause, Brian launched a GoFundMe to provide free grooming services to even more dog owners.
Within days, community members and strangers alike had donated nearly $10,000. Still, Brian wanted to do even more to rally support and give back. He hatched a plan to take his services on the road and offer free grooming services to pets across the nation—all while highlighting the underrepresented Black folks who work in the pet industry.
"Because of the Black Lives Matter movement, we wanted to fight and show how important we are in the pet industry," he says. "It's a $90 billion industry, but we only represent 1-3% of ownership or service. As African Americans, we also own dogs. We also service dogs, and we also spend money on dogs just like any other nationality."
In July, Brian closed up shop in Harlem and organized a group of Black groomers to embark on The Pandemic Pup Relief Tour with him, traveling from New York to Los Angeles with stops in major cities along the way. Keeping safety front-and-center, Brian and his team underwent COVID-19 tests, quarantine periods, and upheld strict social distancing precautions while grooming and caring for animals.
On their trip across the nation, the group made a special point to stop at shelters, where they would groom shelter pups and try to give them a better chance at getting adopted. They also reached out to elderly folks along the way to help them safely care for their dogs during the pandemic. To date, Brian and his group of Black groomers have cleaned and beautified 829 dogs across the country and counting.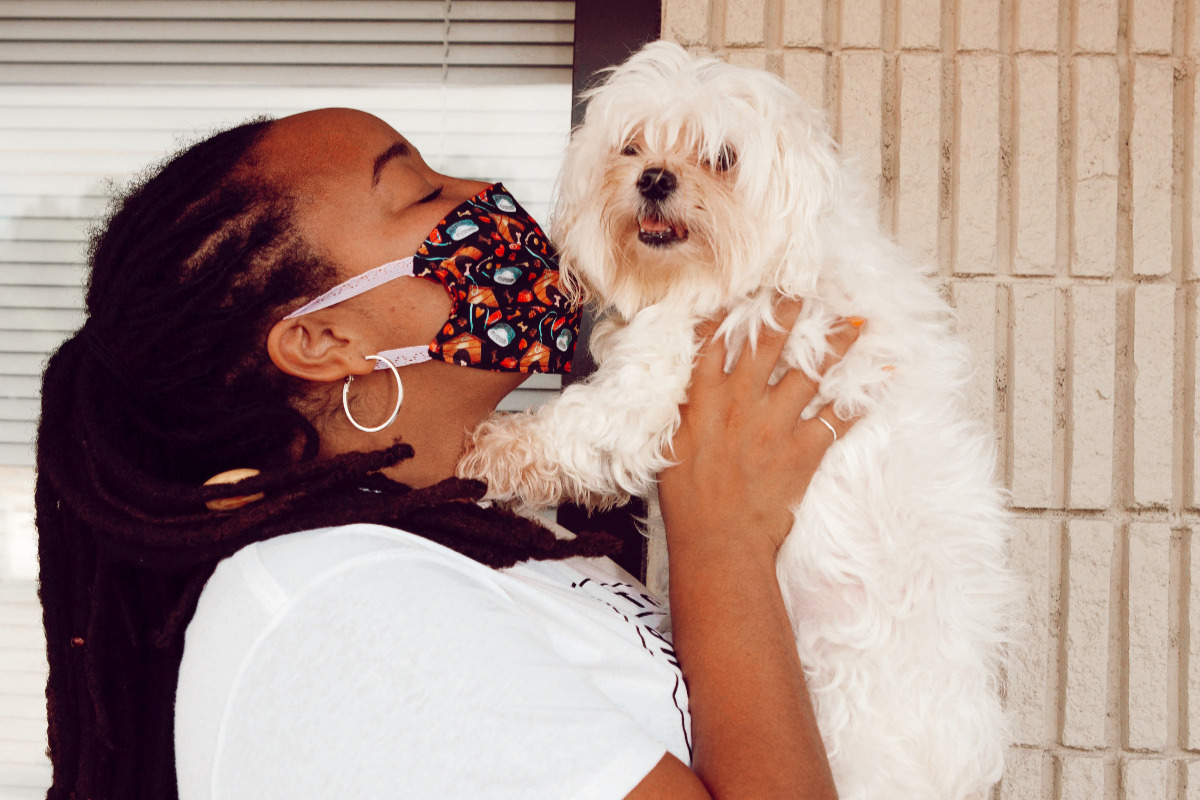 Helping pooches today, tomorrow, and years to come
The tour isn't over yet, but Brian's already brainstorming new ideas for future tours, as well as ways he can help other industries adopt their own versions of his relief tour to pay it forward.
"A lot of people are suffering right now, and the cost of living is so high all over," says Brian. "And at the end of the day, it makes sense for the ones who are thriving to spend some time to give back and help other people in need. Just find something that you love and make it fun to give back. We just need people to help us so we can stay alive.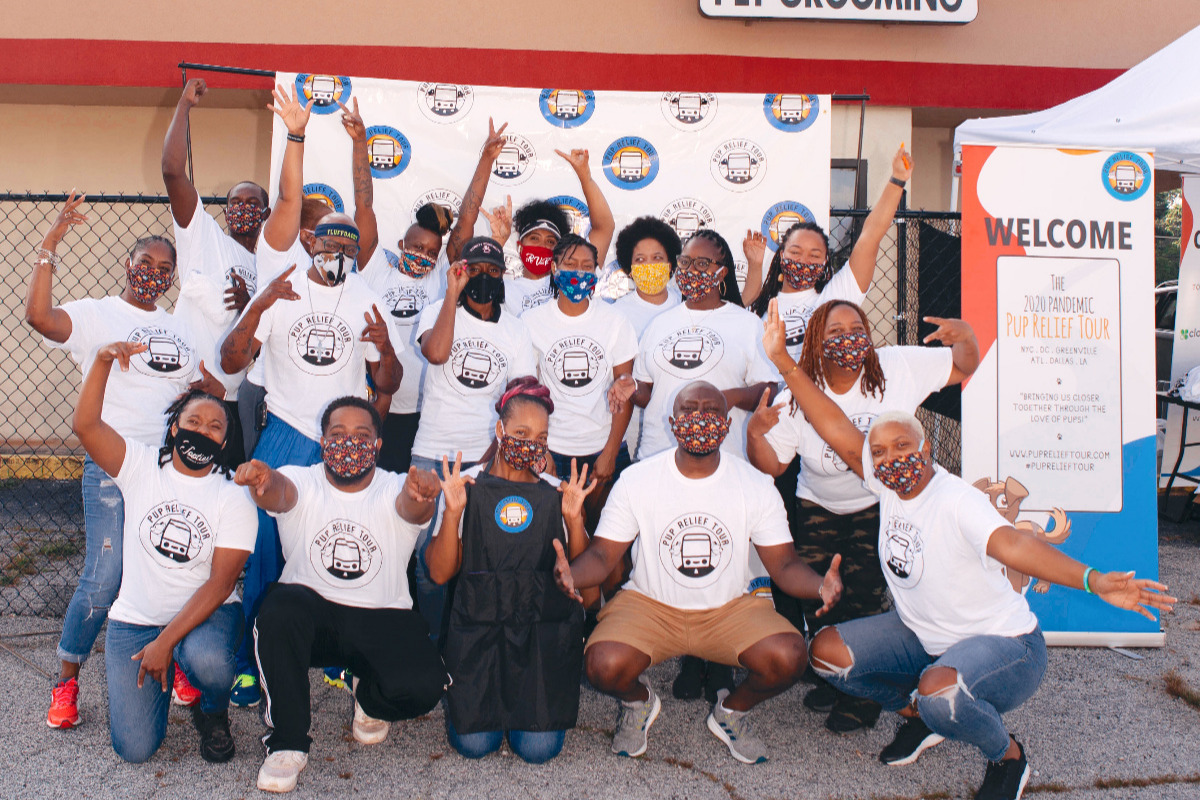 Follow Brian and the Pandemic Pup Relief Tour on Instagram: