Annel Alvarez started a folklórico dance group as a way to find joy during a difficult time in her life. She never imagined her folklórico group would perform at an NFL halftime show, proudly representing the Hispanic community.
---
The following is a transcript of Annel Alvarez and Stacey Valdez's interview on the True Stories of Good People podcast, with host Kelsea Little. The transcript has been edited for brevity and clarity.
KELSEA: I'm thrilled to be here today chatting with the amazing Annel Alvarez and Stacey Valdez. We're here to talk about the dance troupe, Grupo Folklórico Izcalli, that you started. To start, I would love to learn how old you were when you first started dancing and what kind of dance you started learning at that age.
ANNEL: My mom forced me into dance at five years old. I hated it—I didn't want to be there. It was a folklórico group, so traditional Mexican dance, but it just wasn't my thing. Growing up, I was more of a tomboy. I wanted to play soccer, play with cars. But my mom really wanted me to dance to grow my culture and roots, so she started me really young.
From there, my mom started a folklórico group when I was 15. It was just five of us, and we did little church events and festivals—but that didn't last very long because we were so young. But that's how I started dancing and how I met Stacey.
STACEY: Annel and I met at church, and I went to a folklórico practice one day. Before I went to practice, I didn't want to dance. I didn't even like dancing in front of anybody. But once I got to practice and met everybody there, we all became really close. And that's how Grupo Izcalli started.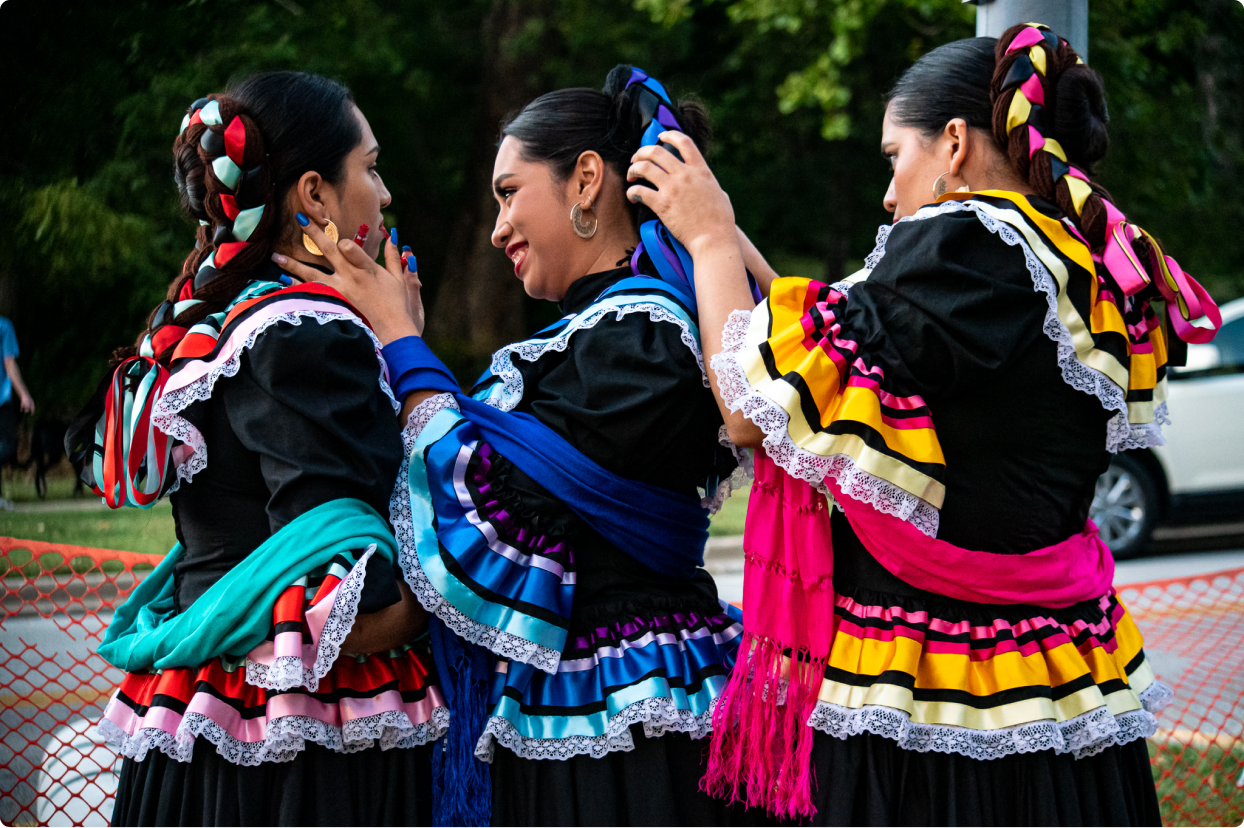 KELSEA: How would you describe folklórico dance to someone who's never seen it before?
ANNEL: Every Latin American country has its own folklórico. It basically represents a dance that originates from a specific area. So folklórico is not just Mexico. Jalisco has its own folklórico. Durango has its own folklórico. All the states of Mexico have their own specific folklórico and their own specific dress and accessories. It is the dance art form of our culture. It's how we express our roots. We can express what the weather is like in a specific state simply by how we're moving our feet, what we're wearing, if our hair is up in a ponytail.
KELSEA: Is there a special outfit and shoe you wear?
ANNEL: For Jalisco, you'll see dresses made of thick material and vibrant colors. We want it to be very unique. We want to represent the state of Jalisco and what it stands for. We have black fabric, and each girl chooses three to four colors.
We use two different types of shoes. The regular zapato is kind of like the tap shoe. It's made of wood and animal skin and has nails on the bottom, which make the tapping noise. And then we have the adelitas, which is more of the boot.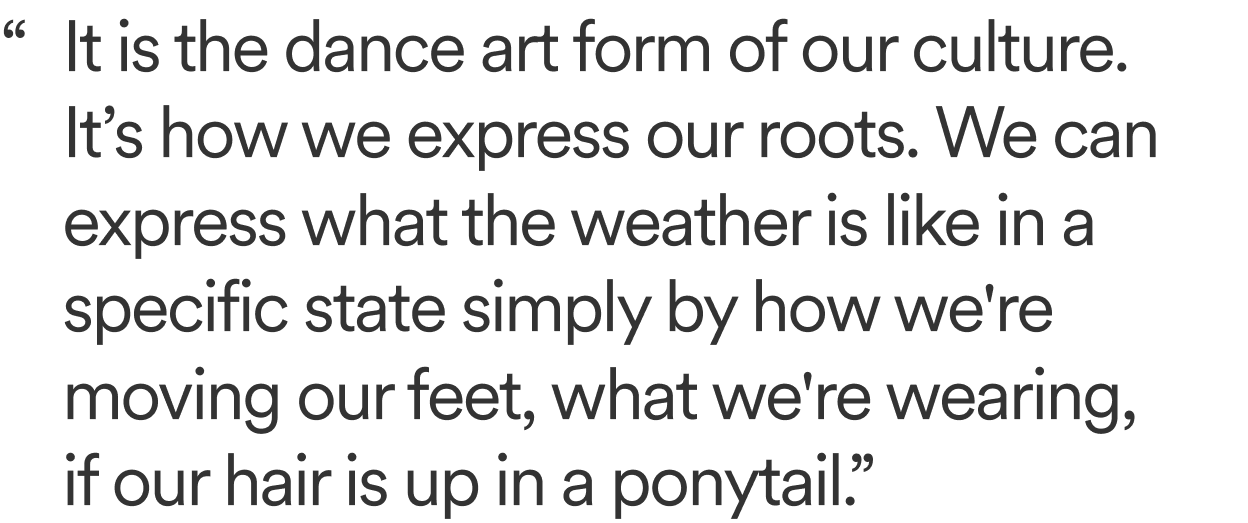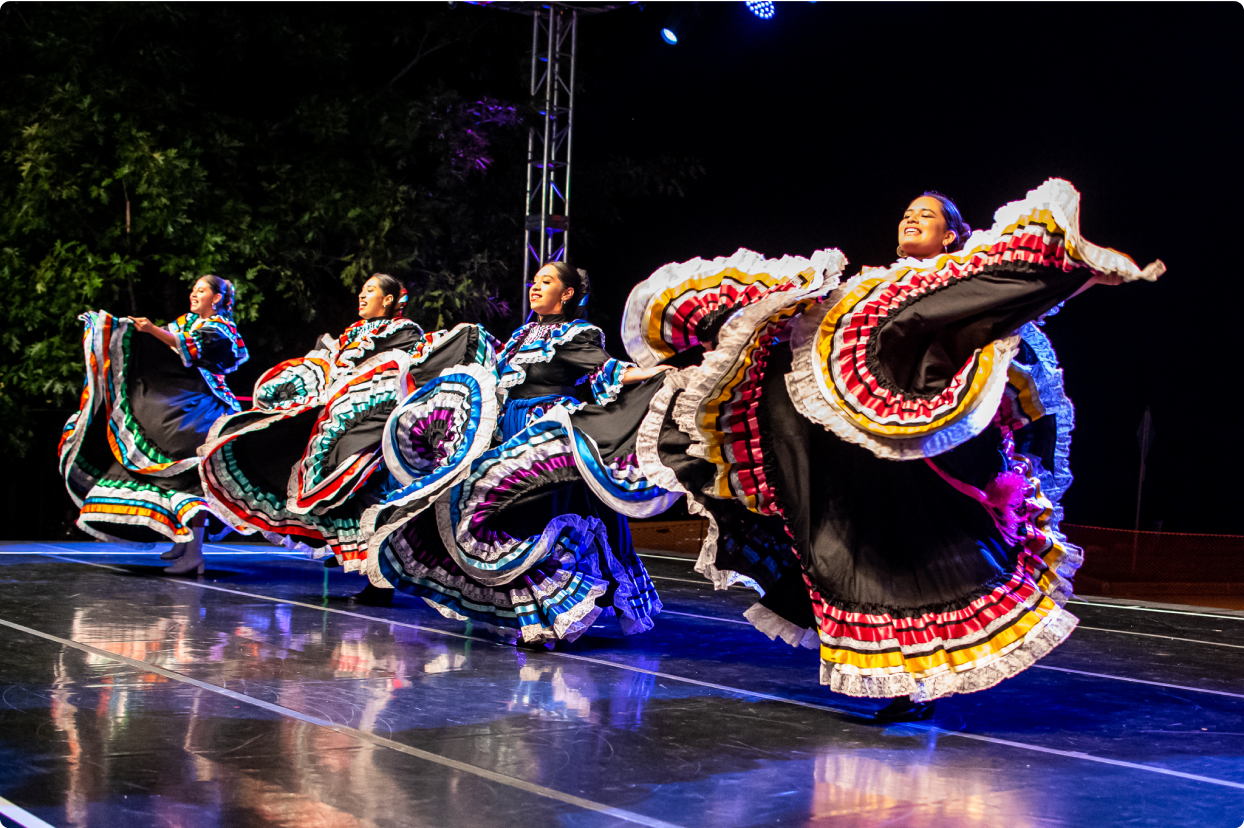 KELSEA: Annel, so fast forward many years—you welcomed your first child—your son, Adrian. You've shared that you were experiencing a heavy time in your life. Would you be able to share a little bit about that with us?
ANNEL: Yes, Grupo Izcalli really helped me get out of a dark place. I love being a mom. But after I had Adrian, I felt like my identity was stripped from me. I was very young—I had my son when I was 19. I had a lot of dreams. I wanted to go to college, I wanted to be an EMT, travel the world.
My friend DJ Luigi reached out to me at this time and said, "Hey Annel, do you still have your dance group?"
I didn't have a group, but I said, "Yeah, I do."
This was in 2020 and he said he had a performance for us in 2022. And I was like, "Okay, that's great. Thank you so much."
I hung up, thinking I had just lied to one of my really good friends that I had a dance group. So I reached out to Stacey and asked if she wanted to start a group with me, and we decided to try to figure it out.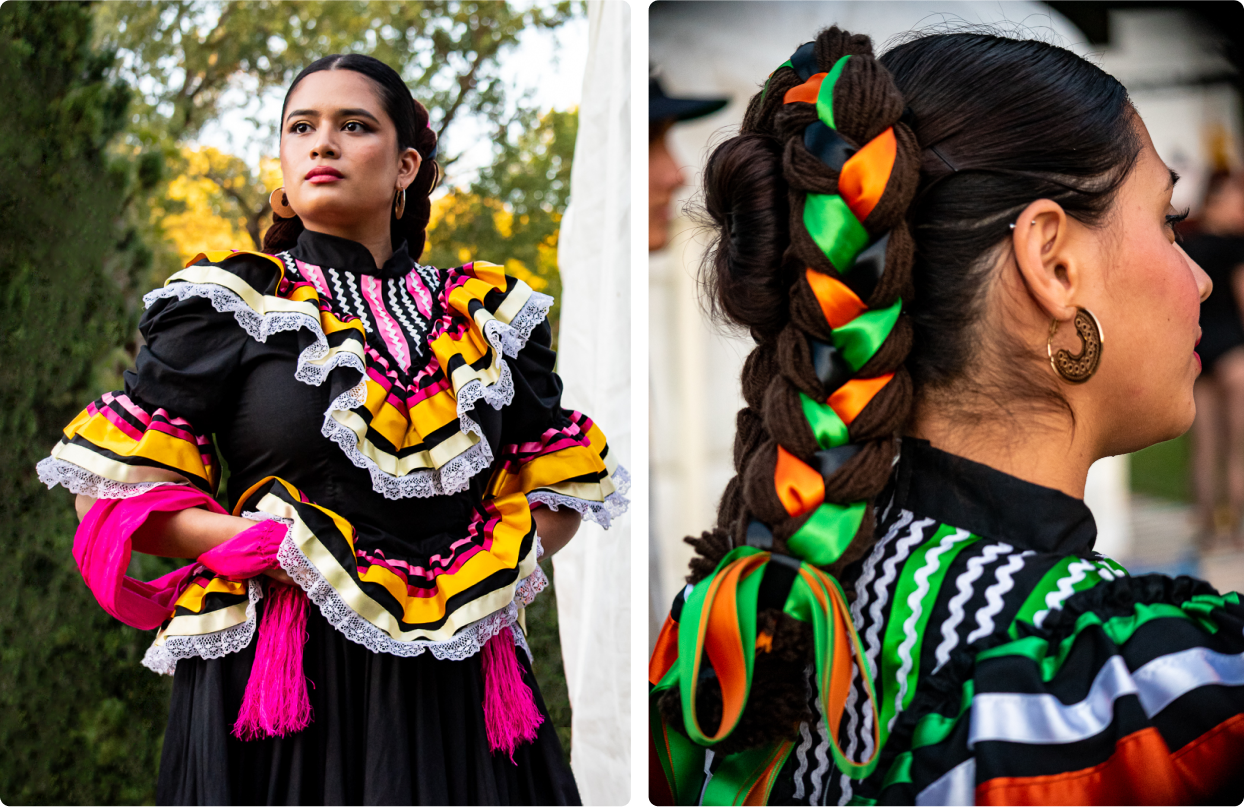 KELSEA: What was your first performance experience like?
ANNEL: Our first show was at a coffee shop called Ollama, and we pulled so many people—people were stopping their cars, honking at us. It was a great experience. Now the owner, Lesley, is one of our really good friends and sponsors. If it wasn't for Lesley, we wouldn't even be a group because she's the first person to open her doors for us.
KELSEA: As things evolved, I know you had this big vision to perform at a halftime show during a Kansas City Chiefs game. Can you tell us how that happened?
ANNEL: I think we're maybe four months in at this point. We rented out a little studio to practice—with concrete floors, which was such a mistake. Concrete messes up our knees and our ankles. So we were practicing one day, and I looked at my girls. It was so hot, they're all sweaty, they're putting their all into practice. And I'm just watching them, thinking they deserve so much more—they deserve to be on a big stage.
Then Deanna Munoz, who is a big advocate for the Hispanic community here in Kansas City, reached out to us and told us there was going to be a first-ever Hispanic/Latino halftime show at a Kansas City Chiefs game.
I did everything in my power to get into the show. I reached out to Travis Kelce, Patrick Mahomes, representatives on social media, I emailed the Kansas City Chiefs. And I didn't get a response.
The last thing I did was fill out a fan experience questionnaire on the Kansas City Chiefs website. I literally typed out, "Hey, I've never been to a Chiefs game, but I have this all-women's folklórico group—just give us a chance."
Two weeks pass, and I get a phone call.
STACEY: It was actually in the middle of practice. All of a sudden, she looks at her phone and she looks at me.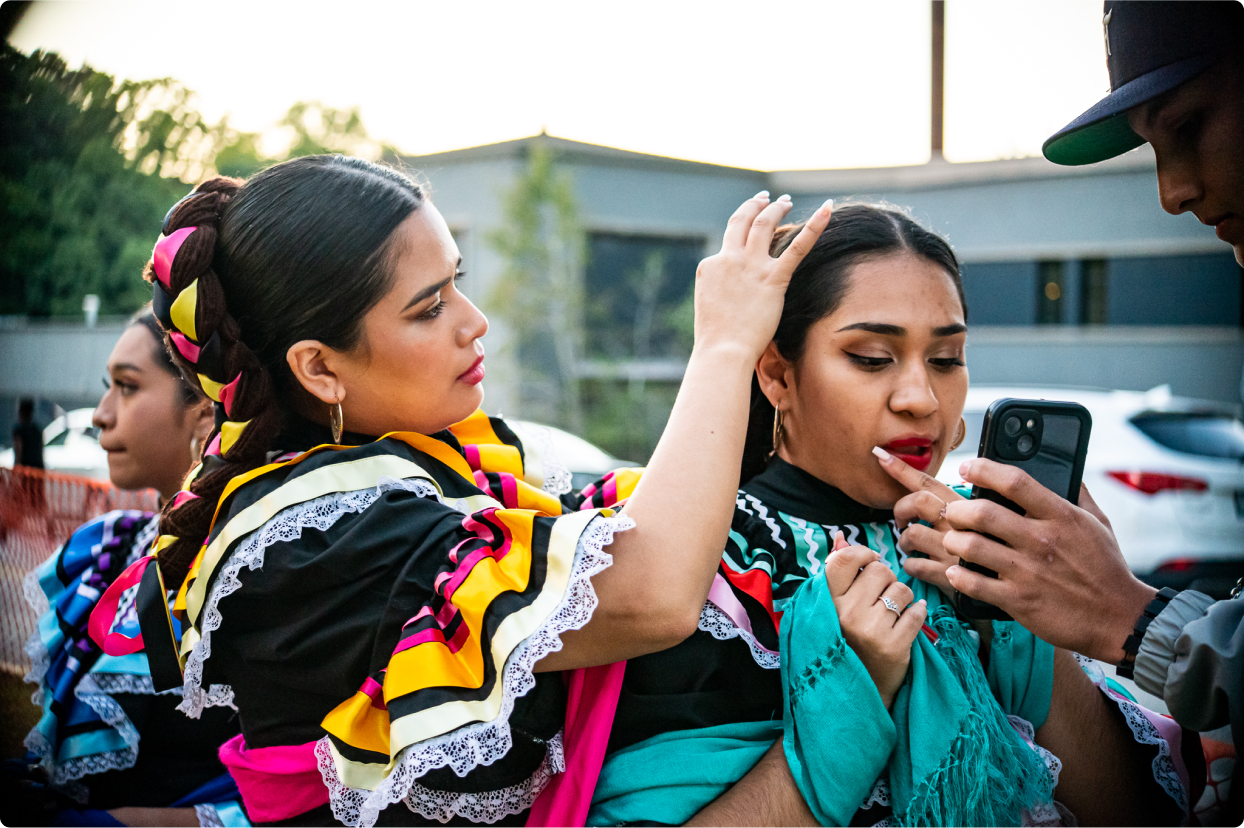 ANNEL: I just had a feeling I should answer. It was a woman from the Kansas City Chiefs who tells me they're going to give us a minute and 30 seconds for the halftime show.
KELSEA: How did standing on the field feel for each of you?
STACEY: You couldn't even see faces in the stands—all I saw was red everywhere. And we actually didn't hear the beginning of the song because there was so much yelling, so we were lost for a second. But I looked at Annel and she said, "Okay, we got this."
We did that one minute and 30 seconds, and it felt like five seconds.
ANNEL: I remember looking over at Stacey and just telling each other, "We did it—we're really here!"
After that, I hear people standing up, clapping, and cheering. In my head, I'm thinking they're cheering because the Chiefs players are back out on the field, but then our Kansas City Chiefs representative says, "They're cheering for you. They're cheering for your group."
I just started bawling my eyes out. We had a lot of people stop us as soon as we got to the top, saying thank you for representing our country and our culture. It was just a great feeling.

KELSEA: What do donations and support from the community help you do more of, and what will they help with in the future?
ANNEL: We started our GoFundMe to get a portable wooden dance floor that we can take to our performances. It also helped fund our one-year celebration of Grupo Izcalli, which was a festival pop-up that featured local vendors with pastries, desserts, and Carmona's Chamoy. We had a lot of support from the community, and we didn't really expect it.
KELSEA: What has your community's support meant to you?
ANNEL: People have believed in us and our vision. We're doing it because we enjoy our art and we really have a passion for what we do. We want to show the community there's no right way to dance folklórico. Some people think, "They're an all-women's group—there's no way." But there is a way. If you have a passion for what you do, you'll make a way.
KELSEA: I love that. So if anyone listening is going through a tough time and is nervous to ask for help from their community, what advice would you give to them?
ANNEL: I tried to hide that I was going through postpartum depression. I asked for help because I wanted to save myself, but I also wanted to get my identity back—love myself again. I say Grupo Izcalli is my second baby because it has helped me so much. That's why I named it Izcalli, which means the beautiful house among the trees. Izcalli represents my home when there's so much chaos going on.
My advice is to reach out. You're not weak for feeling this way. If anything, you're very strong. And all your struggles—there's a way out. Whether that's singing, dancing, a sport, the gym, reading a book, taking a walk, or going out with friends. If you're going through what I went through, just talk to somebody that cares about you. If you just talk to somebody, you're going to be okay.
STACEY: Annel and I hadn't talked in five years when she reached out to me. But when she reached out, I thought maybe it was a sign—maybe I can finally find myself again. If it weren't for her calling me to start the dance group, maybe I wouldn't be here right now. So yeah, if you're going through it and there's somebody trying to help you out, don't just ignore them. They could help you with anything.