26
9
Spreading Joy with a Bike
$6,090
of $40,000 goal
Raised by
32
people in 6 months
Amazing video GoFundMe made that tells my story of how and why I ended up creating Going Places.
Many of you may be familiar with the GoFundMe I created in the fall of 2016 whereI raised over $80,000 and was able to buy all 650 kids in my title 1 (low income, high poverty) elementary school in North Charleston, SC a new bike, lock, and helmet. The tremendous success of this campaign and its local and national attention has led me to step away from teaching to create a nonprofit called Going Places where I can further this work on a much larger scale. My passion for title 1 kids is so strong that I feel I can have a larger impact on them by spreading joy. 
Check out our Going Places website!


A bike provides title 1 children with so much more than a toy. For many, when they go home from school is wheN the stress begins and they are trapped in an unpredictable environment, they can't get in their car go for a drive like an adult can. A bike gives them that sense of freedom and escape as well as a way to decompress. Many title 1 kids have lost part of their innocence due to having to take on the responsibilites of an adult and it becomes children rasing children.  A bike gives them that sense of childhood back. Also, for many title 1 kids, they have nothing that they own that is truely theirs, especially something that is new. A bike gives them a sense of ownership and pride over somethig of value. But at the end of the day,  it gives them basic, untainted childhood joy.
There are already so many wonderful organizations out there which provide services to children for things they NEED like food and clothing, etc, but there are few programs aimed at providing low income, high poverty children with things they DESERVE simply because they are kids.



Going Places has selected our next title 1 elementary school to receive a new bike, lock, and helmet: Mt Zion Elementary which is located in a rural part of Johns Island, SC. These 300 kids will be surprised at a big bike reveal at their school on
May 1, 2018
! 85-90% of the children who attend Mt. Zion live at or below the poverty line AND live in a rural area, not leaving much for them to do for fun...owning a bike will be a true game changer.
Some teachers at Mt. Zion tells us about some of their experiences with kids they have had in their classes over the years...
"Our kids don't always get to go to the State Fair when it comes to town and get their faces painted because it's very expensive. Getting their faces painted is their favorite thing! Well, last year Mt. Zion had a fall picnic and the kids were so excited to finally have an opprunity get their faces painted but time ran out and not every kid was going to get their turn. I stayed an extra hour after dark to make sure every kid got their face painted just the way they wanted. It was dark and we painted by the light of cell phone flashlights, but everyone left with a smile." 
"One year I had a student whose mom was killed in a tragic car accident and I went to the funeral. The family didn't have much so child didn't have any to remember her mom by so I bought her a locket and engraved it with her mom's name. I found a picture to put inside so she would always have her mom close to her heart."
We need your help to raise $40,000 so that we can buy the bikes from the local Charleston bike shop, Affordabike, where our 2018 custom designed, limited edition "The Purpose" bikes will be givine to all 300 students at Mt. Zion.
We will also use the money to buy helmets, locks, and pay a trucking company to deliver the bikes from the Affordabike warehouse to the school. Every penny of your tax deductible donation will help spread joy to a child in need.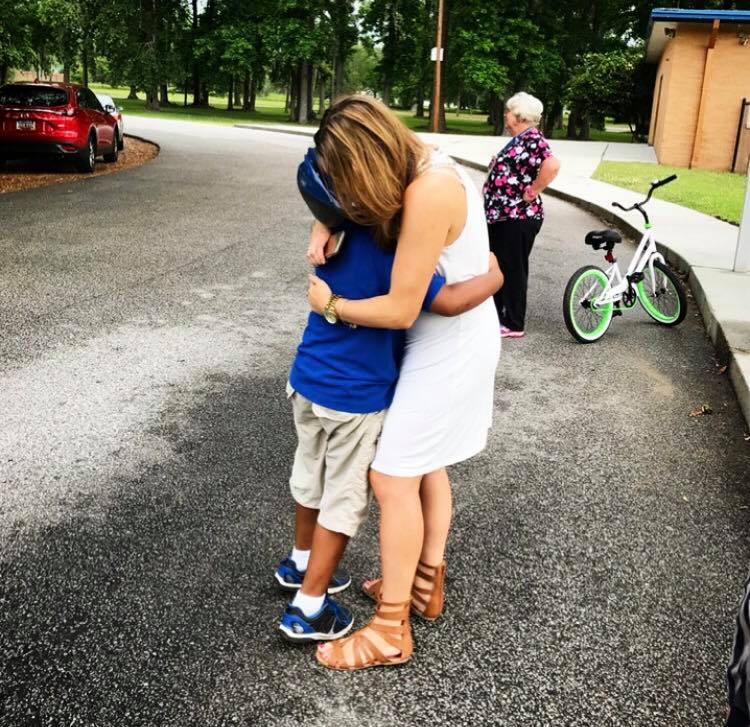 Want your child to get involved in raising money for kids in their same age that are missing the memory they love so much of riding their bike? We have created a CrowdRise account where your child can take ownership and be empowered by creating a fundraiser to help get the bikes for all 300 kids at Mt. Zion Elementary School!
All you have to do is go to to the CrowdRise page linked below, click "fundraise for this charity" and let your child and their friends think of whatever way they want to raise money: lemonade stand, car wash, etc. People just donate right to the link like they would on a GoFundMe account (GoFundMe acquired CrowdRise earlier this year). 
1 bikes = $1001 helmet = $81 lock = $1
How many bikes can your kids raise money for?
Adults can do it too! Maybe a chili cook off at work! It's just a super easy and fun way to get involved and raise some money for underprivileged kids who don't have much joy in their lives.
Click here to create your own CrowdRise fundraiser

____________________________________________________________

How you can help today:
1) Please GIVE what you can. No donation is too small. All tax-deductible.
2) SHARE on social media 
3) Create your own fundraiser in our 
CrowdRise account
4) EMAIL this page -
https://www.gofundme.com/spreading-joy-with-a-bike
- to your family + friends. 
Thank you!
Katie Blomquist, Founder and Executive Director of Going Places
"We're #GoingPlaces, Wanna Come?" #SpreadJoy
ADDITIONAL FUNDING INFO:
*In additon to what you see above in our amount raised, here are grants we have recieved from companies: 
~$100 gift card to Dicks Sporting Goods
~$1,500 from Walmart
~$250 gift card to Costco
~100 Jeff Cook Realestate 
~$1,000 The DeLoache Family Foundation
~$100 from Publix
~$70 from Oyster Pointe Community Fair
____________________________________
+ Read More
Update 1
4 months ago
Share
Going Places apparel is now for sale!! Check it out and get your t-shirt or tank top today!
*for reference, I wear a medium in both tanks and probably a large in the women's t-shirt, it's quite fitted
*the "flowy tank" is loose at your waist line and the "fitted tank" I prefer to wear when I work out
SHOP HERE
https://www.goingplacesnonprofit.org/shop
+ Read More