Amwe Movement
amwe-"together" (pronounced amoy)
A word meaning together, shoulder by shoulder in Kii Tharaka,
Photos: Kelly Njenga (You capture such beauty.)
Amwe In The News
The Ride.
Join us for our Second Annual Amwe Peace Ride as cycling teams from Kenya, Rwanda, and California unite together (Amwe) in a moving prayer for womankind. To celebrate Cancer Awareness Month, 50+ riders representing 3 countries and over 8 different tribes will set out on a 200-mile collective journey across our countries to raise funds for Women's Global Health Initiatives & Cancer Care. During the month of the ride (Oct 16-Nov 16th) we are trying to meet our $15,000 goal! This amount alone could continue to support locally-led health initiatives that actively create opportunities for women's early cancer screening, comprehensive health care and empowering vocational training's for hundreds of women within our partnering village community in Tharaka, Kenya.
Join the Movement & Sponsor one of our Global Riders $2-5 per mile!
The Kenya Ride
(1st Organized Race in Meru County!)-43 miles race
Sponsor $85 (at $2 per mile)
The California Ride
Big Sur Coastal Route- 60-100 miles
Sponsor $100-200 (at $1-2 per mile)
The Rwanda Ride
Burera and Ruhondo Lakes-74 miles
Sponsor $150 (at $2 per mile)
Costs in Eastern Kenya (For reference of how far a dollar can go)
For $60 a year ($3.30 a month)-A local community member can get a full year of comprehensive Health Insurance (NHIF-National Health Insurance Fund). This plan covers many cancer/chemo treatments and life-saving surgeries. The majority of community members we collaborate with are unable to seek health care at all when they or their children become ill due to extremely high out-of-pocket costs for medical care. Last year, we were able to fund life-saving cancer treatment for two women on $60 a year. A current goal of the Tharaka women's group is to amp up their vocational and small business projects to be able to generate enough net income to afford NHIF health car for each member. This is where the bike funding weaves in!
It looks like this....
Amwe Bike Ride Funding---->Sponsor Vocational Training's----> Tharaka Women's Group gains skills & revenue --->Increase ability to fund their own community health insurance fees.
For $13 a day-A local woman can provide a day worth of food and basic needs for her family of 5.
$33-120-Cost to provide a full day vocational workshop to acquire a desired entrepreneurial skill (table banking, farming, small business training).
$3,000-7,000- Total cost to purchase land in Tharaka, Kenya to break ground on Women's Peace Center.
Our funding allocations are focused on Three primary areas: Women's global health, cancer care and prevention and women's small business initiatives. A current community goal of our Kenyan partners is to get each of their village community member covered with NHIF health care ($60 a year fee). Team Rwanda is preparing to host their first-ever free medical and screening camp. Funding is allocated by local people, who as resident experts of their own communities know where it will be used most effectively.
This is a project of listening, learning, and collaborating together through the power of bikes. We see the outdoors movement as a beautiful opportunity to build bonds of solidarity & allyship across our global family. If there is a time for humankind to soften, unite and take care of one another, it is now.
A note to our loves-donors/sponsors/friends of last year:
Nothing would have been possible without your generosity, commitment, and trust from last year event in February 2022. With your support, we truly have been able to create positive ripples of change. For updates on how your donations made beautiful things happen, scroll down or
click here
(under "updates"). Diverse, vibrant, and intact communities are incredibly powerful agents of change- they are where we all began and our path forward. May this project be our remembering of our inherent connectedness.
Amwe Partners (teachers & dear friends)
The MaKenna (Joy) Women's Group- Located in Tharaka, Kenya.
(Amwe co-founder, Robert (on far left) was born in Tharaka in this rural village. Thus, these women are both his aunties, grand-mamas & elders and our primary partnering community members)
Where we work.
Meru & Tharaka County- Eastern Kenya
Meru County has the highest cancer rates in Country.
(Primarily in breast and cervical cancer among Women)
80% + of the individuals in our partner communities cannot afford $5 month to gain access to health care coverage. (Full year of health insurance-$60)
Cancer and mental health are severely stigmatized. Those diagnosed with cancer in these regions are culturally regarded to be cursed/bewitched thus often resulting in the community & even family often abandonment.
With Amwe 2022 Peace Ride Funding We Were Able To...
(All through joined bike pedals folks:-)
Support Community Health Needs
Cover insurance/care for two cancer-positive women who then were able to receive life-saving cancer-removing surgeries, free of cost. (One cervical/One Breast Cancer)
Provide transportation, screening, and follow-up appointments for 10 women with potentially cancer-positive results.
Robert & team Kenya provided over 2,000 rural community members with free cancer & medical screenings at their locally held medical camp. Screenings were provided for diseases that, when detected early, can be treatable.
Support Emergency Response
Responded to a Stage Four Emergency drought in the Samburu and Turkana Regions where we raised funds to provide weeks worth of emergency food, medications, and clothes to over 1000 households.
Launch Community-Led Women's Empowerment Initiatives
Launched a women's self-sustenance garden program and Nursery! Amwe provided seeds for the Makenna women's group to start their own 1000-tree Neem and Acacia nursery to sell in the village.
Provide funding for community-led vocational training in table banking, gardening, entrepreneurial crafts, and community organizing in Tharaka.
Free Medical Screening Camp- Meru, Kenya
Emergency Food Drive- Samburu and Turkana Region
The Exchange.
What happens when folks from varying corners of the world come together to share resources and from the abundance build something together ? Connection to community, culture, ancestral wisdom, financial capital, resiliency and trade skills are all resources that can be valued/shared in our cross-cultural partnerships. We see this project as a way to explore- How can we feed one another what we are hungry for?
Who we are.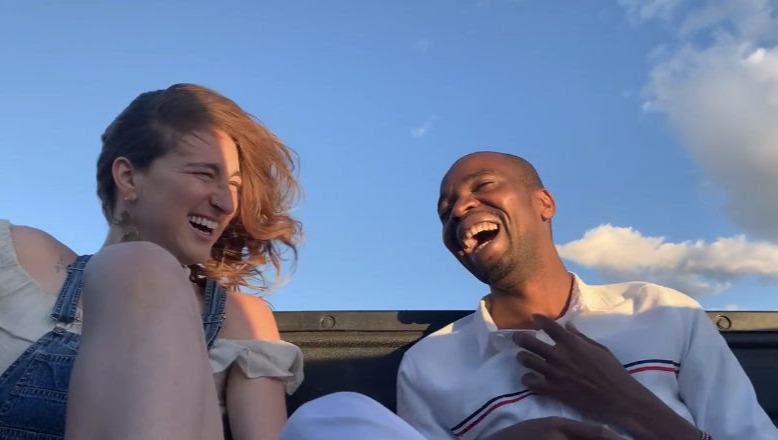 Makenna Women's Group & Amwe Co-Founders Robert & Kenz
Amwe movement is a cross-cultural organization that brings together women-identified folk and their allies to trek for peace. Locally, we band together to walk, bike, and backpack the land to restore our ancient and essential belonging to one another and the earth.
Globally, our movement weaves together people across continents to explore peacemaking, solidarity and allyship through outdoor movement. Our rides, wanders and roamings actively raise funds for women's peace initiatives in collaboration with our partnering community in Tharaka, Kenya. We see healthy, vibrant, united women worldwide as the bedrock for peace.
Our primary partners and dear friends are the Makenna Women's Group (Located in Tharaka, Eastern Kenya). The Makenna women's group is organized Women's group in with over 20 members belonging to the Tharaka Tribe located in Robert's (Amwe Co-founders) home village. These vibrant women are master dancers, mothers, basket weavers, belly laughers, and holders of cultural wisdom. Due to their rural location in a drought-affected environment, patriarchal cultural factors, and governmental systems that disregard women and girls-this group of women actively struggles to get/grow enough food to feed their families, afford health care and medication, and have streams of regular, dependable income. Despite it all, they meet weekly at 7 a.m. on this rock face, in these epic pink dresses to table bank, collaborate, and find ways to support one another.
In Gratitude,
-Amwe Team