Whale Call:Save our seas with an app
$2,296
of $25k goal
Raised by
66
people in 42 months


How to Change the World with a Mobile App
By Gil De Palma
Founder, Whale Call Project

If you can help change the world with an app, will you do it? 

Join our Whale Call Project to make it happen.

My name is Gil De Palma, Founder of Whale Call Project. I am also the Cause Leader of the Causes community Stop Dolphin and Whale Slaughtering and its Whale Call: Save dolphins and whales campaigns.

Please visit the following sites for more information about what we do:

Stop Dolphin and Whale Slaughtering
https://www.causes.com/causes/165072-stop-dolphin-and-whale-slaughtering

Whale Call: Save dolphins and whales
https://www.causes.com/campaigns/41255-whale-call-save-dolphins-and-whales

Whale Call Project
https://www.facebook.com/TheWhaleCallProject/

Whale Call: Save Dolphin and Whales on Facebook
https://www.facebook.com/whalecallproject/




The Whale Call Project

The Whale Call Project is a global movement of like-minded individuals who care about ocean conservation and marine life protection.

Whale Call symbolizes a cry for help by one of the Earth's oldest, most intelligent creatures on behalf of all species, including humans, harshly affected by ocean degradation.

We are launching the annual Whale Call Day, an event calling for the sounding of the "whale call," a symbolic fusion of whale song and human music, to convey one urgent message:

Save marine life.

Whale Songs

The unique thing about Whale Call? We empower people to become Whale Callers and use whale sounds and technology to create awareness and take action to make a difference in the world.

We now have a Whale Call music album featuring a blend of raw whale sounds with human voices and instruments to symbolize harmony with ocean dwellers in the call to save our seas.

Watch out for the release of our Whale Call album through our own music player app for iOS and Android so you can play all the songs for free. 

Meanwhile, listen to one of our whale songs:



Project: Whale Call App

Aside from being a cause leader, I am also a writer, artist, filmmaker and Founder & CEO of my own game/tech company.

I have just launched my game app at the Apple Store and currently working on two new app projects. 

To make our cause's campaign for ocean conservation and marine life protection more effective, I'm sharing what my team and I can do with our community.

We launched a GoFundMe crowdfunding campaign for the development of our mobile marine conservation application called Whale Call Ocean App.

We call it OApp for short.

OApp is a mobile activism platform that will allow Whale Callers—individuals, organizations and governments—to collaborate and combine social networking and offline mobilization to take action for the protection and conservation of marine life.

Using a mobile phone, people can use the OApp to monitor and report ocean-related issues and connect, organize and collaborate with other app users from different countries to achieve a common goal.

Our Whale Call App can empower anyone to become a mobile cause leader.

How Does it Work?

Imagine discovering a company illegally dumping toxic wastes into the ocean.

Understanding the hazards that ocean pollution brings to marine life, the environment and humans, you want to take action to stop it.

But you're just one person.

Here's how to do it…

Become a Whale Caller. Bring out your phone and use the OApp to take a photo or video of the toxic waste dumping. Then create your personal Whale Call campaign, a call to action to create awareness, launch a petition, organize a protest, etc., and send it to other app users.

People will use their phones to respond to your Whale Call and all you have to do is manage your campaign by sending notifications, posting updates, stories and any instruction or information you want to share to achieve your goal.

With the OApp Whale Caller community, you're not alone after all.

OApp Main Tools

It's a campaign center for marine conservation. OApp is a one-stop application for global awareness and social action to save our seas.

It has three main tools: Community Builder, Actions and Hero Points.

Community Builder

OApp features community-building tools that make it easy for grassroots organizers, non-profits and brands to create awareness and drum up support for their marine conservation advocacy using their mobile phones.

The app offers two ways to achieve that:

1. Mobile Profile. Aside from integration with Facebook, Twitter and YouTube as social media messaging channels, OApp includes personal and organization profiles to give members a unique mobile identity.

Personal and organization profiles connect community organizers directly with app users including other nonprofit organizations and brands. 

2. Stories. What sets OApp apart from other community builders is its mobile storytelling factor. The app provides a tool for Whale Callers to share an ocean-related concern that inspires social action to start building a community of supporters around the issue.
Stories may be about oil spill, whale and dolphin slaughter, pollution or any environmental concern that sparks global conversation among like-minded individuals, fostering a sense of community.

OApp builds a community for each compelling story.

Actions

OApp connects stories with corresponding actions to communicate the goal and help community leaders and supporters work together for the success of a campaign.

Using a mobile phone, Whale Callers can launch a campaign to raise international awareness about an issue, recruit people to take a pledge, participate in a poll, sign a petition, support a crowdfunding project, or organize offline mass activities and other social actions.

One very important feature that OApp offers is user analytics that provides leaders, non-profits and brands useful insights on supporter activities. 

Hero Points/AppRewards

This is OApp's way of saying thanks to Whale Callers.

Every action they take lets them earn Hero Points. The system aggregates all campaign activities and features top supporters.

If available, Hero Points may also be used to redeem for rewards that individuals, organizations or governments may provide to encourage positive action.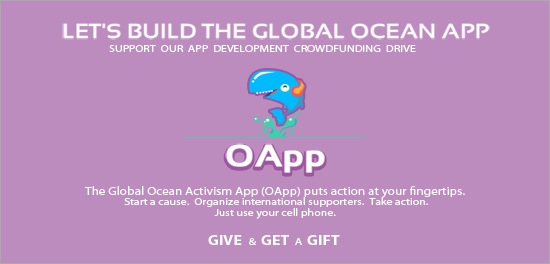 Help Us Make it Happen

The Whale Call Project is raising $175,000 to build and operate the OApp and we need your help to achieve our goal.

Now that you know how to change the world with an app, all you have to do is donate the amount that you want to contribute by choosing from any donation levels below.

Here's where your contribution will go...

OApp Project (12-month period)

App creation/design/basic prototype model --$25,000

Development/testing/infrastructure --$70,000

Going Live, Web services and extras --$30,000

Project Management, live operation team and marketing budget --$50,000

TOTAL PROJECT COST:  $175,000

To enlighten you further, here's a great article about the cost of building an app:

https://fueled.com/blog/how-much-does-it-cost-to-develop-an-app/

You will see that apps cost between $150,000 and $500,000 to develop. Some apps, especially games, even cost over $1 million. They take between 6 months to over one year to build.

And we're just talking about development.

Our $175K budget already includes development, live app maintenance and updates, user acquisition and website support for at least a year.

So how do we manage to keep costs low? My people offered to cut their fees to help our cause. Of course, the community gets my services for free.

NOTE: We are now raising project funding incrementally based on project milestones so that our supporters can see work already done, work being done and work to be done. This way, donors can fully appreciate the progress of our project.

Our campaign will first raise $25,000 for the App creation/design/basic prototype model phase of the project.

Once we achieve the first funding goal and finished the prototype, we will go for the Development/testing/infrastructure phase, and so on until we complete the full Whale Call App project.

With your donation, you are helping us put marine activism on every phone around the world.

As our way of saying thanks, we put together a list of gifts (please see Rewards below) for your donation.

You will get your gifts within three to four weeks after the completion of our funding goal.

Let's save our seas

When you support the Whale Call, you impact marine conservation with three things: the donation that you make, the information that you share and the influence you leave behind.

You can make a global difference

Let us do this together.

Thank you very much,
Gil De Palma
Founder, Whale Call Project


+ Read More
Be the first to leave a comment on this campaign.