We adopted 4 kids in 24 hours!
$9,256
of $20,000 goal
Raised by
188
people in 22 months
Sometimes life does not work out the way you plan. Sometimes that is painful. Every now and then, that is wonderful. I have a wonderful story to tell here about how life can throw some curve balls that you decide to jump up as high you can, care not if you fall flat on your face, lean out as far as the body and gravity will allow, and catch that silly ball! The fun part is this story is about catching more than one ball...
My niece and her husband, Kaley and Jeremy Carling, met young and married a few years later. Like most happy couples, they wanted to start a family. After years of trying with no luck, they turned to fertility treatments. Unfortunately, Kaley has some health problems that prevented even fertility treatments from helping. After many attempts and much sadness, they decided to follow in their older sister's footsteps and foster. They also simultaneously looked into private adoption, even though it can be very expensive. They were fortunate enough to foster a few children, but not lucky enough to keep them forever. They were also fortunate enough to be chosen as adoptive parents, but the birth moms changed their minds at birth. We know that it is ideal for children to be with their birth moms and fully support these families, but the desire for a family and the knowledge that some families are simply unable is real life.. While fostering for the third time, two very young sisters under 2, they also looked into a private adoption of twins due to be born in their neighboring state, Arizona. The lack of success they had before, combined with their determination to have a family, encouraged them to keep all avenues open. An aunt was interested in the two sisters, so as they loved and cared for them, they felt they would likely eventually be placed with close relatives like the children they had fostered before, so they decided to simultaneously pursue the private adoption - of twins! To make this long story short, after traveling from their home state of Utah to Arizona for the birth of the twins, one of which was in the NICU for weeks, they finally came home with twin daughters only to learn that their petition to adopt the two young foster sisters had been approved. There was never a question. No choices to be made. Bonds had been formed. Four curve balls that had to be caught. This brave, generous young couple that had faced so much heart break simply said YES to all four kids. This article says it best: Meet the Parents Who Adopted 4 kids in Just 24 Hours: An adoption story you won't soon forget:
http://www.cosmopolitan.com/lifestyle/a8100453/kaley-carling-adoption-story/
Needless to say, I am a very proud aunt! The four sweet babies have a loving home. However, I am also worried about this young couple starting such a brilliant family with adoption and legal fee debt. I asked them if I could start a GOFUNDME to help pay off those legal fees so they could concentrate on feeding and raising these four beautiful great-nieces of mine! They agreed on two conditions: 1) I only submit a $ goal of the cost of the adoption; 2) any money beyond their goal be donated to St. Jude's Childrens Hospital, a charity near and dear to their hearts. Please help this beautiful young family start their journey with a little less stress by donating to help pay off the adoption and legal fees. Any amount you can contribute will be greatly appreciated.
Regardless of your ability to donate or not, please share this wonderful story of hope, love, charity, determination, and catching life's curve balls. We all need to be reminded that life is, well, curvy?
+ Read More
Update 1
22 months ago
Share
Please take a second and read this amazing story. My niece adopted four kids in 24 hours. Her journey took an interesting turn as she fostered two sisters from Mexico while going through a private adoption of twins. Her petition to adopt the sisters from Mexico looked grim, so she pursued the private adoption of these twin sisters who needed a home. After traveling to Arizona for the birth of the twins and spending weeks in the NICU taking care of them, they came home with the two precious girls to learn their petition to adopt the foster sisters had been approved. No choice to make here. They took all 4 girls under the age 2 and adopted them all in less than 24 hours! Please take a second to read about this amazing story of love and hope and donate, share, and enjoy the good in the world!
https://www.gofundme.com/we-adopted-4-kids-in-24-hours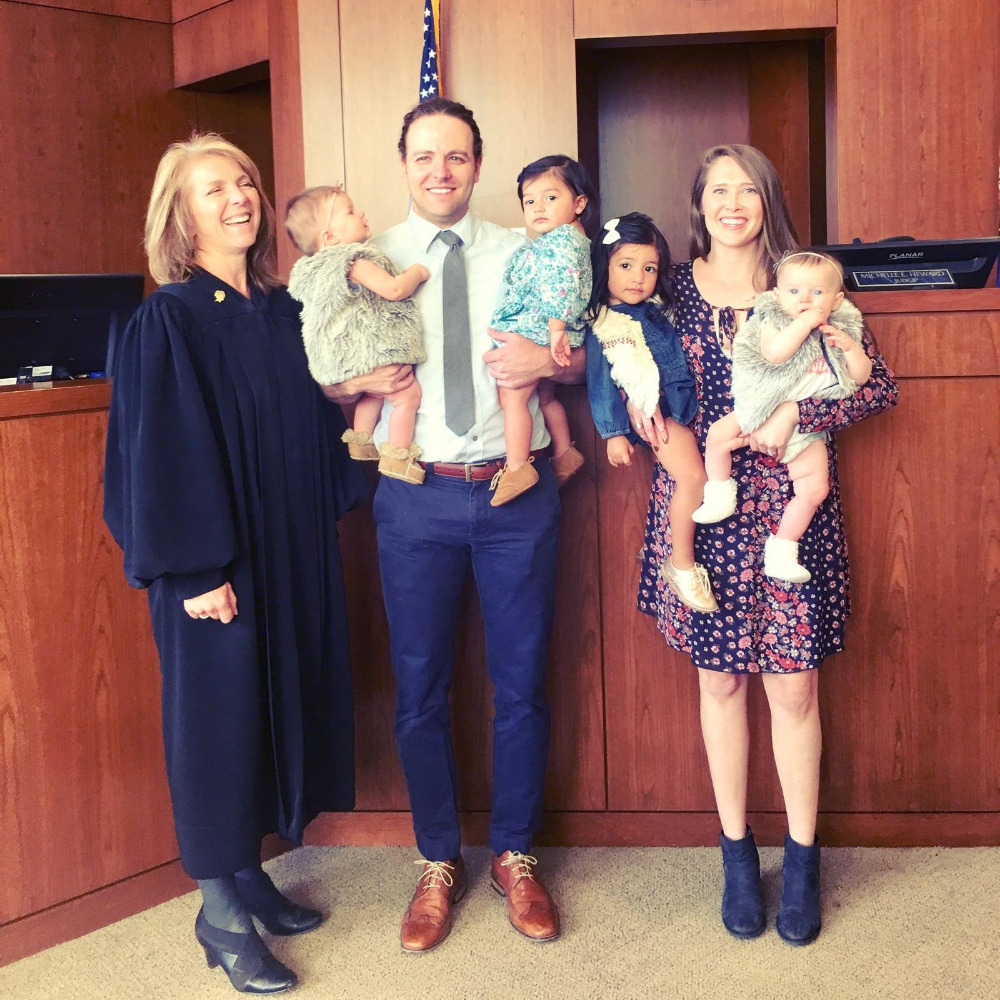 + Read More