6
7
VR Kids' Smile Initiative :)
$430
of $5,000 goal
Raised by
5
people in 14 months
VR Kids, Inc. is a nonprofit charity organization that provides therapeutic virtual reality (VR) services to hospital bound and mobility impaired kids.
We provide our services for FREE and our staff is made up of 100% volunteers.
We have grown thanks to our last GoFundMe campaign and all of your generous donations. Thank you for supporting us.
We're now providing our unique service in four (4) Las Vegas area children's hospitals!

We've had a huge impact working with children in the hospitals. Now the hospitals want VR Kids to work with pediatric patients in the burn unit, the ER, and continue our work in the pediatric department!
They love us there! They would have us there all the time if they could! 

Pediatric hospitals are helping underserved families and have extremely limited budgets and resources.
This means:
 • They're unable to afford large expenses such as VR equipment.
 • They have no budget or expertise to design and develop the custom VR software required.
 • They don't have the staff to run VR sessions and manage the equipment.
Through our fundraising, volunteer staff, and expertise in providing virtual reality services to kids in hospitals, we are in a unique position to assist the hospitals in filling that void!
Our volunteers are able to bring VR experiences to children in the hospital and/or at home without taking time away from busy nurses, therapists, or child life specialists.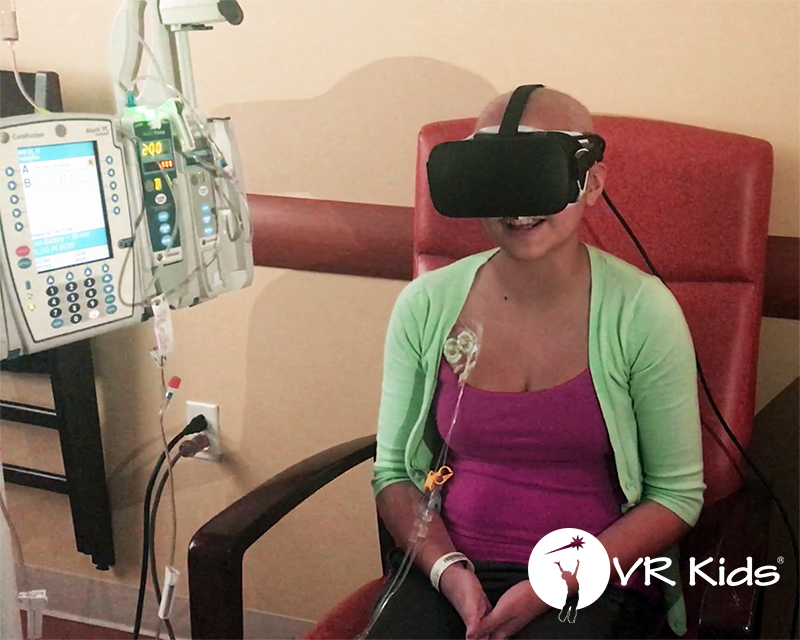 On top of that we're researching and custom-designing our VR experiences to greatly improve therapeutic benefits. 
VR research in medicine is a new field and the studies we're doing today have the potential to help millions of children in the future!
VR Kids research projects planned include:
Pediatric Physical, Occupational, & Behavioral Therapy
 • Fear management
 • Behavioral therapy
 • Balance
Pediatric ER
 • Pre-procedure anxiety reduction 
 • Distraction during procedures
 • Pain reduction

WE NEED YOUR HELP!
We need to raise $5,000; donations will go towards purchasing additional equipment and supplies, cover additional operating expenses, and best of all, enable our volunteers to bring virtual reality to children!
Remember, our staff is made up of 100% volunteers, so all donations go directly to our mission.
Thank you for your support!
VR Kids is a 501(c)(3) nonprofit organization that relies completely on private individual and corporate donations. All donations are 100% tax-deductible.
EIN 47-4044627
+ Read More