Help Veterans In Need
$4,750
of $5,000 goal
Raised by
82
people in 26 months
My son helps homeless and elderly  veterans, in addition to families in need . Tyler raised money for them in the past and founded Give Back to Veterans Day. You may read about it at the bottom of this page. The $630 was spent on items for veterans in need.  
The Maryland Center for Veteran Education and Training (MCVET) is a nonprofit  organization that he supports. Please watch the video that shows how donations were used: 
http://baltimore.cbslocal.com/2016/12/21/kid-preneur-works-to-help-maryland-veterans/amp/
‌.
Tyler also donates to veterans who are waiting for help from the VA and those who are living on the street.  They often need everything from food and clothing to bus passes.  He also delivers items to elderly veterans and helps with emergencies. 
 If you believe that this is a worthy cause, any amount that you can  give is appreciated! If you cannot donate, please consider sharing this information  with other individuals.
Thank you,
Andrea and Super Tyler

Read about Give Back to Veterans Day 1
‌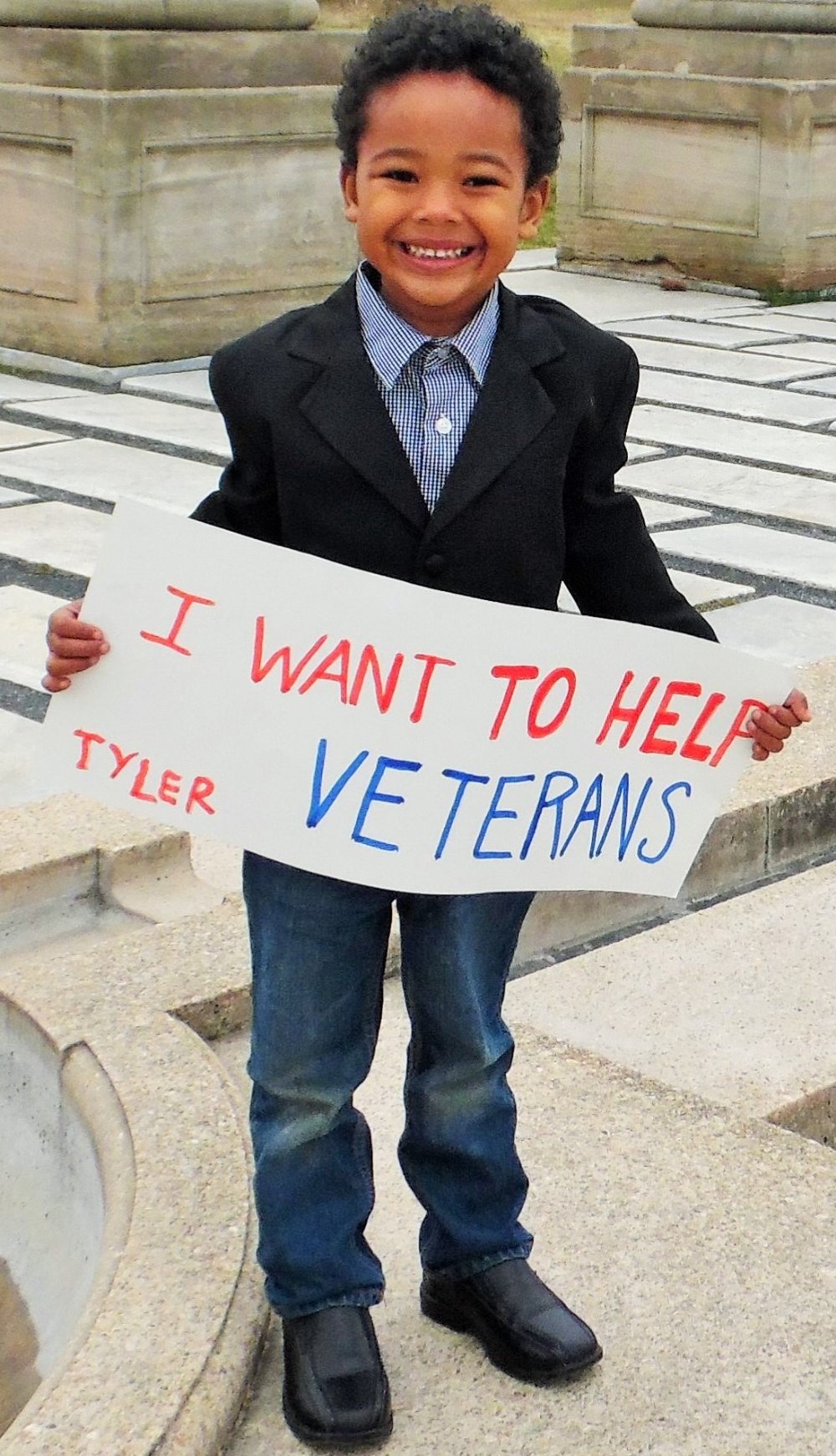 My name is Tyler. I am a 5-year-old kidpreneur and co-creator of Give Back to Veterans Day. Doing something special for veterans began after I started asking my mom  why some veterans are homeless. After talking to my mom, we came up with an idea to make hygiene and grooming kits with thank you cards to give to elderly or homeless veterans on March 26. My dad, uncle, grandfather and lots of people I know are veterans.  I wanted to do something nice for as many veterans in need as I could because they deserve it!
I had such a good response from veterans who needed items before Easter, I want to keep Give Back to Veterans Day going and make it even bigger! I want to raise money to buy more personal care items, and at least one computer, so veterans who also need jobs, or their children who don't have a computer for school assignments can use it to help with their goals to make their lives better. Some veterans need a computer to look for jobs. It is hard to do that in a library. Some organizations that help veterans also need new equipment. I believe that having access to a brand new computer could help someone who simply cannot afford to buy one. 
Since I don't run a nonprofit with my mom yet, I could use help from caring people like you. All monetary donations are appreciated!  
Another way to support my fundraiser is by buying a copy of my limited edition book called "Tyler Goes Around the World." You may order it from my website
www.kidtimeenterprises.com
. I am donating a portion of the proceeds to help fund my next giving campaign to help veterans.  If you already purchased a copy, I appreciate your help very much. Every dollar helps.
 My mom will post campaign updates for me.  Please send her a Facebook message if you would like to collect hygiene products in your office or church in Maryland, D.C.  or Virginia to help with my project. Thank you for your support. I appreciate your interest in my desire to help veterans in Maryland, the District of Columbia and Virginia. 
Tyler
Update:
Thank you for helping to make Give me to Veterans Day 2 a success!  I am preparing to turn this event into a nonprofit. If you would like to donate so that I can help veterans in need, I have still been giving homeless veterans supplies.  I appreciate your support.
+ Read More