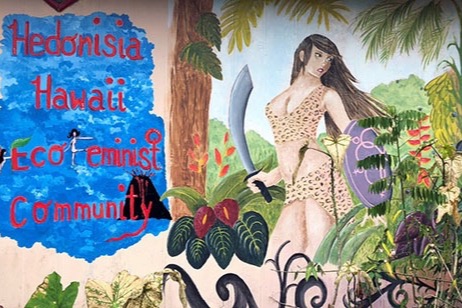 38
9
Rebirth Hedonisia Hawaii Community!
$3,415
of $150,000 goal
Raised by
37
people in 6 months
On May 27, 2018, the Hedonisia Hawaii Eco-Community was destroyed by the Kilauea volcano lava flow.
After 14 years of existence in paradise, our community was completely erased by an ocean of lava. It is as though Hedonisia never existed except for the photos and the memories and the website.
My name is Mojo Mustapha and I was the owner and 
Community Director
of Hedonisia Hawaii.
Our property was valued at more than $750,000. Now as 4 acres of black rock, it is worth almost nothing. Lava destruction is not covered by insurance. 
Hedonisia went from a successful
Ecofeminist Community
 hosting visitors from around the world to losing 90% of its income and assets and vanishing as a physical location.
There are strong feelings of despair in me as I deal with this loss. But then I look at our
 Facebook page
and see the warm, loving messages from many former guests who were positively affected by our community.
This fundraising campaign is to create a new physical home for Hedonisia Hawaii.
Idealistic people often tend to be wonderful because they want to make the world a better place. This led to many wonderful friendships and relationships were formed at the community. 
Visitors often talked about lifelong connections forged at Hedonisia. Many wondered how so many fantastic people were consistently attracted to our little community.
One reason is idealism. EcoTourists liked our green philosophy. Interns and volunteers liked the opportunity to work on the
Hedonisia Portfolio of EcoFeminist Entrepreneur Projects
.
We did this on a relatively small budget.  We never took charity because we wanted to show that a community business could be idealistic and profitable. Many interns, volunteers, and guests gave it as a reason why they booked a stay with us. 
Moving Forward: Hedonisia Hawaii Community Rebirth! 
In 2005, I bought
2/5 of an acre of guava forest
 about 10 miles from Hedonisia. If the land survives it could be a potential location for a new mini Hedonisia! The land has an intimate enchanted look. We would try to preserve and work with it when building our eco-huts. 
There is also possible government land swap legislation in the works that would allow us to rebuild on State land while giving up our old land. We might also still return to our original land.
This crowdfunding campaign is to purchase the materials needed to rebuild at this location which I already own or at a future location TBD.
All of our tools and building materials were lost in the lava flow. As can be seen from our
Eco-Community Purchase List
, we would be starting from a completely blank slate!

Donate for your future vacation!
Any donation no matter how small will add up. Even if we don't get to our funding goal we can still start the rebuilding process (land surveys, brush clearing etc).
We've set up the Reward Perks so your crowdfunding donation is basically an advance investment in your future vacation! 
Hedonisia will change but we will hold the same ideals of sustainable community living, pleasurable activism and promoting gender equality through female empowerment. 
We have a proven concept for attracting idealistic people in a community setting which then makes for a wonderful place to make lifelong friends!
Now we need funding to do it again either on the original land or at our other piece of land! 
If you can't afford to donate please post on your Social Media!
Blog, Facebook, Tweet, Instagram or link to our site! Share our story with people you think it might resonate with.
If you stayed with us before, perhaps write a post talking about your experience!
We are trying to let the world know about our situation. Somewhere out there might be that angel supporter or investor who helps us to rebuild our community!
Thank you and aloha.
Mojo Mustapha
========
March 27, 2018. Beulah: Jungle Queen volunteer builder fixing the Eco-Toilet Roof exactly 2 months before it was destroyed in the eruption. 
We will never be able to recreate Hedonisia Hawaii. As those of you who visited can attest, it was a unique piece of land. 
However, we can take the ideas and inspiration we learned in those 14 years and reproduce a different kind of eco-community.  We invite you to help us in this effort.
+ Read More