12
11
Help the Trom's Fight Factory Farms
$695
of $10,000 goal
Raised by
11
people in 10 months

Trom Family Farm Threatened by Hog Factory Farms

Family farms are the backbone of strong and vibrant rural communities, but thanks to the largely unchecked expansion of factory farms in Minnesota, many family farmers find themselves in the cross-hairs of industrial agriculture with nowhere to turn, except the legal system.

It's David v. Goliath in Rural Communities and We Need Your Help!  

The factory farm industry has easy acccess to funds for payment of legal fees. For more information, see Raising a Stink, Minnesota Lawyer (August 2015). 

On February 27th, Lowell and Evelyn Trom filed a lawsuit in Dodge County, following approval of the 12th swine factory farm in a 3-mile radius of the Trom farm. The Troms are fighting a well-funded and politically connected factory farm industry and the legal fees related to this lawsuit will be signifigant.  

Watch the video below, The Dark Side of the Other White Meat, for additonal information about the Trom family farm. 


Over 125 Years in Dodge County 

Lowell's grandfather, Ed Trom, emigrated  from Norway to Dodge County in southern Minnesota in 1892. Shortly after he arrived, he met and married Mary Knutson and they raised their seven children on their farm in Westfield Township.

In 1917, Ed and a number of his neighbors designed and built the Westfield Lutheran Church (pictured below).  Lowell and all of his siblings were baptized at Westfield Lutheran Church during the 1920s and 1930s.   Lowell's wife, Evelyn, led efforts to restore the church in 1970's -- the story of the Trom family and Westfield Lutheran is a long one!



In 1925, Lowell's parents, Elmer and Marie,  rented an 80-acre farm just two miles north of the original Trom farm.  Elmer and Marie eventually purchased this 80-acre parcel in 1937, where they raised their ten children in the original farmhouse (pictured below). They grew corn, soybeans, barley, oats and flax, as well as tending to many farm animals, including 20 or so dairy cows, pigs, geese and at least 1,000 chickens.    



Lowell and Evelyn bought Elmer and Marie's farm in 1967, where they raised their six children in the farmhouse where Lowell was born.  Over the years, Lowell and Evelyn hosted many family reunions, weddings, wedding receptions and other events at their beautiful farm.  Lowell and his two sons, Brad and Jim, work on the farm today, harvesting corn and soybeans on the 760-acre farm. 

The Hogs Move In



Things started to change in Lowell and Evelyn's neighborhood in 1993 when the first hog factory farm was built.  Since then, the Minnesota Pollution Control Agency (MPCA) and the Dodge County Board of Commissioners have approved  eleven hog factory farms within three miles of the Trom farm. One of the hog factory farms, located a 1/2 mile west of the Trom farm, is pictured below. 



The neighboring 11 hog factory farms use in excess of 40 million gallons of water a year and produce over 11 million gallons of liquified manure a year. That manure is trucked and landspread on fields near the Trom farm -- negatively impacting their quality of life and ability to enjoy their legacy farm. The picture below was taken in November 2017 from a field owned by the Trom family -- those three semi's are full of liquified hog manure.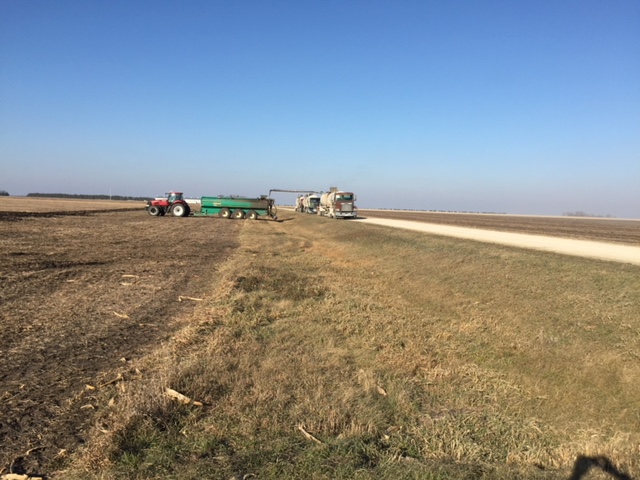 Enough is Enough!

Industrial agriculture's 'modern' way of producing meat is grounded in a scorched earth methodology -- water, air, and the land are polluted with little to no consideration for the citizens who have to live near these animal factories. Their economic development model can be summed up in 4 words -- Privatized Profits, Socialized Costs -- and for family farmers like the Troms, this means a loss of property value, polluted  and/or disappearing water supplies, fouled air, and complete disregard for their family's multi-generational commitment to Dodge County.  



The Troms are courageously standing their ground and fighting back -- recent approval of the 12th hog factory farm within three miles of their home is too much. There is a human side to this rural disaster that must be told and they are drawing a line in the sand that says:

-- It's unfair to make your neighbors bear the cost of running your profitable business.
-- It's immoral to sicken people with manure and poisonous gases.
— It's un-American to privatize profits while socializing costs.
— Rural citizens' freedom is taken by factory farms when they pollute the water, air, and land.



How Can You Help Now?

Please consider donating money to help the Troms with their legal fees. This lawsuit is their only chance to stop the construction of the 12th hog factory farm within 3 miles of their home and since they don't intend to back down, the legal fees will be extensive.   

All fees up to $10,000.00 will go directly to Lowell and Evelyn Trom to help them with the legal fees related to their lawsuit. All monies raised in excess of $10,000.00 will be distrubuted by Dodge County Concerned Citizens , a grassroots group in Dodge County advocating for good governance, promoting clean water and air, and providing resources for farm families facing factory farms near their homes. 

For more information about the lawsuit, click here. 



Why Should You Help? 

The answer is simple: it's not fair that 12 hog factory farms are forcing the Trom family to take legal action to be safe in their home, to drink clean water, and breathe fresh air.  The Trom history goes back 126 years in Dodge County and they have a right to remain on the land.

Factory farming is changing the rural landscape across southern Minnesota -- family farmhouses stand empty, animals no longer dot the countryside, streams and rivers that used to run with clean water have been polluted by manure runoff,  and clean 'country air' has been fouled by ammonia and hydrogen sulfide. The regulations created to manage these industrial animal factories are often inadequate and poorly enforced, leaving citizens with nowhere to turn.

Given the factory farming industry's outsize influence in St Paul and Washington DC ,  the legal system is the last resort for many rural citizens. A win for the Trom family will pave the way for other families and other lawsuits seeking to protect Minnesota's rural heritage. A donation from you will help the Trom's see this lawsuit through to its end, and hopefully a victory! 

Other Ways To Help? 

Help us spread the word about factory farming in southern Minnesota -- 'like' our Facebook page and sign up for our newsletter on our website, Dodge County Concerned Citizens. 
+ Read More