Salvar vida en Venezuela (A. C. Hijos de Morán)
$2,800
of $100,000 goal
Raised by
45
people in 29 months
Hijos de Morán una asociación civil creada para salvar vidas en Venezuela.

La situación actual en Venezuela ha llevado a su gente a vivir la peor crisis humanitaria de la historia, llenando hogares de tristeza, hambre, soledad y hasta muerte, trayendo consigo un sinfín de consecuencias negativas en la población.
El alto costo de la vida, la hiperinflación, la deserción estudiantil, fuga de cerebros, escasez de alimentos, medicinas y productos básicos, así como todas las muertes por estas graves condiciones, ha avivado las ganas de muchos venezolanos de luchar y sembrar esperanza, como es el caso de la Asociación Civil Hijos de Morán, que desde la Ciudad Madre de Venezuela y primera capital de Venezuela, El Tocuyo, estado Lara, están abriendo un abanico de posibilidades en la ciudad y el país.  
Apoyan en salud, alimentación, educación, ambiente, recreación y hasta las mascotas se ven beneficiadas.
Entregan medicinas a los pacientes del hospital de El Tocuyo y a personas en otros lugares del país a través de otras fundaciones aliadas. Recuperaron el hospital de su ciudad y trabajan para su mantenimiento diario. Realizan jornadas de salud en comunidades, han recuperado ambulancias  y quieren abrir su propia unidad médico  odontológica.
Tienen aproximadamente 25.000 pies cúbicos de donaciones en Estados Unidos y Colombia, con medicinas, insumos y equipos médicos, así como comida, que muchos ángeles han donado y necesitan llevar a su país, pero falta el dinero con el cual podrían salvar muchísimas vidas más.
Las ambulancias se pararon de nuevo por falta de cauchos en su mayoría y otras por algunos repuestos. Ellas son indispensables para cubrir emergencias diarias en muchas comunidades, así como también la inmediatez para atenderlas. Esto se puede solucionar si tú nos das una mano.
Tienen estudiantes becados para estudiar presencialmente en universidades venezolanas y otros becados a distancia en alianza con la Fundación Ismael Cala, en Next_u, Atlantis University y la Universidad Tecnológica Experimental de Guayaquil, dando posibilidades a la juventud de emprender y superarse. Hoy, estos héroes ven la posibilidad de lograr sueños personales y ser ejemplo de lucha, demostrando que sí se puede.
Si alimentamos su esperanza es para que sumen fuerzas y se mantengan ante las adversidades.
Dan de comer a más de 1000 personas diariamente, con una Olla Solidaria y necesitan sumar a otros que están muriendo de hambre, ya que la crisis imposibilita la alimentación mínima necesaria de la mayoría de lo venezolanos. Son muchos los niños, jóvenes y ancianos muriendo de mengua. Ellos necesitan de tu ayuda para multiplicar estos alimentos, disminuyendo así las muertes por hambre, salvando cerebritos de los niños desnutridos y dándoles esperanzas de vida a personas tan vulnerables. La Olla Solidaria también se ha convertido en un espacio de unión y de compartir experiencias y conocimientos.
Estos héroes que diariamente están ayudando, buscan la participación ciudadana, consolidan el sentido de pertenencia y solidaridad, para mejorar las condiciones de vida, logrando poco a poco que los beneficiados participen sumándose a colaborar con la organización. Por ejemplo los comensales de la olla solidaria pueden llevar algo para sumar a la sopa como una cebolla, colaborar cocinando, sirviendo u organizando el espacio donde van a comer.  
Han recuperado espacios ambientales como el caso del parque Dos Cerritos, un hermoso lugar que se encontraba escondido debajo de monte y tierra.  Con la ayuda de la comunidad, bomberos forestales y soldados, se logró desmalezar, limpiar, pintar, restaurar parques, canchas deportivas y hasta construyeron su propia playa con arena, convirtiéndolo en un espacio familiar y de recreación.
Tienen la única Olla Solidaria Canina en el país, ayudando así a los perros de la calle, con el equipo de Manos por Patas, donde a diario hacen un recorrido por la zona, alimentando estas mascotas e incluso algunos de casa, pero que no tienen para darles comida. Esto se elabora con conchas de verduras de la Olla Solidaria, los huesos sobrantes y algo de perrarina donada. Tienen la esperanza de crear el primer refugio canino ecológico del país, conseguir padrinos que a distancia adopten perros en Venezuela enviándoles el alimento mensual, con tal y tengan un hogar que les dé atención diaria, así como lograr el número de animales a alimentar.
Realizan en convenio con el Decanato de Veterinaria de la UCLA, jornadas de esterilización, vacunación y atención y pronto comenzarán a llevar un registro de cada perro de la calle, para tener el récord de cada uno de ellos.
Hijos de Morán ha demostrado que sí se puede salir adelante cuando todos se unen a trabajar por un mismo objetivo, que aún hay esperanzas y sí hay gente que quiere hacer cosas por Venezuela. Sus voluntarios luchan día a día para mostrar el lado positivo de la historia, que a pesar de las dificultades, con ganas de hacer, con mucha voluntad y amor se puede lograr el hacer crecer a un país. Un país que está roto en esperanzas, consumido por los problemas y ahogado por la grave situación. Sin embargo, todavía existe una gran parte de corazones nobles que luchan por ser el cambio de una generación para lograr un cambio de conciencia, sembrando fe y valores que cosechen frutos abundantes de gente que no se rinde hasta salir adelante. Todos ellos son unos guerreros que obran por el bien de la sociedad, regalando sonrisas e ilusiones. Con ganas de salir adelante.
Por todo ésto y más, es que estamos en la búsqueda de 100.000 ángeles alrededor del mundo, que donen al menos $1 y así ayudar a salvar muchas vidas.
1 dólar por el latido de un anciano.
1 dólar por el latido de todo un país que te necesita.
Tu corazón late… mi corazón late… Ayuda a otros corazones a seguir latiendo…
Venezuela te necesita, necesita que te unan sus ganas de vivir.
¡Ayúdanos a ayudar!
https://www.hijosdemoran.org/
Correo: 
dona@hijosdemoran.org

Información Importante!!!!!!!!!
 Esta pagina de donación esta haciendo dirigida por el Lic. Alfredo Mijares Colmenares desde Colombia, es un profesional venezolano como mucho tuvo que salir del país por la crisis económica que aqueja Venezuela; pero igualmente sigue colaborando por esta bella causa. Si tiene alguna duda puede escribirle directamente a él a su linkedin.
https://www.linkedin.com/in/alfredo-leonardo-mijares-colmenares-0a5672106/?originalSubdomain=ve
Y por ultimo el señor Ariel Silva es el encargado de recibir el dinero donado en los Estados Unidos América, por ser él miembro honorifico de los Hijos de Morán.

Hijos de Morán siguen dando esperanzas en medio de la crisis venezolana
Hijos de Morán continue to give hope in the middle of the Venezuelan crisis


Los Hijos de Morán, una organización conformada por personas nacidas, criadas o adoptadas por la ciudad de El Tocuyo y otros lugares de Venezuela, siguen trabajando en pro de mejorar la calidad de vida de cada uno de los habitantes de esta zona del estado Lara. Comenzando con la rehabilitación de 3 unidades quirúrgicas del Hospital Egidio Montesinos, logrado por la donación y reparación de una gran variedad de equipos médicos e insumos para la activación de este centro asistencial,  con la intención de mejorar la seguridad y ubicar con mayor facilidad cada área del recinto médico que este fallando.
Los Hijos de Morán, an organization formed by people born, raised or adopted by the city of El Tocuyo and other places of Venezuela, continue working to improve the quality of life of each of the inhabitants of this area of ​​the state of Lara . Beginning with the rehabilitation of 3 surgical units of the Hospital Egidio Montesinos, achieved by the repair of a great variety of medical equipment and supplies for the activation of this care center, with the intention of improving safety and locating each area of ​​the medical that is failing.
Gracias a las donaciones de los Hijos de Morán, se ha podido reparar: los equipos de aires acondicionados, computadoras, dos plantas eléctricas, colchones, camillas y salas de parto, ademas de los trabajos en la iluminaria del hospital, acondicionamiento los baños, el área de consulta externa, y salón de conferencia, así como también recuperación de jardines, son alguna de las muchas cosas que han realizado Los Hijos de Morán y pretenden continuar con este y otros trabajos que beneficien a todos los morandinos. Por eso se necesita tu apoyo.
Thanks to donations from Los Hijos de Morán, it has been possible to repair: air conditioners, computers, two electric plants, mattresses, stretchers and delivery rooms, in addition to work in hospital lighting, conditioning bathrooms, And a conference room, as well as the recovery of gardens, are some of the many things that Los Hijos de Morán have done and intend to continue with this and other works that benefit all Morandinos. That is why your support is needed. 

Liderazgo y compromiso de los Hijos de Morán
(Leadership and commitment of the Children of Morán)
El plan estratégico de la Organización Panamericana de la Salud, y los Objetivos del Desarrollo Sostenible para el 2030 , sostiene que los actores sociales deben empoderarse de su sistema de salud. El Empoderamiento ("Empowerment" en inglés) se refiere al proceso por el cual se aumenta la fortaleza espiritual, política, social o económica de los individuos y las comunidades para impulsar cambios positivos de las situaciones en que viven.
The strategic plan of the Pan American Health Organization and the Sustainable Development Objectives for 2030 argues that social actors should take Possession themselves in their health system. Empowerment refers to the process by which , political, social or economic strength of individuals and communities is enhanced to foster positive change in the situations in which they live.
Se presenta el caso del municipio Moran del Estado Lara. La sociedad, a través de la figura de la Sociedad Civil "Los Hijos de Moran" (SCHM), tomó la iniciativa de empoderarse del sistema de salud. Para ello realizaron la agenda social con el apoyo de la Unidad de Gestión de Tecnologías en Salud (UGTS) de la Fundación de Investigación y Desarrollo (FUNINDES) adscrita a la Universidad Simón Bolívar (USB). Para la USB es un hecho trascendental y poco conocido que la sociedad civil intervenga de manera activa en un área compleja y de alto costo.
We present the case of Moran municipality of Lara State. The Society, through the figure of Civil Society "The Children of Moran" (SCHM), took the initiative to empowerment the health system. For the realization of the social agenda with the support of the Health Technologies Management Unit (UGTS) of the Research and Development Foundation (FUNINDES) attached to the Simón Bolívar University (USB). For the USB is a transcendental fact and little known that civil society actively acts in a complex and high cost area.

Características del Sistema de Salud en estudio(Characteristics of the Health System under study)
El Sistema de Salud está compuesto por un Hospital tipo I Egidio Montesinos (con 50 camas, lo que representa 0,36 x 1.000 habitantes), con cinco ambulatorios tipo II y 39 ambulatorios tipo I. El Hospital, está compuesto por una Dirección y tiene a su cargo siete servicios especializados: Nefrología, Pediatría, Ginecología, Cirugía, Fisiatría, Cardiología y Anestesia. Cuentan con la siguiente plantilla de personal: 36 médicos, 2 odontólogos, 123 enfermeras, 209 empleados, 51 administrativos, 300 obreros y otros 22.
The Health System is composed of an Egidio Montesinos Type I Hospital (50 beds, representing 0.36 x 1,000 inhabitants), with five type II outpatients and 39 type I outpatient clinics. The Hospital is composed of a Directorate and has To its position seven specialized services: Nephrology, Pediatrics, Gynecology, Surgery, Physiatry, Cardiology and Anesthesia. They have the following staff: 36 doctors, 2 dentists, 123 nurses, 209 employees, 51 administrative staff, 300 workers and others.
¿Cuáles son los determinantes de la salud?
(What are the determinants of health?)
Con la información disponible los determinantes que influyen en la salud son: a) según el censo del 2011, la población es de 123.880 habitantes, el segmento dependiente (menores de 14 años), representa el 27%, b) es una zona montañosa, esencialmente agrícola; c) tiene un valor de Peligro Sísmico de cinco (elevado); d) la población con agua por tubería del municipio Morán (75%) está por debajo de la media nacional (90%); f) la eliminación de aguas servidas por tubería, el Municipio (38%), está muy por debajo de la media nacional (73%), esto se debe a que la región, casi la mitad es rural (47%) y la otra urbana (53%); g) el personal médico (cada 10.000 habitantes) es de 7,6, mientras a nivel nacional es de 19; h) el porcentaje de la población alfabeta del Municipio es de 88%, por debajo de la media nacional con 98%.
According to the 2011 census, the population is 123,880 inhabitants, the dependent segment (under 14 years old), represents 27%, b) is a mountainous area, Essentially agricultural; C) has a seismic hazard value of five (high); D) the population with water by pipeline of Moran municipality (75%) is below the national average (90%); F) wastewater disposal by pipeline, the Municipality (38%), is well below the national average (73%), this is because the region, almost half is rural (47%) and the other Urban (53%); G) medical staff (for every 10,000 inhabitants) is 7.6 medical, while at the national level it is 19 medical ; H) The percentage of the municipality's literate population is 88%, below the national average with 98%.
¿Cuál es el objetivo trazado?
(What is the goal drawn?)
El Objetivo General de la realización de la Agenda Social por parte de la USB, es la de "Mejorar el Desempeño Institucional (DI) del Sistema de Salud. El DI es la capacidad (es medible) que tenga el Sistema de Salud (como Institución) para brindar a la población un conjunto de servicios requeridos (con la medicina por evidencia, seguridad y con tecnología adecuada) a fin de disminuir los riesgos (prevención y promoción) de enfermedad y muerte (curativa) y aumentar su capacidad para interactuar adecuadamente en la sociedad con base a su máximo biológico.
The General Objective of the implementation of the Social Agenda by USB is "Improving the Institutional Performance (DI) of the Health System." The ID is the capacity (It is measurable) of the Health System (As an institution) to provide the population with a set of services required (with evidence-based medicine, safety and appropriate technology) in order to reduce the risks and Propagation of disease and death (curative) and increase their capacity to interact properly In society based on its biological maximum.
Éxitos actuales en el sector salud por parte de "Los Hijos de Moran"
(The current successes in the health sector by "Los Hijos de Morán")



Análisis del problema: La situación en el sistema de salud pública venezolana es preocupante, el déficit en cuanto a infraestructura, dotación, material médico quirúrgico, sueldos y salarios no se corresponden con la realidad económica del país, así como la paralización de las ampliaciones y remodelaciones de los centros de salud son parte de las realidades que los ciudadanos encuentran al momento de acudir a un ambulatorio o a un hospital.
Analysis of the problem: The situation in the Venezuelan public health system is worrying, the deficit in terms of infrastructure, surgical medical equipment, and salaries do not correspond to the economic reality of the country, as well as non-compliance of the enlargements and Remodeling of health centers are part of the realities that citizens find when going
to the hospital.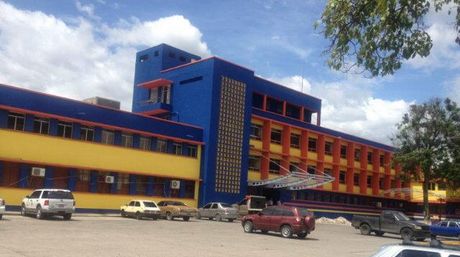 Hospital tipo I. Egidio Montesinos. Ubicado en El Tocuyo
Hospital type I. Egidio Montesinos. Located in El Tocuyo
En una investigación realizada por la USB, se calculó del costo actual del Sistema de Salud del Municipio Morán del estado Lara-Venezuela.
In an investigation carried out by USB, the current cost of the Health System of the Morán de Lara-Venezuela Municipality was calculated.
Se realiza jornadas de operación masiva en la comunidad. El Dr. José "Chema" Colmenarez desarrolla una actividad donde se realizan 200 intervenciones quirúrgicas en el Hospital Egidio Montesinos de El Tocuyo, en un solo día. La USB acompaño la actividad.
Massive operation days are held in the community. Dr. José "Chema" Colmenares develops an activity where 200 surgical interventions are performed at the Egidio Montesinos Hospital in El Tocuyo, in a single day. The USB accompany the activity.
Credibilidad del grupo UGTS de la USB a nivel mundial.Credibility of the UGTS group of USB worldwide.
Otras actividades de los hijos de Moran:
Other Activities of the Children of Moran:

- Reactivación De La Morgue Del Hospital Dr. Egidio Montesinos:
 Después de 15 años el Hospital Dr. Egidio Montesino ubicado en El Tocuyo, Municipio Morán cuanta de nuevo con una Morgue.
-
Reactivation of the Hospital the Morgue Dr. Egidio Montesinos:
After 15 years Dr. Egidio Montesino Hospital located in El Tocuyo, Municipality Morán again with a Morgue.
- Operativo De Electricidad:
En aras de embellecer la infraestructura de nuestro hospital se inicio el primero de una serie de operativos que se realizaran en el Hospital Egidio Montesinos, con el propósito de tratar de mejorar la planta física. El 4 de marzo a las 8 de la mañana se comenzó con el operativo de electricidad que conto con más de 50 electricistas que fueron convocados para arreglar nuestra principal institución de salud.
- Operative Of Electricity:
In order to beautify the infrastructure of our hospital, the first of stage was started at the Hospital Egidio Montesinos, with the purpose of trying to improve the physical plant. On March 4 at 8 am began with the electricity operation that counts with more than 50 electricians who were summoned to fix our main health institution.
La jornada resulto todo un éxito, los voluntarios estuvieron trabajando de manera muy activa sin parar hasta las 7 de la noche, expresando sentirse alegres de poder ser parte de esta máquina humana de solidaridad. Entre los diferentes trabajos que se realizaron fueron, sustitución,  instalación y limpieza de  interruptores, toma corriente,  socates, sustitución y colocación de más de 80 lámparas, balastros y bombillos. Además se realizo  conexiones de áreas que no contaban con iluminación, reparación e instalación de brekeras , colocación de canaletas y reparación de lámparas en mal estado. Las áreas beneficiadas fueron la emergencia general, la emergencia pediátrica, hospitalización pediátrica, las escaleras principales, en centro de rehabilitación, el gimnasio,  la sala de pre-parto, obstetricia, hospitalización general y el área administrativa.
The day was a success, the volunteers were working very actively without stopping until 7 at night, expressing joy to be able to be part of this human machine of solidarity. Among the different works that were carried out were, replacement, installation and cleaning of switches, power outlet, socates, replacement and placement of more than 80 lamps and light bulbs. In addition, connections were made from areas that did not have lighting, repair and installation of brekeras, placement of gutters and repair of lamps in poor condition. Areas benefited were general emergency, pediatric emergency, pediatric hospitalization, main stairs, rehabilitation center, gymnasium, pre-delivery room, obstetrics, general hospitalization and administrative area.
 Todo esto fue realizando, con material de donaciones, equipos y herramientas prestados por el personal de mantenimiento del hospital y todos los voluntarios que participaron en la jornada. Igualmente el operativo conto con la presencia de CORPOELEC, la empresa del estado encargada de la energía eléctrica, que se encargo de la reparación, instalación de lámparas en la iluminaria externa, asimismo realizaron la poda de los arboles en los cables de alta tensión y la conexión.
All of this was done, with material donations, equipment and tools provided by hospital maintenance staff and all volunteers involved in the day. Also with the presence of CORPOELEC, the company of the state in charge of the electric energy, that ordered the repair, the installation of lamps in the external illumination, also carried out the pruning of the trees in the cables of high tension and the connection.
Por otra parte, los comentarios  de los participantes en la jornada comentaban que los pacientes, el personal del hospital y los familiares, mostraban cara de entusiasmo y alegría por la labor que se estaba realizando. Todos los Hijos de Morán reunidos con un gran objetivo, mejorar la calidad de vida de todos los morandinos y desde aquí dar ejemplo a toda Venezuela y el mundo.
On the other hand, comments from participants at the conference commented that the patients, hospital staff and family members showed enthusiasm and joy for the work being done. All the Sons of Morán met with a great objective, to improve the quality of life of all Morandinos and from here to give example to all Venezuela and the world.

- Limpieza Ruinas De Belen:
 Los Hijos de Morán siguen trabajando por un mejor municipio, esta vez con la limpieza realizada a las Ruinas de Belen, el primer Hospital de Venezuela, declarado patrimonio histórico por la UNESCO.
- Cleaning Ruins of Belen:
Los Hijos de Morán continue to work for a better municipality, this time with the cleaning done to the Ruins of Belen, the first Hospital of Venezuela, declared a historical patrimony by UNESCO.
- Activacion De Rayos X Y Laboratorio: 
La empresa del estado encargada de la electricidad CORPOELEC visito el Hospital Egidio Montesinos de El Tocuyo para hacer las conexiones pertinentes en los bancos y transformadores electricos.
- X-ray Activation And Laboratory:
The state company in charge of electricity CORPOELEC visited the Hospital Egidio Montesinos of El Tocuyo to make the relevant connections in the banks and electric transformers.
- Gotas De Alegría: 
Con caritas sonrientes y rostros llenos de felicidad los pequeños de Morán recibieron en sus comunidades una jornada de recreación y compartir denominada "Gotas de Alegria".
- Drops Of Joy:
With smiley faces and happy faces, the little ones from Morán received in their communities a day of recreation and sharing called "Drops of Joy".
- Visita Al Hogar San Antonio: 
Hermanas y ancianos del hogar San Antonio, recibiendo donación de comida y artículos de Aseo Personal.
- Visit to San Antonio Home:
Sisters and elders of the San Antonio home, receiving donation of food and Personal Toilet items.

- ACONDICIONAMIENTO DE LAS ÁREAS MÉDICAS PARA EL SISTEMA DE SALUD  (CONDITIONING OF THE MEDICAL AREAS FOR THE HEALTH SYSTEM)
Las obras de rehabilitación de los espacios requeridos para la residencia de los médicos del Hospital Egidio Montesinos se ejecutó en los espacios del Hogar Asilo San Antonio, ubicado entre la carretera 10 y avenida Lisandro Alvarado de El Tocuyo, municipio Morán del estado Lara.
The rehabilitation of the spaces required for the residence of the doctors of the Hospital Egidio Montesinos was executed in the spaces of the San Antonio Home Asylum, located between the 10 road and Lisandro Alvarado avenue of El Tocuyo, Morán municipality of Lara state.
El objetivo es incrementar la atención en salud a través de la incorporación de 20 médicos, de los cuales ocho (8) realizarán consultas los cinco días a la semana en el Hospital, aumentando las mismas en un 53% (160 consultas adicionales) y 12 médicos en los ambulatorios, con el propósito de aumentar en un 30% las consultas (120 consultas adicionales). Lo anterior, está garantizado por la disposición de la Universidad Lisando Alvarado (UCLA) a enviar a esos médicos según convenio con nuestra organización.
The objective is to increase health care through the incorporation of 20 physicians, of which eight (8) perform consultations in five days a week in the Hospital, increasing them by 53% (160 additional consultations) and 12 Doctors in outpatient clinics, with the purpose Of increasing consultations by 30% (120 additional consultations). This is guaranteed by the provision of the University of Lisando Alvarado (UCLA) and these doctors according to agreement with our organization.
Las siguientes fotos es una muestra de la zona en recuperación.
The following photos are a sample of the area in recovery.
- Ayuda a viejita de 90 años. Helped a 90-year-old woman (Ago 8, 2017)


Hijos de Morán atendió la emergencia presentada por una abuela de 90 años de edad.
Hijos de Morán attended the emergency presented by a 90-year-old grandmother.
Ante el llamado de urgencia por un derrame pulmonar, la organización prestó apoyo inmediato con las medicinas requeridas para aplicar el tratamiento.
Before the emergency call for a pulmonary effusion, the organization gave immediate support with the necessary medicines to apply the treatment.
Salvar vidas ha sido un sueño hecho realidad, gracias al aporte generoso y desinteresado de tantas personas que se han convertido en Ángeles de nuestro Pueblo.
Saving lives have been a dream come true, thanks to the generous and disinterested contribution of so many people who have become Angels of our People.
- Entrega de medicamentos. Delivery of medicines (Ago 2, 2017)


El Sr. Benito en los días de enfermedad y recuperación, ha estado sufriendo por 25 años y desde hace 18 años ha sido marcado por una úlcera causada por una enfermedad.
Mr. Benito in the days of illness and recovery, has been suffering for 25 years and for 18 years has been marked by an ulcer caused by a disease.
Durante 3 meses ha sido hospitalizado en el Hospital Dr. Egidio Montesinos, contando día a día con la generosa contribución de Hijos de Morán.
For 3 months he has been hospitalized in the Dr. Egidio Montesinos Hospital, counting day by day with the generous contribution of Hijos de Morán.
La entrega de medicamentos, artículos personales y búsquedas de alimentos ha sido parte del esfuerzo de los miembros de esta organización y gracias al apoyo de tantas personas de buena voluntad que nos han ayudado a ayudar a muchos venezolanos, demostrando así que en la unión es la fuerza.
Delivery of medicines, personal items and food searches has been part of the effort made by members of this organization and thanks the support of so many people of goodwill who have helped us to help many Venezuelans, thus demonstrating that in the union is the force.
Por favor visiten nuestra pagina web de los hijos de Moran es: 
https://www.hijosdemoran.org/
Visitenos y vean con mas detalles nuestra organizacion. 
Please visit our website for the Hijos de Moran:
https://www.hijosdemoran.org/
Visit us and see our organization in more details.
Para mayor informacion de la persona que maneja esta pagina este es su LinkedIn (For more information on the person who maintains this page, this is him LinkedIn)

https://www.linkedin.com/in/alfredo-leonardo-mijares-colmenares-0a5672106/

Aquí anexo los papeles notariados que acreditan Hijos de Morán una ONG sin fines de lucro. 

Attached here are the notarized papers that the accredit by Hijos de Morán, where say that Hijos de Morán is a non-profit NGO.

+ Read More
Be the first to leave a comment on this campaign.