88
17
Recover Drowned Children from Gokyo Lake, Nepal
$9,273
of $20,000 goal
Raised by
92
people in 5 months

On August 4, 2018, tragically, three teenage boys drowned in Gokyo Lake  (5,000m / 16,400') in the Everest Region of Nepal. The students were on an educational trip with their classmates from the Khumjung Secondary School, near Namche Bazaar. Their names and ages were Pemba Dorje, 17; Pemba Nuru Sherpa, 16; and Sunil Baraili, 16.

One body was found but unfortunately, two still remain in Gokyo Lake after multiple, failed recovery attempts. 

The objective of this fundraiser is to support a recovery operation of the two remaining boys and return them to their families. To make this recovery possible, we are asking for your help to raise $20,000.   

We firmly believe the potential for a successful recovery is very high if we are able to meet the financial commitment. The remote location and equipment required make this trip costly and it must be done during the month of May.

This recovery team includes the unique expertise and technology of Bruce's Legacy, a 501(c) which has successfully recovered 26 drowning victims from around the country including similar high elevation locations of Lake Tahoe and Fallen Leaf Lake. Bruce's Legacy utilizes side scan sonar, a remotely operated vehicle and technical diving capabilities along with the know-how needed for this particular endeavor. Experienced scuba divers with cold water experience and drysuits will attempt to recover the bodies once their exact location is verified.

Whatever money you put in will be matched many times by the efforts of myself, Bruce's Legacy and the Sherpa people. We appreciate you taking the time to consider our request and that of the boys' families. If you have any questions, comments or input please post them here and we will reply.

Sincerely,

Ken Gracey and Bruce's Legacy



Accident Details

This accident happened very quickly (a video is available on YouTube and LiveLeak - if this is something you wish to see find the one which is 1:29 long). My conclusions about what happened are somewhat speculative, based on the video and dialog with Pemba Sherpa, an uncle of one of the boys. It appears the first boy simply wanted to enjoy the water on what may have been the warmest day of the year. The second boy went into the lake possibly also only wanting to swim and then stand up, followed by the third boy. A number of factors contributed to this accident: very cold Glacial-fed streams; very low visibility and difficulty seeing the lake bottoml wet clothing; and simply not knowing how to swim. Sherpa children are not taught to swim since most high-altitude Himalayan waterways are bouldered rivers and mostly-frozen lakes. Unfortunately, the only clear detail is that all three boys quickly drowned.  

About Gokyo Lake

Gokyo Lake is in the Solukhumbu District in Sagarmatha Zone in north-eastern Nepal, or the Everest Region. It is located on a popular trekking route between two high mountain passes. Hindus and Buddhists consider it a sacred area. The water comes from Ngozumpa glacier and a stream from the Renjo La Pass. The maximum depth of the lake is 43 m and although no bathymetric data is available it appears that that the shoreline slopes sharply down where the boys drowned. It takes about five days to trek to this location from the nearest airport, in Lukla. The only other forms of transportation to the region are by helicopters and horses. A picture I took from Renjo La pass is below - the far side is where the boys drowned.  It's a remote location.   




Previous Recovery Efforts

The following is a summary of previous recovery efforts I acquired from talking with Sherpa people and reading news stories. Here's what I know and I invite you to correct any inaccuracies in the comments.

Shortly after the boys drowned, the police came from the Namche Bazaar, a two-day hike with a 4,000' elevation gain. Next, the Nepalese Army Diving Team came to the site and successfully retrieved one of the bodies. They were unable to locate the other two due to cloudy visual conditions. The recovered body was returned to the family. Unfortunately, the Nepalese Army took their blue raft away so we will not be able to use it for our recovery.



Kailash Helicopter also supported administrators from Khumbu Pasang Lhamu Rural Municipality of Solukhumbu, the recovery leaders at the time. Search equipment was sent in by Senior Captain Maurizio Folini from Switzerland and handed over by the chairman of the company Captain Ashish Sherchan to Pemba Gyaltsen Sherpa, a local from the rural municipality. One idea was to cast hooks into the water, but this didn't work. You can see their system in this photo.




Next, a remotely operated vehicle (ROV) was sent in by Singapore. My understanding is that the ROV didn't come with a knowledgeable operator and Pemba Sherpa was left on his own to use it. The ROV's buoyancy was perhaps not calibrated properly for high elevation and rocks were put inside it to help sink it. They even asked me if I could operate such a robot while I was at Gokyo Lake. I answered "probably not" at the time, thinking it was an industrial tool, not the small submersible they received. Pictures are shown below - as you can see it's probably not sized for this kind of operation.  



You can see how much commitment the Sherpa people have for a successful recovery, using whatever equipment was provided to them. They would appreciate some real assistance. 

Bruce's Legacy Has Agreed to Conduct this Recovery

When I was still in Nepal and learned of the drownings and the challenges of prior recovery attempts, I immediately thought of Bruce's Legacy, a 501(c) non-profit who had successfully recovered victims from near my home, Lake Tahoe. A news clip from our local KCRA television provides a good summary of their work.  Bruce's Legacy uses a multiple-view sonar to identify and map objects of all types underwater. This system creates a near photo-like image of exactly what's under the water. Once they've found a body, they deploy a scuba diver or a remotely operated vehicle (ROV) with a robotic arm.  

I wrote a message to Keith Cormican, the founder of Bruce's Legacy. I wasn't able to compose an e-mail because of low battery on my iPhone and limited internet connectivity, so I sent him a picture. Please excuse the poor handwriting - it was very cold and the high elevation made it difficult to do something that's usually simple. I knew that once I returned to the United States my communication with the Sherpas would be limited to Facebook Messenger, so I attempted to resolve as many details as possible while still in Nepal.  


We Built a Team To Give This Recovery the Highest Chance of Success  
Local climbing guide Dendi Sherpa will make travel and logistical arrangements, and guide us from Kathmandu to Gokyo Lake, and back down. Traveling in the Himalayas can be time-consuming due to very cold weather, high elevation, lack of access, language, local customs and a shortage of resources including power and water. Schedules must be flexible. Pemba Sherpa, the uncle of one of the drowning victims and local tea house owner, will provide us with on-site lodging and support of the local Sherpa community. Pemba Sherpa will obtain any government approvals for this effort, too. We do not know what approvals are required if any.  

Bruce's Legacy will handle the recovery process. Jeremy Cormican and the ROV are shown below. 

My role is one of organizer. I've completed two treks in Nepal and am fairly well acquainted with the Sherpa people. I'm also knowledgeable of the technical requirements (power, process, support, etc) of Bruce's Legacy and able to coordinate the shipment and customs paperwork of their ROV and dive gear to Kathmandu where it will be received by a local guide company on our behalf. 

We are still seeking a shipping partner from FedEx or UPS!

Recovery Plan Set for May

Gokyo Lake is frozen from December through the end of April. Assuming funding is finalized in February, the first week of April we will ship the ROV with sonar and any dive gear to Kathmandu. Oxygen dive tanks and a 220 VAC generator will be rented in Kathmandu and flown or carried to the site. The second week of May, we will meet in Kathmandu (Keith Cormican will fly from Minnesota, Jeremy Cormican from Colorado, and I will travel from California). We will collect our gear and begin the trip to Gokyo Lake.  

At this stage, our specific transportation modes are still not clear. We may helicopter directly from Kathmandu directly to Gokyo Lake, or fly from Kathmandu to Lukla, and hike to Gokyo Lake while the gear is carried up by yak or helicopter. Transportation could depend on the weather; it is common that the Lukla airport closes for days and only helicopters can access the mountains. The Kathmandu airport also restricts domestic airplane flights in favor of international arrivals, possibly adding hours or days of waiting to reach the mountains. Our acclimatization time is also important - we need at least 3-4 days to be comfortable at high elevation, especially since we will likely put a scuba diver with drysuit in the lake. To further complicate matters, May is the climbing season for Everest expeditions who are traveling to the same area. The Sherpa team will sort out some of these details, as they are experts at these kinds of mountain travel logistics.  

Keith and Jeremy Cormican will likely first use the ROV with sonar, controlled from the shore. We do not anticipate needing any boats. Next, a decision would be made to use the ROV with a camera and robotic arm or to deploy a diver. If the bodies are retrieved they will be flown by helicopter down the valley and returned to their respective families.    

The total travel time for the team would be at least ten days.

Success and Risks

There is no guarantee that this recovery will be successful. From video footage and local accounts, we believe the two bodies are fairly close to shore and would not have drifted to other areas of the lake. Bruce's Legacy's experience indicates that unless tides or rivers are involved, there's a limited probability of drifting away underwater. The team feels that the probability for success is fairly high. It is our hope that this is a quick mission.

The risks involved include the following: governmental visas and permits which need to be obtained; weather which could lengthen the trip (and associated costs); high altitude sickness; and simply being unable to locate the drowning victims. Each risk will be identified and mitigated to the extent possible, with backup plans in place. For example, if we're unable to deploy a diver we can use the ROV.  

Estimated Expenses (updated April 2019)

In Mid-February we determined that we were not able to raise the funds and that we would simply provide what we did raise to the three families. However, thankfully, an anonymous donor showed up with $7.800 and a very positive, helpful spirit and said "we've got to get this done". At that moment, the recovery mission was activated and three tickets were purchased. Since this money came in outside of GoFundMe it does not show above. We still need about $6,000. Anything extra we collect will be provided to Bruce's Legacy (50%) and the three Sherpa families (50%). Some exact expenses won't be known until we are on the ground, but again, they're nothing compared to our effort and time. We just want to get this done. 

This is how the finances look at this time: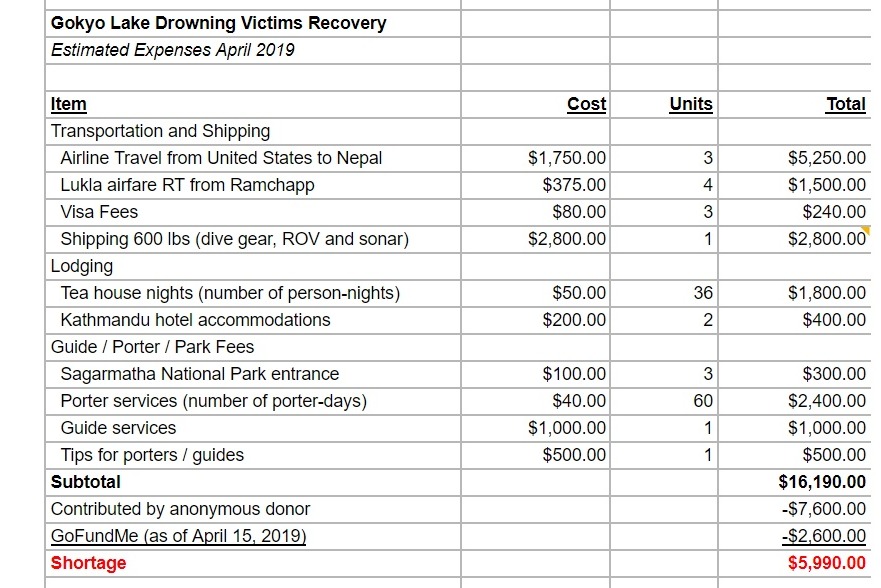 This is an open-book accounting effort. Details of the expenses will be provided here, on this GoFundMe page as updates.  

Can you support this fundraiser?

Three families lost their children. While we don't know too much about the families, we learned that one family lost their only child and another has a second child who they'd like to send to Kathmandu to learn English at a private school. The specifics of the third family is unknown. All of these families live in and around the Khumjung area and support the tourism industry.  

"A wife who loses a husband is called a widow. A husband who loses a wife is called a widower. A child who loses his parents is called an orphan. There is no word for a parent who loses a child. That's how awful the loss is."

― Jay Neugeboren, An Orphan's Tale

The loss of a child is the same around the world, regardless of culture or religion. While the loss can't be eliminated, it can be made easier by providing closure, which is what we seek to do.

What does it mean to me, the organizer? My support is motivated by a situation where I felt I could help. As I hiked through the Himalayas with my own 17 year old son I couldn't help but feel a close connection to these families. Earlier in the summer, our friend Laura Calderwood lost her daughter Mollie Tibbetts in Iowa. I also feel motivated by her death to support this effort. I have no desire to make a quick trip to Nepal except for this specific purpose since the travel time could easily take half of the trip.   

And finally, consider this reason if you're an adventure traveler. People from around the world come to the Everest region to climb the peaks and trek throughout the world's highest mountains. The Sherpa people work tirelessly to make these adventures happen safely. They'll go up and down mountains setting ropes, prepare meals and provide lodging, keeping you safe so you can return home afterward. This is a chance for mountaineers and adventure travelers around the world to show their support for the Sherpa people.
+ Read More