96
2
Protect Harbour Island
$149,110
of $200,000 goal
Raised by
107
people in 3 months
Your donation will help Br-Island Responsible Development (B-I-R-D) protect Harbour Island (aka Briland) from a grave threat.
A planned community called the Briland Club would irrevocably change the character of this special island, famous the world over for its pristine ocean beach, sparkling bay, and historic charm.
The scale of this threat has only recently become clear. As originally proposed by its California-based developer, the project on the grounds of the old Harbour Island Marina was to have consisted of a 28-room hotel, ten villas, and a large dock screened by mangrove trees. It was on this basis that the developer secured government approval in 2017. But the development has since grown massively in scope.
Briland Club is now being marketed as a community of 83 private residences that would span the entire width of the island, from bay to beach, on 27 acres. The expanded plan (as advertised in the Spring of 2019) would include two clubhouses, a wellness center and spa, three restaurants, swimming pools, a 300-foot manmade canal, and a massive, breakwater-protected marina with docking space for 250-foot "mega yachts"—and far fewer mangroves. Even if yachts of that size did not require dredging a new channel in the harbor—an open question at this point —the marina inevitably would degrade water quality and sea grasses that are essential habitat for turtles and fish.
Moreover, the project would further strain the infrastructure of an island already suffering from acute shortages of water, power, and affordable housing (to say nothing of parking spaces in Dunmore Town). Though the government has yet to give final approval to the new plan, the developer appears to have confidence that it will do so, since he already is marketing the project as a fait accompli while touting its purported benefits to the local economy.
We understand as well as anyone the importance of jobs. But the economic benefits of short-term construction work will quickly fade, while the very qualities that make the island so attractive to visitors—and thus critical to its long-term economic health—will be irreparably harmed. We support smart, low-impact development that respects its surroundings and the environment. The Briland Club in its current form does neither and we need your help to protect Harbour Island from this threat. 
To learn more, visit
https://www.br-island.org
HARBOUR ISLAND NOW: What is at risk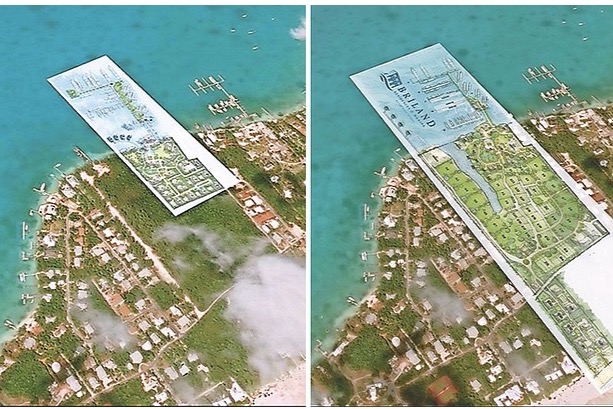 BRILAND CLUB EXPANSION PLANS:  The initial footprint, on the left, and the footprint being marketed in the Spring of 2019.  Source:
'Paradise Lost'
+ Read More
Update 1
7 hours ago
Share
Thank you again for your donation! Here is where things stand with the lawsuit against the developer of the new marina.
On August 6, over the developer's objections, the court granted permission for Ben and B-I-R-D to proceed with Judicial Review, a preliminary but very important victory. The Judicial Review proceedings are scheduled to take place on September 24-25.
Following this ruing, the attorneys for the developer immediately pushed for two things – first, the continuation of a "gag order" prohibiting B-I-R-D from posting updates about the case on social media and, second, for B-I-R-D to be required to put up security -- basically a bond -- to cover the developer's costs in the event that he prevails at the end of the proceedings (something we think is very unlikely). This is very telling – the developer clearly wants to cripple our fundraising efforts by preventing us from letting the public know that we are succeeding, and he wants to place a financial obstacle in our path, hoping we won't be able to raise enough money to post the bond demanded. (Challenges to other developments in The Bahamas have had to be dropped at this stage because the challengers couldn't raise sufficient funds for the bond required.) On September 6, the court will hear from both parties on his demand for us to post a bond and make a decision on that.
You will also be interested to know that a few days after the ruling, the developer started working on the marina again despite his agreement to stop all work while the claims against him were pending! An emergency injunction was sought and granted to make him stop. Astonishingly, he ignored this court order for about a day but finally, after yet another court hearing, work finally stopped after his representative on the ground was called to the police station and basically threatened with arrest if he didn't obey the court order. (A video of the illegal work is at
https://www.instagram.com/p/B1RcLVphk0P/?utm_source=ig_web_copy_link&fbclid=IwAR3wonA3un3jiIVTcpXGwPEtJGmvBlMcpGIdHZuk_Td9p-CZIkeqlehPRbg.
)
It's not clear what he hoped to gain from this -- maybe just drive up litigating expenses for B-I-R-D, again in the hope we will run out of funds.
As you can see from all this, your donation is being put to good use! Many thanks again for your support.
+ Read More