WERE NOW LESS THAN 20K AWAY
$1,085
of $20,000 goal
Raised by
20
people in 28 months
The mission of the BopBizCenter-Chatham Suites is to create a mechanism that will assist in the successful manifestation of Black Entrepreneurs in the Chatham area that can impregnate the vacant store fronts and establish a culture of small business development as an answer to black unemployment. We are dedicating the center in the spirit and name of Dr Webb Evans who dedicated his life to very premise of our core mission to BUY BLACK & LOVE BLACK!
The BopBizCenter is the brainchild of BopProject5000. 
BopProject 5000 is an economic development strategy that seeks to create JOBS and BUSINESS OPPORTUNITIES for people who live in URBAN Communities that are plagued by CRIME and VIOLENCE. Our GOAL is to GIVE THE FACE of that VIOLENCE a JOB or more Business Opportunities by targeting distressed and abandoned properties that litter both the residential and commercial sector of those neighborhoods in every city where Project 5000 plants its flag. HERE in Chicago we have a self imposed mandate to create 5000 new homeowners and investors that will bring 20,000 plus jobs to the city and its surrounding areas. These jobs will be for people who live in the communities that we seek to revitalize. WE BELIEVE THAT BLACK BUSINESS IS THE ANSWER TO BLACK UNEMPLOYMENT!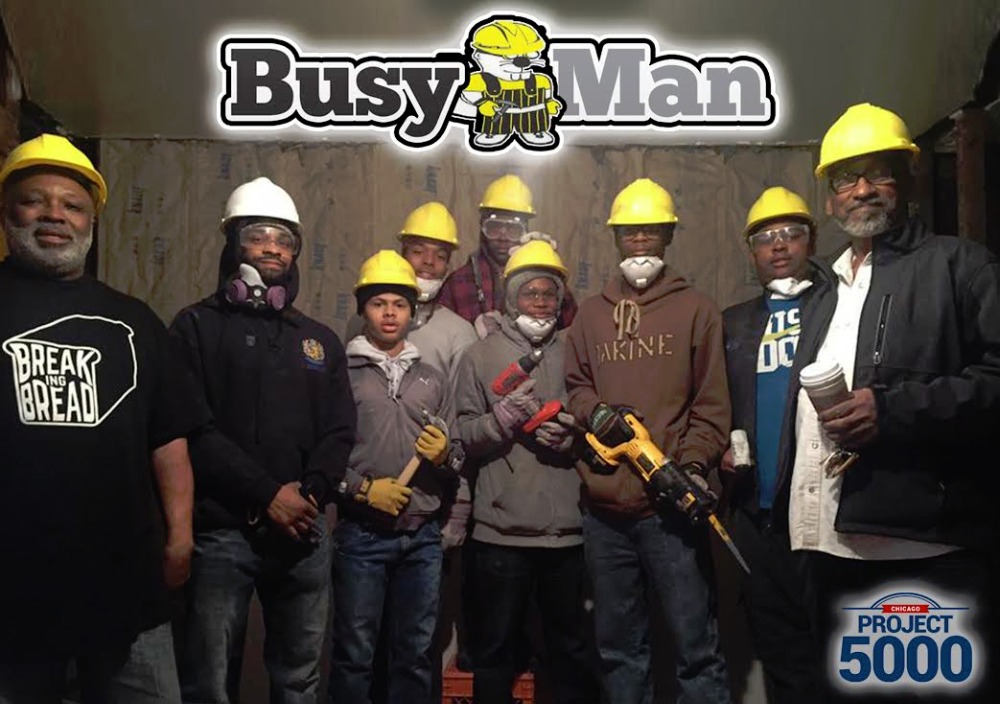 The first step in REALIZING our VISION includes building a state of the art facility on 79th Street in the heart of the Chatham community on the Southside of Chicago. In addition to housing our BusyMan Workforce Development Initiative, OUR goal is to provide a professional environment where entrepreneurs can come and work in an office envirnoment that is conducive to growing BIG ideas. People in the community will be able to find valuable resources as well as receive job training skills that will be instrumental in revitalizing the retail infrastructure of Urban America. Once complete, the building will serve as a much needed driver for Economic Developemnt in the  area and serve as the MODEL for GIVING VIOLENCE JOB! 
The goal is to receive donations to see this great plan come into fruition. The funds will be used to help fund the necessary equipment and remaining construction to complete the office spaces and meeting rooms that will house this powerful initiative.
Donate $25 = Get free month of membership
Donate $50 = Get 2 free months of membership
Donate $75 = Get all of the above plus a FREE MONTH for YOURSELF or a GUEST to use the Business Center.
Donate $100 = Get all of the above plus 2 FREE MONTHS for YOURSELF or a GUEST to use the Business Center.
Here are some incentives for people donating larger amounts to the Project 5000.
$1000+ Get your name on the BopBizCenter Donator Wall of Fame in the lobby for everyone to see.
Sponsors one, one year membership to the business center for one person in the community
$2,500+ Donation - Name/Business engraved on plaque hung in business center front office
$7,500+ Donation - Offices Named in donor's name/business - Five Rooms
$10,000+ Donation - Business Center Seminars, Workshops, Panels and Tech/Computer Room named after donor
To learn more about Project 5000 please visit
http://www.BopProject5000.org/.
Also follow us on social media:
Facebook: Project 5000-Chicago
Twitter: @project5000chi 
Instagram: @project5000chicago
If you have additional questions or an interest in helping in other ways, please send an email to project5000chicago@gmail.com.
All donations no matter the size are greatly appreciated. We are on a mission to be a positive force in the community and to make a difference that will eventually be felt in areas all across Chicago.
+ Read More
Be the first to leave a comment on this campaign.