14
2
behindert & verrückt feiern Pride Parade Berlin
€514
of €8,500 goal
Raised by
14
people in 2 months
Mitreden können!
Gebärdensprach-Dolmetscher*innen
für die Organisation der "
behindert und verrückt feiern" Pride Parade 2019
fördern.
Hallo, wir sind das Bündnis "behindert und verrückt feiern" Pride Parade Berlin.
Wir kämpfen für eine Welt, in der Menschen nicht ausgeschlossen werden. Dazu organisieren wir seit 2013 jährlich die Parade in Berlin. Wir wollen damit erreichen, dass behinderte und verrückte Menschen in der Gesellschaft mehr wahrgenommen werden. Wir wollen die Öffentlichkeit sensibilisieren und über Erfahrungen, Ausgrenzungen und Forderungen von behinderten und verrückten Menschen aufklären. Außerdem bieten wir Menschen, die als behindert oder verrückt ausgegrenzt werden, die Gelegenheit, sich selbstbewusst auf den Straßen Berlins zu zeigen.
Mit der Parade werden ehrenamtlich aktivistische Arbeit, Protest und gemeinsames Feiern von Vielfalt zusammengebracht.
Mit dieser Kombination sollen auch Menschen angesprochen werden, die sich auf klassischen Demonstrationen nicht wohlfühlen.
Wir wollen dabei selbst möglichst inklusiv sein.
Wir freuen uns, dass so viele verschiedene Menschen die "behindert und verrückt feiern" Pride Parade organisieren - seit diesem Jahr auch gehörlose Menschen.
Deshalb haben wir Gebärdensprachdolmetscher*innen gefunden, die für uns dolmetschen. Weil die Dolmetscher*innen von ihrer Arbeit leben, wollen wir sie auch dafür bezahlen.
Wir brauchen deswegen Geld für Dolmetscher*innen.
Wir zahlen für eine Stunde dolmetschen in Deutsche Gebärdensprache 50 Euro. Wir treffen uns wöchentlich, jedes Treffen dauert 2 bis 3 Stunden. Deswegen brauchen wir immer 2 Dolmetscher*innen.
Insgesamt brauchen wir für den Rest des Jahres also 8.500 €.
Wir freuen uns, wenn ihr uns unterstützen wollt, dass mehr und verschiedene Menschen die Parade mitgestalten können. Jeder Euro zählt, ob als Familie, WG, Einzelperson oder Gruppe. Trööööt!
Fragen? Dann meldet euch bei uns: pride-parade@gmx.de
Weitere Infos auf
www.pride-parade.de
und
www.facebook.com/PrideParadeBerlin/
DIESES JAHR FINDET DIE PARADE AM SAMSTAG, 22. JUNI AB 15 UHR STATT.START JANNOWITZBRÜCKE ÜBER MORITZPLATZ BIS CAFE SÜDBLOCK AM KOTTBUSSER TOR!
Hier ein Video was wir zusammen mit Quartiermeister gedreht haben, um uns mal kennenzulernen :-)
Hier noch einige Infos über unsere Kampagne:
* Angaben zu deiner Person und deinem Wohnort :
Mein Name ist Michaela Maxi Schulz. Ich wohne in Berlin.
* Die Art deiner Beziehung zu der/den spendenbegünstigten Person/en :
Ich bin Teil des Bündnis "behindert und verrückt feiern - Pride Parade Berlin". Ich mache u.a. in der Finanz-AG mit. Ich habe die Aufgabe übernommen, unsere gofundme Seite für zu erstellen.
* Den Verwendungszweck deiner Spenden :
Wir möchten die Spenden für die Gebärdesprachverdolmetschung sammeln für unsere allwöchentlich sattfindenden Plenas. Wir sind eine Gruppe bestehend aus Einzelpersonen. Eine Gruppe aus Menschen mit Behinderungen und ohne. Es sind auch gehörlose/taube Menschen mit in der Gruppe. Deswegen brauchen wir für jedes Plena immer zwei Gebärdesprachdolmetscher*innen. Für ihre Finanzierung haben wir die gofundme Kampagne gestartet. Nur so können alle am Plena und somit an der Orga der Parade teilnehmen.
* Den Auszahlungsweg, auf dem eingegangene Spenden an die spendenbegünstigte/n Person/en weitergeleitet werden: Wir als Bündnis haben ein Konto bei der Sparkasse. Eure Spenden gehen direkt auf dieses Konto. Wenn es dort gut angekommen ist, bezahlen wir dann damit unsere Gebärdensprachdolmetscher*innen.
+ Read More
Update 1
10 days ago
Share
Hello dear english speaking people. Here our translation of our gofundme donation campaign:
"Call for donations

Support Sign Language interpreters for the Mad and Disability Pride Parade Berlin 2019


We fight for a world where nobody is excluded. In this fight we want to be as inclusive as possible. We are very happy that so many different people are organizing the "Mad and Disability Pride Parade Berlin". This year deaf people are part of the team for the first time. Unfortunately we are not all able to speak German Sign Language. Therefore we found Sign Language interpreters who translate for us. Since the interpreters live from their work, we want to pay them.

We have organized the parade in Berlin since 2013. Our aim is to make mad and disabled people more visible in society. We want to raise public awareness and spread information about the experiences, exclusions and demands of mad and disabled people. We want to open up a space for mad or disabled people for showing their confidence in the streets of Berlin. At the same time we want to protest the fetishization of work and efficieny. We criticize the pressure to be normal and to adapt to arbitrary social norms.
The parade brings together voluntary activist work, protest and a collective celebration of diversity. With this combination we want to include people who usually don't feel comfortable at demonstrations.

The parade is welcoming everybody who is excluded as disabled, mad or "not normal" as well as people who want to show their solidarity. Every year several thousand people come to the parade and protest and celebrate with us.

We organize the parade as an alliance without hierarchies. We are mad and disabled people as well as people who are not directly affected themselves. We are doing everything in our spare time, without getting paid. We don't want any money from the state or from organizations wanting to influence how we work. Therefore we kindly ask you for your support. One hour of Sign Language interpretation costs 50€. We are meeting on a weekly basis. So by giving a donation of for example 25€, you help us speak and discuss for half an hour. Every meeting lasts for 2 to 3 hours, always needing two interpreters. Therefore in total for the whole year we need 8.500€.

Please support diversity in our parade! It will be appreciated. Every Euro counts! Spread the word to your families, groups, flatshares or donate individually. Yaaaay :)

Questions? Then contact us per email (pride-parade[at]gmx.de).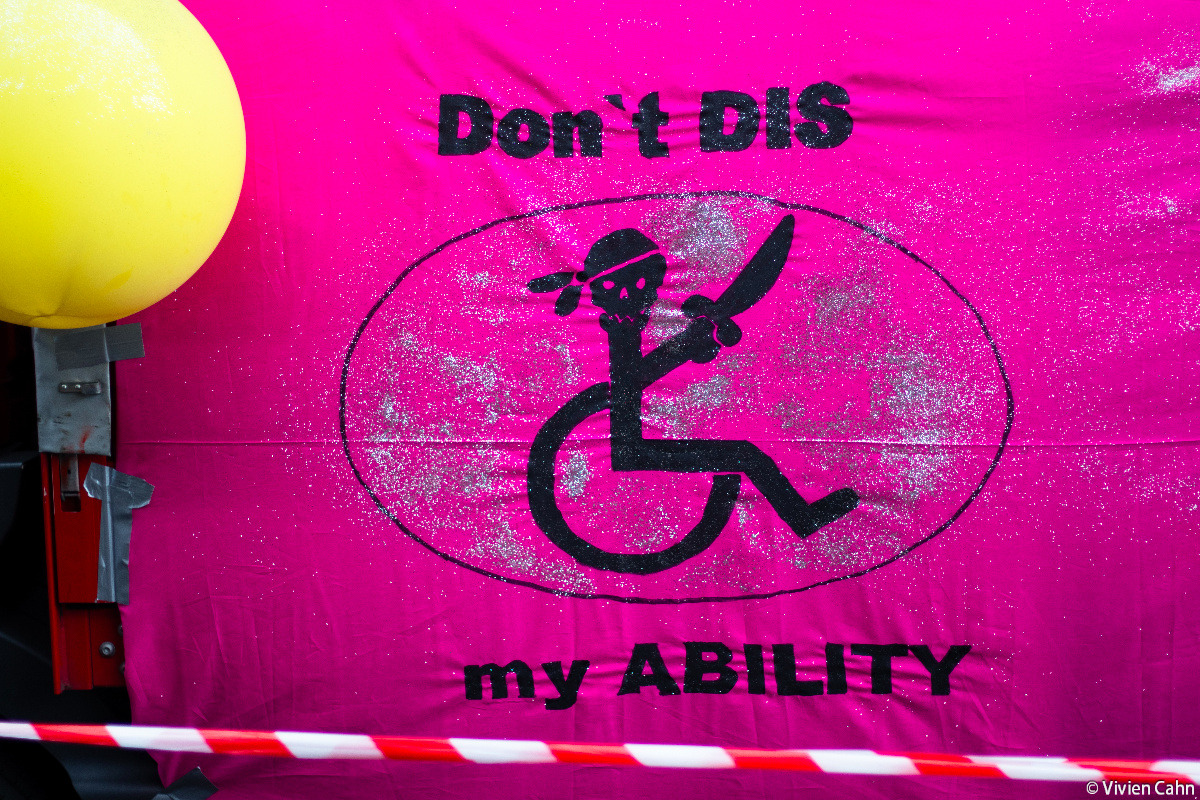 + Read More