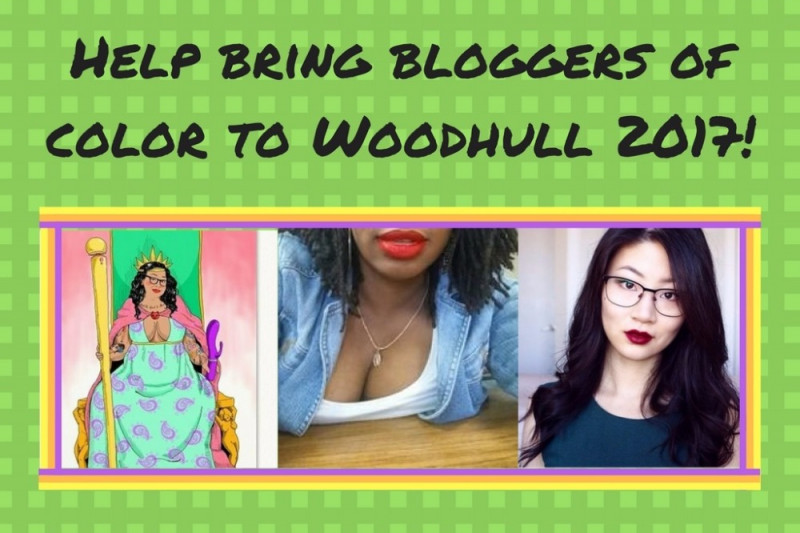 23
4
Bring Bloggers of Color to SFS17!
$2,518
of $2,518 goal
Raised by
24
people in 20 months

Woodhull Sexual Freedom Summit
(often called SFS or just "Woodhull" in passing) is an annual conference about sexual rights that is held in Washington, DC every August. The Woodhull Foundation has been extremely welcoming to and appreciative of the sex blogging community, and because of that, many bloggers gather at Woodhull to further their education, share their knowledge as panel speakers, and enjoy the company of their peers who are scattered across the world. 
Conferences can be expensive, and as a result, many bloggers require financial assistance to make it to Woodhull. Three of our community's bloggers of color —
Victoria
of
Pretty Pink Lotus Bud
,
Rae
of
The Notice
, and
Carly
of
Dildo or DilDon't
— will be attending this year, but need some extra financial support to make it to the summit. Because of that, Sugarcunt is raising money for them jointly to ensure that they can all afford registration, travel to the conference from Texas, Canada, and NYC, as well as sleep in actual beds and eat regularly for the duration of the conference.
The conference begins August 3rd, and registration ends in the last week of July. My goal is to reach full funding by July 16th in order to allow time for the beneficiaries to receive the funds and make all their arrangements. Since GoFundMe pays out regularly, they will receive the money to purchase their tickets as it arrives.
Why SFS?
The Sexual Freedom Summit has been a wonderful experience for many bloggers. It has been refreshing for older bloggers to attend a conference where the blogging community is valued, and it gives new bloggers the opportunity to meet their community face-to-face, often for the first time. SFS is an event that offers many of us the opportunity to further our professional education, network, and bond.
Sex blogging is overwhelmingly white, and the inclusion of these bloggers of color is VITAL! Their attendance can only improve the blogging community, the Woodhull Foundation, and the Summit. Feedback from bloggers and educators of color will help our efforts to create a stronger, more inclusive, more accessible sexual freedom movement. This is also an opportunity for us to meet these bloggers of color in-person for the first time, to get to know them IRL, and to strengthen our friendships with them. Woodhull was my first time in a sex-positive, affirming space, and I want these bloggers to experience the same joy! 
Who?
Beneficiaries
Carly

Carly
is a queer, polyamorous sex educator who runs
Dildo or DilDon't
, where she writes about feminism, educates about sex, and reviews sex toys. Because Carly has been blogging for just over a year, she faces the same "new blogger" hurdles that other new bloggers face, but she has worked in the sex industry since 2010, meaning that she can bring a bevvy of knowledge and industry experience to Woodhull!

Rae

Rae
 is a queer blogger who runs
The Notice
, a blog about beauty and sexuality that includes beauty product and sex toy reviews. Rae is not new to the blogging world, but can greatly benefit from some assistance to get to Woodhull for the first time this year.

Victoria

Victoria
is a queer, polyamorous woman who runs
Pretty Pink Lotus Bud
, a blog about her sexuality and sexual experiences. Victoria began her blog in February, and it's really difficult for newer bloggers to find sponsors for events when companies compare their reach to that of bloggers who have been writing for years.
Victoria wrote a mission statement about her blog for this fundraiser when I thought I would only be crowdfunding for one person. Here are her words:
I am an advocate for sexual freedom and the rights of individuals to openly express their sexuality in the ways in which they feel comfortable. I have always lived in my sexual truth yet I have always hidden this truth behind some other version of myself until I realized that there was no other version of myself. All of it is who I AM. To suppress any part of the self is to inevitably suppress the whole self. I am a human being, a spiritual being and yes, a sexual being. One is not separate from the others. I launched my blog shortly after coming across the quote, "If you do not see the light, be the light." I knew that in my life, I had never known anyone to tell me that it was ok to be all that I am, especially no one that looks like me. I decided that I needed to be that person, not only for others but for myself as well; In order to heal myself from the shame and guilt I had been taught to have about who I am. I want to teach others that it is perfectly fine to express yourself in whatever manner you choose just the way you are; meaning you don't need a perfect body to do it because the perfect body is simply an illusion. The hetero-monogamous narrative is not for everyone.
Organizer
I'm
Sugarcunt
. I've been a sex blogger for ~6 years, and I have started putting effort into bringing our blogging community together. Between sponsorships and blog advertising, my Woodhull trip is financed, so I'm focusing on getting newer and more marginalized members of our blogging community to the conference this year!
Donor Perks and Matching!
Come As You Are Co-Op
(abbreviated henceforth as CAYA) has generously agreed to match up to $800 in new donations to this fundraiser! In addition to matching donations, they are also offering a free CAYA hanky or tote and a 30% discount in their online store to anyone who donates at least $25! The hankies and totes are only available while supplies last, so please donate soon if you want to be sure you get one. You are able to pick the color from their selection, and CAYA will cover shipping costs for your hanky/tote even if you are outside of Canada!
Once you donate, I will send the details to claim your hanky/tote and discount in a thank you message via GoFundMe.
+ Read More