condo ruined, help me
$1,005
of $9,000 goal
Raised by
16
people in 4 months
I am at a loss of words, within the last 5 months my tenant turned my only apartment into a brothel / prostitute ring of some sort, with severe damages to my once mint apartment, and even stole paintings, and ruined furnishings. It was disgusting what was left, trash cans filled with used condoms, heroin, drugs, a dark web internet modem, burner phones, the nightmarish list goes on, it's atrocious…. He hasn't paid this months rent, and was apparently subletting it; but more likely using it to pimp out multiple women. I am in shock that this happened, especially considering the luxury building it happened in that has 24/7 concierge, and security, and a ban on short-term rentals.
You may think; if you can afford to own the condo, you can afford the damages. Here's my story; I work in the film and entertainment industry and used ALL my earnings over the course of 5 years to get a mortgage on this condo 4 years ago in Vancouver. Since then, I lived in the unit for 4 years, making the place my home, working with local friends and artists to make it a wonderful, beautifully modern and artful home. Also, making a lot of friends with the awesome neighbors in the building. But, I recently relocated to Los Angeles to help myself save money, cutting my rent in half, and leasing out my apartment fully furnished in Vancouver to cover the mortgage. We used a property manager and did a check on this tenant, and all seemed okay. I am in shock when he didn't pay this month and my parents gave notice to inspect the unit after the tenant didn't even respond to multiple requests from us asking for rent payment when he was late. My parents went into the unit, and what they saw was atrocious… I can't believe this has happened. I am in shock, and tears, and I feel like I have been punched in the gut. 
Here are after and before pictures. I think it's very obvious which are which…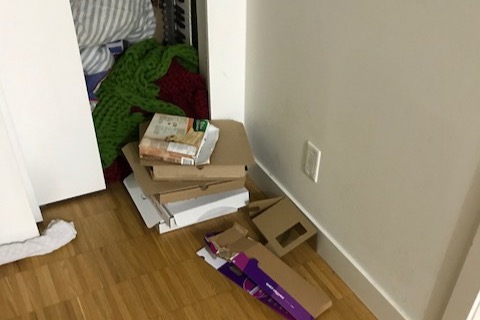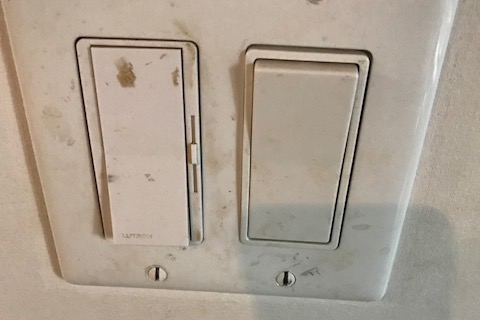 BEFORE:
---
Estimate of damages, stolen furnishings, loss of rent, and loss of an extra month to deal with this / fix the apartment to re-rent to a new tenant will cost upwards of $10,000 Canadian. A cost myself, nor my parents can afford. My parents are hard-working, and friendly, and always supportive. I like to think I was raised to be friendly, respectful, and hard-working and I can't believe that this has happened to us. I am currently living month-to-month like many hard-working individuals, with no savings after moving to LA to further pursue my dreams. Not only is it a monetary setback, but I am so deeply hurt that two original pieces of artwork from my good friend and Vancouver local artist Taka Sudo have been stolen out of the apartment, and that my home I worked so hard to create has been absolutely trashed and disrespected. This has all been reported to the police and they'll try to find the stolen items, but the chances are slim. We will be taking the tenant to small claims court, but until the verdict which could take months, even if and when we win, there is no way to force the tenant to pay. 
Why didn't we kick him out sooner? We inspected the unit halfway through his 12 month lease, and it looked better than I had left it! It looked fine. So, within the last few months, he was late 3 times with rent, and this last time he refused us to inspect the place, we decided to put up notice and go inspect this time; especially because he didn't even respond to any of our texts or calls. Essentially abandoning the apartment. We had called the tenant / landlord BC board multiple times, and you can not just kick out somebody or change the locks, (under these circumstances we were allowed because of the illegal activity, and severe damage) but it happened so quick, and the BC tenancy act make it difficult to evict a tenant, almost all the rights are with the tenant and not the landlord. Many of those laws certainly make sense! But in special cases, like this, they simply do not… and really can screw over a landlord, and their investment. 
---
Anything helps...
+ Read More
Update 1
Posted by Harrison Houde
2 months ago
Share
I would've been better off leaving it empty and never renting it for the last year... something I realize I wouldn't of been able to afford. But; certainly maybe shines a light on why so many places are left empty in Vancouver, maybe bad tenants are a big problem in the city. (in any city!)

It took a month or so to fix the place up back to as close to original condition when I had left -- I had some great help from neighbors and friends to help cut costs in some places. So thank you :)

Re: everyone asking about insurance, there are no insurances on furnishings or this type of damage done by a tenant. (Gotta love being a landlord!)

-- paintings stolen + everything nearing $20,000 in loss/damages. (missing rent, time its taken to fix up before we can even show it to new tenants etc.)

I have decided to pursue legal action against the individual who stole the paintings (which we have not gotten back), caused damages, illegally sublet, and didn't pay rent for 2 months + extra losses caused. I want to make sure this doesn't happen to anyone else. Because of this entirely stressful situation... I have been in this weird place, and am deciding whether to lease it again or to just sell my place. Which means not re-entering the Vancouver housing market for now, and losing a place, in an neighborhood and building I truly loved and cared for. Maybe, I will return to Vancouver, but for now I am having a hard time justifying owning a place where I am not living.
+ Read More