77
8
Make America Dinner Again
$4,600
of $10,000 goal
Raised by
76
people in 23 months
It is no secret that the United States is in a time of great division and polarization.
Make America Dinner Again
(MADA) brings contrasting viewpoints to the table, in an attempt to build understanding and move forward together.
These small dinners consist of respectful conversation, guided activities, and delicious food shared among 6-10 guests who have differing political perspectives, and our country's best interests at heart. 
We've had close to 40 dinners across the country in 18 cities. That's already 400 seats at the table for different political perspectives, and there are thousands more signups of citizens who want to sit down with each other and build understanding. We just need the resources to keep holding dinners for them.
With your help, we can connect neighbors who may not be able to meet each other otherwise, and bring unity to America – one dinner at a time.
All donations will go towards food, location fees, supplies, and spreading the word for these community dinners. Sponsor an entire dinner for $250, or send even $5 to greatly help the cause – every bit will go towards making more of these conversations happen!
Warmly,
Justine & Tria
+ Read More
Update 2
5 months ago
Share
To our dear supporters,
Thanks to you all, it's been quite an exciting and productive year! The funds we raised in 2018 brought 25+ more dinners happening across the country, in places like Seattle, Denver, Corvalis, New York, Dallas, Gainesville, and D.C.
Last year in San Francisco, we tried our first large format dinner, bringing together 30 people each with their own perspectives over a fantastic meal and conversation at 18 Reasons, a community cooking school. See photos here!
https://www.facebook.com/pg/makeamericadinneragain/photos/?tab=album&album_id=1791088377680798
We also held a dinner around Poverty and Inequality, in partnership with The Center for the Study of Liberty and America's Future Foundation.
Photos here:
https://www.facebook.com/pg/makeamericadinneragain/photos/?tab=album&album_id=1945936155529352
In Dallas, Glenn Beck invited us to talk about MADA's work on his radio and television shows, and he and Riaz Patel hosted their own Make America Dinner Again event. See how it went here:
https://www.facebook.com/makeamericadinneragain/posts/glenn-beck-and-riaz-patel-making-america-dinner-again-in-dallas-heres-a-peek-at-/1574966819292956/
We were also honored to be named a finalist in the National category of the 2018 Civvy Awards. The best part of that experience was being in the company of so many great initiatives that are working to heal and strengthen the country.
Justine and Tria are both freelancing now, allowing them more time to dedicate to MADA's mission of building understanding across divisions. We're excited this year to go to Austin for the first time, to speak at the SXSW conference! We'll be leading a workshop with the goal to train other engaged citizens to organize and hold these important cross-aisle conversations, and will also host Austin's first MADA dinner. We hope to raise $1,000 to help cover the cost of our trip and work in Austin, and thank you so much for your support!
This is just the beginning of healing divides in 2019.
Gratefully Yours,
Justine & Tria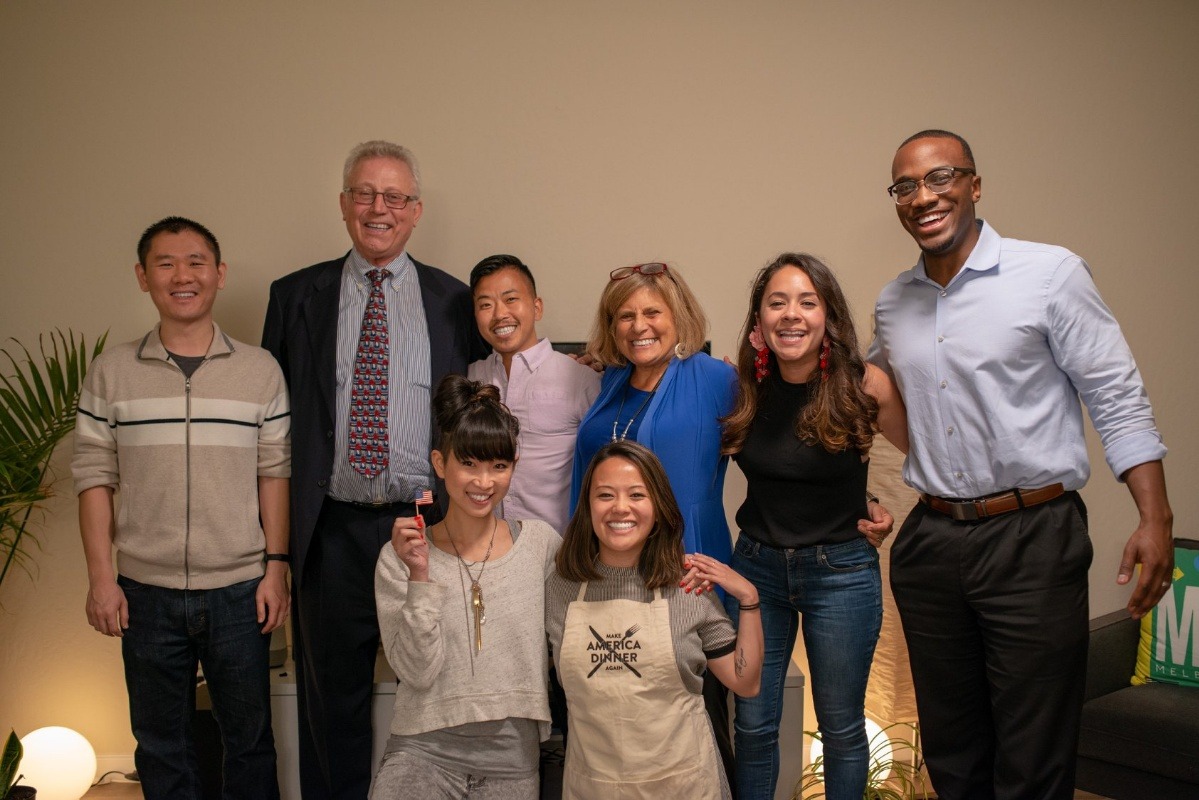 + Read More
Update 1
21 months ago
Share
Happy Thanksgiving!
This year, we're more grateful than ever, and it's all because of you. Justine and I started Make America Dinner Again a year ago with just an idea and a hope for better understanding. Since then, we've worked with our small team to hold 7 dinners in the Bay Area and New York, and have 9 more dinners on the calendar for D.C., Bethlehem, Wichita, Seattle, and the Bay – and this is all before February of 2018!
Funds from your donations covered our last dinner in Lafayette, CA, where we had 7 guests representing a spectrum of political perspectives and life experiences. We had two representatives from the East Bay Young Republicans club, two democratic socialists, one democrat, and two libertarians. All shared generously their life experiences and had civil disagreements about immigration, LGBTQ issues, and the role of government. Overall, there were more commonalities found, to the point that some of the guests expressed a desire for "more fire" at the next get together :)
Lafayette's dinner was featured in a food podcast, which you can listen to here (our segment starts around 10:45):
http://www.motherjones.com/food/2017/11/thanksgiving-dinner-political-conversations-make-america-dinner-again/
With visits to the website from all 50 states and signups across the country, we look forward to sharing more MADA stories with you! If you'd like to keep updated, you can follow along on Facebook:
https://www.facebook.com/makeamericadinneragain
In the meantime, we wish you a wonderful Thanksgiving, and thank you again, from the bottom of our hearts.
Gratefully yours,
MADA Founders Tria & Justine
+ Read More
Read a Previous Update