475
9
Justice and Equality Fund
£2,704,670
of £3.0M goal
Raised by
490
people in 18 months
The figures are staggering. Half of all women have experienced sexual harassment at work.* Nearly one in five women has suffered sexual assault.** We are not talking about a few bad apples. We are waking up to the full scale of systemic abuse based on gender and power - abuse that hurts us all.
Like all big problems, it needs big, bold solutions. We have created the Justice and Equality Fund, to create the far-reaching personal, social, legal and policy changes that will ensure everyone can feel safe at work, at play and at home. Together we can end the culture of harassment, abuse and impunity.
The Fund supports organisations and projects across three themes:
1. Advice, support and signposting:
work to make sure people know their rights and can access good quality support for local and national issues. We want a society where everyone knows their rights and can access support to claim them.
2. Legal and policy work:
support game-changing legal cases that can help improve laws and policies and create a safer future for us all.
3. Advocacy and prevention:
create campaigns and alliances that protect women's rights, promote equality and ensure safe environments.
Who are we?
Inspired by the phenomenal campaigners of #metoo, TIME'S UP, Ni Nunca Mas, the #lifeinleggings movement and others, a group of UK-based women from the entertainment industry have come together to challenge the sexual harassment, assault and discrimination that persists across all industries and sections of society - from media and politics to business and transport.
Who manages the fund?
The Justice and Equality Fund is overseen and managed by
Rosa
, the UK's leading women's fund. The Fund's grant-making opened in spring 2018 and addresses priority needs, especially those of people in low paid, part-time and freelance employment, and those who face intersecting disadvantages related to their race, age, class, immigration status, disability or sexuality.
Thank you for supporting this movement with your donation and for spreading the word to others. Together we can create a just, safe and equitable society free from sexual harassment and violence.
Rosa fund can collect 25% Gift Aid on donations from UK taxpayers, please tick the appropriate box when making your donation.
The need is great, so we'll continue to raise our goal as the campaign continues.
The maximum donation we can accept online through GoFundMe is £50,000. If you'd like to donate more than £50,000 OR want to donate by cheque or wire transfer, please see below:
Donations by cheque:
Please make cheques (minimum £5,000) out to: Rosa Fund and post to: The Rosa Fund, 4th Floor, United House, North Road, London N7 9PD. Please send your cheque with a short note stating that the donation is intended for the Justice and Equality Fund. To donate less than £5,000, please click the red Donate Now button above to donate online.
Wire transfer:
To send a wire transfer (minimum £5,000), please contact Rosa for wire transfer steps at info@rosauk.org using "Justice and Equality Fund" as the exact email subject line. To donate less than £5,000, please click the red Donate Now button above to donate online.
Donating online by clicking the blue Donate Now button is the easiest way for you to support this movement. Please note that GoFundMe has a 0% platform fee for online donations.
* In lieu of charging a platform fee, GoFundMe relies on voluntary tips from donors to help with the costs associated with providing trust & safety protections, customer support, and innovative social fundraising features.
* Standard payment processing applies.
Register an interest in applying for grants or offering pro bono legal services, please email info@justiceequalityfund.org.
*Research in the UK in 2016 found that more than half of all women and nearly two-thirds of women aged 18 to 24 said they have experienced sexual harassment at work. Sexual harassment is also more prevalent for women in precarious forms of work such as zero hours contracts and agency work. (TUC and Everyday Sexism survey)
**20% of women and 4% of men in England and Wales have experienced some type of sexual assault since the age of 16, equivalent to 3.4 million female victims and 631,000 male victims (Office for National Statistics, February 2018).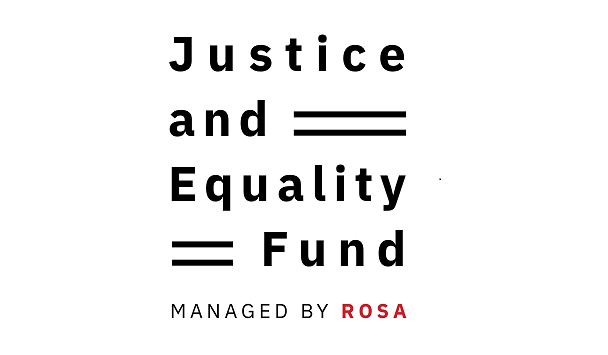 + Read More