Jungle Refugee Scouts
$1,890
of $12,000 goal
Raised by
22
people in 55 months
THESE 18 YOUNG MEN WILL VISIT THEIR HOMELAND OF MYANMAR (BURMA) FOR THE FIRST TIME. YOU WON'T BELIEVE THEIR STORY!

http://www.ksl.com/?nid=148&sid=35141311

We've raised $110,000 toward a $122,000 goal to help 18 Karen and Karenni refugees living in Salt Lake City, Utah to attend the 23rd World Scout Jamboree in Kirara-hama, Yamaguchi, Japan in July 2015 and visit their homeland of Myanmar for the very first time.
11 Jungle Refugee Scouts receive their Eagle Scout Award - video.
The World Jamboree will provide opportunities to raise awareness about global issues, explore the environment, participate in community service, make friends from around the world, and deepen understanding of developments in science and technology. The world jamboree is a unique opportunity for participants to experience an exciting program of activities, including: Global Development Village, City of Science, Cross Road of Culture, and the Peace Program.
Participants will live and learn with fellow Scouts from around the world. They will be housed in tents along with the Boy Scouts of America contingent but will soon venture out to mingle with tens of thousands of people for two weeks of activities and adventure. That's right, a world fellowship exercise on an enormous scale!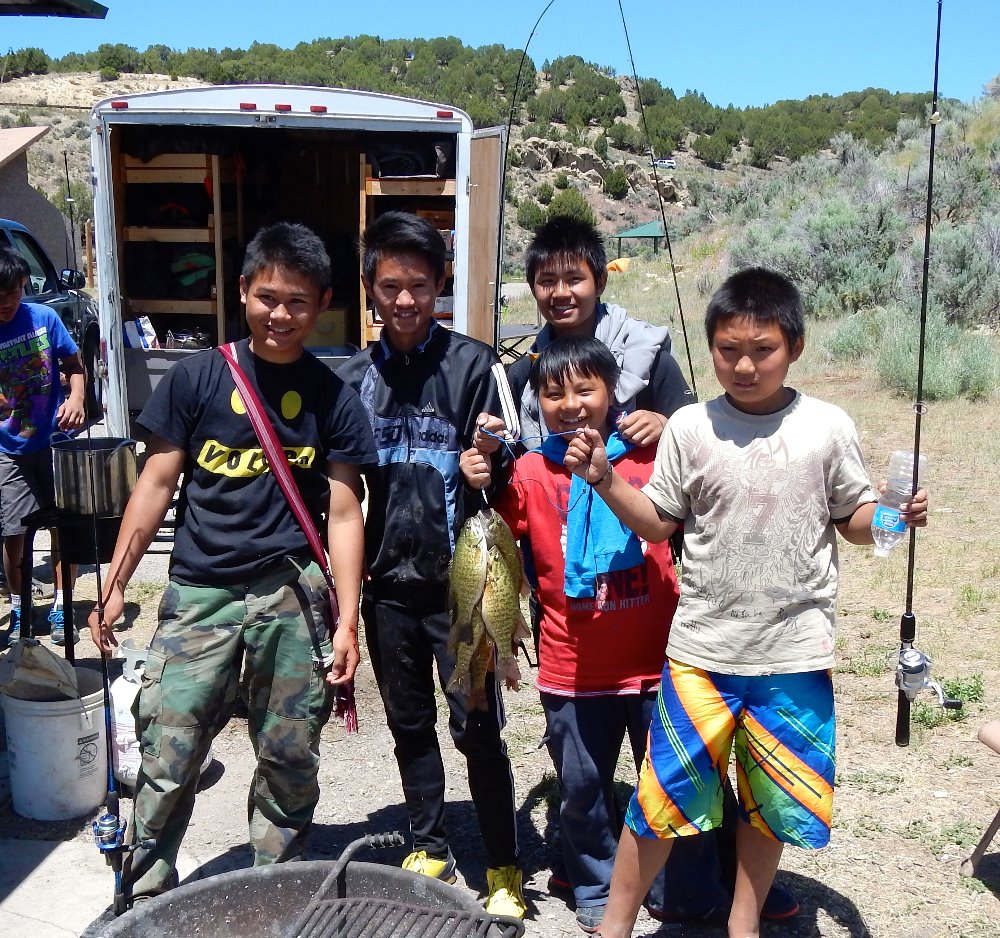 First fishing trip in America - not a bad catch!
The Jungle Refugee Scout troop was formed 8 years ago when Karen and Karenni refugees from Myanmar (Burma) arrived in Salt Lake City, Utah. These boys grew up in refugee camps in Thailand, sons of fathers and mothers who fled their Myanmar homeland. The harsh ruling military regime dating back 50 years systematically burned houses and crops, killed farmers' horses, cows, pigs and chickens, raped women, shot the men fighting for their homes and buried land mines to maim and kill villagers - forcing them to flee their country to neighboring Thailand. 
In these refugee camps, our boys learned how to fend for themselves. If they wanted to eat food, other than the rice and vegetable diet they lived on, they sneaked out of the camps and learned how to hunt snakes, squirrels, rabbits and birds - to stay alive and to help feed their families with precious protein.  Their parents grew up in the refugee camps, married and had children, who subsequently grew up in the refugee camps. Our boys and their families have been refugees for decades. 
Our boys were finally resettled, along with thousands of refugees who made it to the USA, to South Salt Lake City - huddled together in apartment complexes, bewildered by their new culture, language, urban surroundings and North American climate. Inner-city service and welfare missionaries spent much time getting them out of trouble, visiting them in youth detention facilities and worried over the rising abuse of alcohol, drugs and teenage pregnancies.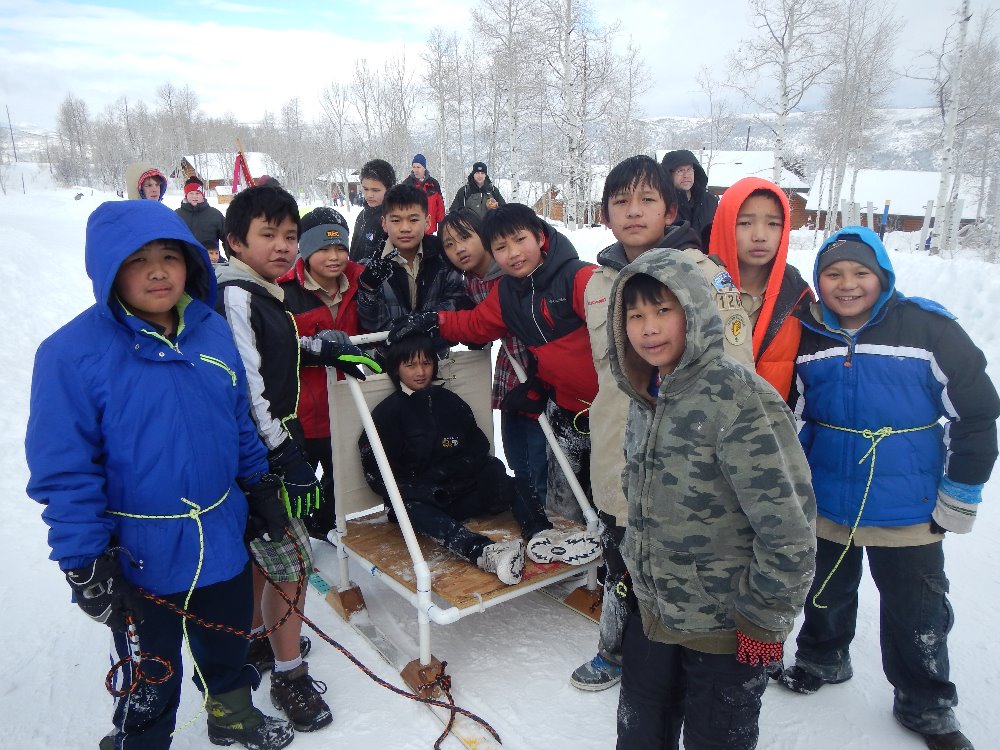 Winter Klondike Sledding Competition - our boys came in first.
As life-long Boy Scouts of America scouts, authorized Scout Leaders and Eagle Scouters - we (a group of several men) formed a scout troop to offer these boys an alternative physical and emotional outlet. We took them camping in the Wasatch Mountains where they caught squirrels at first sight (We convinced them to let the squirrels go and trade them for hamburgers) We introduced them to Klondike Snow Games, where they excelled in sledding competitions and building snow caves. The first year the boys came in flip-flops and sandals. The second year they wore donated boots and snow clothing. They learned how to swim, sail and canoe in the summer on Bear Lake, situated in Southern Idaho and Northern Utah.
Almost immediately they fell in love with scouting. Each activity required scout leaders to drive for two hours to pick up the boys around the Salt Lake Valley for scouting activities - then two hours to drop them off afterwards.  Parents were exhausted from working 2-3 jobs, learning English at night and carrying for small children at home. Plus, none of the parents could drive.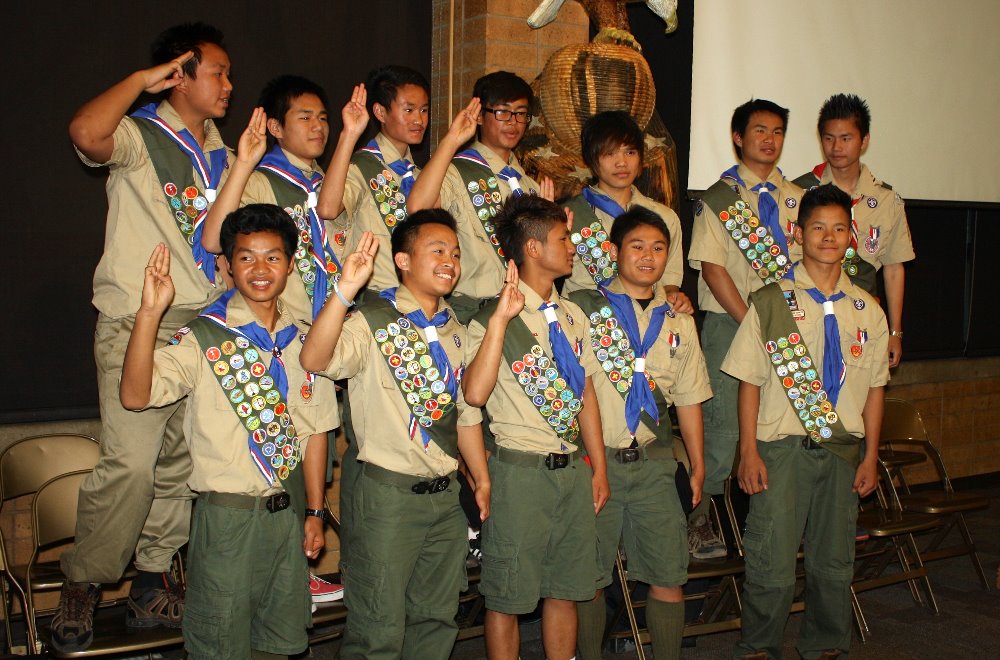 Newly honored Eagle Scouts from the Jungle Refugee Troop 1262 - Salt Lake City, Utah
The Jungle Refugee Scout Troop has grown into over 100 young men with over 12 boys having already earned their Eagle Scout Award. (FYI: The refugee young women have an equally robust program for young women). The South Salt Lake City Police Department has told us that, "gang related crime has gone down two-thirds since the formation of Troop 1262." In 2013 we took 40 Jungle Refugee Scouts to the National Jamboree in West Virginia.
Governor Herbert, State of Utah wished them well before their journey:
http://www.ksl.com/?nid=148&sid=25737551#.VX8Zies_7fA.email
18 boys now have the opportunity of a lifetime to visit, for the very first time, their homeland of Myanmar, visit their grandparents and speak their mother tongues in the states of Kayin and Kayah. Afterwards they will attend the World Jamboree in Yamaguchi, Japan with 30,000 other scouts from 161 countries around the world. They are selling popcorn, raking leaves, painting houses and other odd jobs to earn money to be able to go on this trip.  They return as Ambassadors of Goodwill - showing that their hard work and effort in America as first generation refugees is paying off. They entered the United States legally and lawfully and are becoming model citizens contributing to our country, their families and their individual pursuit of happiness - against all odds. They need your help to make this dream a reality.
Building trails in Draper, Utah - Eagle Scout Project
Please donate generously!  100% of excess funds will go into a closely monitored account to continue operating scouting and youth programs for both young men and women of Karen and Karenni ethnic nationality, living in Salt Lake City.  We thank you from the bottom of our hearts for your heartfelt support.
(P.S. No salaries are paid to any individual associated with this refugee scouting initiative. Funds will go toward World Jamboree tuition and fees, international, regional and domestic flights, lodging, food, local travel in Thailand, Myanmar, Japan, travel documents, visas, scout uniforms, equipment, entrance fees, coordination phone calls to and from Asia.)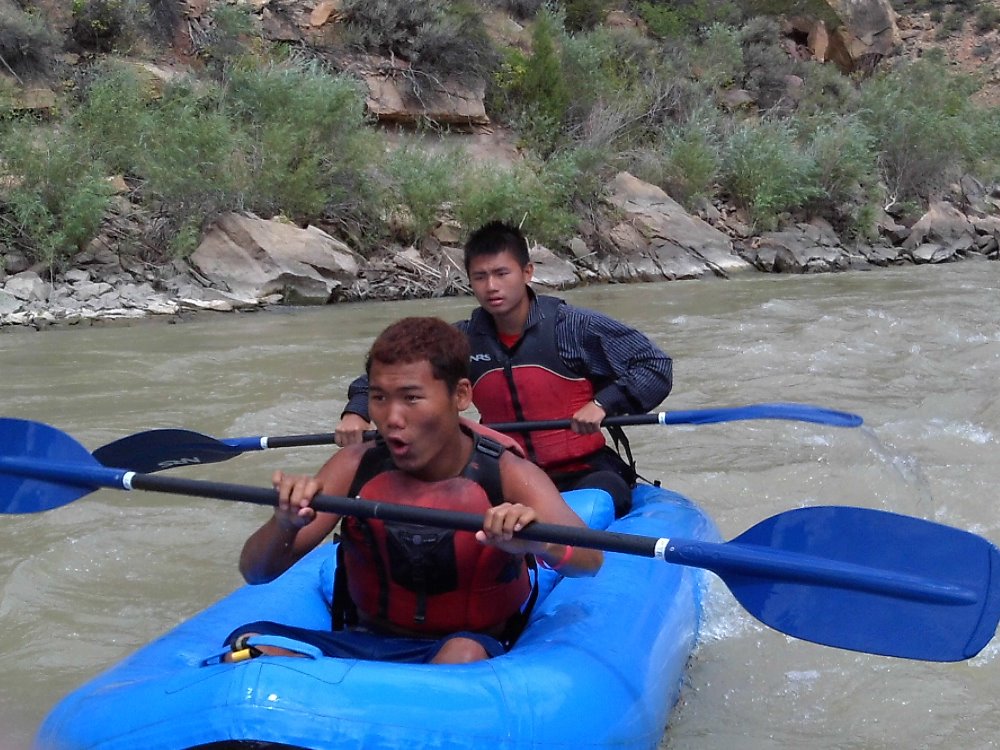 Kayaking down the Green River in Southern Utah  - that's cold water.
Michael Nebeker is 60 years of age, father of 6 children (4 boys who have earned Eagle Scout Award), and two grandchildren, Eagle Scout and Assistant Scoutmaster of the Jungle Refugee Scouts, Troop 1262, South Salt Lake City. Michael lived in Thailand for 12 years, off and on over a 40 year period with his wife Nancy and 4 children at the time. He speaks Thai and travels frequently to Myanmar, Thailand, Cambodia, Vietnam, the Philippines, China and India as Senior Vice President - Business Development for Operation Smile.
Scout Leaders include:
David Brusch
Robert Roylance
Susan Roylance
Michael Nebeker
Nancy Nebeker
Mark Adams
Marsha Adams
Stephen Sorensen
Chad Saley
Glen Spencer
Ron Zarbock
Jen Zarbock
Josh Whetstone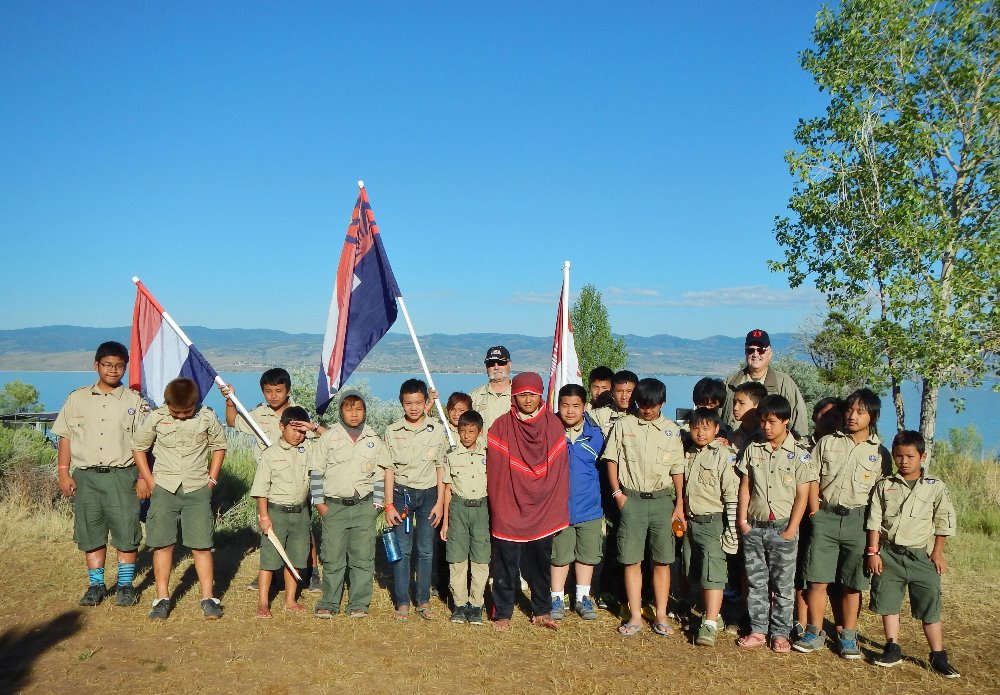 Bear Lake, Utah is a favorite spot for these young men to escape their urban envirnoments and return to the natural environment, where they relish earth, water, sky and the camaraderie of fellow refugee scouts.

https://www.facebook.com/groups/349020761951645/
+ Read More