Help Orphaned Children with albinism in Tanzania
$16,150
of $35,000 goal
Raised by
10
people in 7 months
My name is David Suess and I have created this GoFundMe to help children with albinism in Tanzania, Africa.    I am climbing Mount Kilimanjaro in July with my son to raise awareness of the plight of the children with albinism in Tanzania and to raise funds for their orphanage.  I am asking for donors to assist in funding our trip and the orphanage.    If interested please email me at: davidsuess1@gmail.com

Please check these news outlets for the recent killings of children that occurred in January of this year in Tanzania.

CNN: https://www.cnn.com/2019/01/28/africa/tanzania-kids-mutilated-intl/index.html
FOX: https://www.foxnews.com/world/ten-children-in-tanzania-kidnapped-and-killed-for-their-body-parts-authorities-say
BBC: https://www.bbc.com/news/world-africa-47030924

Please note that all donations are tax deductable.

Plight of the Children with Albinism in Tanzania, Africa
Children who are born with albinism are in serious danger of being killed since local miners consider their body parts to bring them luck in the search for minerals. They will take albino children to a witch doctor and carve them into small pieces for use in the incantations.

Children who were brought here are provided with room, board and security 10 months of the year, with transportation back to their homes twice a year for a period of one month each time. The sisters maintain regular contact with the families during the time the children are at home to ensure they are remaining safe during their time away. Returning home is stressful to the children because they know about the danger.  You can help support the Providence Sisters who take care of the children by donating on this GoFundMe.

As a Christian, loving father of 6 beautiful children and husband for over 24 years, I have decided to hike up Mount Kilimanjaro with my 17 year old son. Please consider this project in your hearts and follow my story as I travel with my son to Tanzania and join other charitable groups to assist these camps for these targeted children. I am starting this effort to assist in the purchasing of a water well for one of the communities we have already contacted, as well as supply them with security, supplies and aid in order to protect the many lives in the orphanage.

Our goal is to raise $35,000 for our efforts. Anything you can do to help will be appreciated. I will continue to post status updates, as well as I document my father and son journey to climb Mount Kilimanjaro. We plan on leaving in July of 2019 for Tanzania. Please reach out if there is anything you can do to provide assistance for our cause. Thanks to everyone who help spread the word! May you find love and joy through this journey called life.


Updates:  
We have already funded and began drilling the well.   We have named the well "Our Lady of Lourdes Well".   I hope this water brings healing, and health to all who come to its well!!

Picture of one of our volunteers with an orphan




Thank you Letter from ArchBishop Paul R. Ruzoka, Archbishop of Tabora!!  We put down payment of $7,000USD  to begin the drilling. 



 

Picture of them beginning the drilling the well!!!



Picture of the ArchBishop Paul A Ruzoka, ArchBishop of Tabora, volunteers and sisters!!!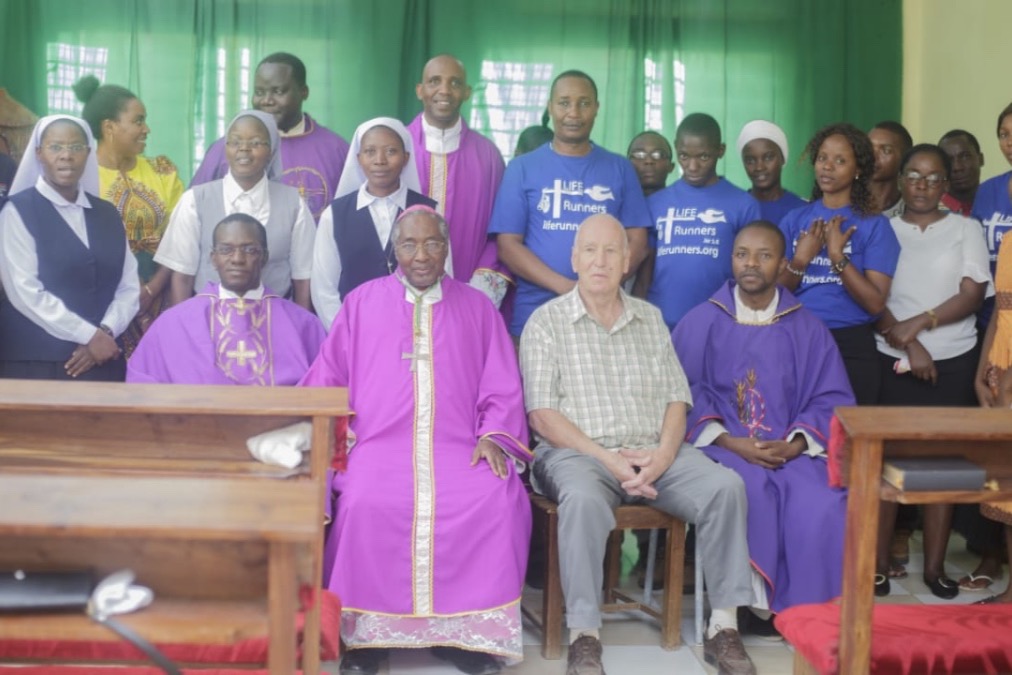 + Read More
Update 1
3 months ago
Share
(Special note from WCAT Radio (
http://www.wcatradio.com
), which sponsors David's radio programming: David Funds will be withdrawn directly into WCAT Radio's account, which will deliver these funds to support David's trip and his related missionary endeavors in the Archdiocese of Tabora, which include funding the orphanage and supporting the local shrine that will bring visitors to Tabora and inspire them to fund archdiocesan initiatives that include the orphanage).
+ Read More