52
3
Help Us Get to NYC/Save The World!
$2,210
of $2,500 goal
Raised by
55
people in 10 months
TL,DR: We're a group of activists and organizers representing organizations throughout the Pacific Northwest seeking your support to attend, and present at, the
Fearless Cities North America Conference in NYC
  at the end of July.  We dedicate our lives to finding the most innovative ways to organize for true change and just transitions in the PNW and we sure could use your help getting to the conference, presenting our panel and learning best practices from world leaders to bring back home to you and your communities.
.................................................................................................................................................
The institutions of the old world are failing us. Everywhere we turn private interests are trumping the public good and now, more than ever, our rights are under attack. Luckily, a growing global movement of municipalism is paving the way for REAL solutions to the problems of equity, inclusion and justice.
Municipalism is a program for local self-governing
  - a means to create the commons and publicly owned and directed institutions. It can take many forms but it centers the feminization of political leadership, self-government by the residents of cities and towns and social ecology/Just Transitions. It is unabashedly anti-capitalist, anti-colonialist and anti-neoliberal... and it works!
You can see municipalism in full, victorious effect in places like
Barcelona, Spain
 ,
Richmond, California
 ,
Jackson, Mississippi
 and
Rojava, Syria
 . In these places, residents are self-organizing - forming coalitions, engaging in mass education and using the tools of modern technology to make direct democracy accessible and attractive. They're electing women, POC and LGBTQIA+ members to office, seizing power at the neighborhood, local and regional levels, and winning protections for everything from renter's rights to free education.
This global municipalist movement met for the first time at the Fearless Cities Summit in Barcelona in June 2017, at the invitation of Barcelona En Comú, with the goal of radicalizing democracy, feminizing politics and standing up to the far right. The Summit saw over 700 mayors, local councilors and activists from every continent share experiences and take the first steps to working as a global network.
This year,
Fearless Cities
  is holding decentralized conferences throughout the world, with the
North America conference being held in NYC at the end of July
 . The goal of the conference is to continue to strengthen this growing global network and to share best practices of municipalist movement building.
We're a group of activists, organizers, culture-jammers and rabble-rousers that have been fervently organizing around municipalism in the Pacific Northwest since the elections in 2016. In Portland, Oregon, Olympia and Seattle, Washington, our organizations are working to create a municipalist framework that will help us see huge gains for the working class and traditionally marginalized folk over the coming years.
Our presentation on multi-pronged municipalism in the NW has been approved and we've done all that we can to ensure that our panel and workshop is informative, receptive, and diverse. We plan to share our stories with attendees and also to workshop with them to learn what challenges and successes we share, how we can strengthen our work and to form relationships that will help us build power together.
We've secured a scholarship for one of our five panel members to cover travel expenses and registration, but we're hoping to create a buffer for the other four of us to attend without taking too much of a personal hit. Each of us actively dedicates our lives to the unpaid service of helping to make the PNW and the world a better place. We are thrilled to be able to share our work with conference participants from all over North America, but we cannot afford to do it alone.
Every little bit helps and every contribution is considered an expression of support for the work we do to transform the status quo and dismantle the powers that be. We thank you SO much for any help you can offer and we promise to report back on what we learn and how it will inform and propel our causes forward.
Thank you, thank you - a million times, thank you!
In Solidarity and with Ridiculous Revelry,
Adriane Ackerman            
Portland-Metro People's Coalition
Tyler Bee            
Portland Assembly
  +
Demand Utopia!
Paige Corallo            
Olympia Solidarity Network
  +
Olympia Assembly
Reed Ingalls            
Seattle Neighborhood Action Council
  +
Olympia Assembly
  +                                                                                         
Demand Utopia
Ami Sommariva           
Demand Utopia
Antonio Zamora          
OccupyICEpdx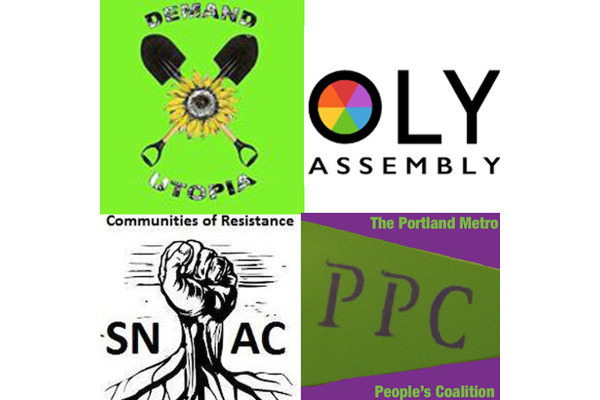 + Read More
Update 2
10 months ago
Share
We're nearly half way there and the feedback we're getting from the conference organizers is overwhelmingly positive! We feel so lucky for this opportunity and so grateful to you supporters for helping us get there!

Thanks to you, we've been able to cover nearly 3 airline tickets out of the 7 presenters we're flying to NYC. Please continue to share our cause with your friends and check out how one of the main Fearless Cities organizers described us on their FB page! :D

"Leftists: a *powerhouse* group of PNW organizers - including OccupyICEPDX, Demand Utopia, Olympia Solidarity Network, Portland Assembly, Olympia Assembly, Neighborhood Action Coalition - Communities of Resistance, and Portland Metro People's Coalition - are raising funds to come school us East Coasters at Fearless Cities North America in NYC in just a few weeks. They are building some of the most inspiring municipalist institutions in the country, and have most recently been in the streets to #DefendPDX against the Proud Boys. Please support if you can to get them here!"
+ Read More
Update 1
10 months ago
Share
Woohoo! We just passed the $500 mark - only 75% more to go! Thank you SO much to all of you who have generously given to help make our dreams come true!

Since I set the fundraiser up as a campaign "for others," GoFundMe has asked that I post to explain the details of how the funds will be disbursed and used. Since I value transparency, I'm happy to do so!

We recently added one more presenter to our panel, to represent OccupyICEpdx and we are thrilled about that. It puts our total at 6 presenters trying to fly from the PNW to NYC in just a few weeks. Many of us are low-income students, organizers and workers, and buying a last-minute ticket to NYC is PRICEY. $2,000 will never cover all of our airfare, but it will get us close! We've decided to disburse the money according to need in our group. Some of us were able to put our tickets on credit cards and wait for reimbursement, but some of us do not have those means and have to wait for money to roll in in order to buy tickets. As such, I'll be withdrawing donations as they come in lump sums (probably $300-$500 depending on the individual need) and sending those amounts to the individuals in our group who need them the most to secure their flights, in that same order of need.

We are also working on getting emergency travel grants and scholarships from outside sources and the conference itself, though so far only one person on our team has been able to secure a scholarship.

Anyway, lots of details you might not need to know, but GoFundMe did before they'd allow us to start withdrawing! :) Hope this was informative and thanks again for all of your help!
+ Read More
Read a Previous Update