29
2
GFREEWIFEY Food Bank_access to safe food
$3,894
of $4,000 goal
Raised by
90
people in 24 months
Hello, you have landed on a page dedicated to providing access to safe food.
We have done a lot together since starting in May 2018. Food insecurity is unfortunately a growing concern here at home in Canada. Over 1 million hungry people each month visited a Canadian food bank. We want to ensure people who are experiencing food insecurity have access to safe food. We work to support this deficiency by providing education and training workshops to local organizations as well as fund-raising and food drives. Every dollar contributed directly funds a project or partnership advocating  access to safe food. A big Thank-you to our contributors who help us continue advocating access to safe food for all. Check out some of the amazing things we have done together so far at
www.gfreewifey.com
UPCOMING EVENTS...
May is Celiac Awareness month, for the duration of the month I will be fundraising for the monthly partner Second Harvest. 
Clean out your pantry and make room for a haul of new gluten-free favourites because on May 26 you can find #GFREEWIFEYFOODBANK at the gates of
Gluten Free Garage
  where you will find tons of new favourites. We encourage attendees to bring gf donations or when shopping support your favourite vendors and "buy two - donate one" . Vendors are encouraged to contribute any excess food they have at the end of the event or even contact us to schedule a pick up.  Everything collected during GFG19 will be donated to Second harvest to support the Wynchwood Drop-in.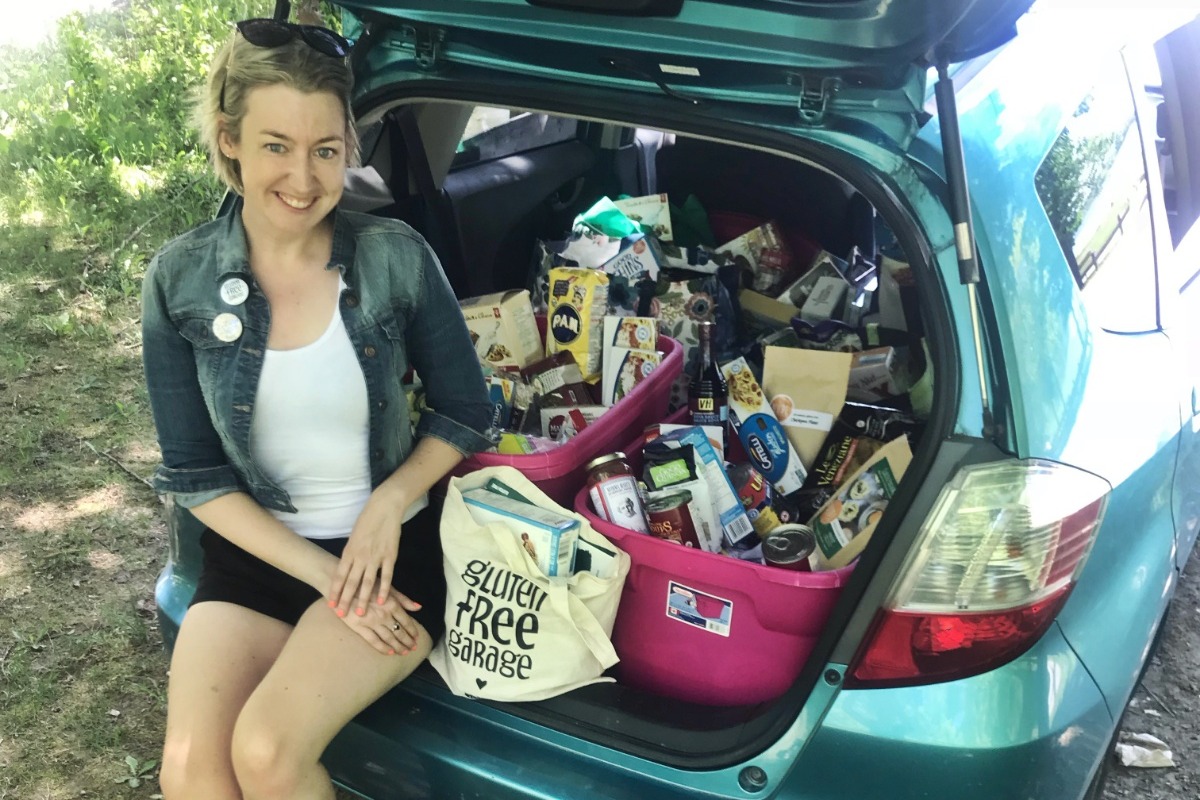 Accomplishments of #GFREEWIFEYFOODBANK campaigns 
$1000 Daily Bread Food Bank - May 2018
200 Pounds of food donated to Red Cross  Mobile Food bank - May 2018
$1000 donation to The Stop Food Bank - August 2018
Nominated for Daily Bread Best in Class award Community Champion - September 2018
$1000 to the Canadian Celiac Association - October 2018 - Ran my first 5k
200 pounds of food donated to The Mississauga Food Bank - January 2019
400 pounds of food donated to The mississauga Foodbank - March 2019
100 pounds of food Donation to Feed It Forward - March 2019
Happening now… The Community Cook Book Project
Do you have a gluten-free recipe that you love or that helped you transition to a gf life? You are invited to share a go-to GF recipe to help people transiting to a their new gf life. It can be overwhelming when you first find out you have to cut gluten foerever. Most people think they will never eat a carb or anything tasty ever again. That is simply not the case.
Current sponsors of the community cookbook project:
Nudl Artisan Pasta
  - providing all pasta for the contributed recipes.
Off The Bone Meat Products Ltd.
  - providing all meat for contributed recipes
Davis Family Farm Caledon
 - providing all honey and sunflower oil as well as a giveaway.
Healthful Communications
  - Sponsored the cost of 1 recipe production.
We want to hear from you if:
You have a recipe you love! A go-to or a great replacement for a "gluten favourite" food. We all have different tastes, cooking styles and skill sets in the kitchen so all are welcome to share an idea to support a diverse community who are facing this life change.
You have tips, tricks and life hacks to help people transition to a gluten-free life
If you are experiencing food insecurity and want to have a confidential conversation. Share your experience so I can elevate that feedback to community partners and organizations.
You work with a community organization, food program, healthcare practice or alike that would benefit from educational resources about adhering to a strict gluten free lifestyle. (Yes, it's more than just food. Its self care products too like lipstick, hairspray, lotions and medications and more)
You have an upcoming event that would be great opportunity to host a
#GFREEWIFEYFOODBANK
  fundraiser or food drive. Let's talk about how we can partner.
You wish to make a contribution to GFREEWIFEY FOOD BANK or Schedule a pickup  of food donations that are not expired and still safe for consumption.
You are a local business who would like to minimize food waste and provide access to safe food.
You are a business that would like to sponsor a project.
You would love to share your story about going gluten-free and the ups and downs of your transition.
SEND AN EMAIL TO  Jessica Danford  TO CONNECT TODAY jess@gfreewifey.com
+ Read More