Save the Myrtle Springs, Texas School Building
The Myrtle Springs School Community Center, which has long-served a small unincorporated community in East Texas, is at risk of closing if we cannot replace its 31-year-old leaking roof very soon.  With each rain, damage only gets worse to the old building's antique metal-tiled ceiling, walls, floors, and foundation.   If this continues much longer, the building will soon become irreparable, requiring us to close the community center forever and demolish the entire structure and dissolve. 
Our organization, the "Myrtle Springs Alumni Association, a 501(c)(3) charity, has successfully raised approximately $9,000 of the needed roof-replacement funds through events such as garage sales, bazaars, and reunion dinners.  We've also received contributions from kind area citizens through GoFundMe and Facebook Fundraiser. 
In addition to our fundraiser activities, we have been able of raising $5,000 in cash commitments through a $2,000 grant and a $3,000 pledge by our roofer as a personal donation. 
ALTOGETHER, WE'RE STILL SHORT BY $9,000 OF THE NECESSARY AMOUNT TO REPLACE THE ROOF.
The primary mission of our Association is to preserve the 91-year-old historic Myrtle Springs School Building and make it and the entire 6-acre property available at no cost to the largely impoverished community and all other Van Zandt County citizens for use as a community center, public park, playground, and baseball field.
The old building is a treasured historic landmark for Texas and Van Zandt County.  It contains a library and museum in one of the building's former classrooms that showcases educational artifacts of the past including historical books, albums, photos, trophies, and equipment.  It's important that these items, as well as the building, are preserved so that future generations can appreciate their heritage through learning the history of the previous school and surrounding area.
 A very important amenity provided by the Community Center is its six acres of grounds consisting of a baseball field, playground, and park.  Neighborhood children are often found competing in impromptu baseball games and playing on the park's slide, swings, merry-go-round, climbing bars, and see-saws, or enjoying the basketball goal and volleyball net.  Just recently, a number of teams from the nearby town of Edgewood, Texas, asked to use the ball field for their regular practices.  Naturally, we gave permission and are thrilled to see the facility being used and enjoyed by the kids and their families.  In gratitude, the parents completely renovated the field and painted the spectator-protective fencing.  This is definitely a win-win for the kids AND the Alumni.
The old wood-frame structure, with its large auditorium, classic stage, and large well-equipped kitchen, has long-served the community as a venue for public gatherings, annual reunions, genealogical meetings, family reunions, weddings, baby and wedding showers, potlucks, plays, musicals, and occasional old-time games of dominos or cards.  Unfortunately, however, due to the roof's poor condition, these activities have recently been suspended until the roof is replaced.
If preferred, you can donate by check.  Make it payable to Myrtle Springs Alumni Association and mail to Myrtle Springs Alumni Association, 20680 Interstate 20, Wills Point, TX 75169.  We are a 501(c)(3) charitable organization.  Our EIN is 83-2558049.
For more information, text or call [phone redacted].
Board President, Tresea Stringer, with husband, Bobby, pose on front steps.  Thewheel-chair ramp was refurbished in 2010.
One of three wheel-chair ramps build in 2019 with donations and volunteer labor
Do the math...the building is now 91-years-old.
Few of these old "merry-go-rounds" can be found today.  This one was recently rebuilt by a kind school supporter.
The old merry-go-round can accommodate many kids as a time.
Santa taking Christmas wishes in the old school building
One of the most recent dinner plays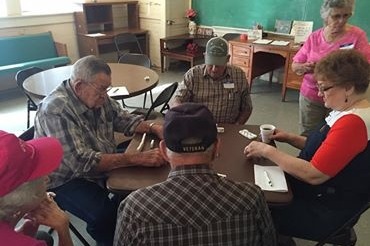 "Old-timers," mostly former alumni of the old school, enjoy occasional gatherings for dominos
Alumni gather to enjoy a musical in the old school's large auditorium
Area kids enjoying a game of volleyball on the old school's playground
One of many school albums maintained in the community center's library
Board President, Tresea Stringer, contemplates taking a ride on the old merry-go-round with husband, Bobby (a school alumnus
The board maintains a well-equipped playground with classic equipment
The old school building's well-maintained stage is often used for musicals, plays, and other special events.
Board President, Tresea Stringer, and husband, Bobby, remember old classmates and teachers.
The community center maintains many photos of the old school's former teachers
Examples of Interior Damage from Leaking Roof
Examples of Interior Damage from Leaking Roof
These old desks were typical in old county public schools.
Old Wood-Fired Heating Stove
Classic Classroom
Large well-equipped kitchen can serve large gatherings.