41
5
Yoga Ashram Retreat Centre in Scotland
£31,218
of £200,000 goal
Raised by
69
people in 7 months
Would you like to help bring peace to the lives of others – and yourself too?
With the inspiration and blessings of our founder, Vishwaguru Swamiji Maheshwarananda, we're raising money to create an eco-friendly organic vegetarian
Yoga in Daily Life National Retreat Centre
in the beautiful countryside of Scotland; a residential rural
Ashram
, close enough to the city to continue providing classes for our friends and students in Edinburgh and Glasgow; and far enough away to
find peace and quiet in nature, in order to revitalise weary bodies, minds and souls...Any size of donation will help.
Thank you in advance for your contribution – large or small – to this project that is intended to help many people in a profound way, including you :)
THE VISION...


To create and maintain a
welcoming home
and
educational facility
for all – providing opportunities for finding peace, solace, clarity and inner strength through
self-care
and
compassionate service
to others, in order to better cope with and overcome life's challenges, whilst developing a
healthy
and
harmonious
relationship to
ones self
,
all living beings
and the
world
around us.
National YIDL Retreat Centre

This residential Ashram will be home base for the
Yoga in Daily Life Scotland
charity as well as the
National Retreat Centre
for Yoga in Daily Life, serving the whole of the UK, in cooperation with our friends at
Yoga in Daily Life Association
-
UK
in London. Fulltime volunteer staff and teachers will live on site and will also host part-time volunteers, guests and participants for group programmes. (See below, for more info about
Yoga in Daily Life
 )


Charity Partnerships

As well as being a charity ourselves, we have friends and associates at some of the many
other charities
in and around Edinburgh who work tirelessly to
support vulnerable people
such as – victims of domestic abuse; asylum seekers; homeless/unemployed; people with learning disabilities; patients with cancer, diabetes, MS, dementia and other life-threatening illnesses; and at-risk youth. We look forward to expanding our work with these organisations, both through offering our
facilities
and also initiating
partnership projects
where we can share our practical knowledge of healing, recovery and personal growth through applying Yoga principles, methods and techniques, which lead people to creating
healthier lifestyle choices
and
positive social experiences
– really making a difference in the lives of those who are
most vulnerable
in our society.


Group Events Venue
This will be an eco-friendly, sustainable home for our own Yoga in Daily Life
retreats, workshops
and
special events
– plus a
venue for hire
to other
health, education, human rights, animal welfare
and
ecology
based organisations and teachers, to share their expertise with their own groups and the general public.
Private Retreats
There will also be the option to have
individual solo meditation/nature retreats
, where meals and accommodation will be provided, and it is up to the guest to create their own programme – with the option of making it a
silent retreat
supported by other residents on the premises respecting and supporting this choice. Some of our own group retreats will also be predominantly silent.
Regular Classes
We will have regular
weekly yoga classes
for the
local community
and will also continue providing classes in
Edinburgh
and
Glasgow
– including
gentle restorative yoga
classes for seniors and less-abled friends, and progressive
yoga
,
deep relaxation
,
pranayama breathing
and
meditation
classes for the
general public
– for anyone who wishes to venture more deeply into learning and practising these simple profound techniques.
Organic Farm
Surrounded by nearly 2 acres of lawn, the grounds will be transformed into an
organic food forest, wildflower meadow
and
vegetable gardens
, designed in line with sustainable
permaculture
principles, with the aim of eventually providing much of the
vegetarian
ingredients for our residents, visitors and guests.
Volunteering
As a
residential ashram
, the project will give opportunities for more people to
volunteer
and experience the joys of
karma yoga
by immersing themselves in a
healthy lifestyle
surrounded by nature, and by cooperating with others in the spirit of
service to all
– either short term or long term...
Short term volunteers
– our own organised events will be offered at a
50% discount
for those who wish to spend 'free-time' periods during the programme as
karma yogis
, helping in the kitchen, gardens, office and keeping the ashram clean and tidy.
Long term resident volunteers
– there will also be the option to come and stay for a
week
, some
months
or even
years
, as a long term
karma yogi volunteer
– contributing a small monetary amount towards board and lodging, and joining in with regular weekly classes, special events, community chanting and meditation, learning hands-on about living a
spiritual life in community
– maintaining organic fruit and vegetable gardens; vegan/vegetarian cooking; house-keeping; administration; building maintenance; and also
sharing and developing
your own talents and skills, whilst facing and
overcoming
personal limitations and fears.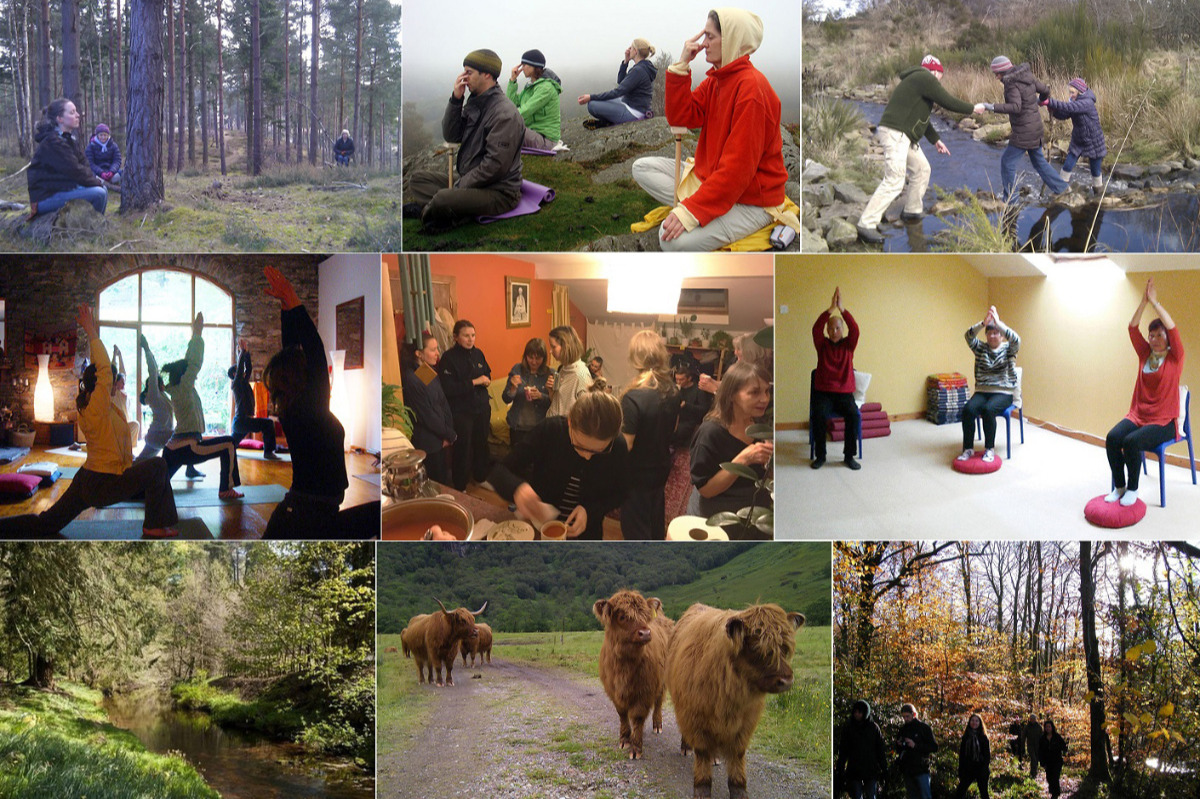 REWARDS
All donations
will receive the
spiritual rewards
of a
warm heart
, 
eternal gratitude
from the organisers, and
good karma
from the universe!
We would also like to offer you a
material reward
for your generosity – the following rewards can be claimed according to the amount of your donation:
£27
or more – 1 month FREE
Yoga Classes
£54
or more – 1 x FREE
Day Workshop£108
or more – 1 x FREE
Weekend Retreat
OR
3 months FREE
Yoga Classes£1008
or more – 2 x FREE
Weekend Retreats
plus
1 year of FREE
Yoga Classes
OR
plus
4 x FREE
Day Workshops
The
FREE Weekend Retreat
can either be as a participant in our own organised retreat, or per person as an independent solo/couple weekend stay, with board and accommodation in the peaceful
Ashram
environment.
Please
contact us directly
to claim your
Reward
, once you have made your kind donation – all rewards will be redeemable in Scotland only, once we have moved to the new premises. We are very happy to share our services with you in this way:
scotland@yogaindailylife.org
________________________

FUNDS NEEDED NOW


The Retreat Centre will enable us to provide many
activities
and will give many
opportunities
for yourself and others to join in. But we need to raise enough funds
now
to pay a healthy deposit of at least £200,000 and get this project underway – so we can arrange the purchase and exchange of the property in order to move in by the time we have to vacate our Edinburgh home.
The more funds we receive as gracious donations from friends here and around the world, the more service and support we can
give back to the community
, rather than just repaying back to the bank!


Gift Aid

If you are a UK taxpayer, as a Registered Scottish Charity, we have the
Gift Aid
option available, so that an
extra 25%
of your donation can be added to the fund from your income taxes. Just follow the
Gift Aid instructions
when you make your payment, thank you.


Questions

If you have any questions –> please email or phone us, we are only too happy to chat with you
:
scotland@yogaindailylife.org | 0131 629 9895
________________________
INSPIRATION
The beautiful video below shows our long-established
International Yoga in Daily Life Retreat Centre - Mahaprabhudip Ashram
in the Czech Republic – it's beauty and facilities are where we get a lot of our inspiration to create a smaller
National Retreat Centre
here in Scotland...
ABOUT US...
YOGA IN DAILY LIFE SCOTLAND
is a registered Scottish charity (SC041371)
run entirely by volunteers
for the
benefit of individual, community and environmental health.
So it's our yoga teachers, students and friends who are working together as a team in order to help each other and anyone else in the wider community, especially those who are stressed or struggling with life.
Drawing endless inspiration from founding author
Vishwaguru Swamiji Maheshwarananda
, we represent the international system
YOGA IN DAILY LIFE®
throughout Scotland and are affiliated with the
Yoga in Daily Life Association - UK
  national centre in London, and the
International Fellowship of Yoga in Daily Life
based in Vienna, which has non-profit member associations operating in 30 countries around the world, including ashrams and
humanitarian projects in India
.
Our
Charitable Objectives
are to promote and advance:
1.     public education
in the classical teachings of the
science, philosophy and practice of yoga
, based upon the principles of the highest standards of personal conduct and
selfless service
to others;
2.    
the
mental, physical, social and spiritual health
of the public through the study, teaching and practice of the therapeutic effects of yoga;
3.     humanitarian aid
for the relief of people in need through poverty, sickness, age, disability or other disadvantage due to natural disasters or other causes;
4.     tolerance, harmony, respect
and
understanding
among all religions, cultures and nations;
5.     human rights
and
world peace
and provide methods for the
resolving of conflict; 6.     animal welfare
and protection;
7.    
protection and improvement of the
environment.Since 2007
we have been dedicated to sharing the benefits of yoga, relaxation, meditation and cruelty-free vegetarian lifestyle with the community in
Scotland
, offering casual
Drop-in Classes, Courses, Satsangs, Workshops, Seminars and Retreats
; plus tailored classes for
private individuals
, as well as classes in
care homes, schools,
and for
corporate and community groups.
We also regularly have participants from 'down south' in England come up to take part, and international guests from all over Europe, North and South America, Australia and New Zealand, the Middle East and India.
All are welcome - to our oasis of unity, harmony and peace...
Most of our classes and programmes so far have been held at our wee ashram in
Edinburgh
and other venues around the capital; we've also been providing regular weekly classes and occasional workshops in
Glasgow
since 2014; and we've had weekend retreats down in the Lake District, up in the Highlands and in the Scottish Borders. But our
wee ashram
in town is just that –
very small
– and now our landlords have other plans for the premises, so the universe has spoken and the time has come for us to
expand and enrich the services we offer
.
What is an Ashram?

An
'ashram'
simply means a place where you are
'welcome to work, study, learn and serve'
for the good of your own self and the
good of all
.
YOGA IN DAILY LIFE - The System®
is taught and practised in ashrams and other venues all over the world. It is an authentic comprehensive system which incorporates techniques of deep relaxation
(yoga nidra)
and systematic progression of physical postures
(asanas),
breathing techniques
(pranayama),
self-inquiry
meditation,
and practical principles from traditional
yoga philosophy
, to foster
greater health, happiness, self-confidence and self-awareness.
YOGA IN DAILY LIFE
is designed so that
anyone of any age, level of fitness or health condition can benefit
from the techniques and integrate them into their daily life.
Karma yoga
- or
voluntary selfless service
- is also a big part of the traditional
YOGA IN DAILY LIFE
teachings and practice. As a conscious practice, it leads towards
true lasting freedom
from the stresses and strains of modern material life - where you can still take part in (and enjoy!) all regular life activities, but
without the pressure and burden
of expectations and attachment, and the disappointments that often follow...
THANK YOU
Thank you
so much for
your support
- so that we can better
support you
on your journey of spiritual growth and good health in daily life. We will
update
you here and on our
website
as the campaign and project continues...
Registered Scottish Charity: SC041371

+ Read More
Update 1
5 months ago
Share
Thank you so much to everyone who has supported the campaign so far with generous donations - we are nearly at *£30,000*! Please keep sharing and donating - to help us get to *£200,000* so we can make a decent deposit towards purchasing this beautiful and perfectly suitable retreat ashram property soon. ✨
Thank you! Ďakujem, hvala, danke, merci, děkuji, köszönöm, cпасибо, dank je, გმადლობთ, спасибі, grazie, धन्यवाद, ačiū, 谢谢, terima kasih, תודה, paldies, شكرا جزيلا, takk...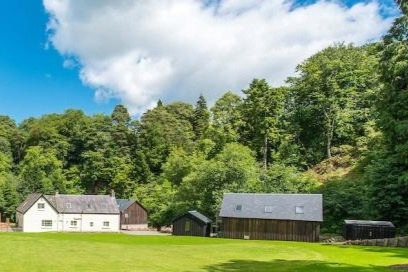 + Read More