Without you we cannot walk. Ways for ALL!
We are Fede and Nico, we decided to create this crowdfunding to support the project started by Pietro Scidurlo, a paraplegic boy medically misevaluated in birth. He lives doing what he has always been denied: walking. He has walked the Camino de Santiago four times and he has never stopped. 
As Pietro says, we all have specific needs (motor, sensory, cognitive disabilities, families with children, celiac disease, vegans, vegetarians, food intolerances, etc.), the key is knowing how to deal with them by destroying the mental barriers that we created and using the right tools.
Free Wheels ODV,
a non-profit association created by Pietro, provides the necessary tools to help EVERYONE experience slow travel and achieve social independence. 
" We want to make people with special needs feel great emotions."
To support the cause, we will do a charity walk starting on 8th June 2022: we will walk for 5 months, along 4 countries and 3200 km on the Via Francigena. Step by step, we will collect donations to buy two e-bikes, for a total value of 6000 euros, which will be used by Free Wheels volunteers to study and analyze the territory, making it accessible to everybody. A dream that will become reality. EVERYONE WILL BE ABLE TO WALK. 
Fun fact: if you find us along the way , we will have a brooch that we ask you to bring with you and in return we will ask for a small contribution. If you would like to do more, the
Free Wheels ODV
website (
https://freewheelsonlus.com
is at your disposal! 
As Pietro says:
"We can't change people, but we can change an idea. If we change the idea, we change the people".
All togheter, we will reach the goal! Help us so that everyone can live a Camino!
To follow our big trip, connect to: www.infinitocammino.com 
Thank you very much for your precious contributions.
With love, buen camino!
Fede, Nico and the Free Wheels Team
-------------------------------------------------------------------------------
Siamo Fede e Nico, abbiamo deciso di creare questa raccolta fondi destinata a sostenere il progetto iniziato da Pietro Scidurlo, un ragazzo paraplegico dalla nascita a causa di un'errata valutazione medica, che vive facendo ciò che da sempre gli è stato negato: camminare. Ha percorso ben quattro volte il Cammino di Santiago e non si è mai più fermato.
Come afferma Pietro, tutti abbiamo esigenze specifiche (disabilità motorie, sensoriali, cognitive, famiglie con bambini, celiaci, vegani, vegetariani, intolleranze alimentari etc. ), il trucco è saperle affrontare distruggendo le barriere mentali che ci creiamo e usando gli strumenti adeguati.
Free Wheels ODV
, associazione no-profit creata da Pietro, si impegna ad aiutare TUTTE le persone ad intraprendere un' esperienza di viaggio lento, camminando o in bicicletta, fornendo a chi ne ha bisogno gli strumenti necessari al fine di consentire a chiunque di raggiungere la propria indipendenza sociale.
 " Vogliamo far provare grandi emozioni anche a chi non può camminare con le proprie gambe o vedere con i propri occhi"
Per sostenere la causa, faremo un cammino benefico iniziando l' otto di giugnio: cammineremo per 5 mesi, 4 paesi, 3200 km lungo la Via Francigena. Passo dopo passo, raccoglieremo fondi per comprare due e-bike, per un valore complessivo di 6000 euro, che verranno usate dai volontari di Free Wheels per studiare ed analizzare il territorio, rendendolo accessibile a chiunque. Un sogno che diventerà realtà. TUTTI POTRANNO CAMMINARE. 
Attenzione! Se ci trovate lungo il cammino , avremo con noi una spilla che ti chiediamo di portare con te ed in cambio ti chiederemo un piccolo contributo. Se poi vorrai fare di più, il sito di
Free Wheels ODV
(
https://freewheelsonlus.com
) è a tua disposizione! 
Come dice Pietro:
"Non possiamo cambiare le persone, ma possiamo cambiare un' idea. Se cambiamo l'idea, cambiamo le persone".
Avanti tutta, unendo le forze raggiungeremo l'obiettivo. Aiutaci perché tutti possano vivere un Cammino!
Per seguire il grande viaggio, collegatevi a: www.infinitocammino.com
Vi ringraziamo di cuore per i vostri preziosi contributi. 
Con affetto, buon cammino!
Fede, Nico ed il Team di Free Wheels 
---------------------------------------------------------------------------------------
Nous sommes Fede et Nico, nous avons décidé de créer ce crowdfunding pour soutenir le projet lancé par Pietro Scidurlo, un garçon paraplégique médicalement mal évalué à la naissance. Il vit en faisant ce qui lui a toujours été refusé : marcher. Il a parcouru quatre fois le Camino de Santiago et il ne s'est jamais arrêté.
Comme le dit Pietro, nous avons tous des besoins spécifiques (handicaps moteurs, sensoriels, cognitifs, familles avec enfants, maladie cœliaque, végétaliens, végétariens, intolérances alimentaires, etc.), la clé est de savoir comment y faire face en détruisant les barrières mentales que nous avons créées et en utilisant les bons outils.
Free Wheels ODV
, une association à but non lucratif créée par Pietro, fournit les outils nécessaires pour aider TOUT LE MONDE à expérimenter le slow travel et à atteindre l'indépendance sociale.
" Nous voulons que les personnes ayant des besoins particuliers ressentent de grandes émotions. "
Pour soutenir la cause, nous ferons une marche de charité à partir du 8 juin: nous marcherons pendant 5 mois, le long de 4 pays et 3200 km sur la Via Francigena. Pas à pas, nous collecterons des dons pour acheter deux vélos électriques, pour une valeur totale de 6000 euros, qui seront utilisés par les bénévoles de Free Wheels pour étudier et analyser le territoire, en le rendant accessible à tous. Un rêve qui deviendra réalité. TOUT LE MONDE POURRA MARCHER.
Fait amusant : si vous nous trouvez le long du chemin, nous aurons une broche que nous vous demandons d'apporter avec vous et en retour nous vous demanderons une petite contribution. Si vous souhaitez en faire plus, le site web de
Free Wheels ODV
(
https://freewheelsonlus.com
) est à votre disposition !
Comme le dit Pietro :
"Nous ne pouvons pas changer les gens, mais nous pouvons changer une idée. Si nous changeons l'idée, nous changeons les gens".
Tous ensemble, nous atteindrons le but ! Aidez-nous pour que chacun puisse vivre un Camino!
Pour suivre notre grand voyage, connectez-vous à: www.infinitocammino.com
Merci beaucoup pour vos précieuses contributions.
Avec amour, buen camino !
Fede, Nico et l'équipe de Free Wheels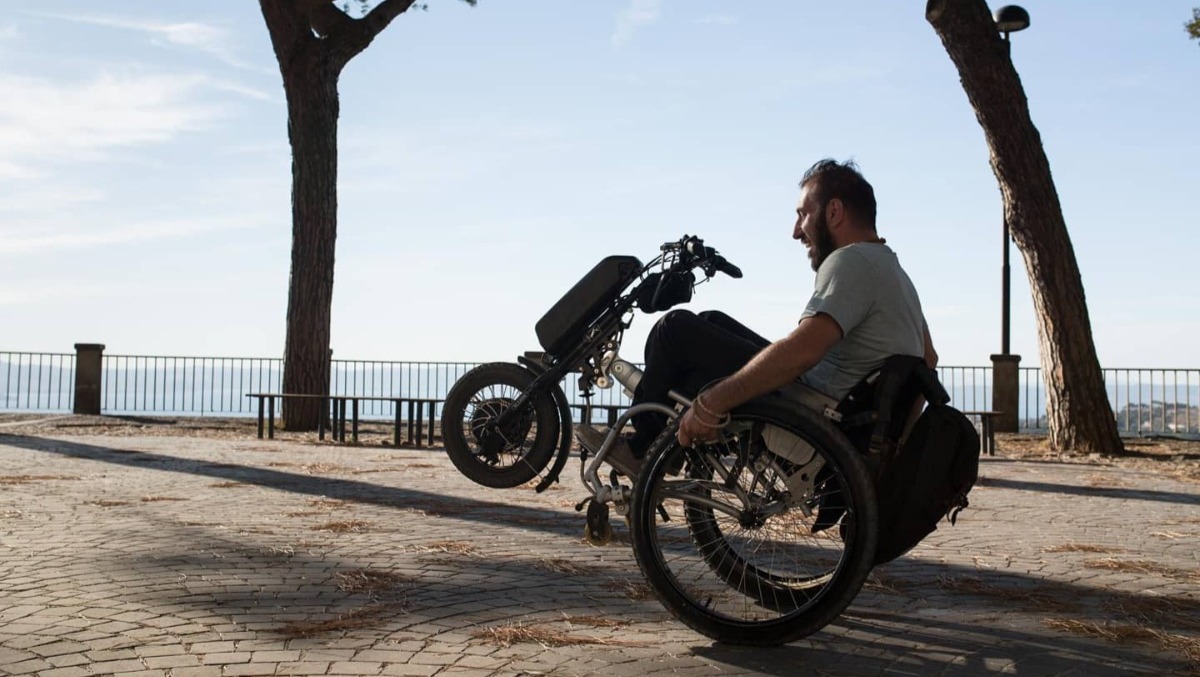 Organizer and beneficiary
Infinito Cammino 
Organizer
Province of Como