Hello! We're so happy you made it to our donations page.
We will be accepting donations NOW through 5pm on October 3rd, 2014 (the day of our draw-a-thon). So don't wait to donate! You can submit your donation and drawing request now! Drawings will be drawn and live blogged on Tumblr 10/3 and then sent to you by mail.

HERE IS HOW IT WORKS: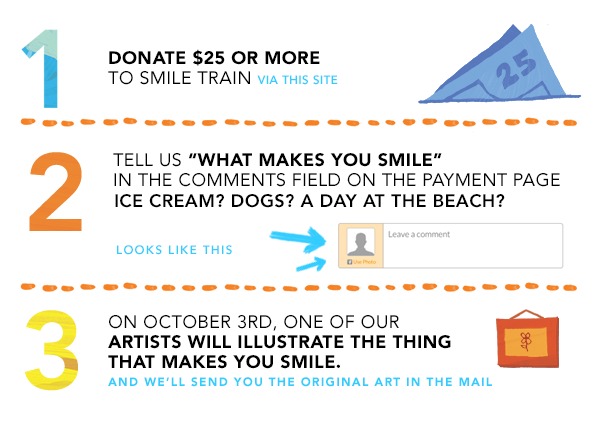 WHY?
Children born with cleft cannot eat or speak properly, aren't allowed to attend school or hold a job and face very difficult lives of shame and isolation, pain and heartache. Some children are even abandoned—all because of the way they look. Their clefts usually go untreated because they are too poor to afford the simple repair surgery that takes as little as 45 minutes and costs as little as $250 dollars.

Thanks to your help, we can save these children and give them the life changing surgery they both need and deserve.

Thank you for joining me in Will Draw for Good and fundraising for Smile Train!
When requesting artwork - please pick one thing that makes you smile, or consider donating accordingly if your request is complex. It make take some extra time to do the full scene you've described just right!

WHO 
Smile Train - Millions of children in developing countries with unrepaired clefts live in shame, but more importantly, have difficulty eating, breathing and speaking. Cleft repair surgery is simple, and the transformation is immediate. Smile Train's sustainable model provides training and funding to empower local doctors in 85+ developing countries to provide 100%-free cleft repair surgery in their communities.

We have an amazing roster of super talented artists on both the east and west coast who are all donating their time and talents to the event. Click here to see our artists. (but unfortunately, you can't request an artist - it's all done randomly!)

Will Draw for Good is an annual event created, sponsored and hosted by OrangeYouGlad, a design studio in Brooklyn NY. 
Planet Argon is a web development studio in Portland. OR and is hosting our west coast location this year!

Codephonic is a web development firm that built the "drawing randomizer" web app that is used by the artists during the draw-a-thons. 

Catering for our hard working artists provided by Famous Famiglia and Court Street Grocers.

Paper and printing donated by PrintCraft RI.  
A note about copyright. Please note that the copyright for your new artwork belongs to the artist, even though the artwork belongs to you! You can use it for whatever personal stuff you like but you can't use it to make money directly or indirectly. You can take the drawing and put it on your refrigerator or share it on Facebook or use it on your family Christmas card, but you can't put it on a t-shirt and sell it, or use it on your company Christmas card or band flyer without the artists permission. 
Organizer

Registered nonprofit
Donations are typically 100% tax deductible in the US.