Hi there,
We don't know if this will work or not, but we're giving it a go!
Candimoon is not a Charity or official body of any sort.
We're just a couple of people who want to bring back happy memories to our elderly in Care through music.
And we're trying to raise money so we can provide free musical entertainment for people in Care and Residential Homes in Northern Ireland.
Do you know someone who has Dementia?Is someone you love living in a Care Home?
A small gift from you can brighten their day by helping to bring precious memories back to them through the simple power of music.
This is why we call this:
Music with MeaningWho are we?

Our names are Andi Oakes and Kathryn Hodge and we started Candimoon as a duet to sing at weddings and events.
(Which we still love to do by the way)
Last year we got invited to sing at a little Dementia Care Unit and, after being a bit apprehensive about how it would go we turned up to find a room full of people who were almost like human cardboard cut-outs sitting around.  
There was absolutely no interaction…until we started singing songs from the 50's and 60's that is, and then they just sprung to life.
One lady who was visiting her Mother said it was the happiest she had seen her in ages!
We were amazed at the effect music had.
And so we left that day and said "If music isn't for this, then what is it for?"
So we've been trying to do more and more.
What do we do?
We get invited to sing for elderly and dementia residents of Nursing and Care Homes as well as Residential Facilities for people with mental health issues or mobility and learning disabilities.
 We provide a fun morning or afternoon where we sing for an hour and then sit and have a chat with some of the residents.
Is music really that important?
We actually didn't realise ourselves how important music is for people in care of all ages, and not just the elderly. Recent studies into the effects of music are discovering the significant health benefits that live music especially has with Care Residents and Dementia patients. 
Music and songs carry memories
with them and each one of us can remember specific events from our own past because of certain songs or pieces of music. When we are playing we can see for ourselves how people come alive as they hear certain songs.
It's truly amazing the power of music.
Quite often relatives are there when we are playing in Care Homes and it's just lovely to see their loved one become much more animated while we sing,  
giving them their Husband, Wife, Mum, Dad, Grandparent or Friend
back again
, even if only for a short time. 
On one occasion, while we were performing "Blue Moon" a gentleman started to dance with his wife who had Dementia. They danced and danced and it was so beautiful that our only regret was having to come to the end of the song.
So yes…music is very important.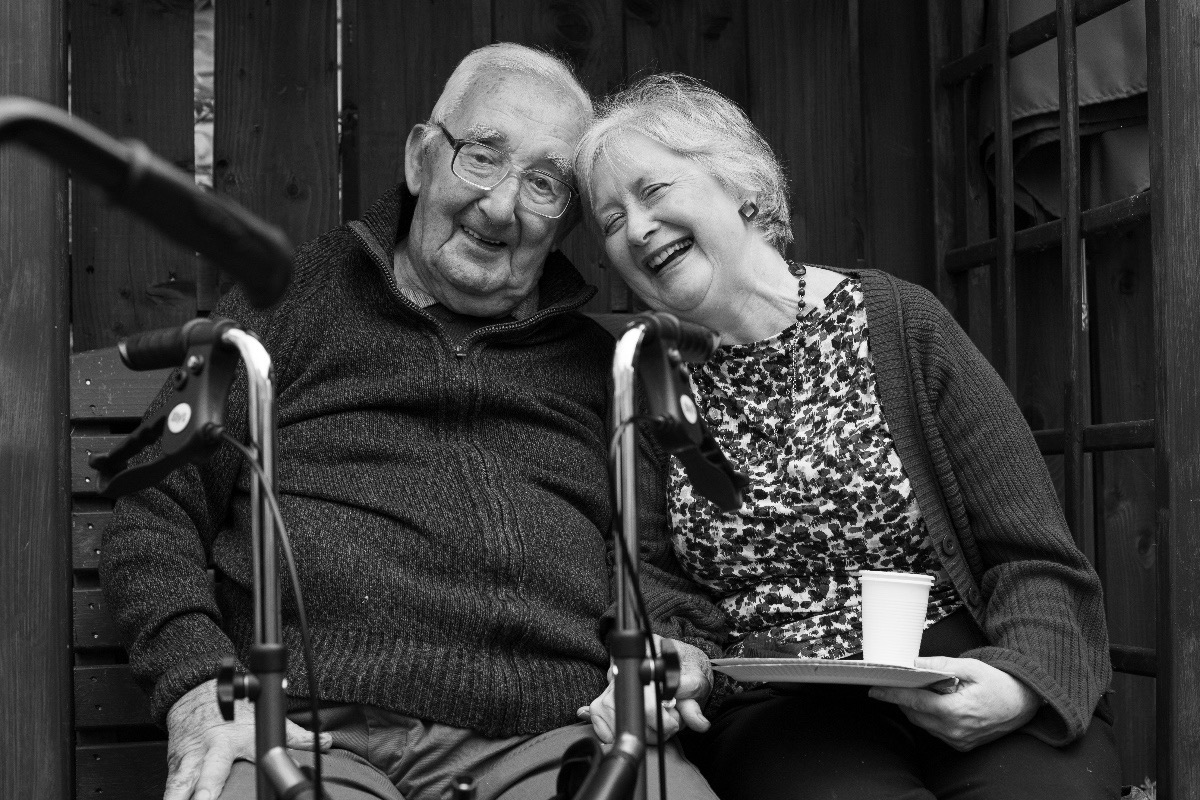 Why do we need donations?
We need your donation because although some Care Homes can afford a small payment, many can't afford very much at all, and some even have no funds whatsoever to provide activities for their residents.
The homes that do have budgets for activities can't afford ( understandably so ) to spend what they have on bringing musicians in as often as they would like to. 
So this is where you can help.
Our aim is to try and provide entertainment for as many homes as we can. We'd love to visit every Care Home in Northern Ireland if at all possible, but of course that means a lot of travelling which we just cannot afford to do just yet.
On average it costs us around £30 to £40 to just get to a home as we live an hour away from each other (Lurgan and Newtownards) and so there are travel costs to begin with and as most homes prefer an afternoon visit, there are "after-school" child care costs as well.
An average regular payment that a Care Home can provide is around £50, which I hope you can see doesn't leave a great deal to play with after we subtract costs. 
How long does a visit last?
We usually play for an hour, but that doesn't include our travel and set-up time etc.
A typical visit for us will involve:
Usually 2 hours round trip travel (for either or both of us depending on the destination)
20 minutes to set up.
1 hour of performing.
30 - 40 minutes to pack up and chat with residents.
So that's a full morning or afternoon.
How much is needed?
We've set a target of £10,000 which would mean we could do 80 to100 visits over the next year, which works out at an average of £100 per home based on a maximum of 1 hour return travel. For facilities that are further away we would then be able to cover our travel costs.
Can Care Homes not pay for this?
Many can but also many can't. 
But also, there are already a lot of great guys out there providing some fantastic music for residents, and we don't want to end up competing with them for the limited budgets that the Homes have because we want our elderly residents to benefit from as much music as possible. 
So if we can do this for free then it's the residents who win and they are who matter the most because they get more music
. 
If we can hit our goal then we can provide much more music for home for free, but every little we raise helps us keep bringing more and more happy memories back to our elderly in care through music.
Is there funding elsewhere?
We've been trying to find funding from lots of official bodies, but just keep hitting walls because we aren't a charity. 
You see, we're just a couple of people who sing. We don't have a huge organisation around us, or a lot of people to help us out. That's why we're here asking for your help.
We're just asking for whatever help we can get to provide more and more music for people living in care throughout Northern Ireland.
Maybe you know someone in care?Maybe a loved one of yours has dementia?
Perhaps you've had a relative in a Care Home in the past and you know all about the benefits that activities and music can have on residents.
If you give us donation then just let us know if there is a specific home you would like us to visit and we'll arrange to go there when we have enough funding.
Some people already fund a complete visit to a home as a gift to a loved one, and if you would like to do that just donate £100 and tell us which Care Home it is and we'll go there. We'll let you know when we're going to be there so you can maybe come too and tell the home of your gift. 
We'll even sing a favourite song if you let us know.
Your help will mean so much to the residents and all the hard working care workers of our Care and Residential Homes. You really will be making a difference in the lives of people living and working in our care homes. 
Thank you!
Andi & Kathryn - Candimoon
Follow Our Candimoon Facebook Page

Fundraising team (2)
Andi Oakes
Organizer
Raised £659 from 18 donations
Northern Ireland
Kathryn Hodge
Team member
Raised £100 from 1 donation