Volunteering with Orphans in Uganda
Hi Everyone!
I am so excited that I have applied and been accepted to volunteer in Uganda this August. I am about to embark on a life-changing journey, both for me and those I will be working with. However, as this is a completely volunteer opportunity, I will have to foot the bill for airfare, accomodations, meals, transportation, etc. I am looking for donations to help me cover some or all of these costs. If the cost of my trip is completely covered, I will use any additional money to donate to the orphanage and village I will be working in to the people who need it the most. 
Here is a description of the program:
"Grace Orphanage Centre is located near Nakifuma trading centre, Mukono District.  It was started in 1996 by Regina Mukiibi, an HIV+ woman who had lost a brother and sister to the disease. As Regina knew first hand the effects HIV/AIDS has on family and community, she wished to build a school that could provide orphans with the love, support, and education they need in order to grow and thrive. As the death toll from HIV/AIDS rises, more and more children are left orphaned, many thrust into the arms of extended family who struggle to feed and educate them. Grace provides these children with schooling and food free of cost if the guardian donates 1 morning per week to dig in the school garden. For some kids who have no one, Grace provides a permanent home. Grace now services about 150 children from Nursery to Primary Class 7. There about 15 children who permanently stay there.
Below is a list of the types of activities you may participate in.
Teaching
. Grace tries to maintain a full staff, so if every class has a local teacher, you are free to assist them with teaching, marking papers, creating visual aids, etc. However, if you are volunteering during a time when they are short a teacher, you may be asked to step in and teach academics to fill the space. Don't be intimidated, as the lessons will be relatively simple, and you'll have a teachers' book to teach from.  You can also ask to be worked into the schedule to teach fun things like English/reading, arts and crafts, etc.
Arts and crafts.
The biggest thing our volunteers contribute is encouragement, creativity and love. If you have any skills in the arts and crafts area, please bring your ideas with you and you can use free time to do creative activities with the kids. Most classroom learning in by rote, so a little fun will go a long way out there.
Singing and sports.
Outside of class time, the children love to play netball, football, and a variety of local games. You are free to join in, or even lead them into a spirited game of duck-duck-goose. Also, Ugandans love song and dance, I'm sure they'd LOVE to learn the songs you've got in your teacher's bag!
General upkeep.
Helping out in the kitchen, fetching water, washing dishes. No glory, but important work that needs to be done every day.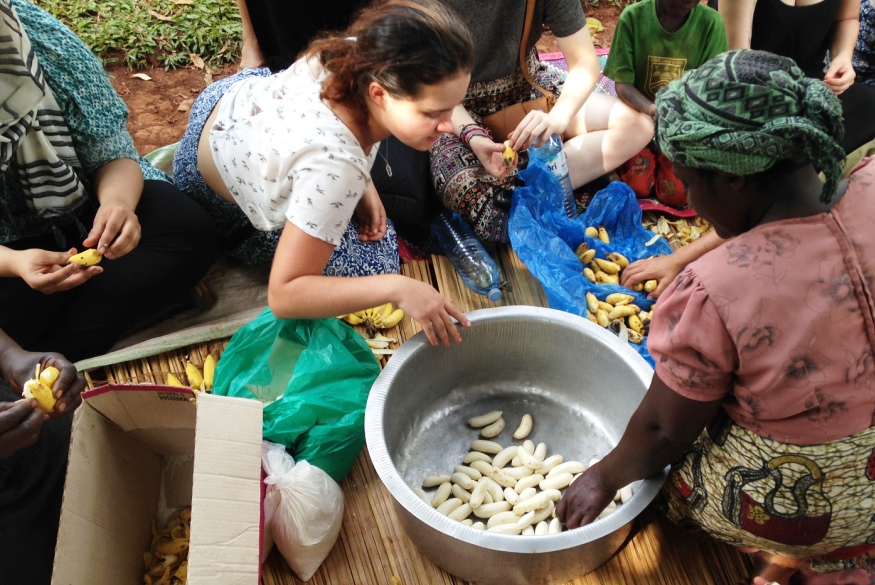 Evening time.
Some volunteers elect to spend evenings with the children in their dormitories. They discuss things like relationships, sanitation and sexual health, life experiences, etc. Or they just hang out. This is a very good way to bond with the children on an intimate level.
Farming.
The school is mostly food secure, but there is a lot of work needed in planting, weeding, and harvesting throughout the year. They also keep a few pigs that need daily feeding and cleaning. Dig in with Liz and the kids. Its sweaty work, but a tonne of fun!
International volunteers complement local staff, and provide cultural exchange and skills to all levels of society. Your presence and care not only builds self-worth and confidence in adults, but gives kids a chance to have fun and express creativity through sport and art programs. We've found it's not always what volunteers teach, but how they teach that makes the impact. Come prepared to give encouragement, creativity and love to everyone you meet."

This is something I have been pulled to do for years and I am thrilled that I finally have the opportunity to do so. I really feel in my heart and soul that this is part of my purpose in life. I will post updates about my time in Uganda on this page as well, so feel free to follow along with my journey!
Please consider donating and/or sharing to help my dream come true and to help those with so much less than us still be given the same love and support they deserve.
Thank you!!!!
Organizer
Wolf Nagem 
Organizer
Buffalo Grove, IL