Indriya Retreat with Anthony Markwell
Help build a world-class, donation-based meditation centre: Indriya Retreat - Dhamma and Meditation Hall
Dear Friends,
My name is Anthony Markwell. From 1995 to 2006, I was an ordained Buddhist monk practicing Vipassana Insight Meditation under the guidance of some of the world's top meditation masters in Thailand and Myanmar. Their teachings were always freely given and through the practice I experienced deep insights.
In 2013, venerable Acharn Poh, the abbot of the famous Suan Mokkh monastery in Thailand, invited me to become the resident teacher at Kow Tahm Insight Meditation Centre to share the teachings entrusted to me by my masters. For almost four years we offered monthly 10-day intensive meditation retreats. The feedback we received was of the highest order - lives were changed, traumas healed, and  purpose found.
I am now setting up a new, independent, English-speaking, donation-based meditation centre on Koh Phangan to take the practising opportunities to a new level. With your help, we will be offering monthly vipassana retreats, freely-accessible to everyone, from the middle of 2019…
To date, I have invested AUD $120,000 (EUR €75,900 /USD $85,000 / THB ฿2,700,000) to build the basic infrastructure (land, electricity and water) and about half of the meditation hall. I am seeking an equal amount to complete the project.
Come, my dear friends, I invite you to contribute to this fundraising and support me in giving meditation retreats. Let's join together and raise the AUD $120,000 needed to complete the construction of the meditation hall, kitchen, dining area, bathrooms and dorm. Become a founding member of Indriya Retreat and help share the wisdom of the Buddha's Teachings with the world.
Thank you so much in advance. Your donation means a lot to me personally. My heart is full of gratitude already. The success of this campaign means that I can fulfil my life's purpose – guiding others to experience for themselves, freedom and release from suffering.
Background – Ten years training as a monk
I have been very blessed in this life, a wonderful family and friends, good health, and auspicious associations with the wise. From 1995 – 2006, I was ordained as a Buddhist monk and expertly trained in the Mahasi vipassana insight meditation tradition by the venerables Acharn Leua Paññavaro, Luang Por Bhavanakitti, Luang Por Visarnkemakoon, and Sayadaw U Pandita bhivamsa. Though these monks have passed away, their teachings live on through my Dhamma sharing (Dhamma means the Buddha's Teaching).
Looking back, I feel extremely grateful for the decade of training I received in those secluded, faraway monasteries. It was a time when knowledge was passed down from teacher to student in a very personal and intimate way. When learning the Thai, Burmese and Pali languages was necessary to directly access the wisdom of the Buddha at the source. I feel incredibly fortunate that those Enlightened monks nurtured my spiritual development and skilfully transmitted the Way of Dhamma.
It wasn't until years later, when I started to share the Teachings with others that it became clear just how well I had been instructed in the method and mode of practice, and just how deeply I'd personally penetrated the Truth. Having personally passed through the many obstacles and pitfalls of meditation with the help of my teachers, I had become a storehouse for their practical teachings. Thousands of hours of instruction in the presence of those masters had given me the abilities to guide others along the path of vipassana insight. Whether this was intentional or by design, I do not know. But what I do understand is, that this noble heritage must be transmitted to the next generation. Just as it has been for 2500 years.
Recent past – Motivation to Share the Buddha's Teaching
In 2013, I was asked by Venerable Acharn Poh, the abbot of Wat Suan Mokkh, to be the resident meditation teacher at Wat Kow Tahm Insight Meditation Centre on the island of Koh Phangan, Thailand. For four years, we offered silent 10-day vipassana retreats every month, providing accomodation, meals and instruction on a donation-basis with the help of many assistants and volunteers. The monthly retreats were well attended by between 40 – 60 meditators from many countries around the world.  
The feedback we received was always of the highest order, as their faces and hearts so clearly showed. Lives were changed for the better; true meaning and purpose were found; old traumas and habits were healed and let go; and contentment, acceptance and patience were allowed to develop into joy and happiness. Many who attended and assisted on those retreats on the mountain became dear lifelong friends. For many, it was the best times of our lives.
One of the great lessons that the Buddha teaches is that 'things change'. With the passing away of our dear MaeChee Amornpun, the chief nun of Wat Kow Tahm, it was time to move on. Having spent some extended family time in Europe, visited home in Australia, and invited to lead a few retreats in Finland, America and Russia, the urge to share was calling again…
The Project – Indriya Retreat Meditation Hall
In March 2018, I returned to Koh Phangan with the intention to build a meditation hall to offer intensive vipassana meditation retreats, and to lead a lifestyle where retreat insights can be integrated into daily life.
Importantly, I want to pass on the valuable teachings that I received from my teachers to the next generation of seekers – the meditation instructions and techniques, the encouragement, emotional support, and the interview guidance, tips and hints should not end with me. In fact, I feel it is my duty to train meditators to the level where they can lead retreats and share the Teachings in their own countries.
Indriya translates as 'spiritual faculties'. When the five spiritual faculties – faith, energy, mindfulness, concentration, and wisdom – are fully matured, they result in the first-stage of Awakening, Stream Entry.
The mission is to create a dedicated centre where friends from around the world can develop their 'spiritual faculties', and also live and serve the community by supporting and guiding others in a useful way. Our own retreat centre, that we can return to again and again, knowing that we are welcome and supported with the necessary conditions for Awakening.  
Surprisingly, it is quite difficult to find a place to live and practice Dhamma without worrying about money and still be in an international environment. We want to change that. We want to offer a base in Thailand where you can go deep on an intensive retreat, and also have access to the offerings of the conscious community on the island of Koh Phangan.
Funding and Finances
From the beginning, I have known that I don't have all the money needed to build a meditation centre. But with a heart full of faith, trust and confidence that 'the Dhamma will take care', I've gathered up my savings, borrowed a bit, and started the process. In fact, I wanted to do as much as I could, to demonstrate my commitment and sincerity to the project by using my own funds first – before asking for help.
So far I have committed and invested just over AUD $120,000 to make this project happen. With this crowdfunding we seek to raise funds to complete the meditation hall, a kitchen & dining area, 8 bathrooms and a dorm for 40 meditators.
How much money do we need?
Will you match us?
My dear friends, I invite you to contribute to this fundraising by matching what I have already invested our meditation centre.
Let's join together to this raise AUD $120,000 and help share the wisdom of the Buddha.
(appoximately USD $85,000, EUR €76,000, GBP £65,000, THB ฿2,700,000).
<< The gift of Dhamma excels all other gifts >>
If we can raise more than this amount, then we can start to build 30 small private wooden / bamboo huts in the gardens surrounding the meditation hall.
Who will benefit? You and Everyone.
The meditation hall will be used to offer vipassana insight meditation retreats throughout the year on a donation-basis. It will be open for everyone to experience the authentic Teaching's of the Buddha. From the very beginning my intention is to give, share and teach the Dhamma in the same spirit in which I was trained. With your donations I am confident the retreat centre infrastructure can be built, and we can manage the centre's expenses through donations.
Your gift to this crowdfunding campaign will help establish a meditation centre that will benefit thousands of people, including yourself, for the next twenty years. As a founding member of the Indriya Retreat, you will be welcome to participate in meditation retreats without having to pay a fee for your retreat. Indriya Retreat's aim is to establish a giving culture. A well designed pay-it-forward system, where all retreatants can attend the retreat without concern for money, and develop the heart of Dana (giving).
I feel so fortunate to have experienced the Buddhist tradition of dana (generosity). Teachers, meditation centres, and villagers all supported my journey of meditation without expectation of payment. It is my strong determination to continue this tradition. It is the way of Dhamma. It has been this way for 2500 years. With your contribution to Indriya Retreat you are giving others and yourself the opportunity to experience the Noble heritage of the Buddha – a teaching that is truly priceless.
What have we achieved already with AUD$120,000?1.1 Establishment of Legal Entity:
AUD$ 5,400 (EUR€ 3,400 / THB฿120,000)
The first step in establishing the meditation centre was the formation of a Thai Limited Company called "Indriya Retreat Co. Ltd.", and completed in May 2018. This allows us to legally offer meditation retreats. All the appropriate visas, work permits, and tax registrations have been obtained and paid-in-full.
1.2 Securing Lease on the Land:
AUD$ 39,900 (EUR€ 25,300 / THB฿900,000)
In June 2018, we located a private and secluded garden in 'Coconut Lane' in Srithanu. Between a small stream and a dense jungle thicket, the land is covered in many mature fruit trees, bamboos, coconut palms, and tropical plants. The total land size is six rai (9,600sqm /1 hectare / 2.5 acres). We have signed a 20-year rental contract for two rai, and the first five-years rent (2018-2023) has been paid-in-full. The lease agreement has been registered at the Government Land Titles office.
1.3 Plans & Building Permits:
AUD $5,900 (EUR€ 3,750 / THB฿135,000)
In July 2018, an architect and engineer drafted the building plans for a 300m2meditation hall capable of comfortably seating 100 people. The blueprints were approved and an official building permit has been formally issued. In February 2019, a further set of plans for the construction of a kitchen, dining area and six bathrooms were submitted and a building permit will be issued shortly. All the application fees and taxes, as well as the architects' invoices, have been paid-in-full.
1.4 Development of Utilities:
AUD$ 10,500 (EUR€ 6,550 / THB฿235,000)
During August 2018, the utilities (electricity and water) were established on-site. A quality 3-phase electricity line was connected to the land. A wide 12m deep water-well was completed to ensure a year-round water supply. A 6 metre high concrete tower housing 2 x 3000 litre water tanks provides gravity-fed pressure to the site. A concrete room, under the water tanks, securely houses a top-quality water-pump and an electrical short-circuit switchboard. All materials, equipment and construction costs have been paid-in-full.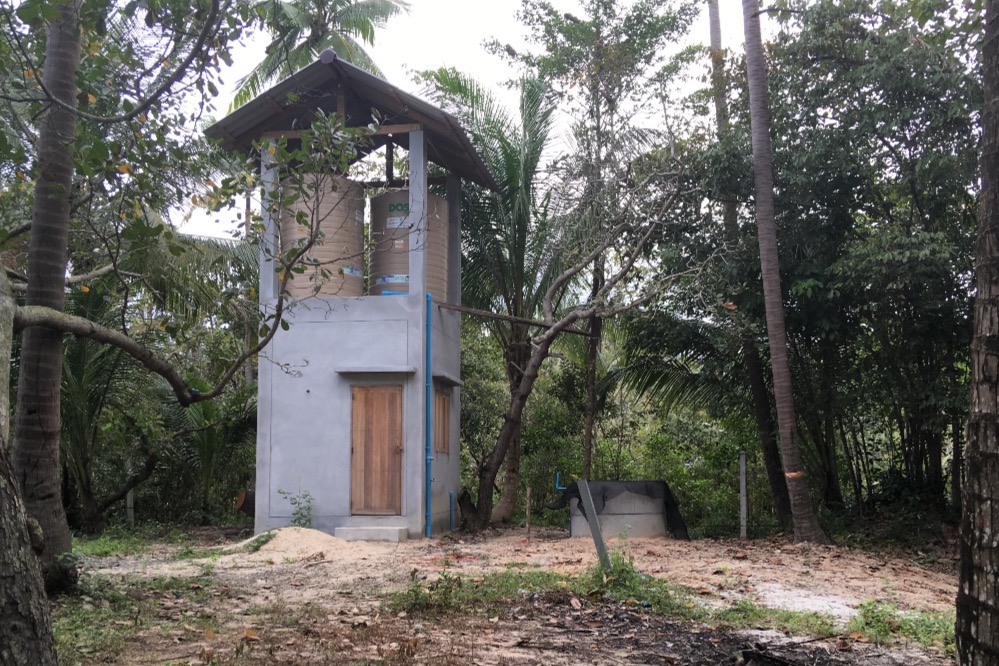 1.5 Equipment, Materials and Expenses:
AUD$ 3,600 (EUR€ 2,300 / THB฿81,400)
·      Various tools and building materials,
·      Tree cutting / clearing and timber milling,
·      Ongoing accounting service, visas & taxes.
2.0 Construction of Meditation Hall (45%):
AUD$ 54,700 (EUR€ 34,700 / THB฿1,237,500)
In September 2018, an experienced local contractor/builder was hired to build the Indriya Retreat meditation hall. The contract specifies a five-stage construction schedule that includes: the total price (in five payment stages), types of materials, and completion timeline. The design combines longevity and low maintenance, good ventilation and cooling, comfort and spaciousness, protection from mosquitos, rain and strong sunshine, and a beauitful outlook onto secluded gardens. Stage 1 and Stage 2 have been paid-in-full.
STAGE 1 payment (20%)
·   AUD$ 24,300 (EUR€ 15,400 / THB฿550,000)
·   all concrete construction: foundations, supports and floor.
STAGE 2 payment (25%)
·     AUD$ 30,250 (EUR€ 19,200 / THB฿687,500)
·     all steel construction: roof structure, trusses and beams.
How will we use these GoFundMe donations?
Funds generated by this crowdfunding campaign will be used to complete construction on the meditation hall. The remaining funds will then be used in the following order:
2.0 Construction of Meditation Hall (55%):
 AUD$ 66,800 (EUR€ 42,300 / THB฿1,512,500)
STAGE 3 payment (25%):
AUD$ 30,250 (EUR€ 19,200 / THB฿687,500)
·       installation of the insulated steel roof sheeting, eaves and gutters.
·       installation of the external natural thatched roof over the steel.
STAGE 4 payment (20%):
AUD$ 24,300 (EUR€ 15,400 / THB฿550,000)
·       the construction of the first floor external and internal brick walls,
·       aluminium with glass / mosquito netting windows and sliding doors,
·       installation of electricity switchboard, ceiling lighting, and ceiling fans.
STAGE 5 payment (10%):
AUD$ 12,250 (EUR€ 7,700 / THB฿275,000)
·       the smooth cement rendering and painting of the surface of the walls,
·       installation of floor tiles (main hall, office, storage room and balcony),
3.0 Construction of Bathrooms & Toilets:
AUD$ 13,300 (EUR€ 8,400 / THB฿300,000)
Six bathrooms have been designed that are spacious, fully tiled, with a flushable toilet, shower and clothes washing taps. There are external handwashing basins. Communal (mens and womens) screened bathing areas are included so meditators can cool-off during the day. Two additional toilets under the stairs of the meditation hall will also be built.
4.0 Construction of Kitchen and Dining Area:
AUD$ 22,200 (EUR€ 14,000 / THB฿500,000)
The kitchen will be simple, spacious and easy to clean and maintain. Designed for community living and mindful group preparation of meals by the community, the building will look out on a beautiful stream and secluded tropical garden.
The kitchen space will incorporate areas for:
·      food storage and refrigeration,
·      food preparation benches and equipment,
·      gas cooking equipment and oven,
·      storage cupboards for plates, bowls, cutlery, and cups,
·      washing-up / drying-racks / rubbish disposal,
·      a drinking water filtration system and hot water urn.
The dining area will also be simple. An open covered space that provides seating on benches or floor mats for 40 people. The design will allow for self-service buffet-style meals. Additional seating will be provided in simple wooden pavillions near the stream.
5.0 Constuction of Walking Platform / Dorm:
AUD$ 17,700 (EUR€ 11,200 / THB฿400,000)
Under the meditation hall is a 300sqm space that is 3.3 metres high. A wooden platform built on steel grid, supported by the meditation hall's foundation pillars is planned. This area will be used as a covered walking meditation and yoga deck. The enclosing of half this area with simple bamboo sheet walls will initially provide basic accomodation for 30 meditators. Two convenient toilets and a storage area will also be built under the stairs of the meditation hall.
Future Plans: If we exceed our fundraising target.
When this crowdfunding is successful, and if we raise more than AUD $ 120,000, then we will start on the next phase of development. We have the opportunity to lease the land around the meditation hall for 20 (+10) years. There are 4 rai (6,400 sqm, 1.6 acres) available. It is truly beautiful land with many established shady trees perfect for meditation huts and dorms.
Ideally one rai (1,600sqm) would be used for meditation centre infrastructure, such as meditation platforms along the stream, dedicated walking meditation paths in the rambutan orchard, and a gorgeous multi-purpose open space. A permaculture vegetable, fruit and herb garden could also be established for the benefit of the retreatants.
The other three rai (4,800sqm) could be used for building accomodation for long-term retreatants. At least 30 small meditation huts made of wood / bamboo could be built in the gardens around the hall. Simple, shaded, secluded and mosquito proof the huts will provide a refuge for those who want to deepen their meditation in a private space with the support of the meditation centre's infrastructure.  
The idea is to offer our Dhamma friends the opportunity of sponsoring a meditation hut for their own use whilst on-retreat or volunteering. The hut can then be used by others when they are absent. In this way we could establish a sustainable community to share the Dhamma, and have easy access to all that Koh Phangan has to offer.
thank you, thank you, thank yousadhu, sadhu, sadhu
Thank you for taking the time for reading this GoFundMe. Please share this page to all those who may be interested in supporting my project. If we all share this GoFundMe with our networks of friends, then we can bring about really positive changes to many people's lives.
Thank you so much in advance for your generosity. Please incline your mind with the volitional intention to benefit all beings. Rejoice in your good deeds and share this merit.
I'm very enthusiastic to complete this building process so I can get back to doing what I love doing – Sharing the Dhamma. I know that together we can make this happen.
May you be happy and well…
With much love and gratitude,
Anthony Markwell
email: [email redacted]
website: www.anthonymarkwell.com
facebook:
https://facebook.com/anthony.markwell.796
whatsapp: +668 3593 3597
Indriya Retreat
email: [email redacted]
website: www.indriya-retreat.org
facebook:
https://.facebook.com/indriyaretreat
Organizer
Anthony Markwell
Organizer
Paynesville VIC