Une vietnamienne en mission Haïti
Bonjour à tous,
Cette année, j'ai décidé de faire un voyage hors du commun et de sortir de ma zone de confort. Pour ceux qui me connaissent, vous savez que j'adore l'aventure et l'exploration lors de voyages.
J'ai décidé de participer à une mission humanitaire avec 40 autres participants (pompiers de Montréal, policiers ainsi que les bénévoles).
Pour trois semaines au cours du mois d'avril, nous irons compléter le projet « École Mark Bourque », à Debussy (dans les montagnes) près de Port-au-Prince en Haïti, qui a été lancé en 2014.
Nous serons en mission tous les jours de la semaine. Pendant cette mission, nous visiterons notamment un orphelinat afin de distribuer des cadeaux aux enfants.
Si vous voulez faire des dons de jouets, de vêtements été et hiver (il fait froid en haut!), de livres usagés pour jeunes enfants, d'articles de sport et/ou de produits d'hygiènes, n'hésitez surtout pas car j'offre de les ramasser chez vous directement!
Afin de fournir le meilleur environnement possible aux 150 élèves de l'école, nous vous sollicitons afin d'obtenir une aide financière et/ou matérielle. La totalité des fonds amassée sera utilisée pour l'école Mark Bourque. Notre groupe de bénévoles effectuera les travaux sans frais. C'est avec cette somme et les 40 participants que la construction se concrétisera.
Mon objectif personnel est d'amasser un minimum de 3000 $ (120 000 $ au total pour le groupe de bénévoles) d'ici le 21 mars
.
Cette somme permettra de fournir les matériaux de construction, les repas pour les écoliers ainsi que les fournitures scolaires.
Si vous ou votre entreprise voulez faire des dons directement à la mission aussi, vous trouverez sur le site Web de l'école Mark Bourque « Faire un don » ou sur notre page Facebook Mission Haïti- École Mark-Bourque ci-dessous.
En échange, nous vous proposons de la publicité lors de nos activités de financement et pendant la mission en Haïti. Nous prendrons des photos avec votre logo (une affiche de votre compagnie serait idéale) en compagnie des élèves et participants. Celles-ci vous seront remises à notre retour. Ces photos seront également affichées sur Facebook et sur le site Web de l'école. Enfin, nous mentionnerons votre support lors de l'annonce du projet dans les médias (Vtélé, TVA, etc.).
Pour plus d'informations sur le projet, visitez :
http://www.ecolemarkbourque.com/
ou sur Facebook :
https://www.facebook.com/MissionHaitiMarkBourque/
Nous vous remercions d'avance pour votre générosité et votre support !
Kim
****
Hello everyone,
This year, I decided to travel differently and out of my ''comfort zone''. For those who know me, know that I love adventure and exploring when traveling.
I decided to participate to a humanitarian mission with 40 other participants (Montreal firefighters, police officers and volunteers).
During three weeks in the month of April, we will complete the project "École Mark Bourque" which was launched in 2014 in Debussy (in the mountains) near Port-au-Prince in Haiti.
We will work every day during this trip. We will visit an orphanage to distribute gifts to the children. If you wish to donate used toys, summer and winter clothes (it is cold up there in the mountains!), books for young children, sports and hygienic items, do not hesitate because I could pick it up directly at your home!
In order to provide the best possible environment for the 150 students, we are asking for financial and/or material assistance. All funds raised will be used for the Mark Bourque School. Our group will do all the work for the school. With the funds and the volunteers' work, we will be able to complete the construction.
My personal goal is to reach a minimum of $3000 ($120,000 in total for the group of volunteers) before March 21st . It will allow us to buy construction material, meal for students, and school supplies.
If you or your company want to make donations directly to the Mission also, below is the web link of the Mark Bourque School with "Make a Donation" or on Facebook "Mission Haiti-Mark-Bourque School".
In exchange, we will advertise your company during our fundraising activities and during the mission in Haiti. We will be taking pictures with your company's logo (a poster of your company would be ideal) with the students and participants who can be handed over to you upon my return. These photos will also be posted on Facebook and the website. Finally, we will mention your generous support when we announce the project in the media (Vtélé, TVA, etc.).
For more information on the project, visit:
http://www.ecolemarkbourque.com/
or on Facebook:
https://www.facebook.com/MissionHaitiMarkBourque/
Thank you in advance for your generosity and your support!
Kim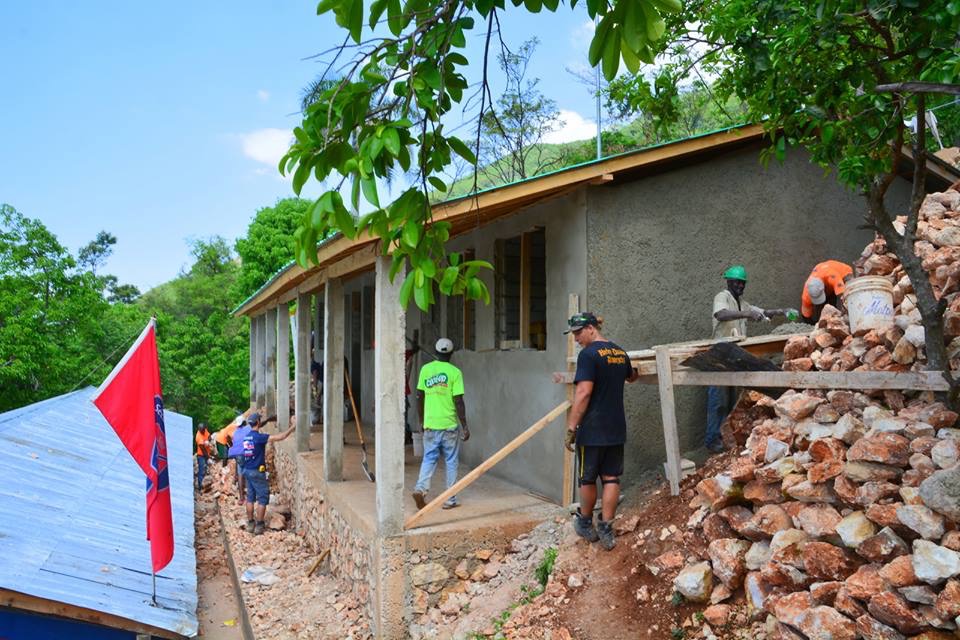 Become the first supporter
Your donation matters
Organizer