Wealth and Disparities in the Black Community
Hello, Justice Community –
Now more than ever it is time to make the commitment to racial justice and equity.  Will you make that commitment today by supporting us?
Thank you for your huge outpouring of love in your messages and attendance at our events – some of you for the first time.  This month we have been
united as a community
  in outrage over the murder by police of George Floyd.
photo credit: Tom Brown

photo(s) credit: probonophoto.org

Unfortunately, the racism and racist brutality embedded in police departments is nothing new, and nothing isolated to one city or department.  In fact, Wealth and Disparities in the Black Community has taken on Justice 4 Mario Woods since Mario's murder by firing-squad-style execution by San Francisco Police Department (SFPD) in 2015, as caught in
viral video
.  The community outrage over this and the many other killings by SFPD over the years was so strong as to launch a movement that garnered national attention.

From the beginning, since 2015, we've had 3 demands:  Charges for Killer Cops, Chief Suhr be Fired or Resign, and an Independent Investigation.  Through our activism, we did achieve the resignation of Chief Suhr.  The Federal Department of Justice (DOJ) came in and did an independent investigation.
Because of work like ours, we have had no public killings by SFPD in two years – a new record in SFPD's history.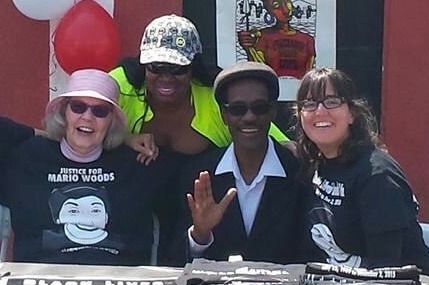 However, the racism in the department continues.  There is much work yet to do.  SFPD was made to report its interactions by race from 2016 forward – and from that data we know that
Black San Franciscans are more than 10 times as likely to be targeted for arrests and more than 12 times for police use of force than White San Franciscans
per capita.  These horrific disparities continue to this day.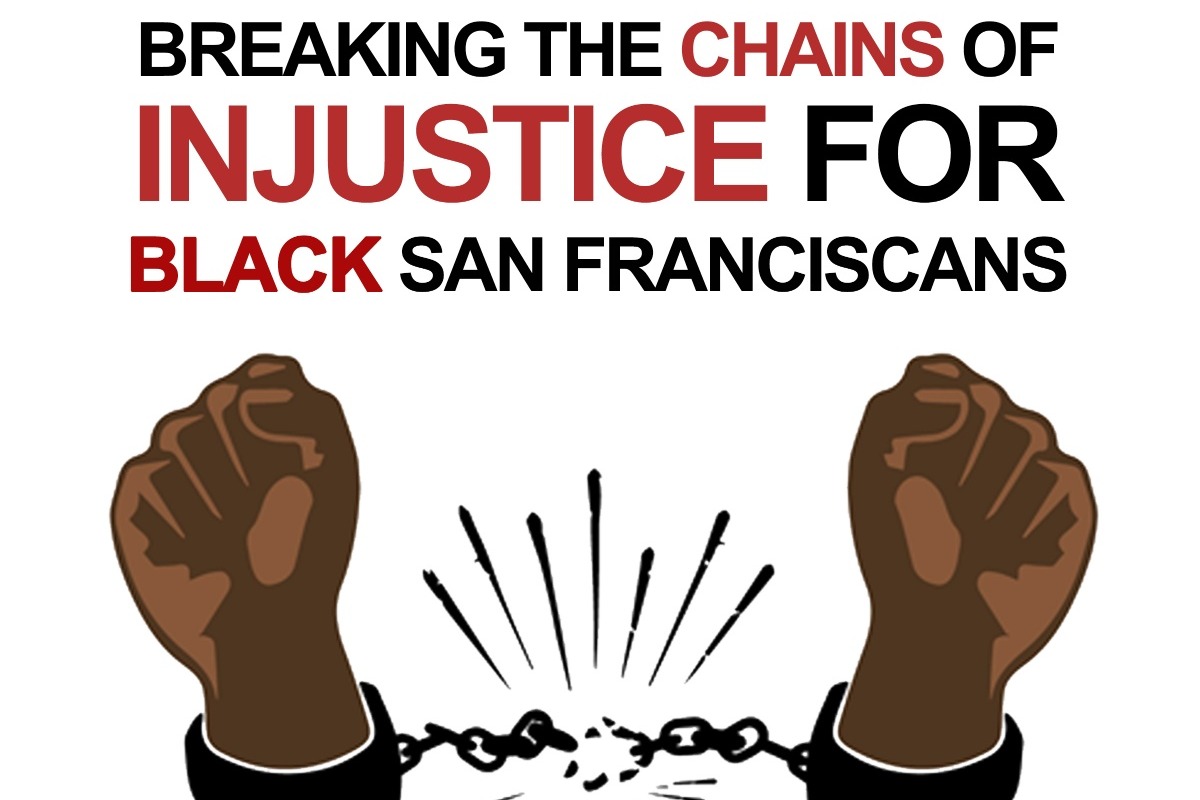 We continue our work as a grassroots all-volunteer organization to insist that SFPD follow the DOJ Community Oriented Policing (COPS) process which SFPD, the City of San Francisco, and the State of California have committed to seeing completed.  We demand that San Francisco eliminate its racially disparate tactics.  We continue to track SFPD's statistics on its behaviors and to track its activities.  We continue to demand action and meet with city, county and state leaders.  We continue to engage the community every step of the way.
How we connect with the community:
--On
June 1
, 2020, we organized a peaceful
demonstration
  after the murder of George Floyd in Minneapolis, with the support of Mayor Breed, as well as an SF-based
memorial service
  for George Floyd on the date of his funeral service;
photo credit: probonophoto.org
--Owing to our activism, the City of San Francisco unanimously declared Mario Woods' birthday Mario Woods Remembrance Day.  We organize an annual
Mario Woods Remembrance Day
  event, a celebration of life and care for the Bayview SF community, reminding the City that we will never forget what his death represents. This free event involves local artists, activities for children, and free food;
--This year due
 to Covid-19, in lieu of Mario Woods Remembrance Day, we have been providing direct aid for the Bayview community by delivering groceries, masks, and hand sanitizer to elderly Black folks, and providing educational materials on staying safe. The
Bayview SF has the highest concentrations
of Covid-19 cases.
All funds will be used to further our group's efforts and impact on SFPD reform, Bayview community connection, and disparities facing the Black community of San Francisco. 
Won't you support us in our tireless work for justice – particularly in this moment when the whole world is crying out for racial justice?  
Thank you,
Phelicia Jones, Founder
Wealth and Disparities in the Black Community - Justice 4 Mario Woods
[email redacted]
Follow us on Facebook
Organizer
Phelicia Jones
Organizer
Oakland, CA