Trans Resistance Vigil and March
Please join me in providing support for our trans siblings of color. T.C.N.E. (Trans Club of New England) is raising money to benefit Trans Resistance and the Transgender Emergency Fund. Trans Resistance is holding a rally/ vigil on Saturday at Franklin Park. Transgender Emergency Fund, is the leading crisis agency for transgender communities in Massachusetts. The funds will also be used immediately to provide direct and immediate care for trans people in extreme need. Our black and brown sisters, brothers and siblings carry so much weight, they are at the most challenging of all intersections.  
TCNE will be matching every individual contribution dollar for dollar up to $1,250. This will double your generosity and if we meet our goal, it'll provide $2,500 in direct support! As a non-profit ourselves we know how hard it is to raise money. And as individuals we realize how scary and uncertain this time can be for everyone. That being said, this is our time to stand up and show our support. 
We hope to see you at the event - please be sure to social distance during the event. Saturday at 3 PM – 6 PM, 1 Franklin Park Road, Boston MA.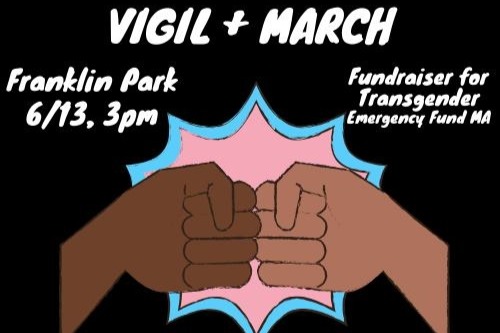 More information about TCNE: Trans Club of New England is a social and support organization for the transgender community. and those that support them. Open since the 1970's, we are one of the oldest transgender support groups in the world and one of very few with our own permanent clubhouse. A confidential, respectful and safe physical location so that members and visitors can express their true gender in the way most comfortable for them.

Organizer

Registered nonprofit
Donations are typically 100% tax deductible in the US.