Click Here to Return to the Climate Deadline Website
The Intergovernmental Panel on Climate Change (IPCC) has recently validated the underlying basis for my campaign for Arizona Governor in 2018. Unless we reduce atmospheric carbon below 350 parts per million by the mid-2030s the Earth will shift to a "new normal" and climate disruption will transition from linear to a exponential and unstoppable condition referred to as Irreversible Exponentially Synergistic Anthropotoxic Environmental Cascade (IESAEC).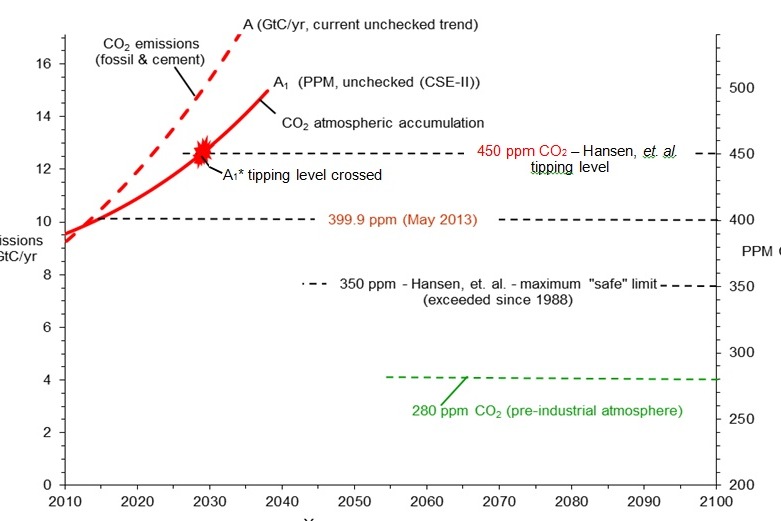 Already ocean currents are slowing, methane stores are being released from disappearing polar ice, disease vectors are altering, species die off is escalating, weather patterns are altering, novel carbon releasing soil microbes are emerging, and a breach is occurring between plants and pollinators. In the 1960s making a full transition to solar, wind and recycling would have been enough to avert the "tipping levels" we will reach in the mid-2030's at 450ppm atmospheric carbon.
Sustainability may be relevant several decades from now. In 2019, however, it is too late for sustainability to save us and too early for sustainability to sustain us. Our only option is to remove gigatons of carbon already in the atmosphere and do so in the next 15 years. After training with Al Gore, I was fortunate to work with a group of senior scientists developing a method using EHUX algae (which formed the White Cliffs of Dover out of carbon!) to remove carbon from the atmosphere and oceans. Emiliania huxleyi were designed by nature to remove carbon and can naturally achieve 350ppm safely and efficiently when assisted with liquid nitrogen from carbon capture at fossil fuel burning plants and human effort.  Ocean Assisted Carbon Capture & Reflection(OACC&R) is the only currently existing method for bringing atmospheric carbon levels down to a safe level by the mid-2030's in order to avoid IESAEC.
There are several important Constitutional lawsuits already in process asking the United States Government to reduce carbon emissions. Because they do not include active carbon removal these suits, even if successful, will not be sufficient to avoid the climate deadline we are facing in the mid-2030's. The Climate Lawsuit (filed in March 2019) asks the United States Government to beta-test, operationalize and manage the EHUX algae-based carbon removal program called Ocean Assisted Carbon Capture & Reflection. Federal court cases are extremely expensive.  We need your donations large and small.  All funds will be used only for legal expenses directly related to The Climate Lawsuit.  We need money, material resources, social media support and direct citizen lobbying of your representatives.  Our Government Constitutionally owes us protection of life, liberty and property.  In allowing and even encouraging the threat of global warming they have failed in that duty.  We must impress upon our government  the immediacy and finality of the climate change danger we face - and the possibility that exists for rescuing our culture.